By Braden Price
Keystone RV has always provided quality RVs, but the Cougar 260MLE is on a whole new level, taking the features that people have been requesting for the past few years and adding as many as possible.
The 2024 Cougar 260MLE is the ultimate couple's camping fifth wheel, and Josh the RV Nerd is predicting that it will become the #1 selling "Big Cougar" this year.
Let's look at some of the features that the 260MLE packed in just 32 feet of length and find out if this is the perfect RV for you!
Weights and Measurements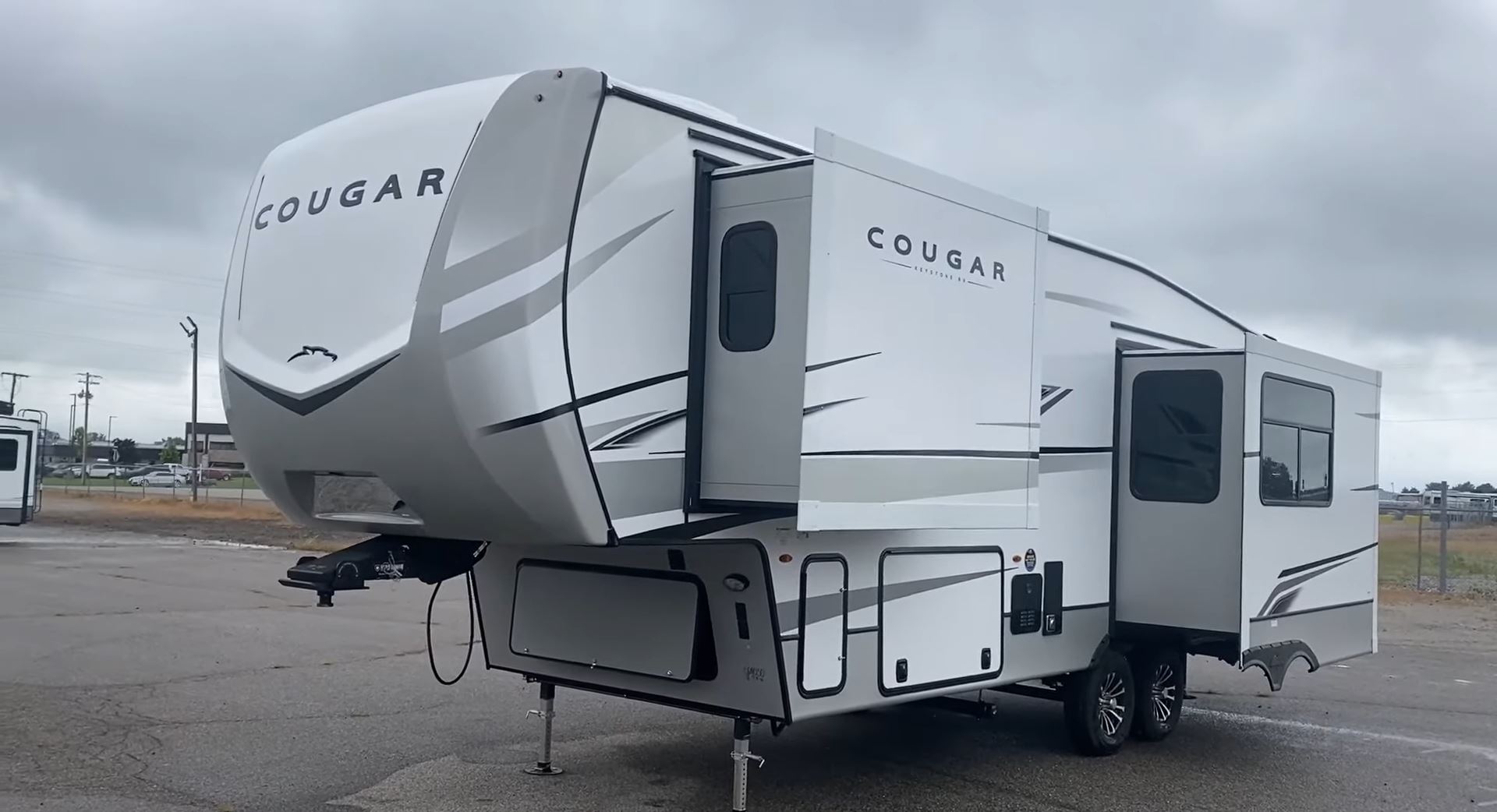 Hitch – 1,895lbs
Max – 12,000lbs
Empty – 9,725lbs
Cargo – 2,275lbs
Length – 30'11"
Height – 13'4"
Width – 8ft
Fresh – 75gal
Gray – 76gal
Black – 38gal
Awning – 20ft
Solar – 200w+
Adding Content in a Market of Decontenting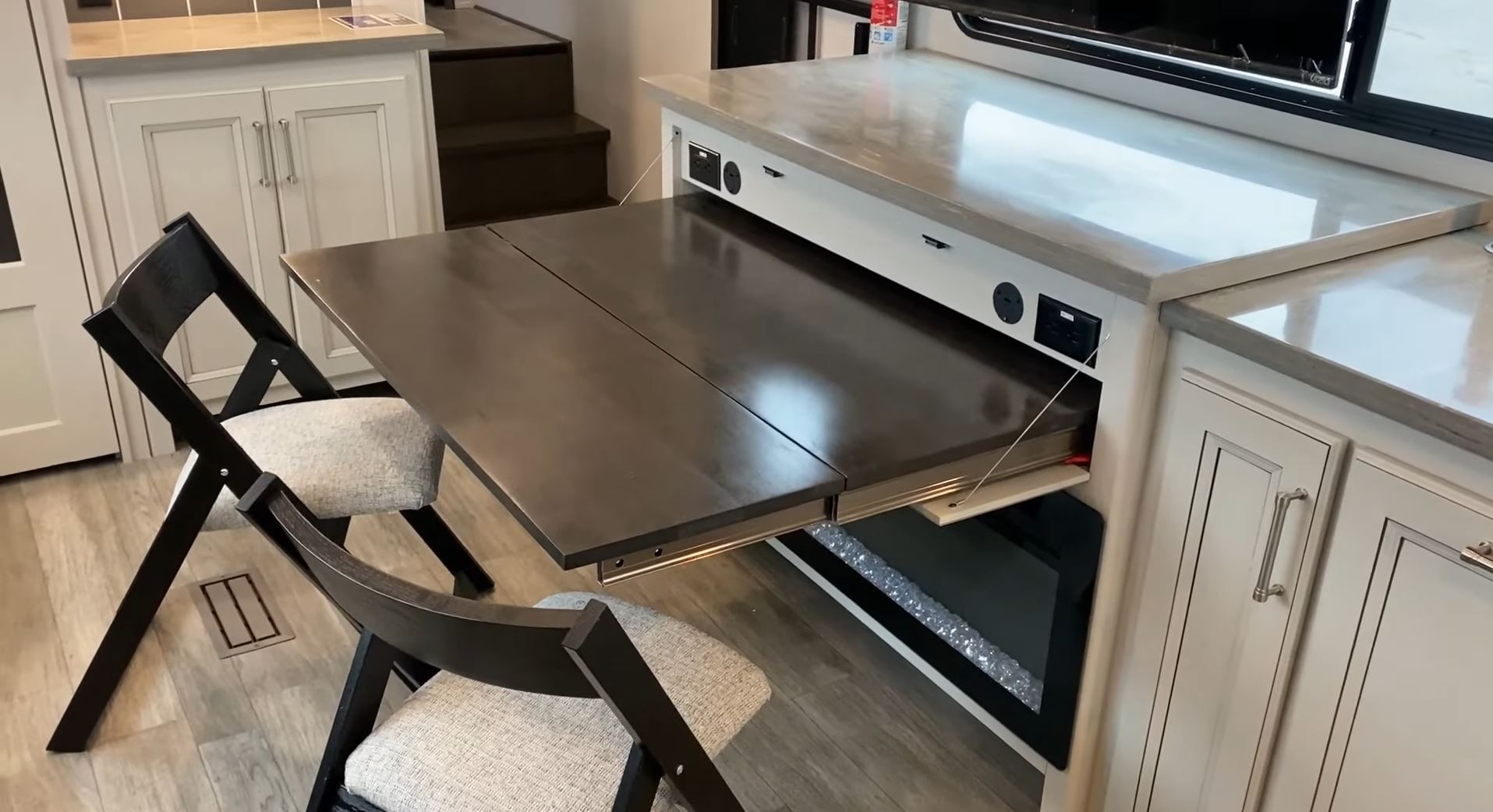 Where many other companies are taking away features in their RVs for various reasons, the Keystone RV is taking a different approach with the 2024 Cougar 260MLE.
Last year, people who saw the RV made various comments about what they wanted to see in future models; A fireplace, desk, drop-down TV, bed slide, washer/dryer prep, etc.
Keystone heard their suggestions and added every single one of them.
Beyond all of those features that were added, they went even further to upgrade their pre-existing features, enhancing their solar package to have 3 different options and improving their cabinetry hardware including magnet holds to keep them closed.
These improvements showcase to customers of Keystone that their suggestions and requests are not falling on deaf ears but are truly heard and prioritized.
Personal Theater on Wheels
The Living Area of the 260MLE is filled to the brim with features. The couch is theater seating optional, meaning that you can either have it set up for cozy cuddling by the fireplace in front of the couch or pull down the cupholders and recline back the seat to watch a movie on the drop-down TV.
You read that right, drop-down TV. By default, the TV is raised up to the level of the cabinets, so you have access to the counterspace below. And, even while it is raised, it is angled downward to reduce neck strain for anyone watching.
But, utilizing gas struts on the side, the TV drops down to a much more comfortable viewing location, making this living space ideal for movie lovers.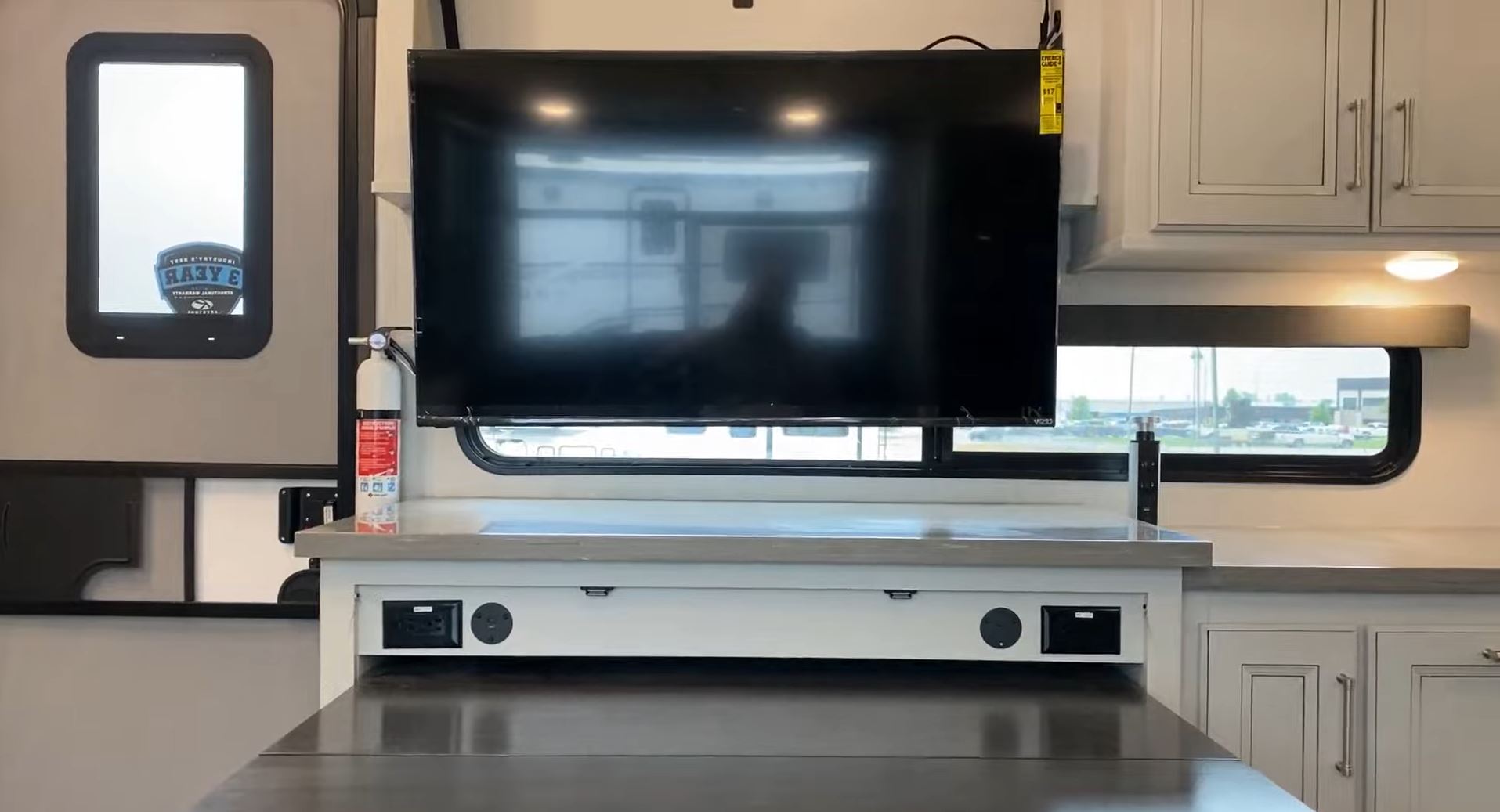 This personal theater is also a multipurpose workspace. With a pull-out hardwood desk right under the countertop below the TV, and foldable chairs stowed in a cabinet by the entrance, you have an optional workspace/dining space.
With room for breakfast or dual monitors, this desk can serve any purpose you need it to, even if you prefer to hook up a laptop to the dropped-down TV and use it as a giant monitor.
Spacious Kitchen
In the Cougar 260MLE kitchen, there is a massive amount of counter space, ensuring you have room to prep food or fill with appliances. The cabinetry is likewise abundant, with magnetic holds to help keep your food where it is supposed to be, even in transit.
Other features include the 2-door 12v DC compressor fridge, pull-out wastebaskets, and residential fan to help this fifth wheel feel more like a home. As Josh pointed out, this fifth wheel fits the lifestyle of a full-time or semi-full-time nomad more than just about anything else he has seen.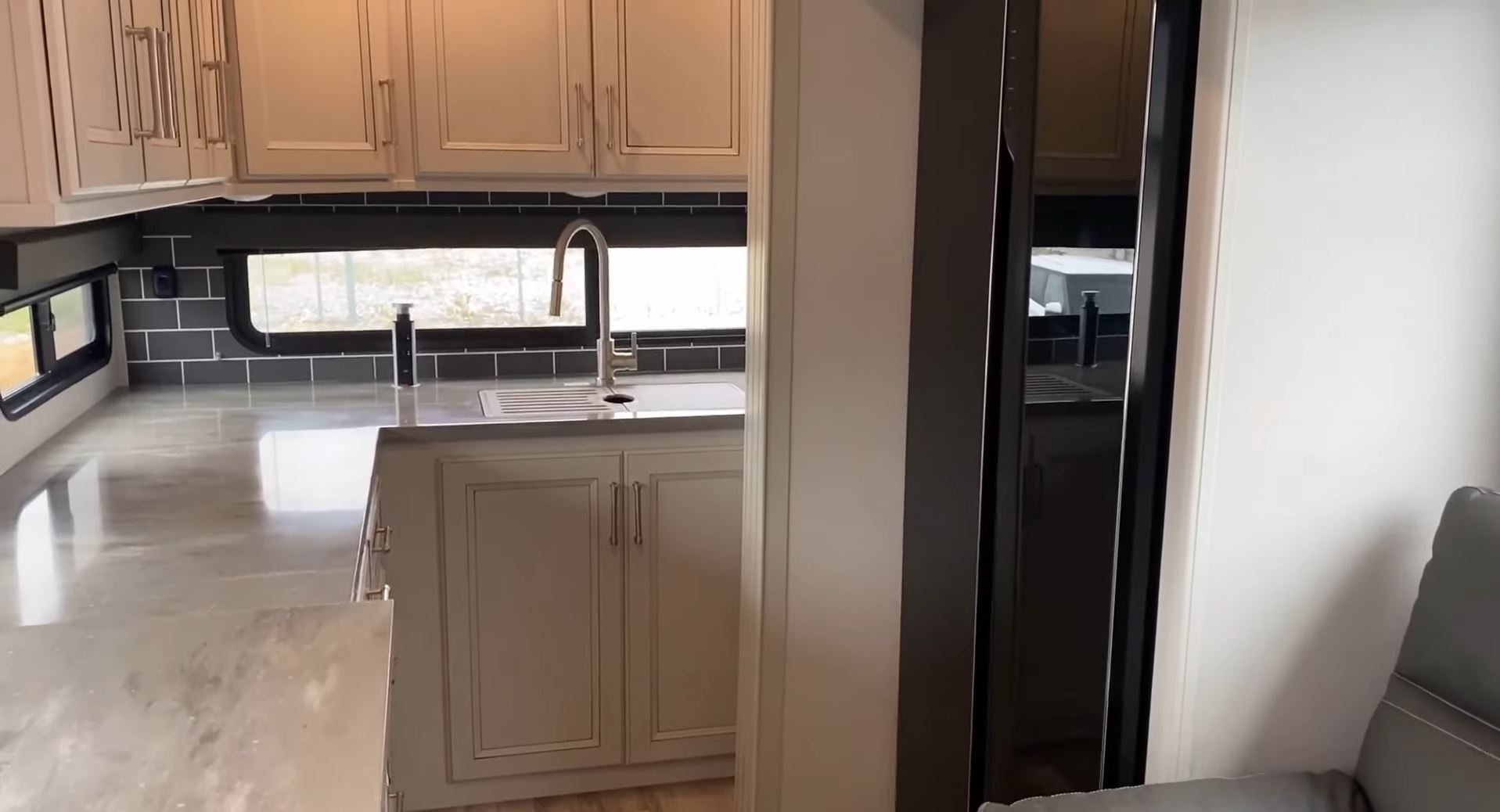 Need to get something from the kitchen but you're in road mode? Not a problem. The 260MLE has A+ travel access, with the sink, fridge, and most of the cabinets easily accessible in transit. You won't even need to squeeze, there is so much space.
Accessible Bathroom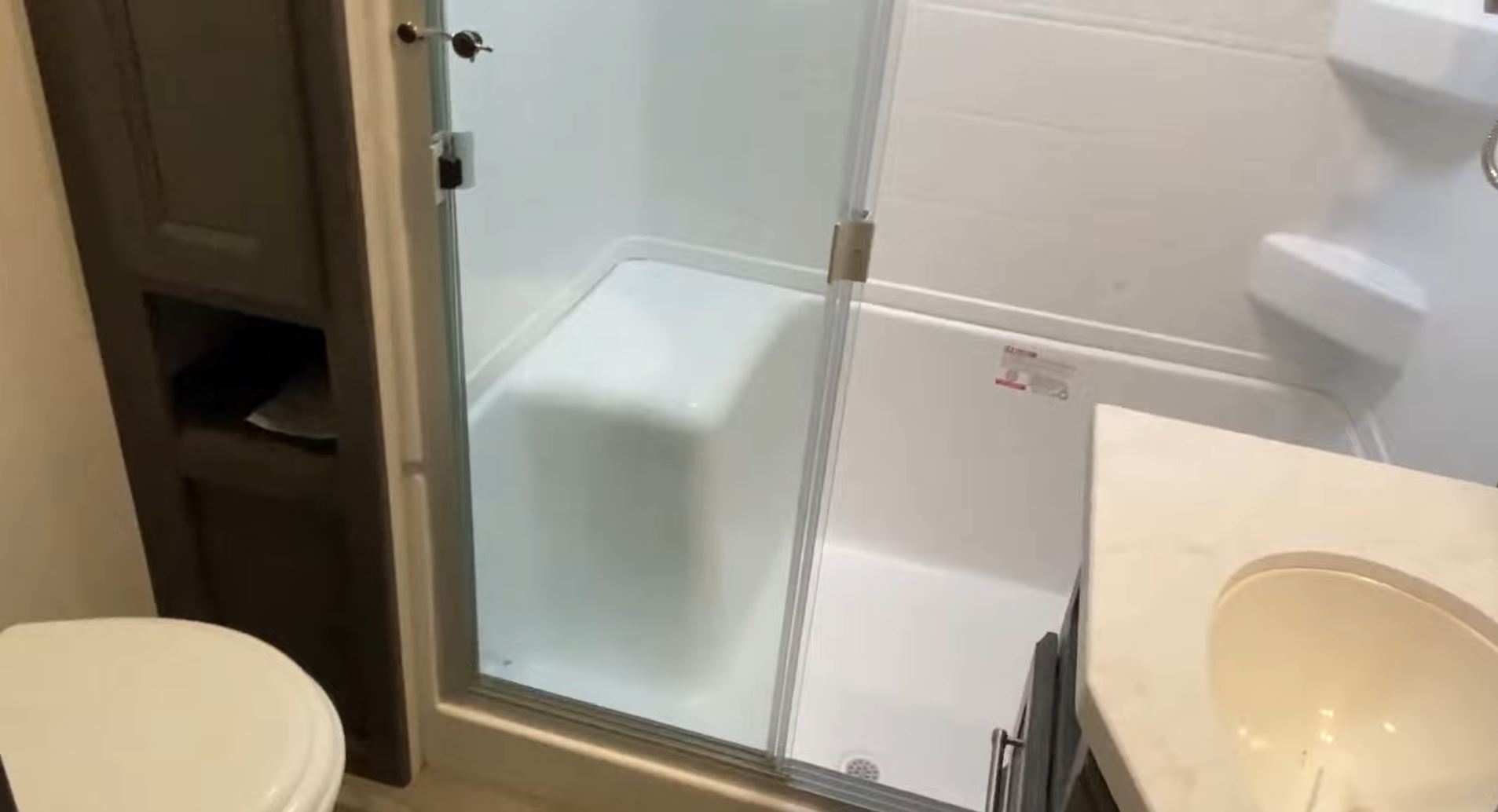 The bathroom features multiple accommodations in the bathroom to help with accessibility and comfort.
With a handrail leading up the stairs to the bathroom, a seat in the shower area, plenty of hip/shoulder/leg room around the toilet, and a respectable ceiling height, this bathroom is fit for all ages and sizes.
There is also ample storage room, including a spot to put a wastebasket under the sink and a medicine cabinet recessed into the wall behind the mirror to maximize space efficiency.
The Cougar 260MLE also opted for a towel bar instead of a hook, helping your towels to remain neater and dry faster.
Bedroom Fit for Kings and Queens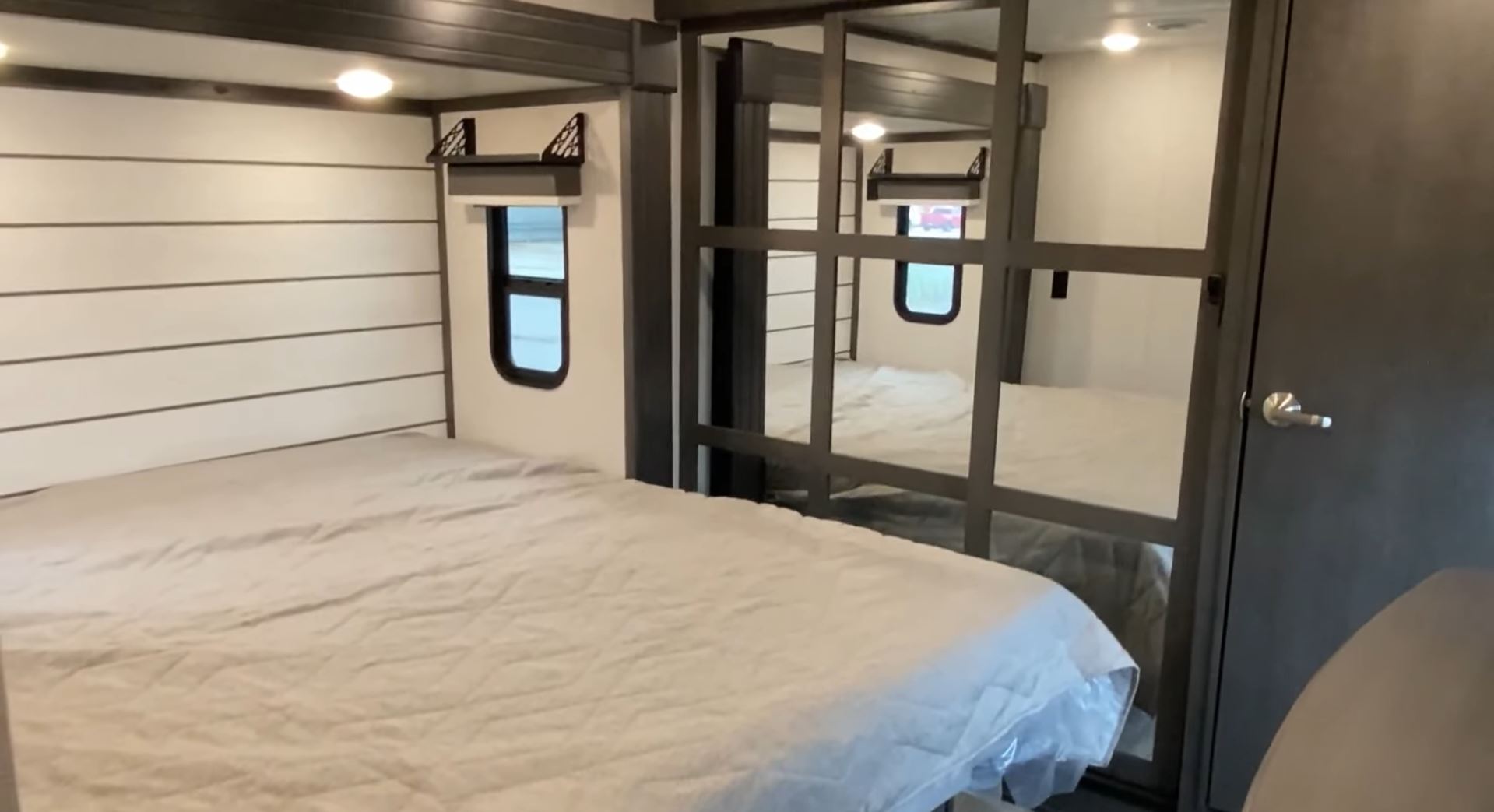 The bedroom in the Keystone's 260MLE makes efficient use of its space, with dressers and a closet for plenty of clothes storage, a desk with an inverter-prepped outlet, and spacious storage beneath the slide-out king or queen bed.
The room features a total of 4 inverter-prepped outlets, with two being located above the windows at the head of the bed, with two shelves next to them for phone/accessory charging.
In the closet, there is room for not just a combo washer/dryer, but also a stackable washer and drying, giving you more customizability to fit whatever your preference is when it comes to washing your clothes.
For its size, the Cougar 260MLE has excellent cargo-carrying capacity. With an empty weight of 9,725 lbs and a max capacity of 12,000 lbs, you have just over 2,000 lbs of cargo capacity, allowing you to pack just about anything you need.
The 260MLE also impresses with its solar options. With their Solar Flex package, you can choose from three options for factory-supplied solar and inverters.
               220w without an inverter
               440w with a 2000w inverter
               660w with a 3000w inverter
They are also no longer forcing lithium batteries, but they are still an option for those who prefer them.
Exterior Made for Camping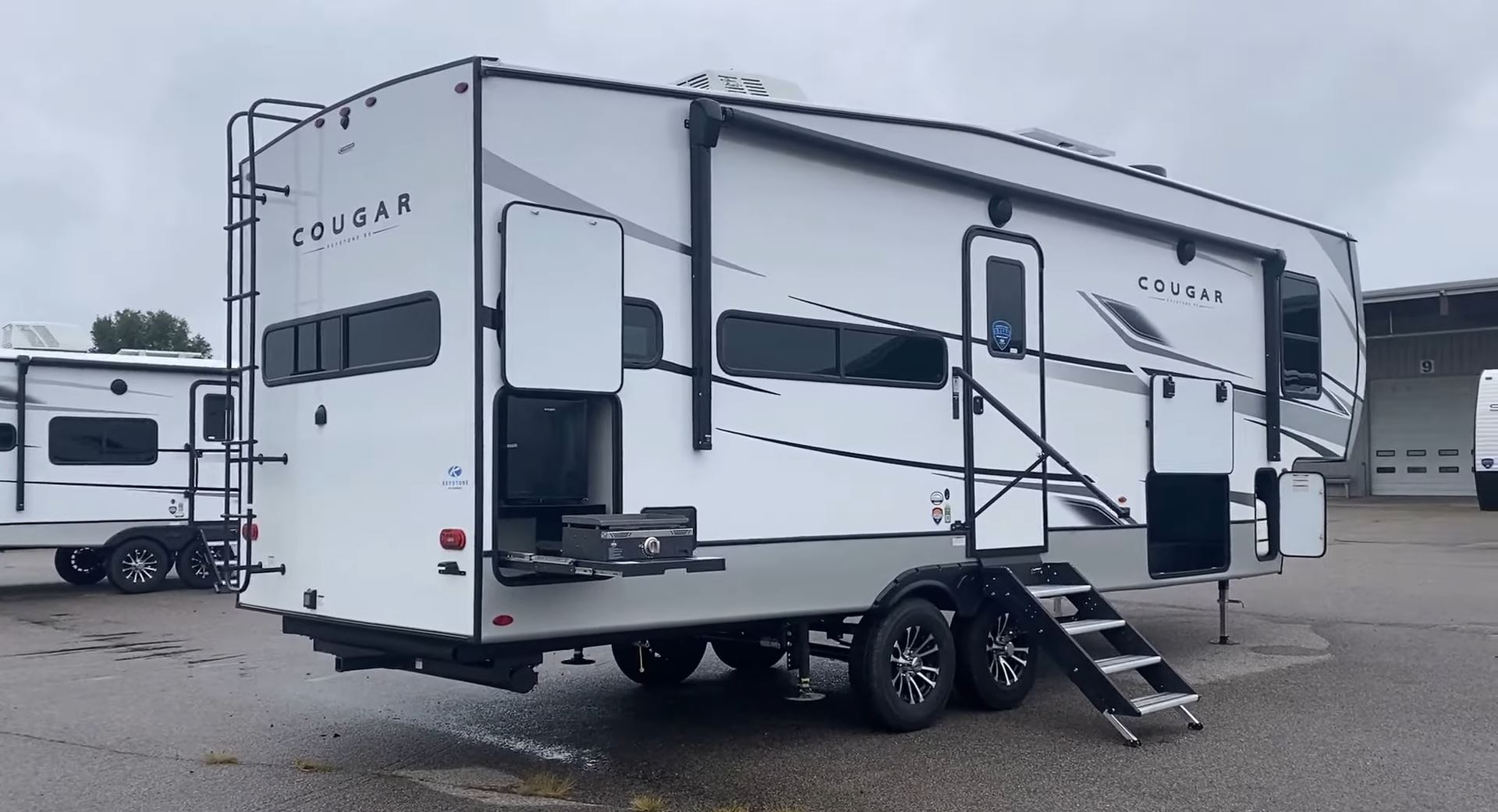 The exterior of the 260MLE is where we hit our first potential drawback, but it is offset by all of the other benefits on the outside.
The drawback is dual sewer outlets. While Keystone tries to just have the one outlet, for whatever reason that was not possible on the 260MLE, and that is a downside to some, and maybe not a big deal to some others.
On the other hand, there are so many benefits, that we are just going to rapid-fire them off in a bullet list:
Tankless on-demand water heater
Rated, tested, and proven from 0-110 degrees
A 300-pound accessor hitch
Sewer tube holder for convenience
Goodyear tires
Road armor suspension package
And lastly, one of the most unique features is the lack of campsite slides. This allows for a very wide awning at the entrance of the RV, with the door being toward the middle.
No more going out of your RV and getting blasted by rain immediately because it snuck by the edge of the awning!
Get a 2024 Cougar 260MLE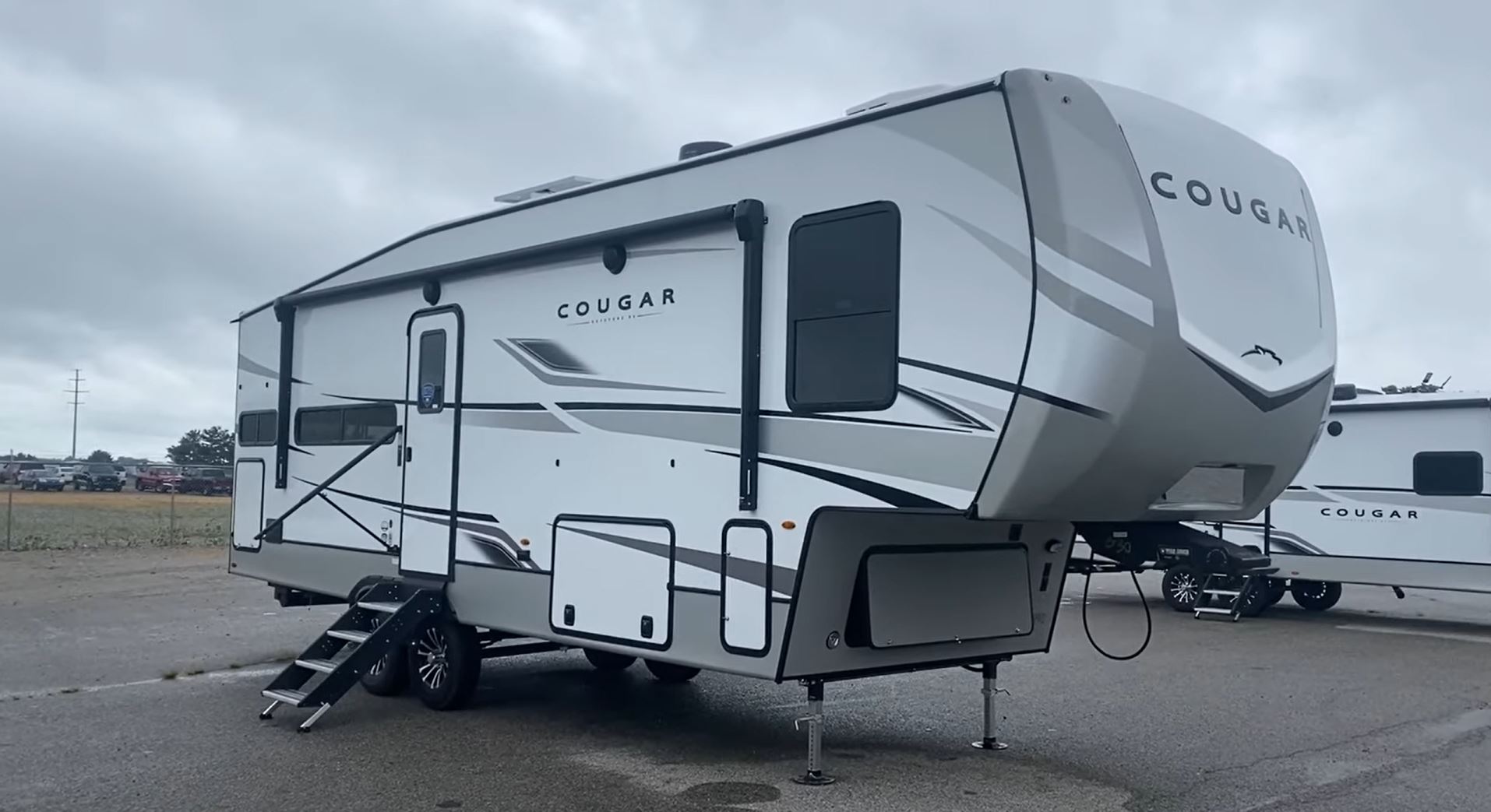 If you're interested in buying this ultimate couple's camper, follow this link and click "Contact Us" to pre-order today and lock in pre-order pricing.
At Bish's RV, we like to do things differently. That means NO hidden fees, a 72-hour guarantee, and Diamond Club perks. With the Bish's Difference, we can help you get the RV that you want for the price that you need. To learn more about the Bish's Difference, check out this blog post.
Happy Trails!