By Greg Long
Winnebago Access 30BH Travel Trailer- A First Look!
Looking for the perfect camper feels a bit like searching for a needle in a haystack. Especially when the family budget is giving you a tight squeeze. With so many choices, how do you pick the one that won't empty your wallet but still gives you great features and comfy vibes?
Never fear, Bish's is here… and we even phoned a friend to help answer this one.
Josh the RV Nerd just got back from an exclusive visit to the Winnebago factory and he saw something special we can't wait to share with you – the all-new Winnebago 30BH!
Hang tight, because by the time you're done with this article, you're going to be a Winnebago 30BH expert!
Table of Contents
Winnebago's First Stick and Tin Campers
Who is the Winnebago Access 30BH a Good Fit for?
Want to see Winnebago Access 30BH Inventory? 

Winnebago Access Series: Redefining Stick and Tin Campers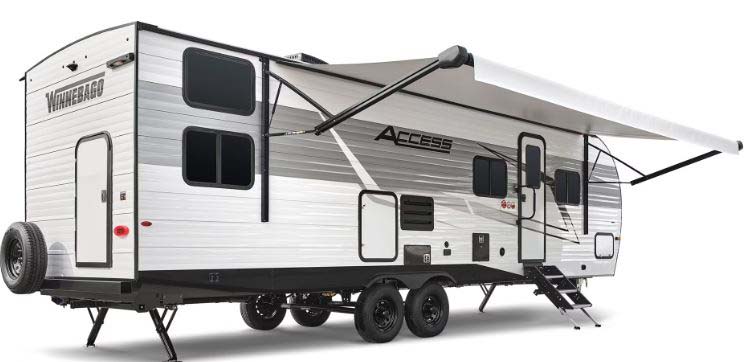 Our good friend, Josh the RV Nerd recently had the chance to explore the new Winnebago Access series, which is introducing a fresh perspective to the stick and tin camper category. These are Winnebago's first stick and tin campers.

---
To learn all about the differences between "stick and tin" campers and "aluminum and fiberglass" campers, read our article: The Best Resource When Choosing Between Stick and Tin and Fiberglass RVs
---

Regarding the Access 30BH, Josh remarks, this isn't the smallest bunkhouse one would come across, its got some size to it, but this budget-friendly camper is packed with a host of features that are sure to make any trip a delight.
Winnebago is renowned for its extensive, quality core features that run consistently through its entire towable lineup and add up to a great camping experience.
The 30BH is no exception, bringing forth an exciting blend of quality and innovation, while venturing into a new market segment (stick and tin market) with a competitive pricing strategy.
Already own a camper but thinking of trading up to something bigger like the Access 30BH?
Find out what your Camper's trade value is!
Learn how to get the most for your RV Trade-in with our deep-dive article: How to get the most for your RV Trade.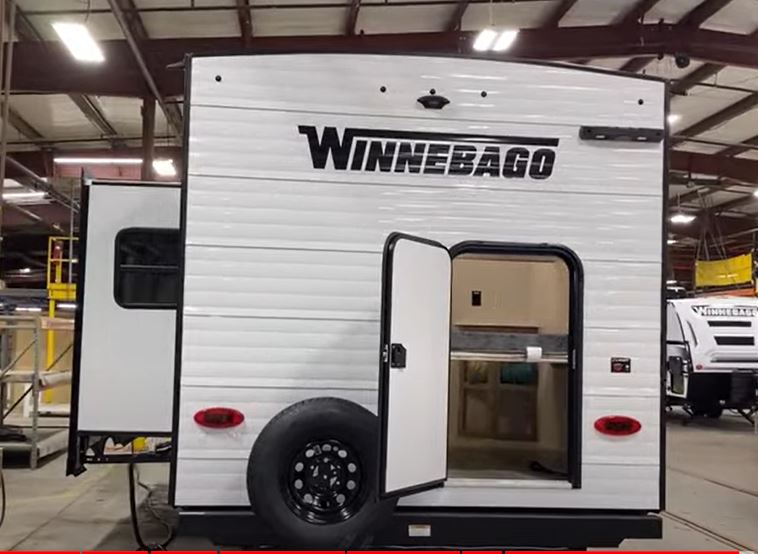 Winnebago Access 30BH Specs
30BH Weights & Measures
Hitch 910lbs
Max 8,800
Empty 7,146
Cargo 1,640
Length 33'2″
Width 8ft
Height 11'5″
Fresh 60gal
Gray 1 49gal
Gray 2 47gal
Black 49gal
Solar 200w
How Much is a Winnebago Access 30BH?

The Winnebago Access 30BH is in the prototype stage- no pricing is currently available.
Pre-Order a Winnebago Access 30BH
You can speak to one of Bish's RV Experts to Pre-order an Access 30BH — and get locked into special pre-order pricing.
You can also look at Winnebago Access inventory available for pre-order:
We will update this Review of the Winnebago Access 30BH with pricing information as soon as Winnebago sets a price for this model.
Come back regularly to check on pricing updates and special offers on the 30MB from Bish's RV!
---
Spacious and Flexible Layouts in the Access 30BH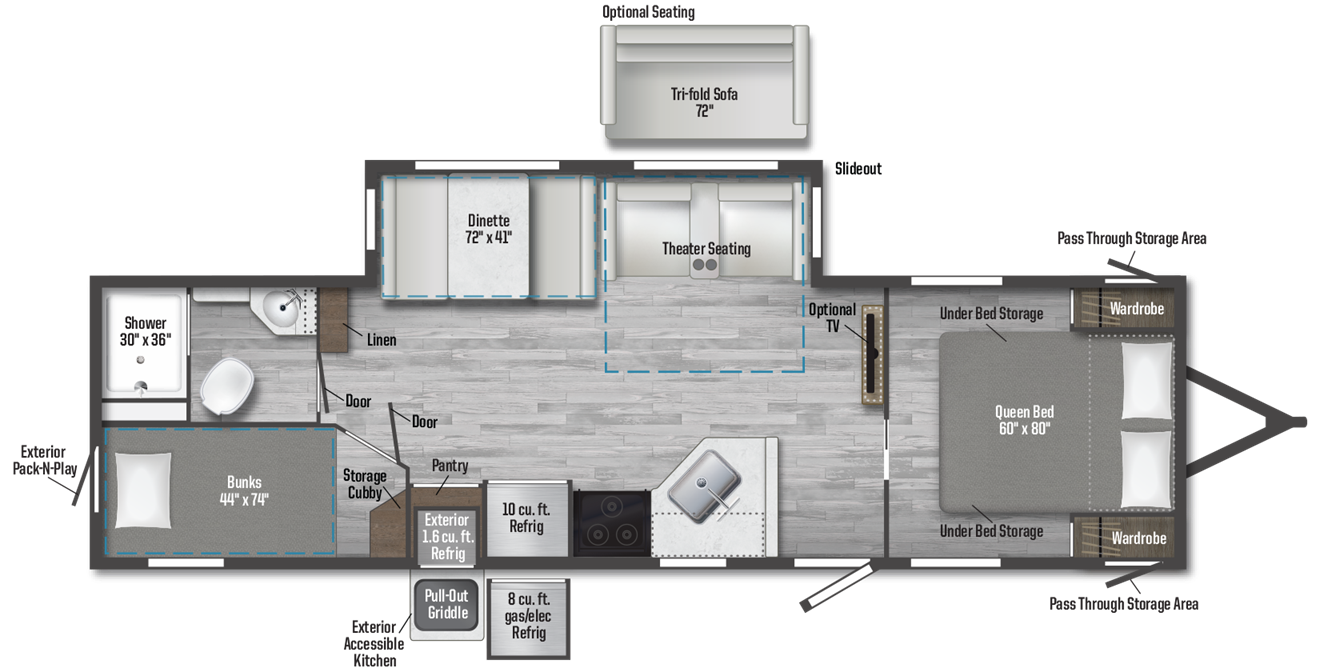 A standout aspect of the 30BH is its spacious layout that offers both a big super slide and a private bedroom.
This layout also introduces a fully enclosed private bunk room, a feature that remains quite rare in the industry. The private bunkhouse adds a touch of convenience, allowing individuals to move freely without disturbing others during the night.
Moreover, the bunk room can easily transform into a walk-in closet or an office space, offering a level of versatility that adapts to your changing needs.
This particular feature sets the Winnebago 30BH apart as not just a family bunk model, but a flexible space that can serve various purposes, enhancing the overall functionality of the RV.
Interior Innovations: Access 30BH Has a Refreshing Take

One of the notable characteristics of the 30BH is its departure from the typical stick and tin aesthetics. The interiors of this model do not resemble the traditional stick and tin camper, presenting a sleek and attractive design that defies expectations.
Winnebago Access 30BH Interior Features
Access 30BH Living Area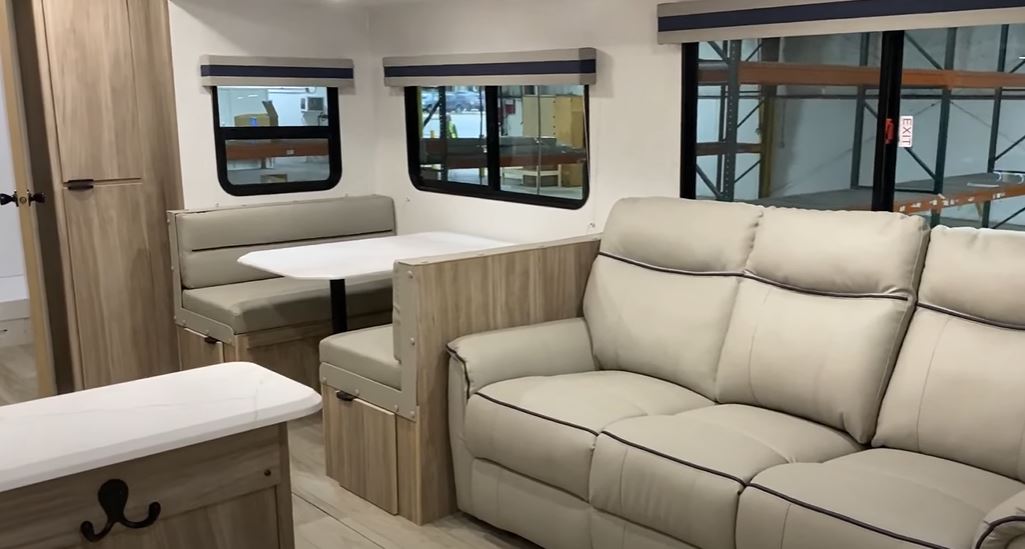 Spacious Living Area: Features a big super slide living room, providing ample space, especially on rainy days.
Ceiling Height: A taller ceiling height of approximately 6 foot 8 inches, offering more headroom and spaciousness.
Bright and Plentiful Lighting: Equipped with a good lighting package that changes the atmosphere dramatically when turned on.
Flooring: The RV is carpetless and has ventless flooring, with heat vents located near the floor line under the cabinets to maintain maximum drawer capacity.
Windows: Contains slide windows; however, window coverage on the campsite is not extensive.
Furniture: Includes a "cuddle-compliant" theater seat as a standard feature – with an option to have a tri-fold hide-a-bed. One of the models comes with a jackknife sofa due to space constraints.
Color Palette: Has a light and bright color palette enhancing the visual spaciousness of the area.
Access 30BH Kitchen
Pedestal-style dinette: (note: not preferred by Josh the RV Nerd, due to knee-knocking issues)
Convection microwave/air fryer: built above the countertop, replacing a gas oven
Countertops: Sealed edge pressed membrane
Sink Covers: Heavy Duty! (included)
Outlets: placed conveniently for setting up appliances like coffee makers. Includes A bank of outlets under the upper cabinet for charging stations or other appliances
Refrigerator: Comes with a large 10 cubic foot 12-volt compressor fridge to accommodate a large family's needs.
Access 30BH Bunk House Area
Upper and lower bunks equipped with household and USB outlets
Fold-up cargo bunk feature (bunks are not structural and can be removed or replaced)
Potential to transform the space into a walk-in closet or office area
Big window in the entry door with a pre-installed shade
Like what you see? Pre-Order a Winnebago Access 30BH

Access 30BH Bathroom
Porcelain foot-flush stool
Spacious bathroom area with corner cabinet for storage (includes a space for toothbrush, Q-tip, and liquid storage)
Large mirror installed, providing a sense of openness without compromising privacy
Easy step-in shower instead of a travel trailer tub
Skylight in the bathroom (note: height might be an issue for individuals taller than 6 feet)
(Not included: big bathroom vent fans)
Access 30BH Bedroom
True queen beds as a standard, allowing for more comfortable and spacious sleeping arrangements
Both sides of the bed have household and USB outlets, with an abundance of inverter-prepped outlets
Deep pockets behind the headboard for extra storage
Drawers available on both sides of the bed for storage
Easy lift storage below the bed
No heat vents directly on the floor, making it more kid-friendly and pet-friendly
Carpetless slide
Winnebago Access 30BH Road Mode (while traveling)
Limited access to the kitchen area due to the interaction between the sofa and the countertop
Restriction in accessing the bathroom and corner bunk room when the slide is closed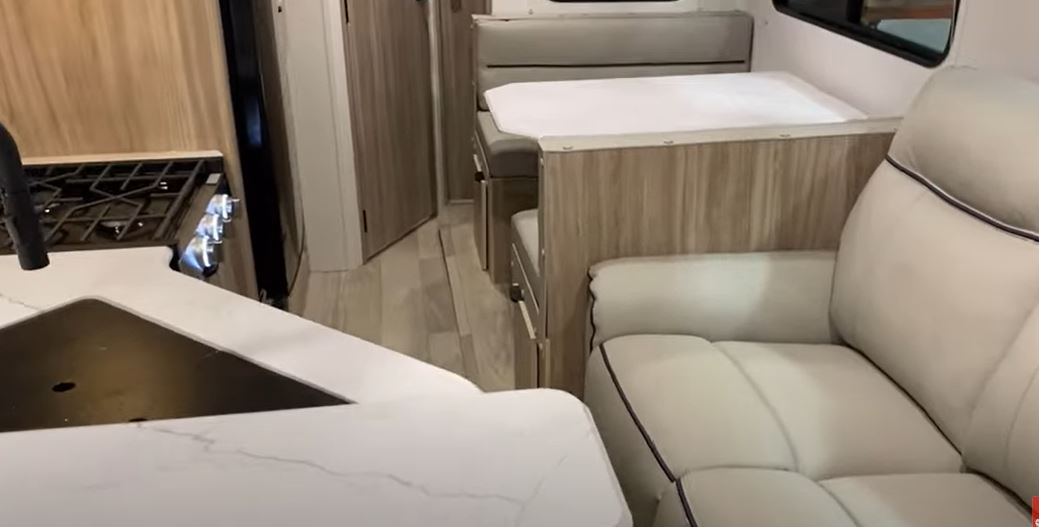 Winnebago Access 30BH Exterior Features
Access 30BH Front Area
Power stabilizer with easy manual override nut located at the side.
The tongue is expected to feature a neat power box housing all the 12-volt wiring, reducing the clutter and enhancing aesthetic appeal (prototype stage, may undergo changes).
Potential integration of an all-inclusive power box to organize and conceal wiring components, similar to features found in Keystone, Crossroads, and Heartland RVs.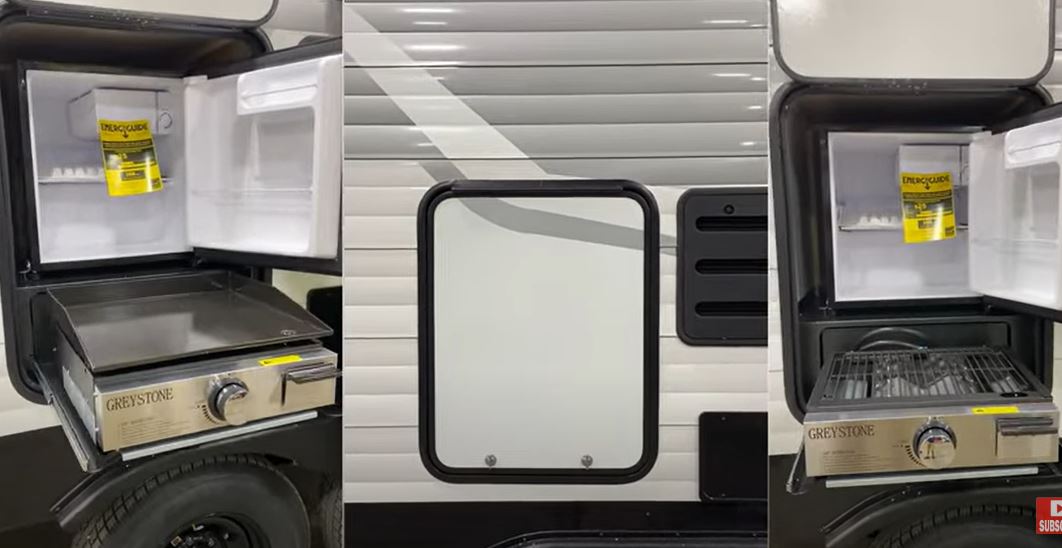 Access 30BH Tank and Utility Area
Durable .03 aluminum skin, thicker than the standard .024 found in most stick and tin campers.
Nose constructed with 0.04 thickness, adding to the robustness.
Problematic placement of sewer outlets, particularly one located just in front of the tire, under the super slide – could be challenging to access (feedback to possibly address before final production).
Equipped with black tank flush and full hot-cold outside utility shower.
Prepared for side view and rear view camera installations by Furrion, enhancing safety and convenience.
Prepared for TPMS and inverter installations, with designated plywood for secure inverter mounting.
Access 30BH Awning and Roof
Spacious awning providing ample shade and protection.
200-watt standard solar panel installed on the roof, inclusive of a wind fairing to prevent wind damage and potential leak points.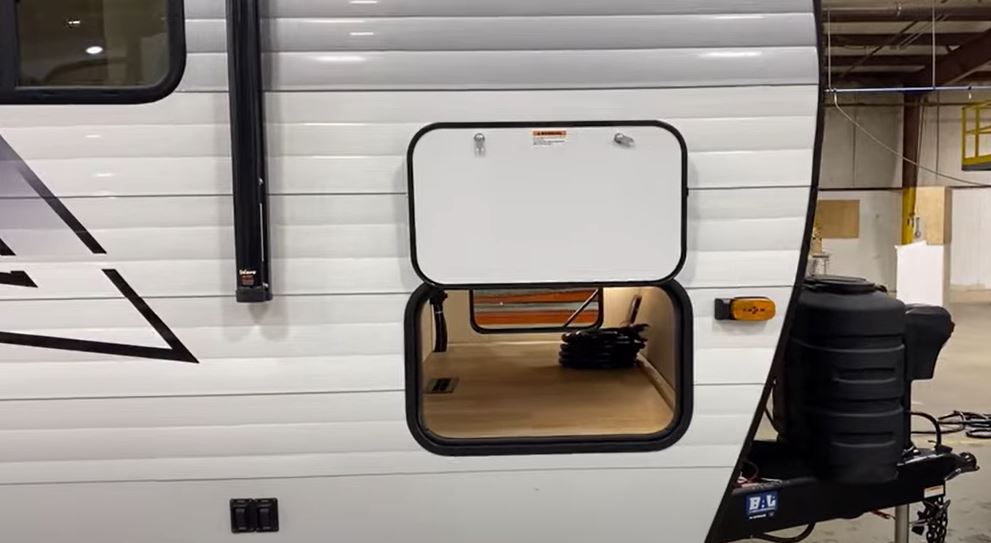 Winnebago Access 30BH Pros and Cons
Winnebago Access 30BH Pros:
Competitive Pricing Strategy: The 30BH model is positioned as a price-aggressive option in Winnebago's lineup, making it an appealing choice for budget-conscious consumers looking to enjoy Winnebago's renowned quality and innovative features without a hefty price tag.
Versatile Bunk Room: The 30BH model features a fully enclosed private bunk room that can function not only as a sleeping area but can also be transformed into an office or walk-in closet, offering versatility for various needs.
Interior Design and Height: The RV has a refreshing interior with a light, bright color palette and higher ceilings (6ft 8in) than usual, borrowing design features from their mini laminated series, which gives it a more spacious and luxurious feel.
Winnebago Access 30BH Cons:
Limited Window Coverage on Campsite Side: Despite its many features, the floor plan does not emphasize campsite window coverage, potentially limiting the natural light and views of the surroundings from inside the RV.
Possible Lack in Storage Space: Potentially limited dresser space in the bunk room, which might pose a challenge for accommodating personal items, especially for extended stays.
Budget-Conscious Design: While a plus for many value-minded families, this trailer was designed to be budget-friendly and may not appeal to those who are looking for luxury features and options.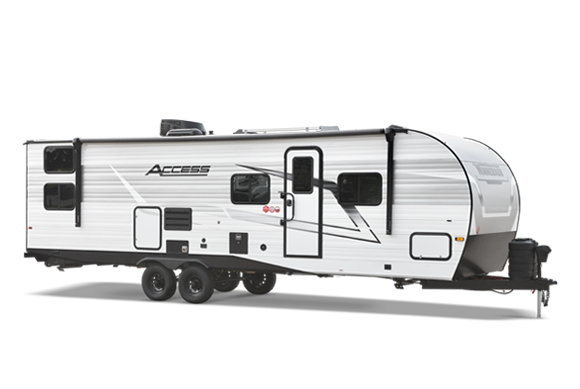 Who is the Access 30BH a Good Fit For?
The 30BH is a Good Fit for:
Families with Children: The 30BH features a private bunk room, which can be excellent for families with children, providing a separate space for kids to sleep and play.
Remote Workers: The private bunk room can potentially be transformed into an office, making this model an excellent choice for people who are looking to customize their space according to their needs.
Budget-Conscious Buyers: Given its competitive pricing strategy, this RV model might appeal to budget-conscious buyers who are looking for a quality RV without a hefty price tag.
The 30Bh is a Bad Fit for:
Those Seeking Expansive Window Views on the Campsite: The transcript mentions that the floor plan doesn't offer substantial campsite window coverage, which might disappoint buyers who prioritize having expansive views from inside their RV.
Individuals Looking for an Ultra-Spacious Layout: Although the model has a super slide living room offering some space, it might not be the best option for those looking for an ultra-spacious layout, particularly concerning the private bunk room and front bedroom areas which some may find to be a bit cramped.
Traditional Cooking Enthusiasts: The RV has replaced the traditional propane oven with a convection microwave, which might not be suitable for those who prefer a classic oven setup for their cooking needs.

Want to know how to find the perfect camper. Check out this video from Josh the RV Nerd:
Next Steps in Learning about the Access 30BH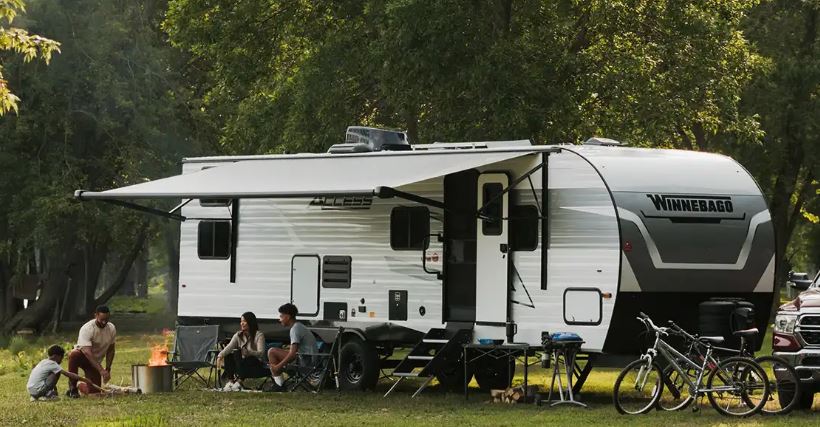 We know that the journey to finding the perfect, budget-friendly bunkhouse hasn't been a walk in the park. It can be downright overwhelming with the many options out there, not to mention the struggle to find a balance between quality and affordability.
At Bish's RV, we do more than sell RVs; we are your go-to resource when you have questions about campers.
Our goal is to empower you with knowledge and insight, so that you can make an informed decision. We are dedicated to assisting you in understanding the intricate details of different RVs, and discerning which one is the right match for you – even if the journey doesn't end with a purchase from us.
Looking ahead, your path to potentially owning an Access 30BH doesn't have to be overwhelming. We encourage you to take the next steps with confidence.
Whether that means arranging a visit to experience the 30BH firsthand, or continuing to explore and learn with us, remember that we are here to assist you every step of the way, making your journey smoother and more enjoyable.

Pre-Order a Winnebago Access 30BH
You can speak to one of Bish's RV Experts to Pre-order an Access 30BH — and get locked into special pre-order pricing.
You can also look at Winnebago Access inventory available for pre-order: