By Aaron Brunson
Exploring Jayco's 2024 White Hawk 29RL
Hey there, Josh the RV Nerd, your trusty RV expert, explored something special. The Jayco 2024 White Hawk 29RL! Let me tell you, it's not just your average RV. They took a 2500 imagine floor plan, turned up the volume to eleven, and pumped it up with steroids. Yes, it's bigger, longer, and heavier – if that gets you excited, watch the video and keep reading to learn more about its awesome features.
Pricing
Reach out to learn about lower than MSRP pricing!
Table of Contents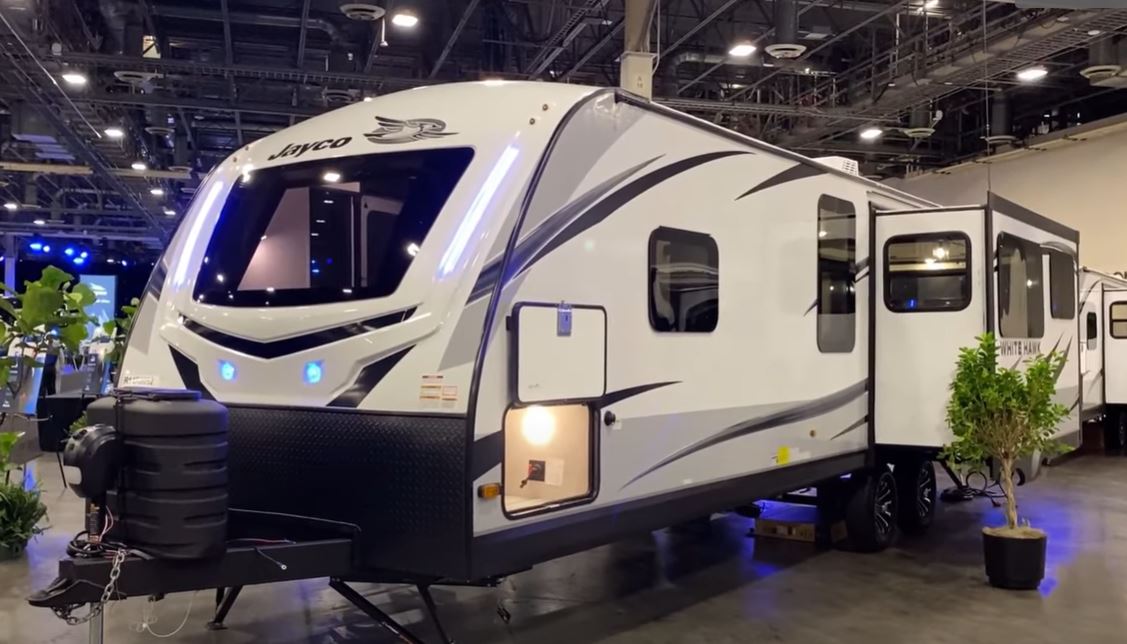 Interior Innovation
Stepping inside this beauty, you'll notice the living area boasts a unique double-dinette configuration, and guess what? The TV can pivot, so you can customize your viewing experience. Plus, there's a tri-fold sleeper sofa and a dinette that you can either have as a booth or go for the table and chairs – the choice is yours, allowing you to create a space that truly suits your lifestyle.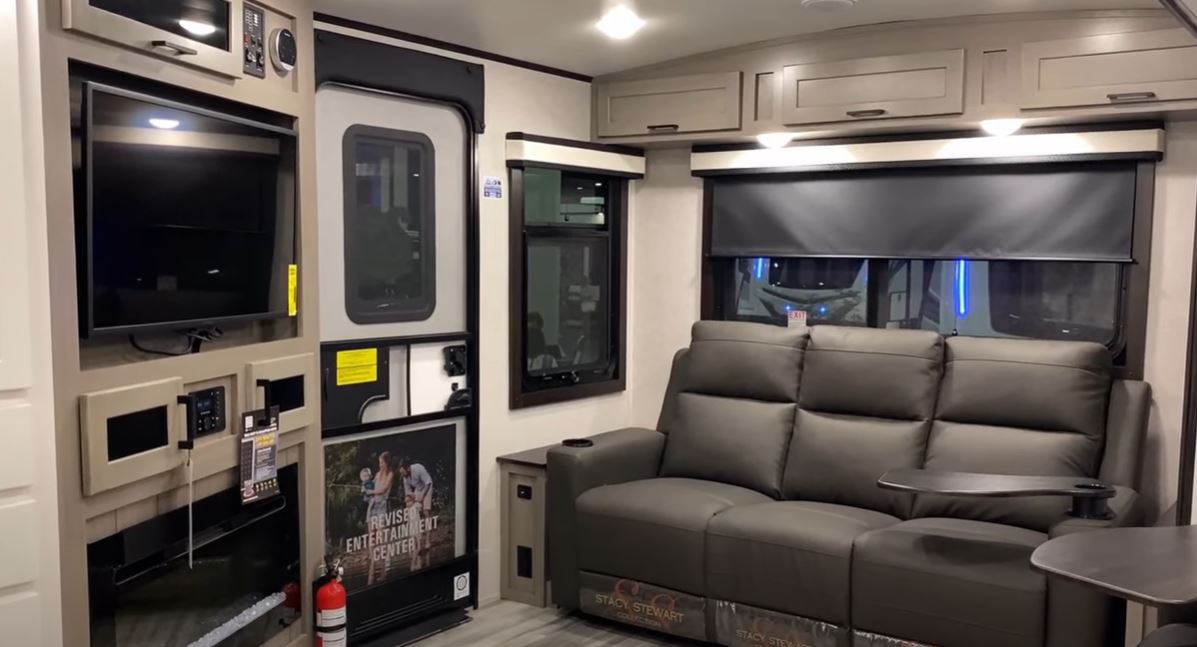 Enhanced Comfort and Convenience
Jayco has upped their game with an amazing new layout that features dual-ducted A/C, tested for zero-degree weather, better stabilizers for smoother rides, and even factory standard solar. Goodyear endurance radials, tire pressure monitoring, and wide stance stability axles guarantee a comfortable towing experience. And let's not forget the roof, fully walkable with a built-in ladder and cool lights on the nose cap – a feature that adds both style and functionality to your RV lifestyle. You can view the whole lay out and specs below.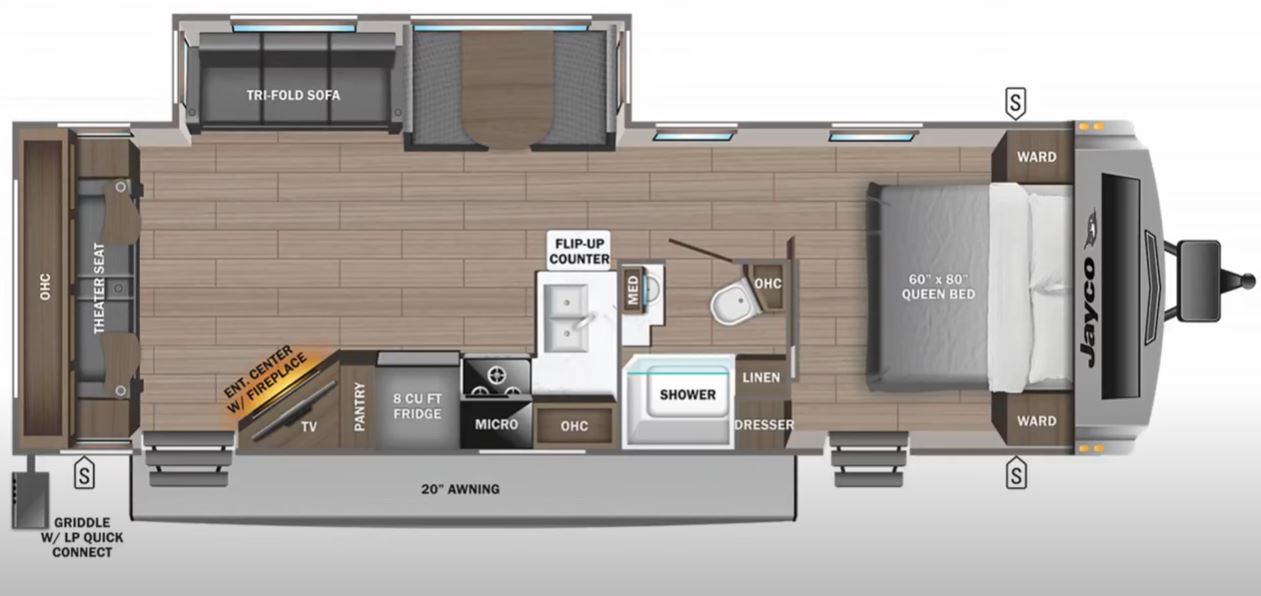 Jayco's 2023 and 2024 White Hawks Compared
Here's a breakdown of all of the different features and changes you might find on the 2023 Whitehawk and 2024 Whitehawk Models.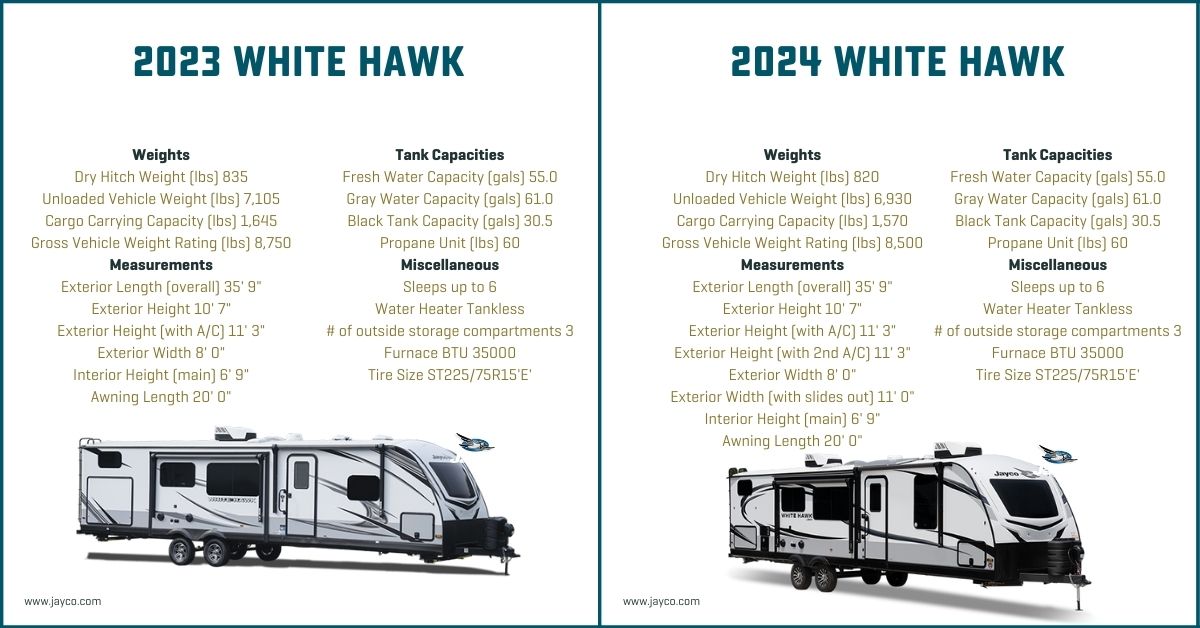 Luxurious Bedroom Retreat
Get ready for this – a true queen bed up front with bonus hanging storage tucked away in the corner, super handy, right? You'll wake up refreshed and ready for your next adventure in this comfortable bedroom. Plus, with a second bedroom entry door, you can access the bedroom, bathroom, and kitchen without even touching the slide button – it's like a two-stage travel adventure, and it enhances the overall convenience of your RV experience.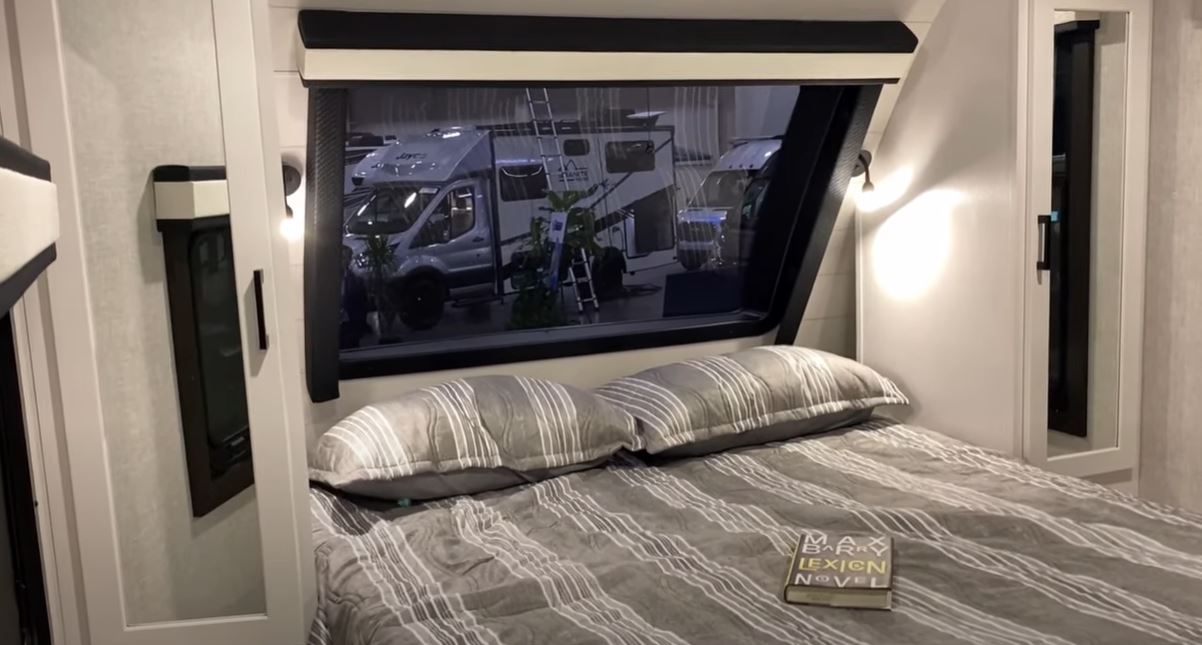 Hallway Bath for Convenience
Some folks adore walk-through bathrooms, but this one offers a hallway bathroom that's equally impressive. With easy access from various areas of the RV, you'll never feel cramped or inconvenienced. Whether it's a quick pit stop or a leisurely morning routine, this bathroom layout has you covered.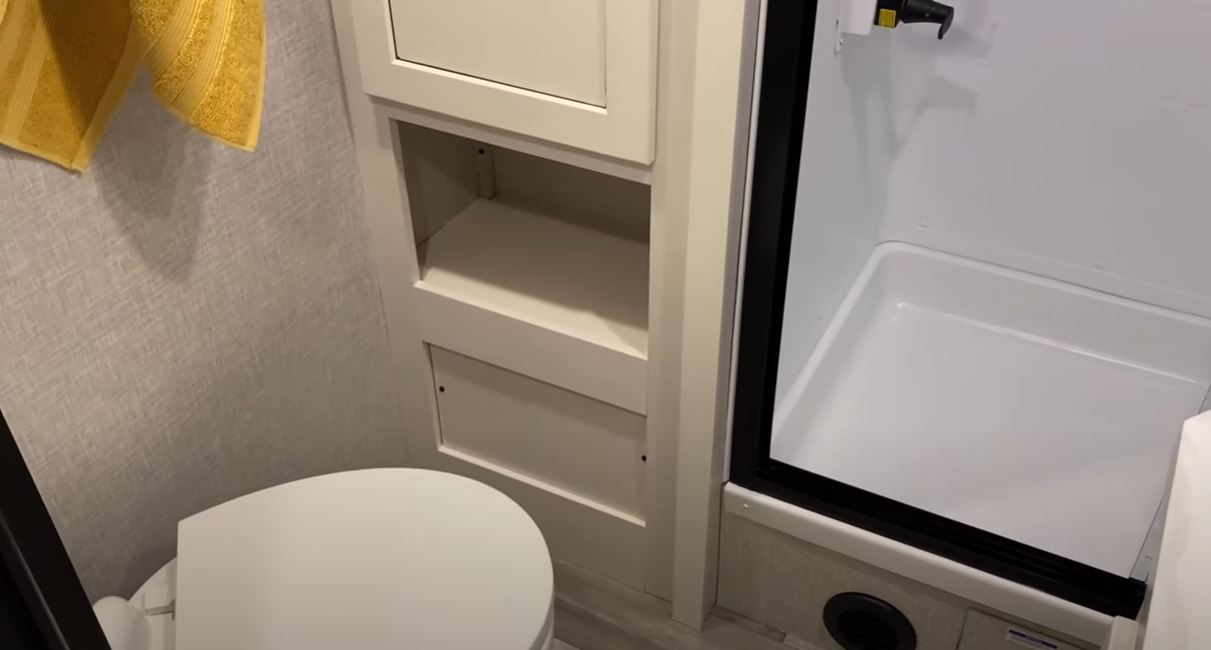 Functional and Stylish Kitchen
The White Hawk's kitchen is well thought out, with updated décor that feels clean and modern. They've ditched those pesky little accents that used to make everything look dirty. And they've added plenty of USB and household outlets for your convenience. It's not just about cooking; it's about enjoying the entire culinary experience on the road.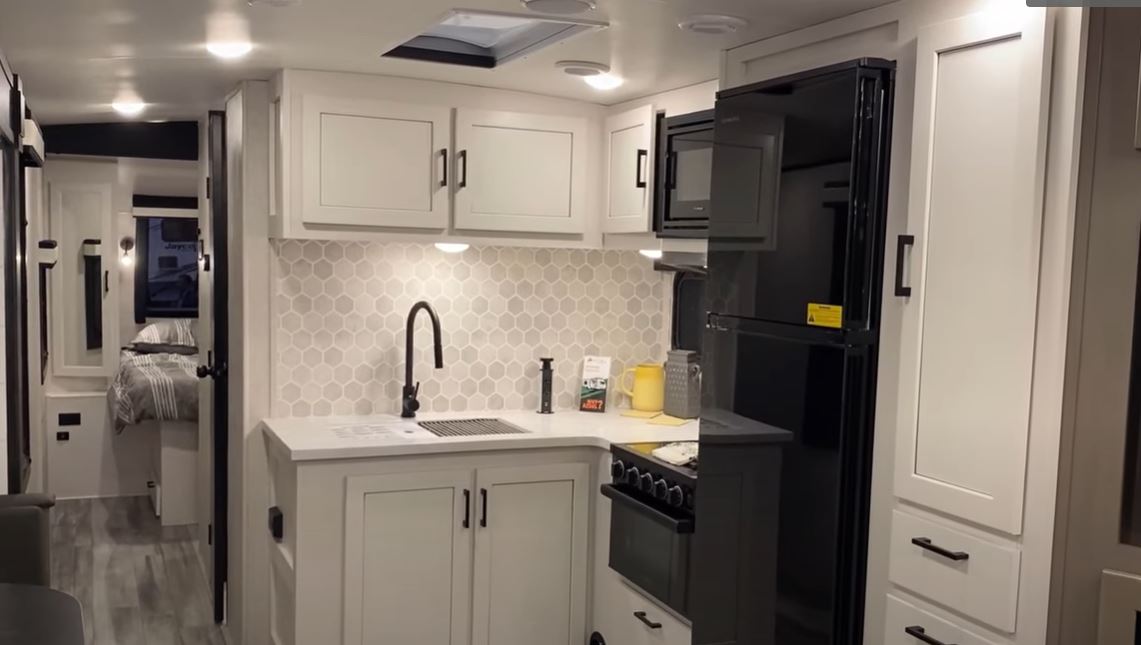 Relaxation Central
Now, the rear living area is perfect for relaxing with theater seats and a hide-a-bed sofa. The theater seats come with swivel stands for extra convenience, and you can even swap seating arrangements to suit your needs. With large windows and a vaulted ceiling, it feels incredibly spacious and inviting, creating a cozy haven for relaxation. Escaping from your worries is the whole point of RVing right? Where better to do it than from a theater seat in a gorgeous campground?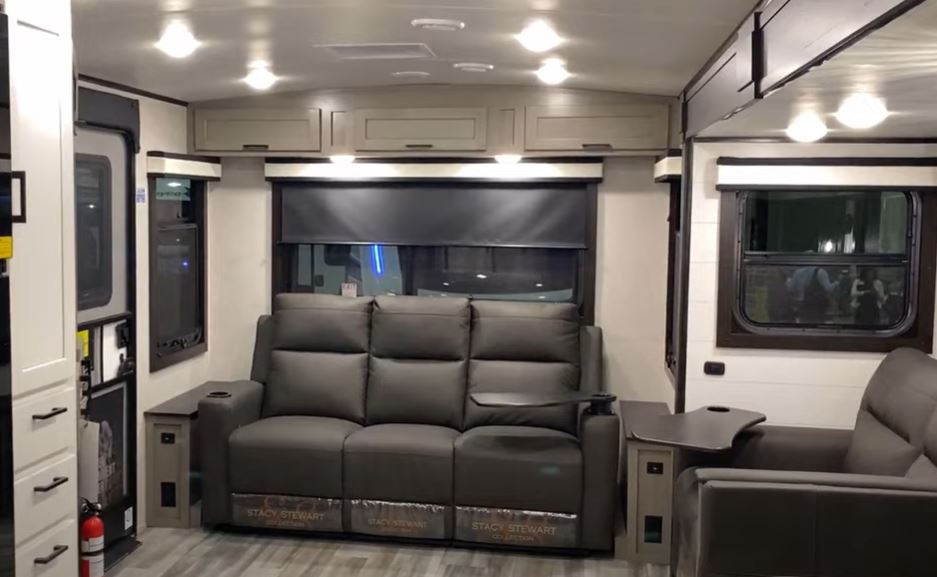 Towing Considerations
As for towing, well, it's a question we all ask. While it might be doable with a half-ton truck in flatland areas, you might not enjoy it in hilly or windy conditions. The wide stance axles help, but it's something to consider based on your towing experience. Prioritize safety and comfort when deciding on your towing vehicle.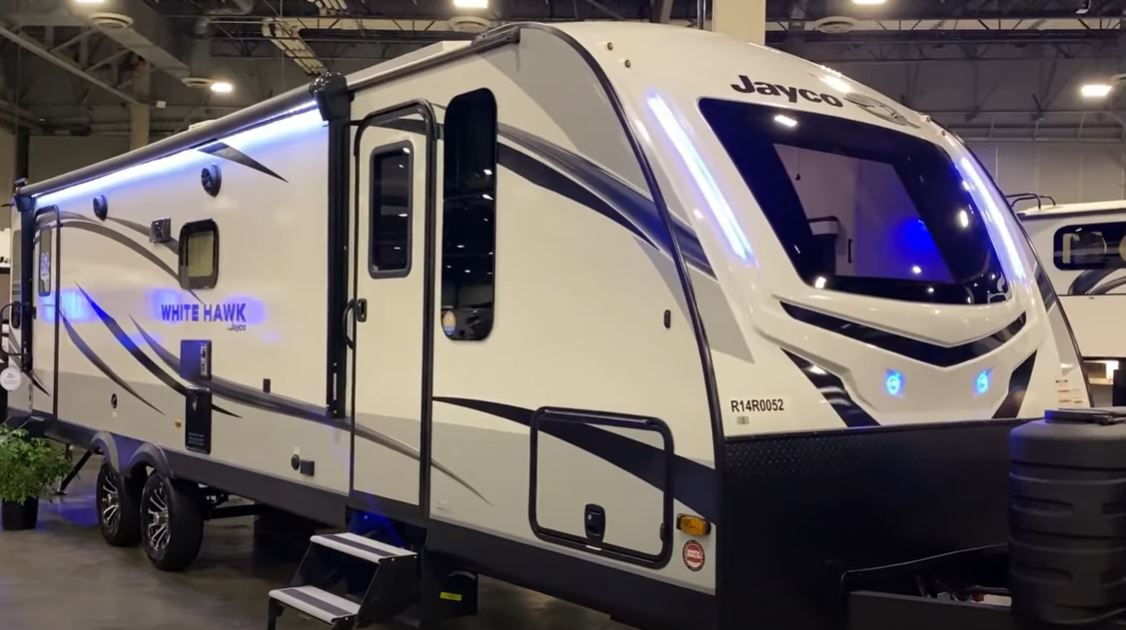 The Little Things (Overlooked Features)
There's plenty of storage, and they've even thought about including a spot for a griddle. Battery disconnect, inverter prep, and a second sewer outlet are handy additions. Plus, they use 30-pound propane tanks, and the underbelly is insulated and forced air heated, ensuring your comfort and convenience during your RV adventures.
The White Hawk has come a long way and offers a lot of bang for your buck. It's spacious, comfortable, and perfect for both short trips and extended stays. So, what do you think? Is it unnecessarily large, or do you love the extra space? Let us know in the comments below, and join the conversation about your RV preferences.
Pricing
Reach out below 👇 to learn about lower than MSRP pricing!