By Greg Long
How much does a Salem/Wildwood 29VIEW Cost?
A Groundbreaking Leap in RV Design
As anyone who's familiar with the RV industry knows, most campers typically look pretty much the same. We rarely get to see something truly new.
Well, hold onto your seat — because something we've never seen before has just been released to the public —the Salem/Wildwood 29VIEW travel trailer.

Read on to see how Forest River is breaking new ground with the breathtaking 29View!
Table of Contents
The 29VIEW's (not-so) Little Secret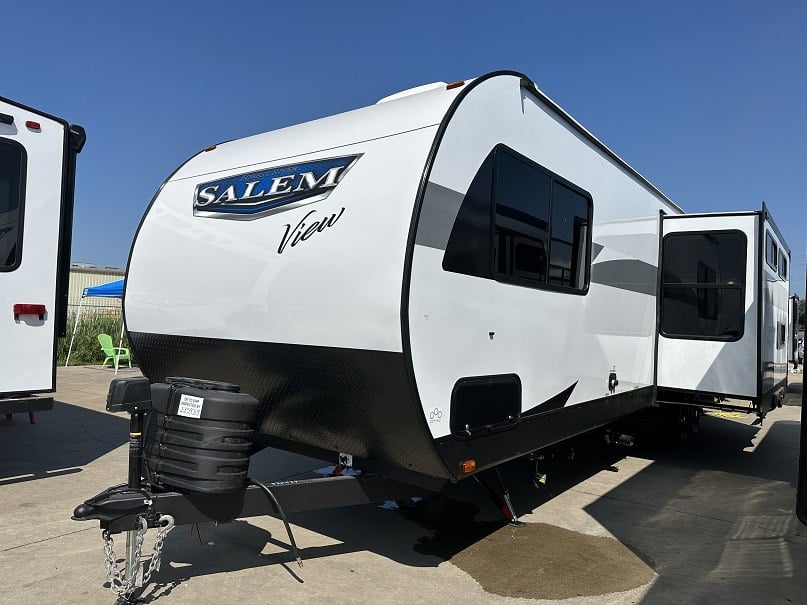 ---
---
29VIEW Floorplan and Specs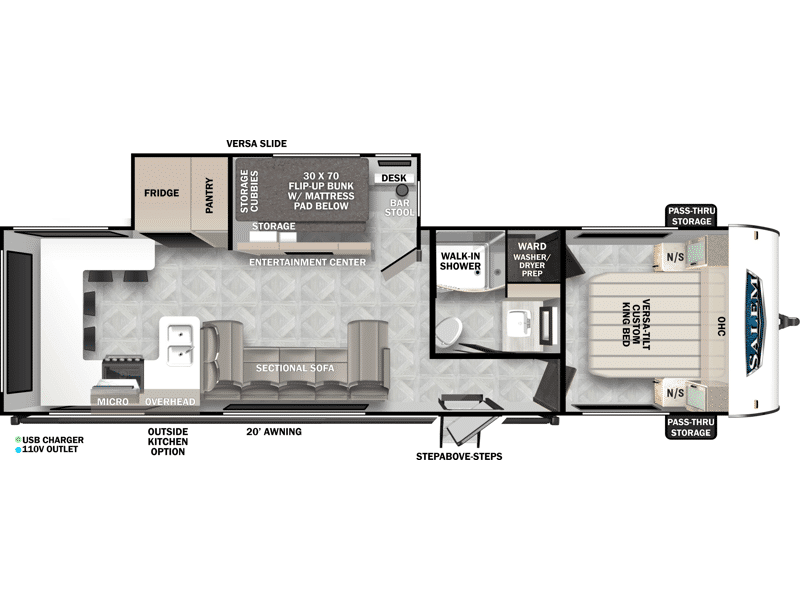 Weights and Measures

Weight
Hitch: 1,149lbs
Max: 9,911
Empty: 7,897
Cargo: 2,014
Length: 34'10"
Size
Width: 8ft
Height: 11'5″
Water Storage
Fresh: 40gal
Gray: 60gal
Black: 40gal
Other Measurements
Awning: 22ft
Windows: 104.5sq ft
Counters: 18f:t
Make the Salem 29VIEW Yours:
Ready to elevate your RV adventures?
Discover how you can customize the hidden room to fit your unique lifestyle. Whether it's a craft studio, an office, a pet haven, or an extra sleeping space, the Salem 29VIEW adapts to your desires. Learn how you can tailor your RV to your dreams.

Make the 29VIEW Yours! See available inventory now!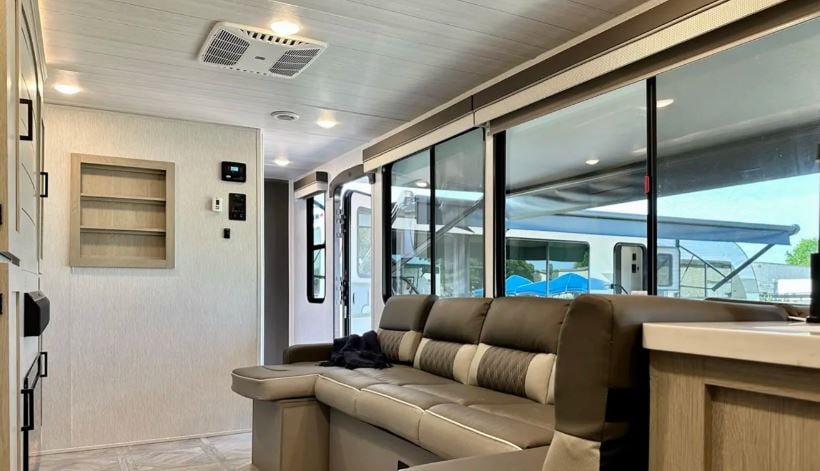 Unveiling the Campsite Revolution: 29VIEW's Remarkable Windows
Let's dive into the heart of the matter—those awe-inspiring windows! Josh the RV Nerd's journey led him to ponder a common RV design dilemma: why do most RVs have windows facing the neighbors instead of the stunning campsite?
This question was the catalyst for change, inspiring a breakthrough solution that's turning heads across the RV industry.
The Salem 29VIEW travel trailer boasts over 100 square feet of window coverage, offering a vista unlike any other.
From panoramic lakeside views to majestic mountain backdrops, the windows on this travel trailer transform your surroundings into a breathtaking work of art.
Thinking of trading up to a 29VIEW?
Find out how much your camper trade is valued for!

From Concept to Reality: The Birth of a Trailblazer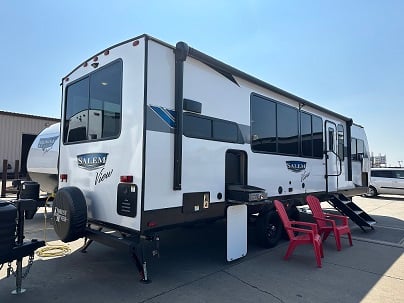 The Salem 29VIEW's story goes beyond just a concept—it's a realization of daring ideas and innovative design. This travel trailer, the largest in the View Series, challenges the status quo with its groundbreaking features.
Keep in mind, the Salem 29VIEW you're seeing today is a prototype—a glimpse into the future that sets the stage for more exciting developments.
Design, Versatility, and Beyond: 29VIEW's Thoughtful Features
The Salem 29VIEW isn't just about windows; it's a symphony of design elements that redefine comfort and convenience. From the versatile bed that slides away to enhance nighttime viewing, to the spacious dressing area and washer-dryer prep, every detail has been meticulously crafted with your comfort in mind.
As we step inside, we can't help but be captivated by the open and inviting atmosphere, amplified by the six-foot-nine-inch ceiling that envelops you in an ambiance of space.
29VIEW Interior Features
Living Area:
Unique hidden room within the slide for versatile usage.
Over 100 square feet of window coverage for panoramic campsite views.
Spacious feel with a six-foot-nine-inch ceiling height.
Versatile bed system with a custom 66″x78″ bed.
Multi-function entertainment center with TV hookups, HDMI input, and optional sound bar.
Innovative design with blackout roller shades for privacy and light control.
Comfortable sectional sofa with under-sectional storage.
Climate control solutions for comfortable living.
Kitchen and Dining:
Solid surface countertops for a modern look and easy maintenance.
Ample storage space for kitchen essentials.
Toe kick area for comfortable dishwashing.
Integrated dining space for versatile usage.
Option to add stools or portable tables for additional seating.
Full-size refrigerator for storing food and beverages.
Bunk Room / Multi-Function Room:
Private bunk room with upper and lower bunk beds.
Built-in steps with storage cubbies for easy access.
Multi-function room for various uses such as guest room, office, or crafts.
Dedicated air conditioning for climate control.
Entertainment hookups and storage options.
Creative and flexible design for personalized usage.
Bathroom:
Stylish bathroom design with functional features.
Unique pocket door for space-saving functionality.
Storage shelves and medicine cabinet for convenience.
Thoughtful design for optimal use of space.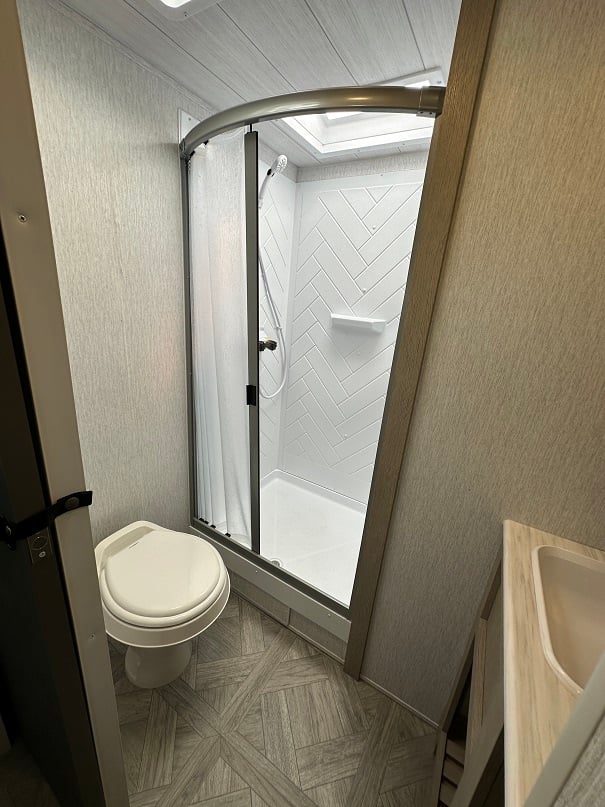 Bedroom:
Spacious front bedroom with panoramic window views.
Customizable bed system with versatile usage.
Integrated TV hookups for entertainment options.
Ample storage solutions for clothing and personal items.
Residential feel with a comfortable and functional layout.
Exterior and Utility:
Large patio awning for outdoor living space.
Exterior griddle space for outdoor cooking.
Tankless on-demand water heater for quick hot water supply.
Optional solar package for energy-efficient camping.
Enclosed and heated underbelly for extended camping seasons.
Make the 29VIEW Yours! See available inventory now!
A Secret Awaits: Behind Door Number One
What's this? A secret door? When we open it we discover the hidden treasure concealed behind the slide — an incredibly versatile and transformative space that adapts to your needs.
This room, a multi-purpose marvel, can serve as a bunk room, craft corner, office, or even a haven for your furry companions.
The possibilities are only limited by your imagination — but what about comfort? Fear not, the makers of the 29VIEW got you covered!
The hidden room comes complete with dedicated air conditioning, ensuring a comfortable retreat even within the slide. This remarkable feature showcases the commitment to providing a one-of-a-kind RVing experience.
Climate Control & Versatility: A Winning Combination


Let's address the elephant in the room—those expansive windows that offer panoramic views and a unique connection to the great outdoors. Josh raises a valid point about the potential for these large windows to turn the RV into a "hot box."
However, innovation prevails once again, as the Salem 29VIEW features an ingenious solution. The RV's designers have managed to duct air conditioning down through the slide, ensuring that even in the cozy hidden room, you'll enjoy a comfortable climate.
This thoughtful touch transforms the space from potential discomfort to year-round comfort.
Want to see what monthly payments you can afford when buying a 29VIEW?
Use our FREE Payment Calculator!
29 VIEW Space Efficiency and Design Elegance
As we journey through the camper, it's evident that the Salem 29VIEW's designers have paid attention to every detail.
From the clever steps leading to the upper bunk to the integrated storage options, every inch of space is maximized to enhance functionality without compromising on design.
The choice of storage locations, like the built-in storage within the slide and the stylish medicine cabinet with its carved-out design, demonstrates the commitment to thoughtful design elements.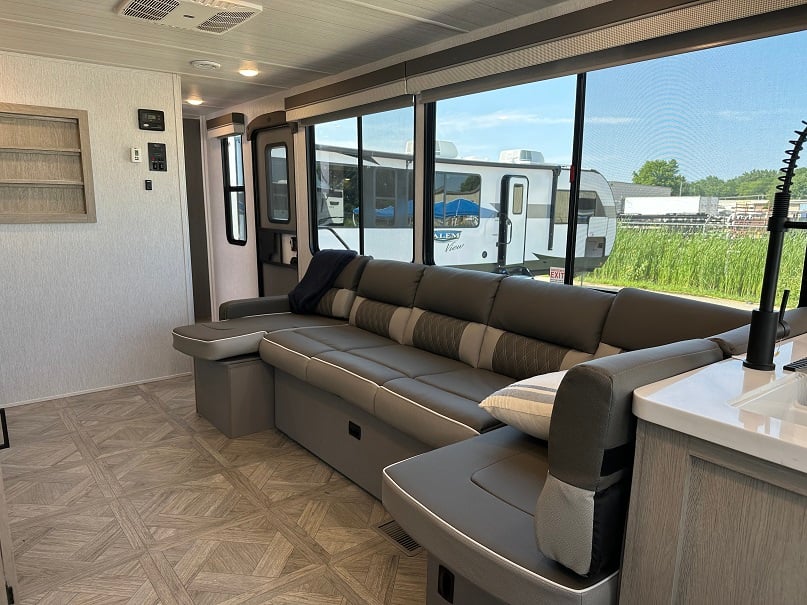 A Vision for the Future: The Salem 29VIEW's Promise
As Josh succinctly points out, the Salem 29VIEW is not only a proof-of-concept prototype but also an indication of exciting developments on the horizon.
The design team's responsiveness to feedback and their commitment to refining the model based on real-world usage is a testament to their dedication to delivering the best possible RVing experience.
It's clear that the Salem 29VIEW is a model that will evolve and adapt to the needs of RV enthusiasts, ensuring that the best is yet to come.
Road Testing the 29VIEW and Looking Ahead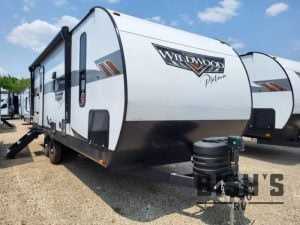 The adventure doesn't stop here—Josh's next challenge is to take the Salem 29VIEW on the road and see how it fares during travel mode.
As we eagerly anticipate the results of this real-world test, we're reminded that the RVing community plays a pivotal role in shaping the future of RV design. Feedback, insights, and experiences from RV enthusiasts like you contribute to the ongoing evolution of RV models, ensuring that the vehicles we love keep getting better.
Make the Salem/Wildwood 29VIEW Your Next RV!
The Salem 29VIEW brings a breath of fresh air to the world of RV design and functionality. With its groundbreaking concept, panoramic window coverage, and versatile hidden room, this RV showcases innovation at its finest.
Bish's RV is thrilled to have provided you with an exclusive look into the exciting features of the 29VIEW.
We understand that choosing an RV is a big decision, and we're here to help you every step of the way. If you have any questions about RVs, whether it's about the 29VIEW or any other model, don't hesitate to reach out to us. Our team at Bish's RV is dedicated to sharing our knowledge and assisting you in finding the perfect RV for your needs.
Taking the Next Step in Owning a 29VIEW
Now that you're well-acquainted with the remarkable features of the 29VIEW, it's time to take the next step.
If you're eager to experience this innovation firsthand, we invite you to schedule a free walkthrough with one of our knowledgeable RV experts. They'll be more than happy to guide you through the 29VIEW, answer any questions you may have, and provide insights that can help you make an informed decision.
Seeing is Believing
And if you're already convinced that the 29VIEW is the RV for you, why wait? Experience the comfort, versatility, and uniqueness of the 29VIEW for yourself by making it a part of your adventures. Click below to explore buying options and make the Salem 29VIEW your own.
Thank you for joining us in discovering the future of RVing with the Salem 29VIEW. We look forward to being a part of your journey towards making unforgettable memories on the road.
Learn More about the VIEW series for Wildwood and Salem RV
Read our Comprehensive Review of the Wildwood/Salem VIEW Series
Continue Your RV Education!
Greg Long
Bish's RV Content Manager
---
Amateur adventurer; professional dreamer.
aka: The Bish-Blog-Guy