July 21st, 2023 | 8 min. read
By Greg Long
If you're like most people who enjoy RV camping, you want to enjoy the spectacular views of nature, even when you're inside your camper. The problem is, most RVs don't have a lot to offer when it comes to windows — and the ones that do seem to have small windows, so you hardly get to see the views outside at all.

Bish's RV has been selling RVs for 35 years. We've seen all the RVs out there and we agree — when it comes to windows in campers, the choices are pretty limited.

When the Salem/Wildwood Group of Forest River RV told us to come down and check out their new line of RVs because they had a "Game Changer", we said, "Sure, we'd love to," but what they didn't see was us rolling our eyes sarcastically because we've heard this 100s of times from manufacturers.

Every year, when new lines of RVS are coming out, some RV maker says they have a "Game Changer" but usually it ends up being a small tweak to something that may add benefits, but doesn't really change the RVing game at all.

Well, hold onto your britches — Salem/Wildwood actually has a game changer!!!


When we saw the 3 trailers in the VIEW Series line of RVs for the Forest River brands, Salem and Wildwood, we were blown away. These RVs have HUGE windows. They look absolutely amazing and they allow you to look at absolutely amazing views while you're inside your camper. Finally!

This article will cover the 3 RVs we got to check out in the VIEW Series lineup — the 24VIEW, 28VIEW and 29VIEW.

These are prototype campers. They are fresh off the research and development production line, so they are not in 100% ready-to-sell condition yet, but man-oh-man, they are gorgeous.
A lot still has to be determined regarding final layouts and pricing for these campers, but I will tell you everything I know so far, and as I learn more, I'll update this article.

Let's take a look at the VIEW!

---
Are you thinking of upgrading to a VIEW Series travel trailer? Find out how much your old camper is worth.

If you want to learn more about how RV Trade Values are calculated, you can read this article: "How Do I Get the Most Money For My RV Trade?"
---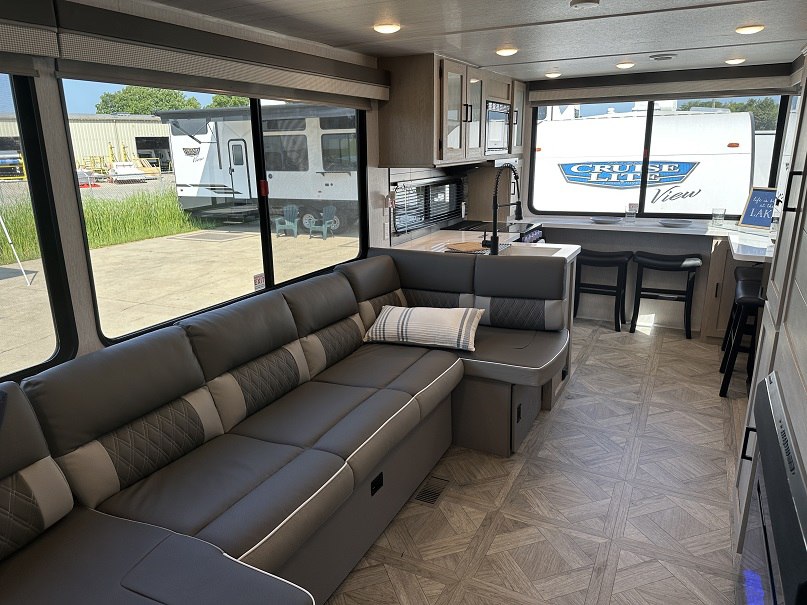 Table of Contents

What is The VIEW Series
What is the Price for a VIEW Series Travel Trailer
How Windows Affect RV Insulation
The 24VIEW
The 28VIEW
The 29VIEW
How to Buy a VIEW Series travel Trailer

What is the VIEW Series for Salem RV and Wildwood RV?
If you're familiar with RVs, you most likely have heard of the RV maker, Forest River. In case you don't know, Forest River is the number one highest-selling RV Manufacturer in the USA. They sell a lot of RVs!
See all of The Top 10 Selling RV Brands in America.
Salem Grand Villa 42VIEW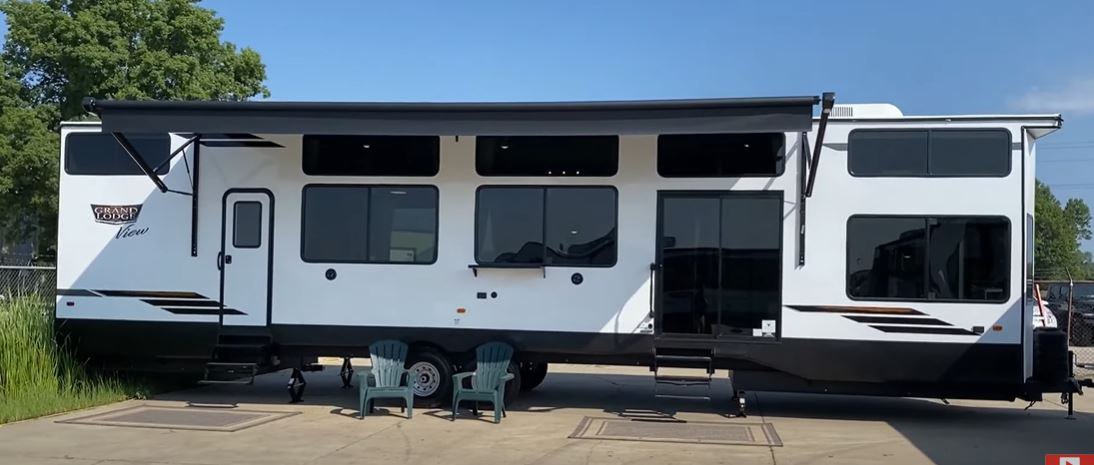 Last year, Forest River came out with the Salem Grand Villa 42VIEW. This large destination travel trailer is made for long-term parking at RV Parks. What makes this camper stand out from all other campers is its massive windows. It has more window coverage than any other RV on the market. Period. It has over 200 square feet of camp-side window coverage!



Josh the RV Nerd shows us the Inspiration for the VIEW series of Travel Trailers: The Salem Grand Villa 42VIEW
VIEW Power Shade System
With all the windows in the 42VIEW, you may think you don't have a lot of privacy. Or maybe you're thinking you don't want the sun blasting in your eyes first thing in the morning.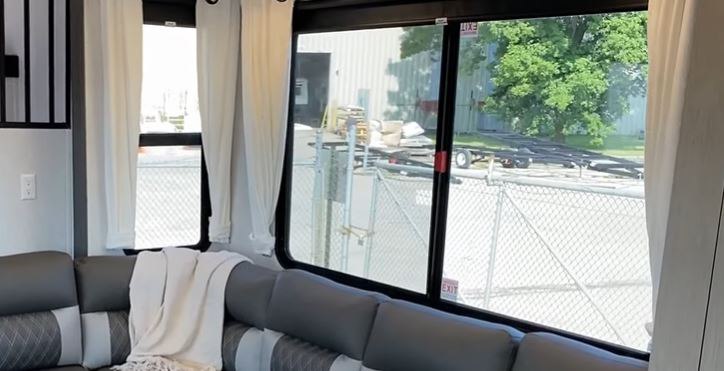 The Salem Grand Villa 42VIEW has a power shade system for all its windows. Each window has an individual shade you can control with the touch of a button. You can raise or lower the shades individually or control them all at the same time.
The VIEW Series of Travel Trailers
When the Salem Grand Villa 42VIEW hit the market, the RV industry went bonkers. With all it's windows, it quickly became super popular — but the 42VIEW is a really big camper. Customers have been repeatedly asking Forest River to make similar window designs for smaller travel trailers — and Forest River has finally said, "Yes!"

Because large windows are such a high-demand feature, Forest River is making the VIEW Series of travel trailers available for 2 of its brands of RVs — Salem RV and Wildwood RV.
Why are there 2 different VIEW Series Brands?
Because the VIEW Series campers are projected to be such high-demand travel trailers, Forest River wants to be sure they are available to as many people as possible. They are making the VIEW Series for their Salem RV and Wildwood RV brands.

In most areas, RV dealers are only allowed to sell certain brands of RVs. By making the VIEW Series available in 2 different brands, more individual dealers will be able to carry them, so more VIEW travel trailers will be available for customers in each market.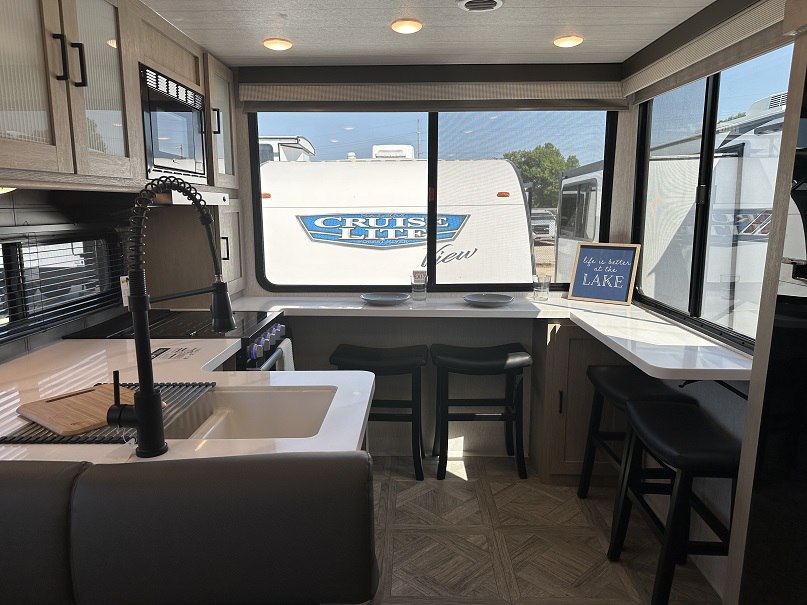 What's the Difference between the Salem VIEW travel trailers and the Wildwood VIEW travel trailers

Short answer to this question: No difference!

Detailed Answer: The only difference will be the brand name— the current plan is for the 24VIEW, 28VIEW and 29VIEW to be identical for both brands.
---
How much does a VIEW Series Travel Trailer Cost?
There are currently 3 travel trailers in the VIEW Series of campers for Salem RV and Wildwood RV.

The MSRP, or Manufacturer's Suggested Retail Price for the VIEW Series is the price recommendation Forest River says RV dealers should charge.

The actual selling price dealers charge may be higher or lower than the MSRP price. It's up to each individual dealer to decide the sales price they charge for their campers.
VIEW Series MSRP Prices
Prices for both the Salem brand and Wildwood RV brand VIEW Series are the same.

24VIEW: $45,317 MSRP
28VIEW: $52, 212 MSRP
29VIEW: $50, 762 MSRP

Prices vary, depending on the dealer.
---
Bish's RV is offering a big price reduction on VIEW travel trailers for both the Salem VIEWs and the Wildwood VIEWs.
Bish's Discounted Prices on VIEW Travel Trailers

24VIEW: $29,995
28VIEW: $34,995
29VIEW: $35,995


---
Finding the Lowest Prices
Bish's RV is not the only RV dealer offering VIEW campers at discounted prices. If the lowest price is what you are interested in, you can use 3rd party tools, like RV Trader to find the lowest priced VIEW campers in the country.

Before buying a VIEW travel trailer, we recommend you do your research to decide Where to Buy Your RV and take steps to Avoid RV Dealer Hidden Fees.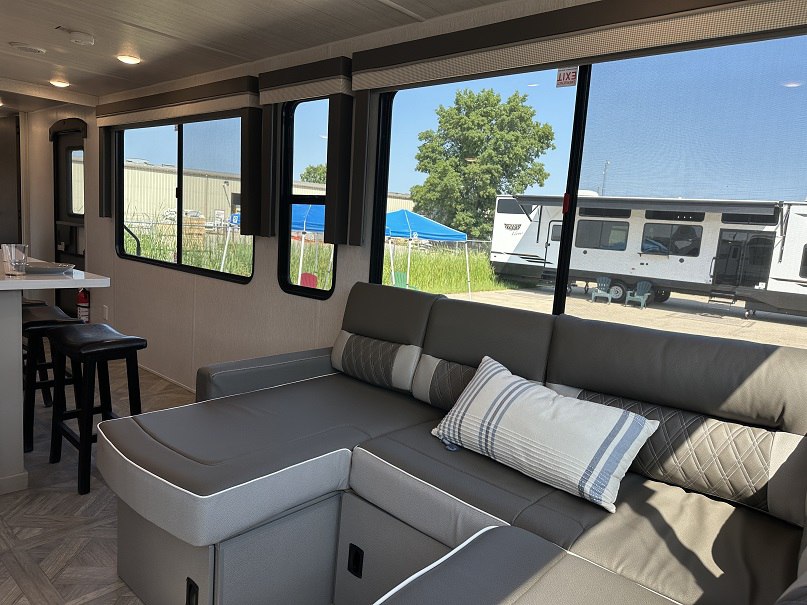 How Windows Affect RV Insulation
With all the windows the VIEW travel trailers have, you may be wondering if they will affect the insulation efficiency. The answer is : Yes, without question.

Insulation in RVs is measured in R-Value. The R-value measures how well insulation resists heat flow. When the R-value is higher, it means the insulation is better at keeping RVs insulated from the heat.
The sidewalls in RVs typically have an R-rating of R7 – R9.
An RV's window R-rating is R0.7 (Basically nothing)
So heat transfers through RV windows with very little resistance.
Why don't VIEW travel trailers have Dual Pane Windows?
"Dual Pane" windows in RVs are a scam. They're not a hollow gas-charged window – not a THERMAL PANE window like you get in a house. They're just two sheets of glass flat glued together

That only creates a 40% gain in R value which sounds like lot.. but that improves from R0.7 to like R0.98 — still basically nothing. And they're VERY expensive by comparison.
***Bish's RV/Nerd Preferred Pro Tip:***
Pull down your window shades!
Pulling down your window shades not only blocks direct sunlight but also creates a virtual dead air pocket which makes your windows an effective R2-or-so.
Still not great, but literally more than double as effective as expensive dual pane windows for ZERO extra cost
The Power Shade System in VIEW campers makes pulling down the shades easy-peasy-lemon-squeezy, so you should have no problems pulling down those shades and keeping your VIEW better insulated when you're not wanting to enjoy the view from your VIEW.
Keeping cool in the Summer
You can also kick it up a notch with something like Reflectix on the windows to keep more sun and heat out — a virtual must if you're Sun Country Camping
VIEW Series Air Conditioning
To help keep the VIEW campers cool in hot Summer camping, all VIEW travel trailers come with 15,000 BTU air conditioning units, as opposed to the RV standard 13,500 BTU ACs.

The 24VIEW comes with a single AC unit and the 28VIEW and 29VIEW have an option for a second AC to be added.
---
24VIEW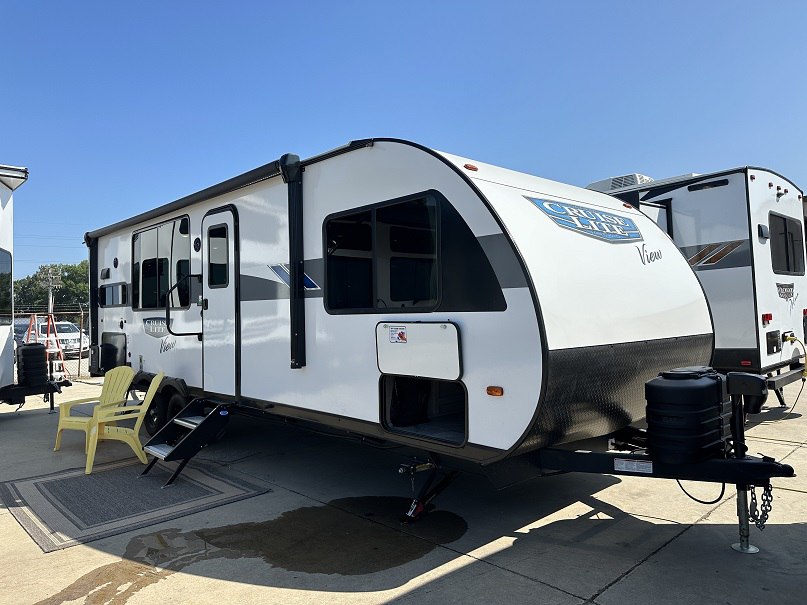 Salem Cruise Lite 24VIEW and Wildwood X-Lite 24VIEW
24VIEW SPECS
Price: $45,317 MSRP
Length: 29'11"
Width: 8'
Empty Weight: 6,158
Cargo Weight: 1,482
Max Weight: 7,640
Hitch Weight: 640
Fresh: 40 gallons
Gray: 60 gallons
Black: 30 gallons
Windows: 62 Square feet
AC: 15,000 BTU

The 24VIEW is the smallest camper in the VIEW series coming in under 30'. It's the perfect size and weight for half-ton trucks that have the right tow package. The exterior of the View24 is a sight to behold, but wait until you step inside – the floor plan is like nothing you've ever seen!
24VIEW Windows
The 24VIEw has the biggest windows I've ever seen in an under-30-foot camper. We're talking 62 Square feet of windows, with most of them on the camp-side of the RV. That's a lot of glass.
24VIEW Counter Space
The kitchen countertop is a dream come true. With 18 linear feet of space, you'll have more prep area than most luxury fifth wheels. This kind of counter space is a rare find in a smaller RV, let me tell you!
Here's the real surprise – a hidden room inside the slide-out! This ingenious feature can transform into a private bunk room, a pantry, or even an office space! It's a game-changer, and I've never seen anything like it before.
The bunks may look small, but they're cleverly designed to accommodate even tall folks comfortably.
Like what you see. Get more details about the 24VIEW!
---
28VIEW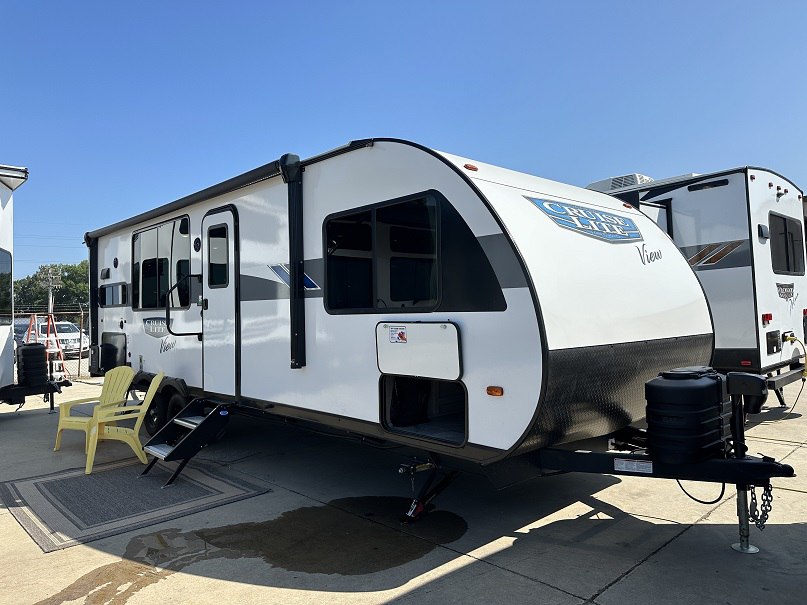 Salem 28VIEW and Wildwood 28VIEW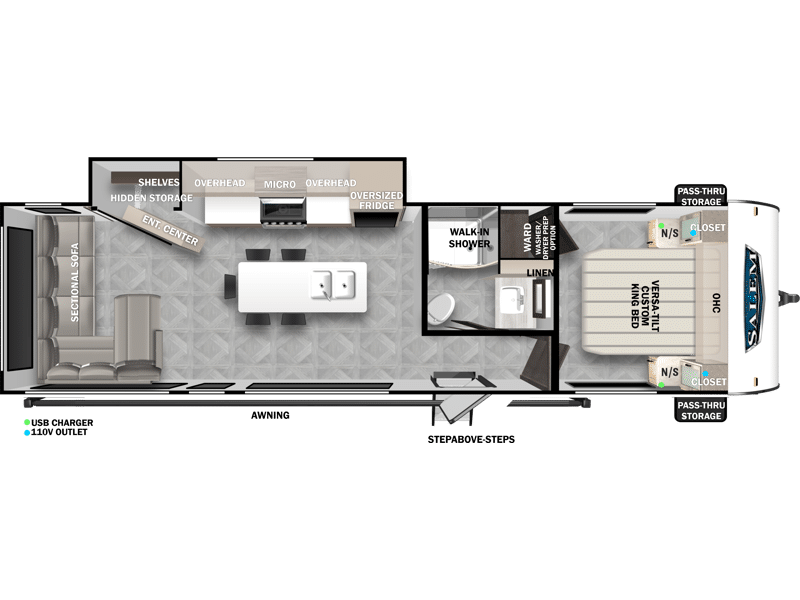 28VIEW SPECS
Price: $52,212 MSRP
Length: 32'3"
Width: 8'
Empty Weight: 7,753
Cargo Weight: 3,512
Max Weight: 11,265
Hitch Weight: 1,065
Fresh: 40 gallons
Gray: 40 gallons
Black: 27 gallons
A/C: 15,000 BTU
Windows: 95.5 Square feet
28VIEW Windows
What sets the VIEW series apart is that it was specifically designed with the idea of maximizing camp-side window coverage. Instead of simply adding windows to an existing model, they started from scratch, building the sidewalls plastered with windows to create a whole new RV experience. The result is some of the coolest and most original features in the industry.

The 28VIEW has a whopping 95.5 square feet of window space. Wow!
28VIEW Extended Kitchen
The 28VIEW is geared towards couples, but there's enough space in these beauties for families. The kitchen does not have your typical dinette booth. What they have instead is an extended kitchen island that you can use as kitchen counter space or as a dining bar. It's the perfect blend of functionality and aesthetics.

Want to go Camping in a 28VIEW. Start shopping now.
---
29VIEW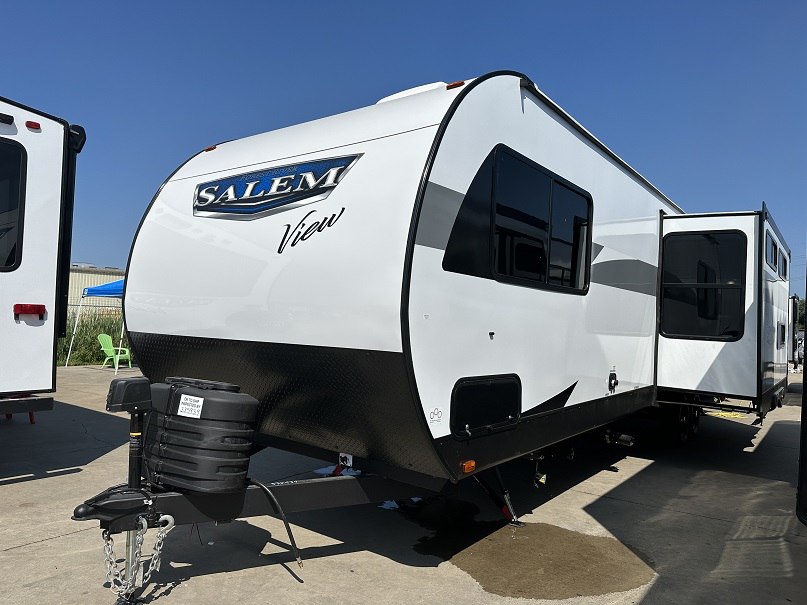 Salem 29VIEW and Wildwood 29VIEW
29VIEW SPECS
Price: $50,762 MSRP
Length: 34'10"
Width: 8'
Empty Weight: 7,897
Cargo Weight: 2,2014
Max Weight: 9,911
Hitch Weight: 1,149
Fresh: 40 gallons
Gray: 60 gallons
Black: 40 gallons
Windows: 104.5 Square feet
Rear Kitchen and Living Area
The 29VIEW is like a stretched-out-to-the-max 24VIEW on steroids. Like the 24VIEW, it features a rear kitchen and has the same 18 linear feet of counter space. But it has even more windows than the 24VIEW. It has 104.5 feet of window space.

The 29VIEW's living area is stretched out as well, so there's plenty of room to hang out with family and friends.
Secret Room Slide-Out
Even though there is plenty of room in the living space, you know the 29VIEW has a super slide — you just don't notice it when your inside. The secret door to the secret room is so seemless you won't see it unless you're looking for it.

This secret room has a counter you can use as a desk space if you're working remotely.

It also has 2 bunks that can be moved out of the way if you'd rather have the space for a home office or perhaps a man-cave or she-shed.

It has its own air conditioning vent, so you stay comfortable in this secret room no matter how how it is outside.
Are you wanting to see more of the 29VIEW. You can check them out here.
---
How to Buy a VIEW Series Travel Trailer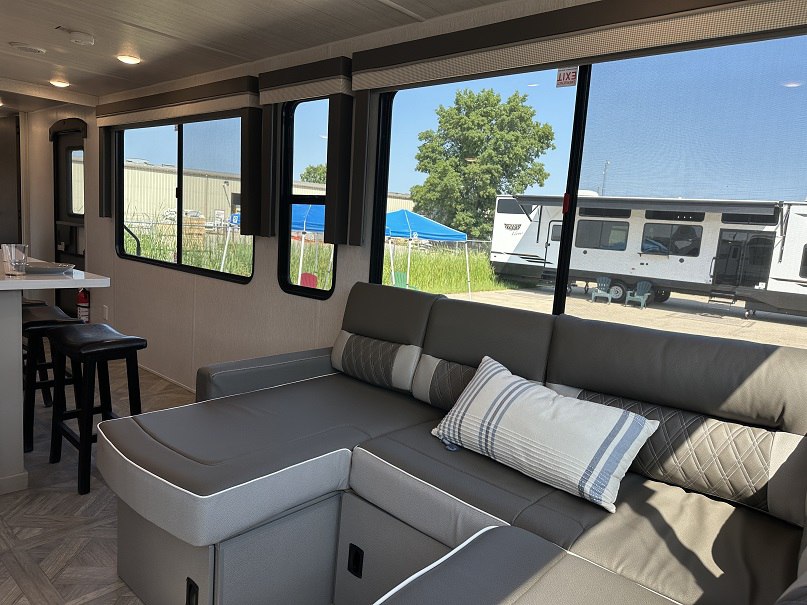 The VIEW travel trailers for Salem RV and Wildwood RV are still in the prototype stage. Forest River is still making adjustments to ensure that these campers are the best they can be before they're made available for sale.

If you're interested in buying either a Salem RV or Wildwood RV VIEW Series camper, some dealers, like Bish's RV, are offering them at pretty significant discounts from the MSRP price.
---

TALK TO AN RV EXPERT
If you would like to learn more about VIEW travel trailers, you can talk to one of our Bish's RV Experts. We love to talk about RVs and answer your questions, even if you don't end up buying your RV from us.


---

LEARN MORE ABOUT RVS

The Cost of an RV in 2023
How to Avoid Hidden RV Dealer Fees
The Best Place to buy an RV
How to get the Best Deal when Financing an RV