Get ready to be blown away as Forest River's Cherokee RV Division proudly unveils its latest marvel – the 2024 Arctic Wolf 23MLE Fifth Wheel RV.
Whether you're a seasoned traveler or a couple ready to embark on your first RV journey, the Arctic Wolf 23MLE promises to be the ideal compact companion for couples camping.
So, buckle up, and let's dive into the extraordinary features and enhancements that make this short model an absolute showstopper!
Table of Contents – Quick Links
Features of the 2024 Arctic Wolf 23MLE
The engineers at Arctic Wolf have poured their creativity into the new 23MLE model, and the results are impressive. Here are some standout features that set this fifth wheel apart:
Enhanced Fresh Water Capacity
The 2024 Arctic Wolf boasts an 81-gallon fresh water tank, nearly doubling the previous capacity. This means more extended camping trips without worrying about running out of water.
---
Upgraded Solar Package
The factory-installed 100-watt solar package ensures you have enough power for battery maintenance. If you desire even more solar power, you can easily upgrade to 400 watts without the need to rewire the RV.
---
Observation Camera Suite Prep
Say goodbye to mediocre backup cameras. The 23MLE comes prepped for a complete observation camera suite, providing enhanced security and visibility around your RV.
---
Ample Cargo Capacity
This compact fifth wheel surprises with its generous cargo capacity, allowing you to tow light while packing heavy. Forget compromising on your essentials.
---
Auto Leveling and Enclosed Heated Belly
The convenience of auto leveling makes setting up camp a breeze. Plus, the enclosed heated belly ensures you can enjoy RVing in colder weather without freezing.
---
A Unique Take on a Proven Floor Plan
While the 23MLE might bear some resemblance to the popular Cougar 23MLE floor plan, Arctic Wolf puts its signature twist on it.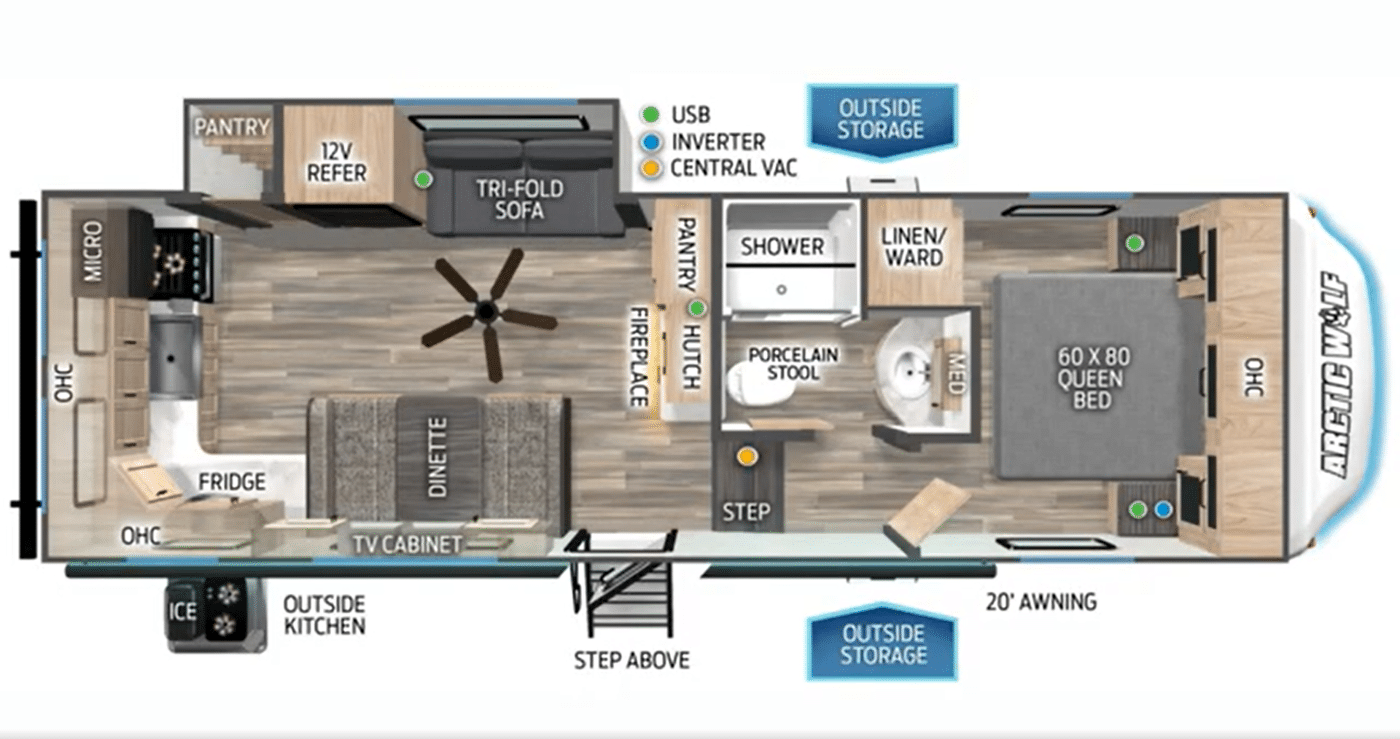 They've added a couple of features that cater to the demands of RV enthusiasts and optimize the overall camping experience.
Comfortable and Thoughtful Interior
Step inside the Arctic Wolf 23MLE, and you'll be welcomed by a cozy, well-designed interior. The tri-fold hide-a-bed sofa, standard in this floor plan, provides comfortable seating and a potential extra sleeping space.
For those seeking additional comfort, you can opt for a theater seat to enjoy a true home theater experience.
Functional Kitchen with Social Seating
The kitchen area of the 23MLE impresses with its thoughtful design. The countertop, though not one level, offers a serving station-like setup, making it easy to prepare and serve your favorite dishes.
The large pantry provides ample storage space for all your kitchen essentials, and the overhead cabinets offer even more organization options.
Spacious and Comfy Bedroom
The bedroom of the 23MLE is a tranquil haven for couples to rest and relax after a day of adventures. The 60×80 true queen bed ensures a good night's sleep, and the full closet with hanging storage provides plenty of room for your wardrobe.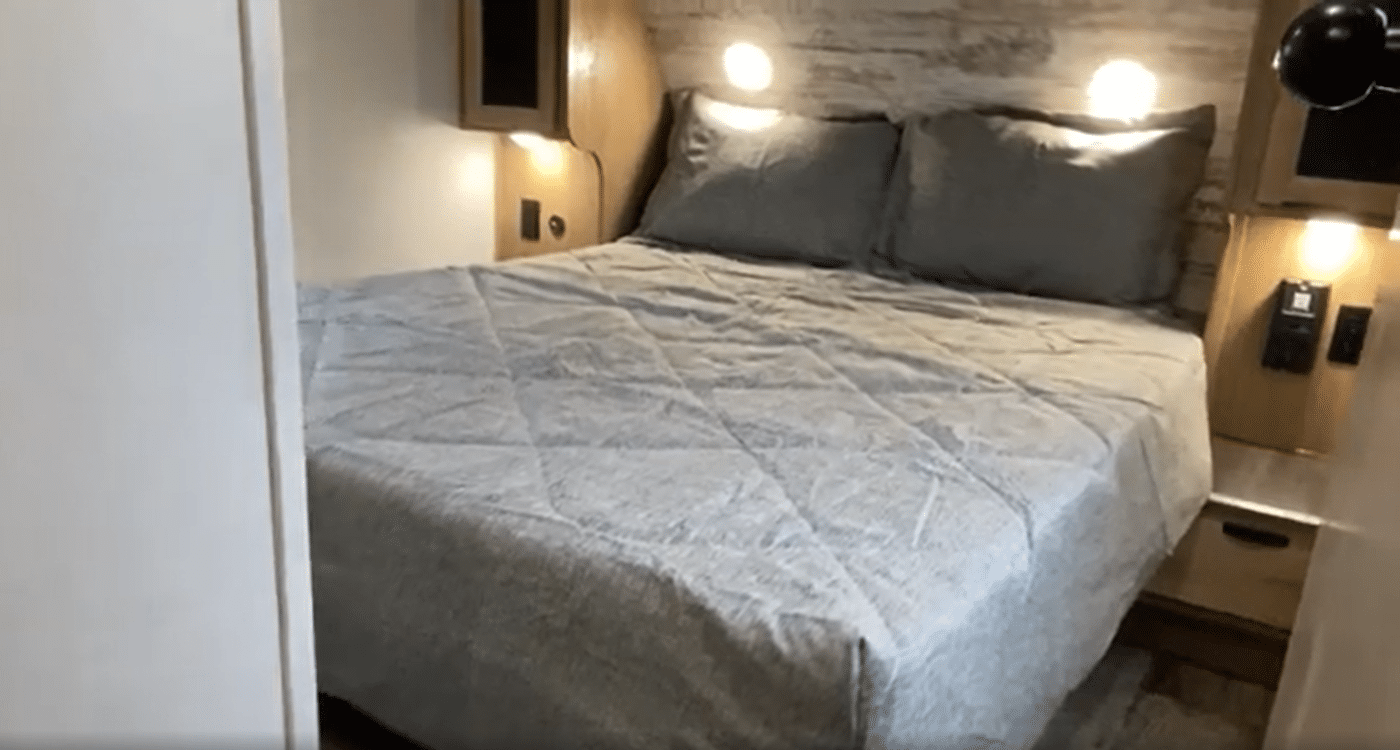 The inclusion of a TV prep and USB plugs on both sides of the bed ensures entertainment and convenience.
Perfect Road Mode Setup
One of the standout features of the Arctic Wolf 23MLE is its practical and accessible Road Mode setup. Even with the slide closed, the RV offers easy access to the kitchen, fridge, and bathroom.
You can comfortably travel and access essentials during stops without hassle.
Conclusion
The 2024 Arctic Wolf 23MLE Fifth Wheel RV is a masterful creation that brings new life to a classic floor plan.
Forest River's Cherokee RV Division has carefully considered the needs and desires of RV enthusiasts, resulting in an almost perfect short model for couples camping. With its abundant features, thoughtful design, and attention to detail, this Arctic Wolf gem promises to make your camping experiences truly memorable.
So, if you're on the lookout for a compact, comfortable, and well-equipped fifth wheel, the 23MLE might just be your ideal choice! Happy camping!
Get the RV Nerd Preferred Price
We are offering an exclusive price on this floorplan for 30 days after Josh the RV Nerd releases his review on YouTube.
RV Nerd Preferred Sales Price (Valid Until 09/20/2023)
Arctic Wolf 23MLE : Starting as low as
(Click "Get Lowest Price" button to lock in discount)
*Why do RV costs vary? Get the facts here now!