By Jackson Nuttall
Are you an avid traveler who enjoys extended stays at camping destinations? If you're looking for an RV that offers both the comfort of a full-time home and the convenience of easy travel, the Reflection 303RLS Fifth Wheel by Grand Design RV might just be the perfect fit for you.
In this blog post, we'll delve into the amazing features of this popular couple's camping fifth wheel and explore why it stands out in the market. From its spacious living area to its innovative travel-friendly design, this RV offers the best of both worlds!
Table of Contents – Quick Links
Features
Spacious Layout
Dual Power Awnings
Auto-Leveling System
Compact Upper Deck
Anti-Lock Brakes
When it comes to space, the Reflection 303RLS doesn't disappoint. Its opposing super slides create a generous living area with ample windows on the camp side, allowing you to enjoy scenic views from the comfort of your RV. 
Even with the slides closed during travel stops, the bed, bathroom, and fridge remain accessible, making it a perfect choice for travel enthusiasts.
In addition to its spacious layout, this fifth wheel boasts dual power awnings and an auto-leveling system, ensuring you can easily set up camp and start enjoying your destination.
What's more, the RV is designed for travel, with a compact upper deck that offers better maneuverability compared to larger models. The inclusion of anti-lock brakes, typically found in commercial vehicles, provides an extra layer of safety for highway driving.
Exploring the Reflection 303RLS Floor Plan
Floating Storage Ottoman Bench
Spacious Island w/ Triple Plywood Drawers
Stainless Farm Sink
16-Cubic-Foot 12-Volt Refrigerator
Solar Panel
Dedicated Pantry
Half-Bench Half-Table Setup
The Reflection 303RLS floor plan follows a popular and versatile layout that can be found in other high-level RV brands. Its well-designed kitchen features a floating storage ottoman bench that can be moved around to your convenience, providing extra seating or footrests.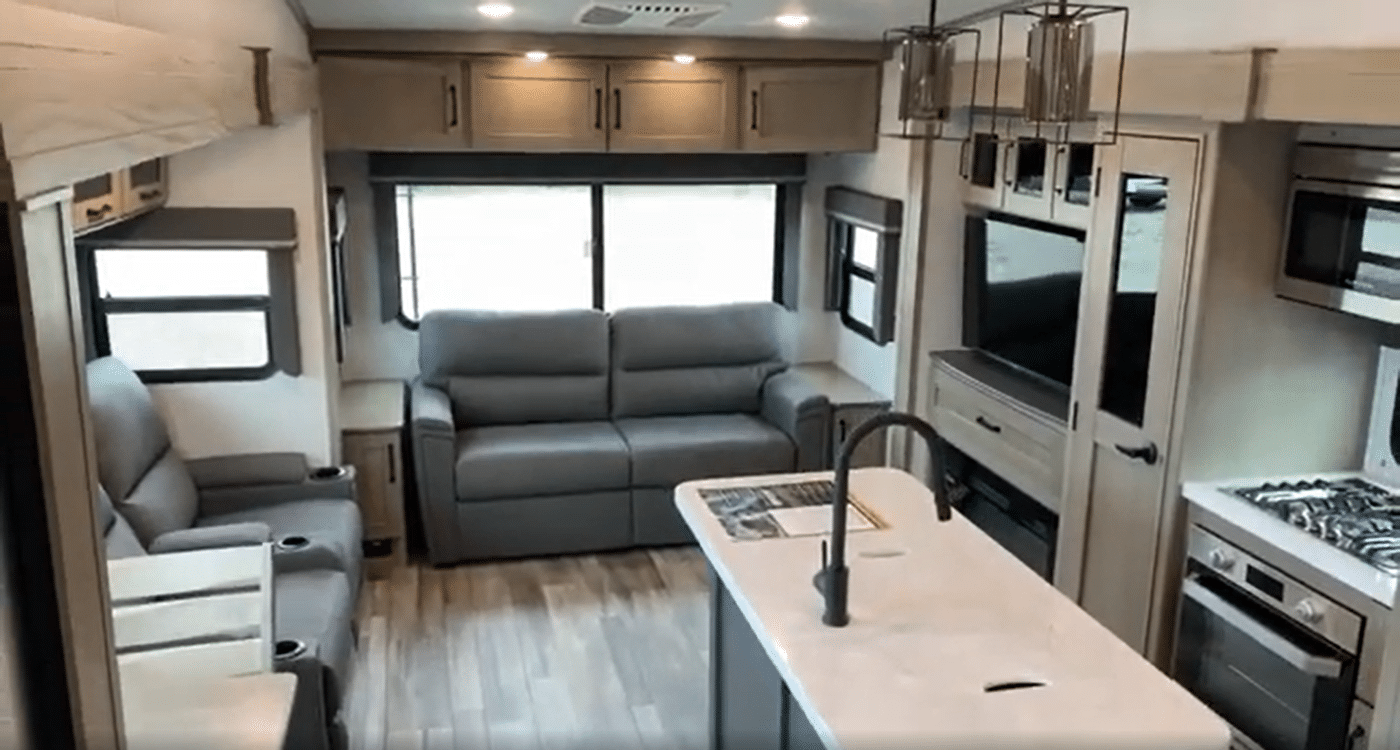 The kitchen boasts a spacious island with triple plywood drawers, a stainless farm sink, and a large 16-cubic-foot 12-volt refrigerator with a solar panel for efficient power supply.
One of the most standout features is the dedicated pantry, perfect for storing your supplies and keeping your kitchen organized. The dining area provides flexibility, allowing you to convert the half-bench half-table setup into a simple table or an ottoman, based on your preferences and needs.
The Cozy and Functional Bathroom
The Reflection 303RLS's bathroom is both cozy and functional, offering everything you need for a comfortable camping experience.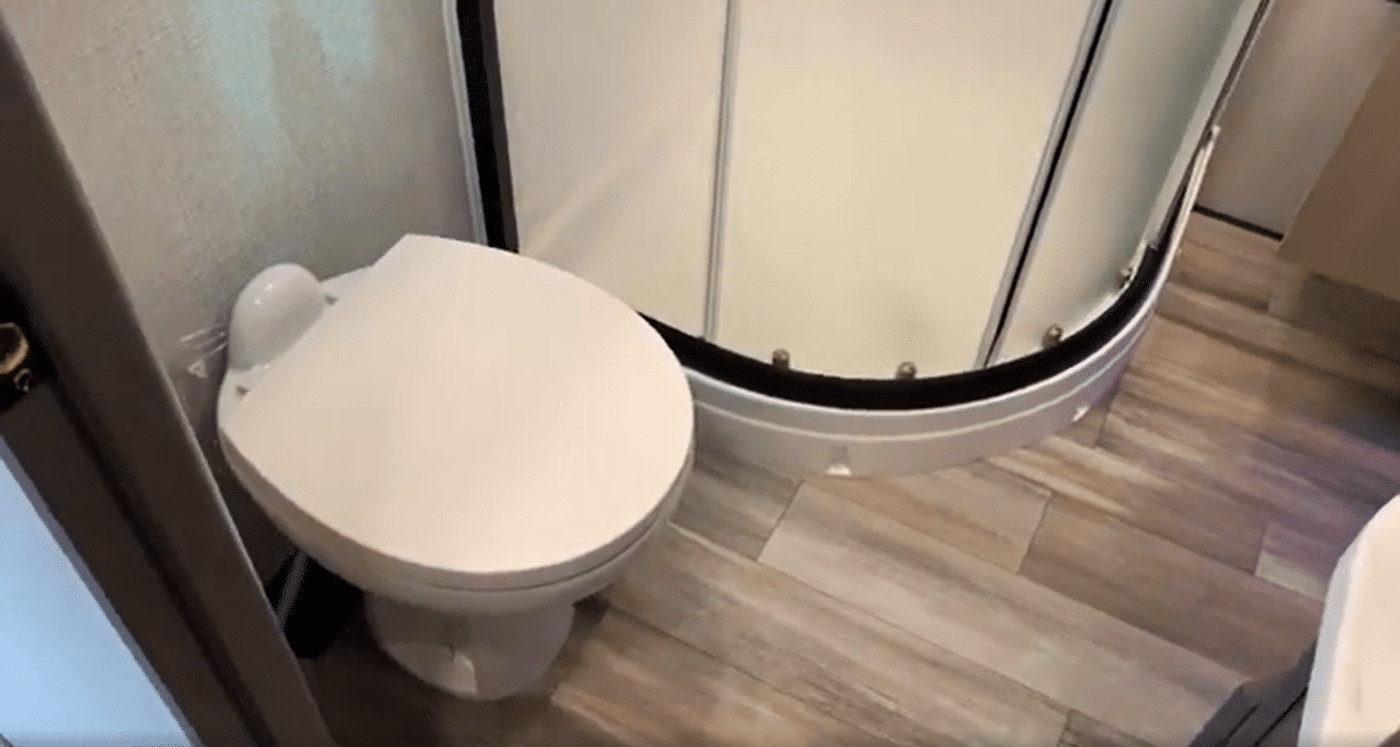 The bathroom features a porcelain foot flush toilet and a shower with a fantastic innovation—instead of a skylight, the RV has an integrated ceiling tray with a light, making nighttime showers easier and more enjoyable.
The bathroom storage options can be customized to your liking, with a linen cabinet that can double as a closet if you need more hanging space.
Bedroom Comfort and Convenience
In this section, we'll focus on the bedroom, where the Reflection 303RLS continues to impress with its attention to detail and user-friendly design.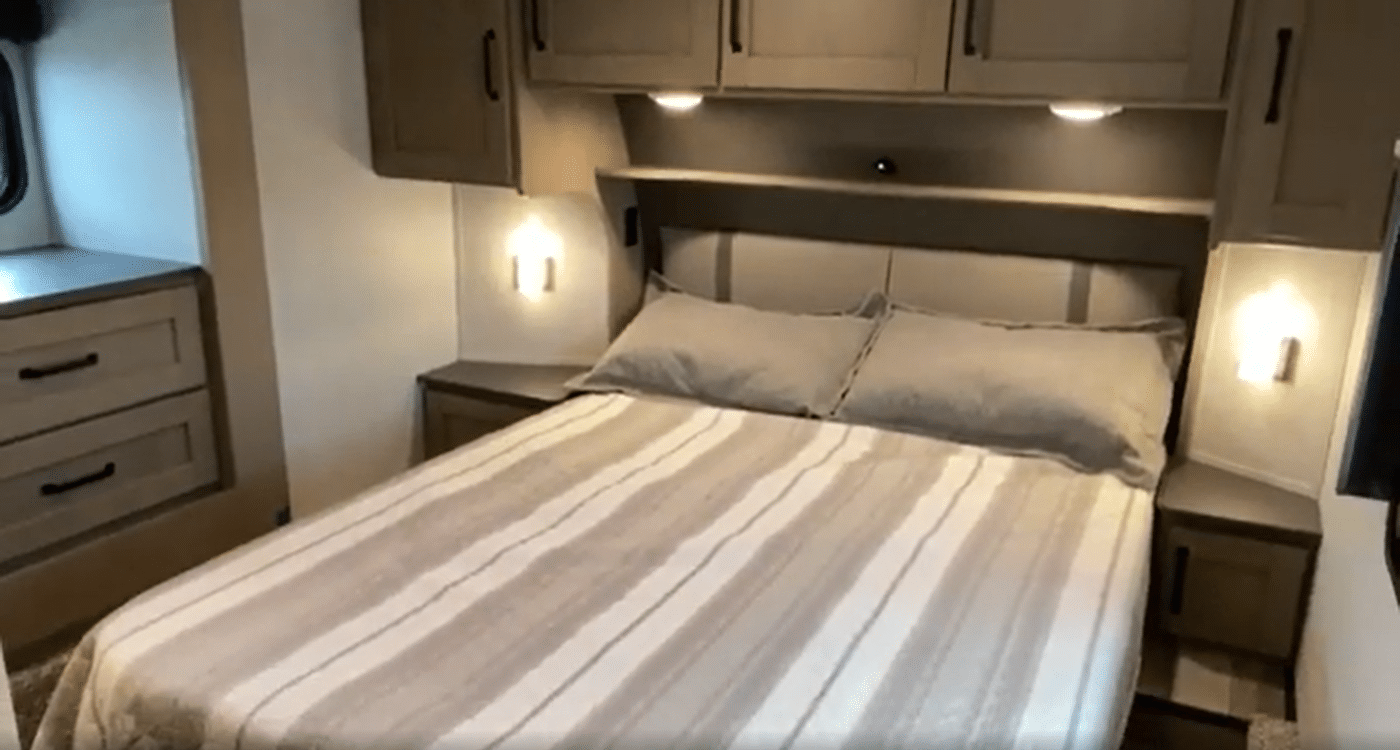 The bedroom features a true queen bed, allowing you to rest comfortably during your travels. The bed and bath are separated by a step-around area that provides additional structural support and travel-friendly functionality.
The Reflection 303RLS also offers a wardrobe slide, giving you plenty of storage for your clothes and belongings. The addition of motion-activated lighting around the bed and bathroom makes late-night trips safer and more convenient.
Travel-Friendly Design and Towing Capabilities
The Reflection 303RLS is designed for travel, and this section will highlight the RV's travel-friendly features and towing capabilities.
With its three-quarter ton towing capacity, the Reflection 303RLS can be pulled by a good three-quarter ton gas-powered vehicle, making it more accessible for those who prefer not to invest in a one-ton diesel dually.
The RV's anti-lock braking system enhances safety during travel, offering better control and stability when applying brakes in emergency situations.
Furthermore, the RV's belly-mounted spare tire and centralized command center add to its practicality and ease of use. The inclusion of a 50-amp mppt charge controller allows for additional solar panel installation, increasing your off-grid capabilities.
Conclusion
The Reflection 303RLS Fifth Wheel by Grand Design RV is a fantastic option for travel enthusiasts who want the comfort of a full-time living space in a travel-friendly size.
Its thoughtful floor plan, luxurious features, and travel-focused design make it a top choice among RVers. From the spacious living area to the functional bathroom and cozy bedroom, the Reflection 303RLS delivers a delightful camping experience wherever your adventures take you. 
So, if you're ready to hit the road and embark on unforgettable journeys, the Reflection 303RLS might be the perfect companion for you. Happy camping!
Get the RV Nerd Preferred Price
We are offering an exclusive price on this floorplan for 30 days after Josh the RV Nerd releases his review on YouTube.
RV Nerd Preferred Sales Price (Valid Until 09/15/2023)
 Reflection 303RLS
Starting as low as $65,695
*Why do RV costs vary? Get the facts here now!