Today we'll review the exceptional features of the Surveyor 203RKLE Travel Trailer, meticulously designed to provide comfort and convenience on your adventures. This top-of-the-line travel trailer is the perfect companion for those seeking an unforgettable camping experience.
Table of Contents – Quick Links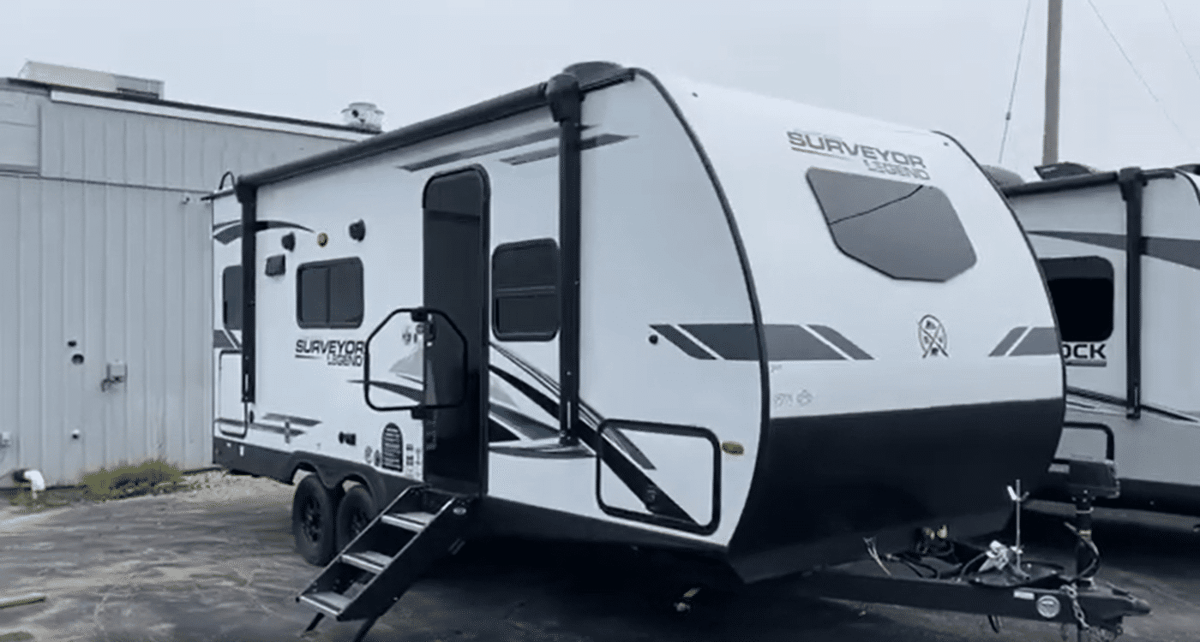 Lightweight and Budget-Friendly
The 2023 Surveyor 203RKLE is one of the finest examples of how lightweight RVs can impress without breaking the bank.
Surveyor 203RKLE Floor Plan
Boasting an aluminum structure and asdel walls, this RV is designed to withstand the rigors of the road while keeping weight in check.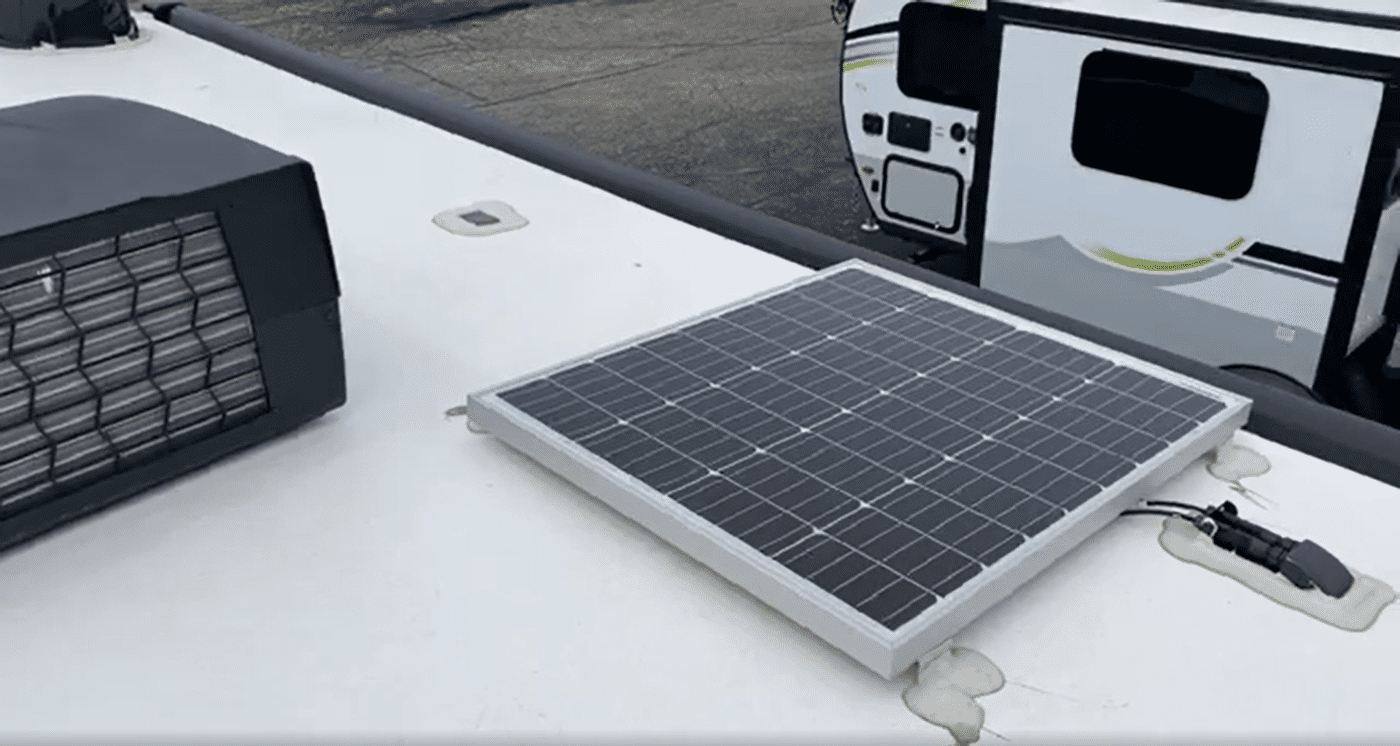 Its basic solar battery tender adds a touch of eco-friendliness. Despite its smaller size, the interior is thoughtfully designed, proving that you don't need a massive budget for quality features and comfort.
Space-Saving Efficiency
Step inside, and you'll be greeted by the ingenious 60″ x 80″ true queen Murphy bed. Thanks to this brilliant design, the living space feels incredibly roomy when the bed is tucked away.
With just a simple operation, you can transform the living area into a cozy bedroom and vice versa. Plus, it's one of the few Murphy beds that even tall individuals can enjoy comfortably. The seamless integration of the Murphy bed in this small RV makes it an unrivaled gem.
Ample Kitchen Space and Storage
Prepare to be amazed by the kitchen area of the Surveyor 203RKLE. Despite its compact size, this RV boasts a kitchen that rivals larger fifth wheels! Its 10-pound-sugar-in-a-five-pound-sack analogy rings true with the impressive counter space, storage options, and prep area. 
The carpetless slide design ensures easy cleaning and seamless integration with the main floor. You'll appreciate the easy-to-use cutting board backsplash for the stove and the built-in vacuum system, complete with a toe-kick unit for effortless cleanup.
Whether you're a seasoned chef or a weekend camper, this kitchen will delight your culinary aspirations.
Thoughtful Design
The 203RKLE surprises with its six-foot-nine-inch ceiling height, making the living space feel incredibly spacious for a trailer of its size.
The generous overhead cabinet doors with struts, the inclusion of cross-breeze window coverage, and the absence of heat vents in the floor all add to the comfort and aesthetics of the interior. 
The dinette's easy-lift system provides convenient storage access, while the motion-sensitive lighting illuminates your path in style. Little touches like these elevate the overall camping experience in this travel trailer.
Half-Ton Towable
Traveling in the 2023 Surveyor 203RKLE is a breeze, thanks to its half-ton towable design. Almost any half-ton truck can confidently handle this RV, offering you the freedom to roam wherever your heart desires.
While it may not be a Four Seasons Arctic camper, it excels as a spring, summer, and fall companion, ready for unforgettable adventures in fair weather.
Conclusion
In conclusion, the 2023 Surveyor 203RKLE Travel Trailer stands tall as a shining example of how lightweight and budget-friendly RVs can deliver impressive features without compromise. 
Its innovative Murphy bed design, efficient kitchen space, and smart storage solutions make it a force to be reckoned with in the RV market. With its thoughtfully crafted interior and towing ease, this travel trailer promises to be the perfect companion for all your thrilling camping expeditions.
So, embrace the freedom of exploration with the Surveyor 203RKLE and create cherished memories on the open road. Happy camping, fellow adventurers!
Get the RV Nerd Preferred Price
We are offering an exclusive price on this floorplan for 30 days after Josh the RV Nerd releases his review on YouTube. 
RV Nerd Preferred Sales Price (Valid Until 09/27/2023)
Surveyor 203RKLE
Starting as low as $35,495
*Why do RV costs vary? Get the facts here now!