In the vast world of RVs, the 2023 North Trail 26BHSS Travel Trailer by Heartland RV stands out with its array of impressive features and thoughtful design.
Despite its appeal, this model isn't readily available nationwide, which raises questions about its unique attributes and why it deserves to be more accessible to camping enthusiasts across the country.
Join us as we explore the finer details and smart features that make the North Trail shine, and delve into the reasons behind its limited availability.
Table of Contents – Quick Links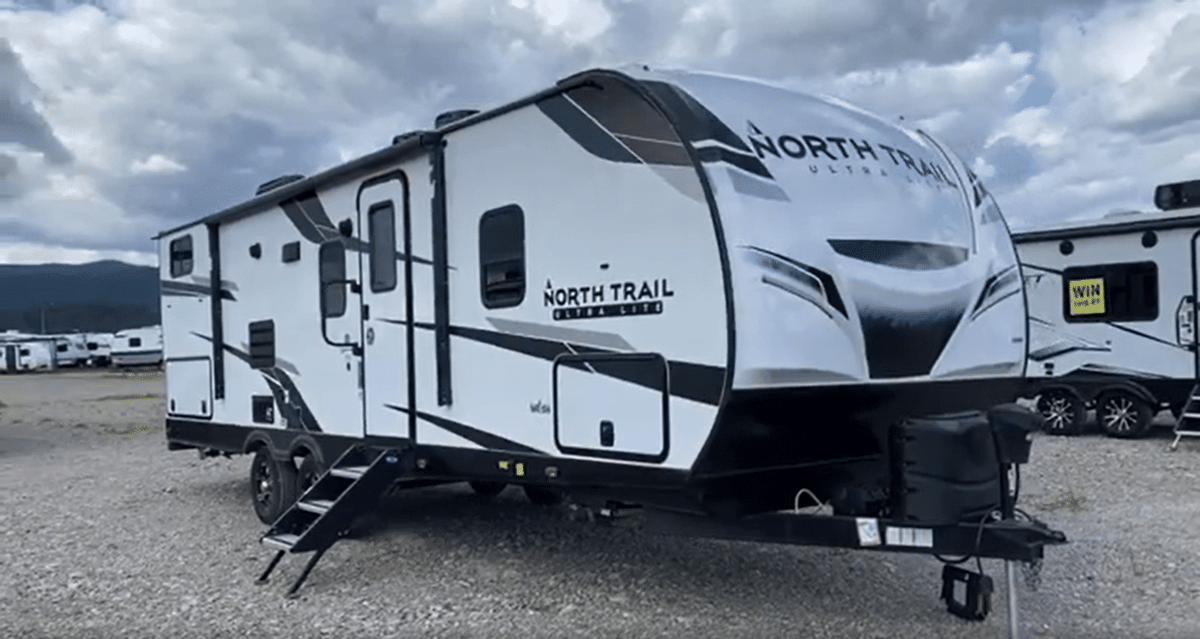 Features That Set the North Trail Apart
72″ by 80″ King Bed
Azdel Walls
Plywood Floor Deck
Enclosed and Heated Underbelly
Wide Stance Stability Axles
The 2023 North Trail 26BHSS is not your ordinary family camping bunkhouse RV. It boasts several standout features that set it apart from the crowd.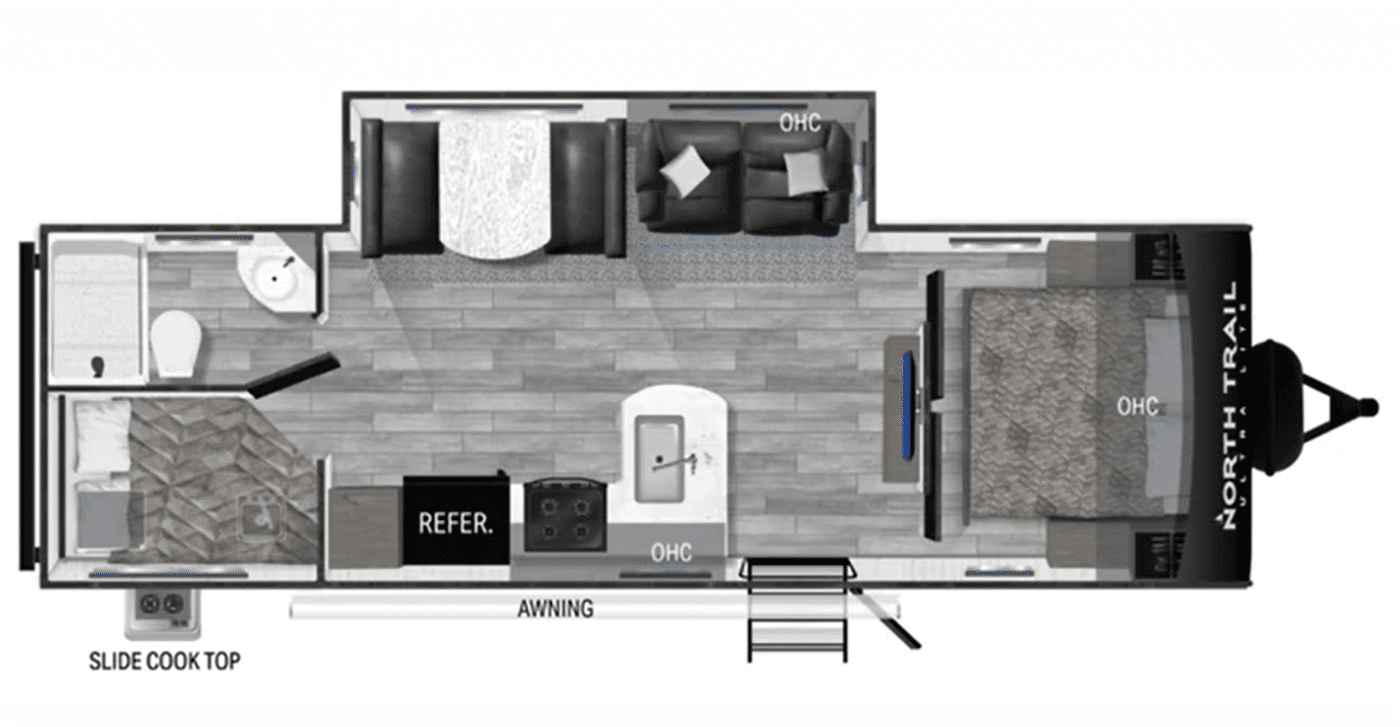 One of the first noticeable features is the generously sized 72″ by 80″ king bed, offering supreme comfort for a restful night's sleep.
While some might opt for a smaller bed, the spaciousness of the king bed accommodates larger pets or provides ample room for tossing and turning without disturbing your partner.
Additionally, the North Trail impresses with its construction choices, including Azdel walls, which contribute to the RV's overall durability and weight reduction.
The use of a plywood floor deck instead of laminated materials ensures a solid and reliable foundation, avoiding potential soft spots over time.
Furthermore, the enclosed and heated underbelly, combined with the wide stance stability axles, enhances towing stability and helps prevent structural issues while traveling.
The Smart and Thoughtful Interior
Marine Woven Flooring
L-Shaped Kitchen Peninsula
Large Farm Sink
Single-Leg Table
Individual Reading Lights
USB Plugs
Bunk Windows
Inside the North Trail, you'll find a plethora of smart and thoughtful design elements that cater to your camping comfort. The RV is carpetless, featuring marine woven flooring, which not only looks great but is easy to clean and pet-friendly.
The spacious L-shaped kitchen peninsula offers ample counter space for meal preparation, while the large farm sink accommodates larger pots and pans, making cooking and cleanup a breeze.
The dinette area includes a functional and convenient single-leg table that can be easily adjusted to create a versatile dining space.
The booth-style dinette's cushions come in a "selecta style" color palette, allowing you to choose between white and dark cushions to match your preferences.
The bunk area is equipped with individual reading lights, USB plugs, and windows for enhanced comfort and entertainment for the younger campers.
The Road-Ready RV
The North Trail 26BHSS is designed with travel in mind, featuring a half-ton towable design and wide stance stability axles for reduced sway and enhanced maneuverability.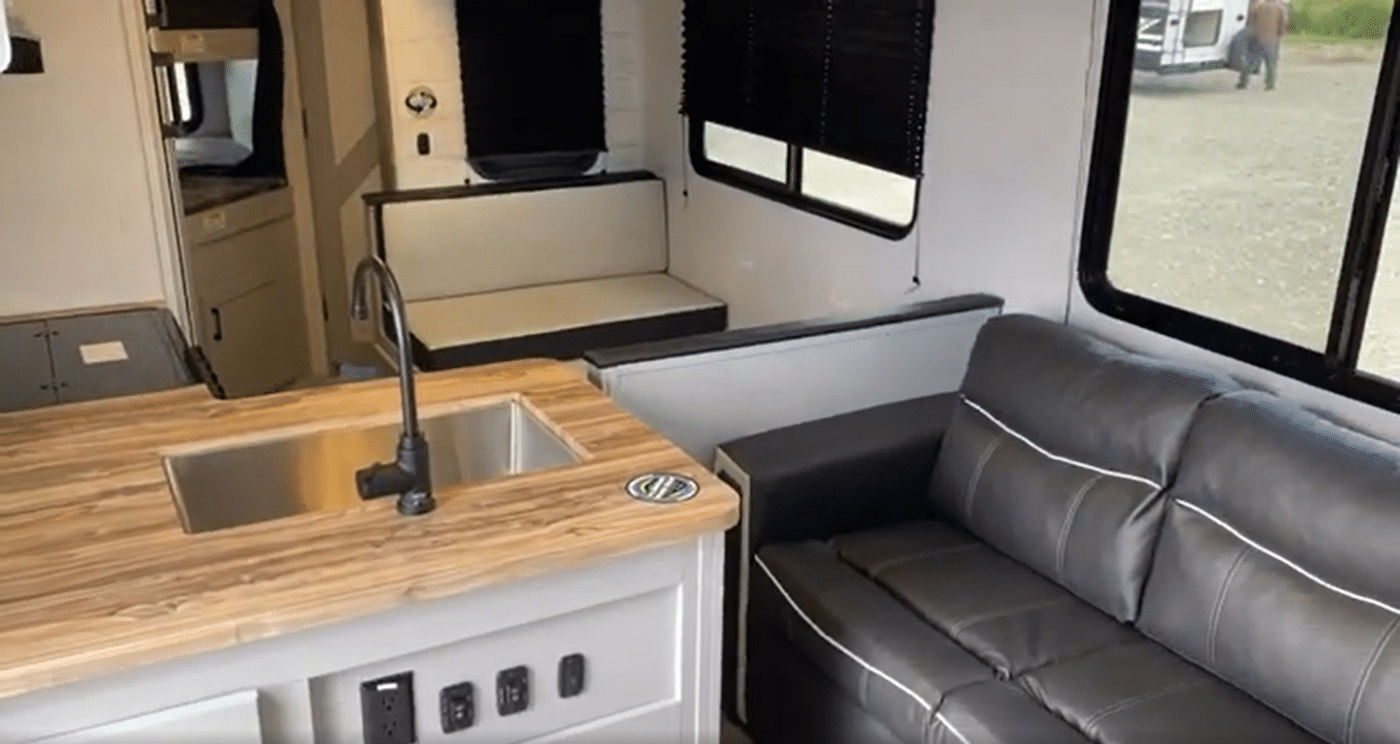 However, given its substantial cargo capacity, exceeding 3,000 pounds, it's advisable to opt for a three-quarter-ton truck, especially if you plan to traverse more challenging terrains or mountainous regions.
Additionally, the RV comes with 200 watts of factory solar, ensuring a reliable power source even during off-grid adventures.
Limited Availability: The Eastern Dilemma
While the 2023 North Trail 26BHSS Travel Trailer by Heartland RV is undoubtedly a sought-after model, its limited availability in the Eastern part of the United States raises questions for many potential buyers.
With enthusiasts on the Eastern side wondering why this gem isn't more readily accessible in their region, the demand for this well-designed RV continues to grow. Heartland RV may need to consider expanding its production to meet the growing demand and delight camping enthusiasts all over the country.
Conclusion:
The 2023 North Trail 26BHSS Travel Trailer by Heartland RV is a hidden gem among family camping bunkhouse RVs. Its thoughtful features, smart design choices, and road-ready construction make it a desirable choice for camping enthusiasts across the nation.
However, its limited availability is a cause for concern, and many campers in the Eastern regions yearn for easier access to this impressive model.
As the demand continues to rise, Heartland RV might find it beneficial to expand production, allowing more RV enthusiasts to experience the joys of camping with the North Trail 26BHSS. Happy camping!
Get the RV Nerd Preferred Price
We are offering an exclusive price on this floorplan for 30 days after Josh the RV Nerd releases his review on YouTube.
RV Nerd Preferred Sales Price (Valid Until 09/26/2023)
North Trail 26BHSS
Starting as low as $26,911
*Why do RV costs vary? Get the facts here now!