In this blog post, we'll be exploring the unique and budget-friendly features of the 2023 Avenger 24FKS Travel Trailer by Prime Time RV. This camper is designed for those who seek simplicity and functionality without breaking the bank.
If you're looking for a basic camper with a touch of classic charm, this might be the perfect fit for your camping adventures!
Table of Contents – Quick Links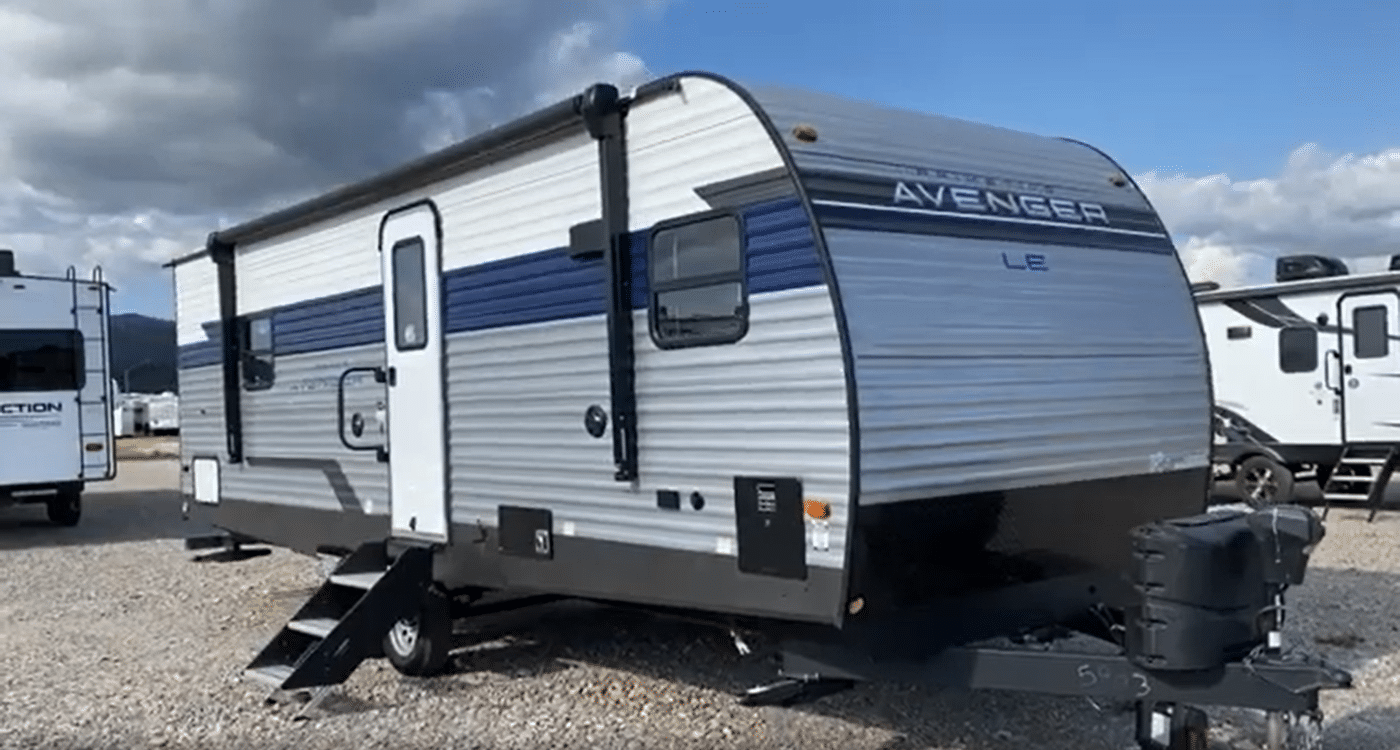 Features of the RV
Half-Ton Towability
Countertop Prep Space
The Stainless Farm Sink
U-Shaped Dinette Slide
The 2023 Avenger 24FKS Travel Trailer offers impressive features that make it stand out from the crowd. Firstly, its dimensions are designed to be half-ton towable, making it suitable for late model tow package half-ton vehicles.
With a total maximum weight of under 7,600 pounds, it's a great option for those looking to tow with ease.
One outstanding feature of this camper is its spacious and functional front kitchen. The fantastic countertop prep space allows you to cook and prepare meals without feeling cramped. The stainless farm sink and double sets of power outlets add to the kitchen's practicality and convenience.
Additionally, the camper offers a large U-shaped dinette slide that includes a built-in pantry. This unique hybrid slide design optimizes the use of space, giving you plenty of room to store your camping essentials while providing a comfortable dining area.
Private REAR Bedroom
One of the highlights of the 2023 Avenger 24FKS Travel Trailer is its rarely found private REAR bedroom. This feature is a game-changer for those who appreciate a separate and quiet sleeping space.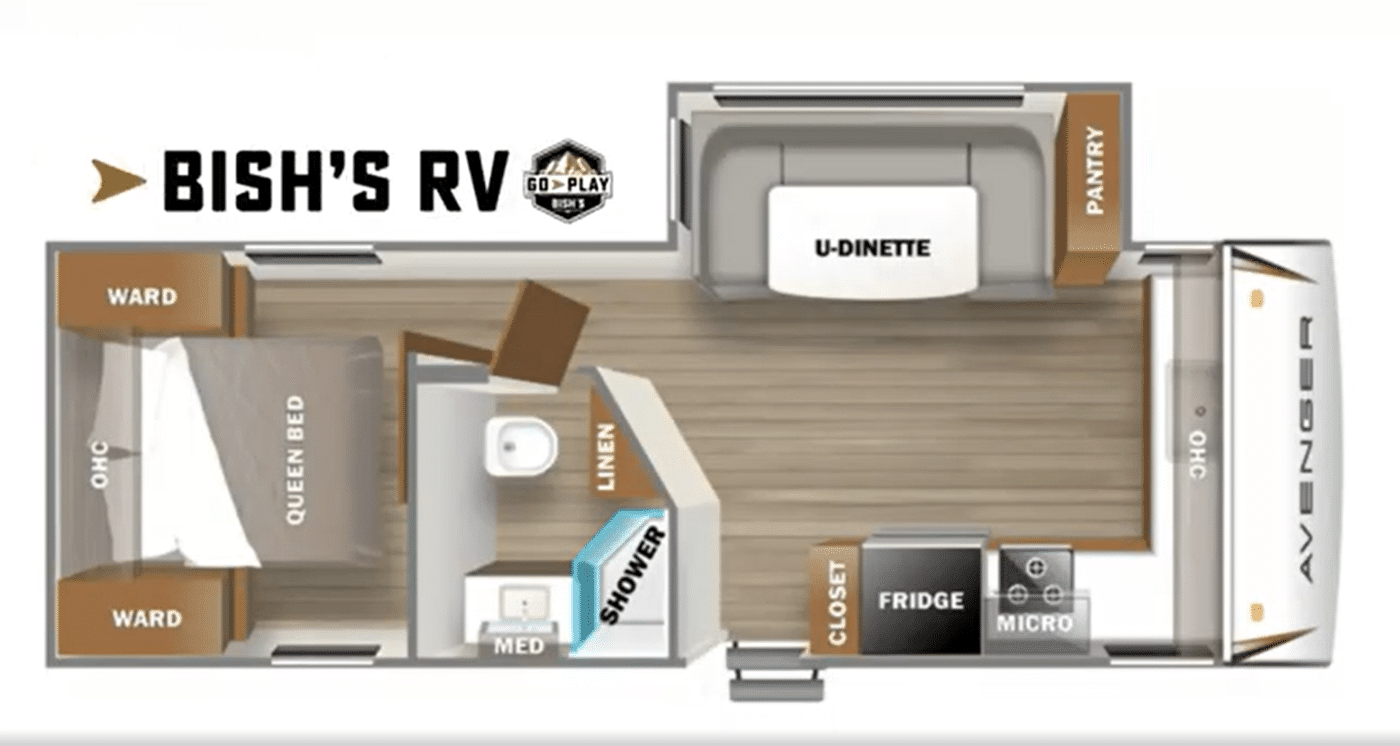 Avenger 24FKS w/ Private Rear Bedroom
The rear bedroom offers a comfortable queen-sized bed with household and USB outlets on both sides. Unlike many other RVs in this category, the bedroom has ample space for you to move around freely without feeling confined.
Furthermore, the private rear bedroom comes with monstrously large storage under the bed, allowing you to pack all your camping gear and personal belongings securely. It's a convenient feature that ensures you have everything you need for a memorable camping experience.
Functional Bathroom
The bathroom in this Avenger travel trailer is reminiscent of classic RV designs that prioritize functionality over fashion. It offers sufficient space around the toilet, making it comfortable even for individuals with longer legs.
Although it features a smaller corner shower, it still provides a refreshing place to wash up after a day of outdoor adventures.
Closet Space and Storage
For those who need ample storage in their RV, the Avenger 24FKS does not disappoint. The camper boasts a big, wide-open closet near the entry door, providing plenty of room to hang your clothes and keep your belongings organized.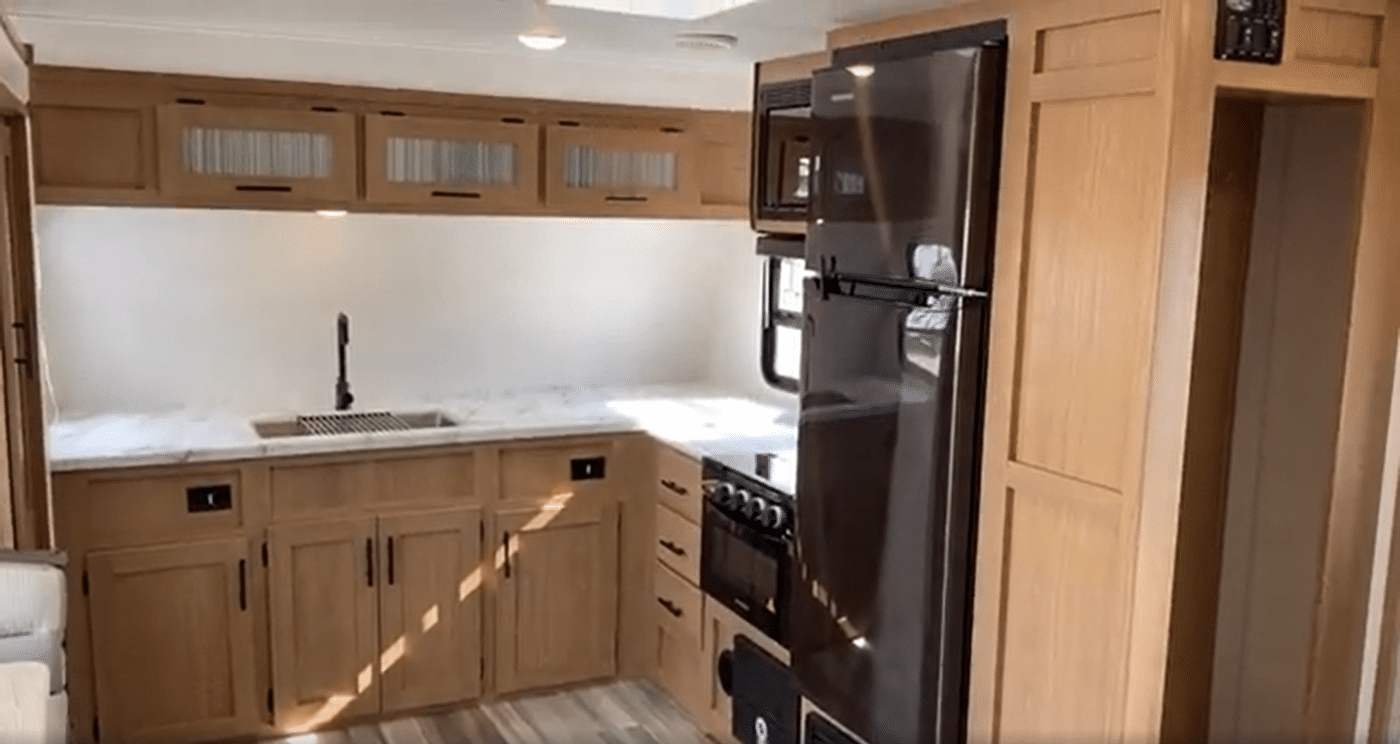 Additionally, there is a large pass-through storage compartment accessible from the outside, giving you space to store larger camping items.
However, it's worth noting that if you want a more secure interior, the camper allows you to pass through from inside to outside through this rear storage compartment by lifting the bed storage.
Conclusion
The 2023 Avenger 24FKS Travel Trailer by Prime Time RV offers a great blend of simplicity and functionality, making it an ideal choice for budget-conscious campers who desire a private rear bedroom.
With its under 30-foot length, half-ton towability, and thoughtful design, it is well-suited for couples and small families looking to hit the road in style without the hefty price tag.
While it may not boast all the bells and whistles of higher-end RVs, the Avenger 24FKS delivers on the essentials, making it an excellent option for those who value practicality and value for money. Happy camping!
Get the RV Nerd Preferred Price
We are offering an exclusive price on this floorplan for 30 days after Josh the RV Nerd releases his review on YouTube. Even if we are stocked out – we will guarantee this price on any ordered 202RBLE floor plan for 30 days!
RV Nerd Preferred Sales Price (Valid Until 09/8/2023)
Avenger 24FKS:
Starting as low as $25,998
*Why do RV costs vary? Get the facts here now!