By Greg Long
September 2023 RV Industry Update and News
Check out Josh the RV Nerd's RV Update on YouTube!

The world of RVs is always changing. What's hot one season could be a big stinker the next. Looking at 2023, RV sales have been slow, and now that summer is ending and the kiddos are back in school, RV sales are starting to slow even more.
But there's good news in September! This is the time of year when the RV manufacturers roll out their new 2024 RV models and we get to see some great new campers.
Let's get into all the news for September with this month's RV industry update! My good friend and RV expert extraordinaire Josh the RV Nerd has been visiting RV manufacturers, checking out the latest and greatest camper models, and − probably his best source of information − talking to people like you about what you are seeing happening in the industry. What he told me got me fired up.
Let's dive in and see what's trending in September…
Table of Contents
Labor Day and Fall Camping Traffic
Never Miss an RV Industry Update. Subscribe to our Bish's Blog Email and stay up-to-date on the latest RV News.


Is LP Fading From the RV Scene?


For years, RVs have relied on Liquid Propane (LP) for many of their needs, especially for refrigerators. Josh had sensed changes on the horizon months ago, and it seems the industry is now echoing his foresight.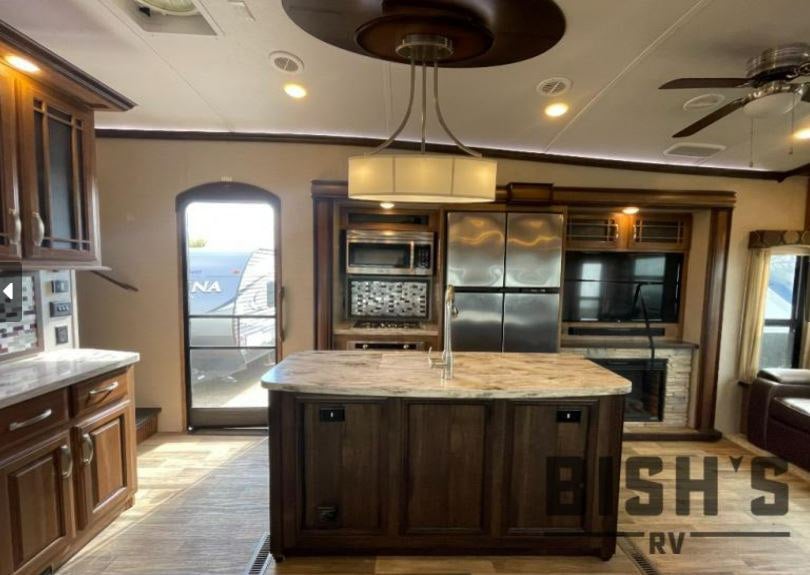 It's becoming clear that two-way fridges, called "two-way" because they can run off of AC power and LP gas, seem to be nearing the end of their popularity. Several suppliers are halting their production in North America, meaning imports will not only become more expensive but also slower in arrival. Parts like circuit boards, vital for running these units, are becoming more challenging to source.
This shift away from LP can potentially reshape the RV market in significant ways. RV owners who have grown accustomed to the convenience of LP may need to adjust to new systems and mechanisms, such as 12-volt refrigerators.
Additionally, manufacturers will likely have to innovate more rapidly to fill the LP void, which could either lead to price spikes or the introduction of more efficient energy solutions. As with all industry changes, adaptation will be key for both manufacturers and consumers.
Record Numbers Expected for Fall Camping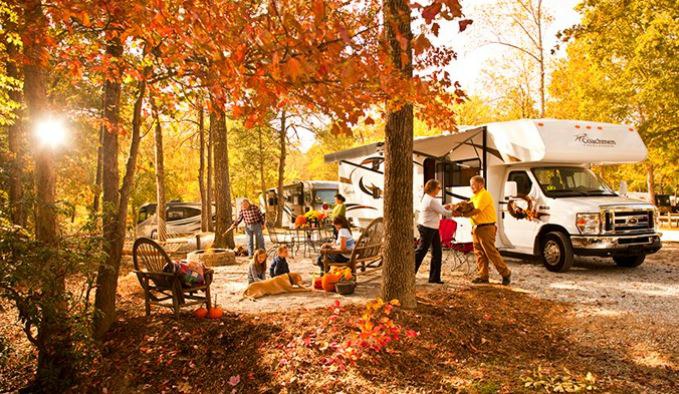 If you're thinking of camping over Labor Day, expect company! A staggering 16 million Americans are set to embark on an RV journey this Labor Day weekend.
It seems we're witnessing what Josh the RV Nerd calls the Fall Camping Kickoff, with a significant surge in RV use as children return to school.
Interestingly, over half of these campers plan to work remotely from their campsite, with millennials leading the charge, accounting for 40% of fall leisure travelers.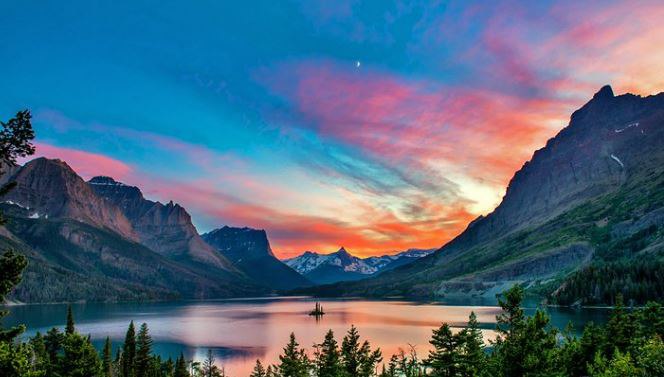 Glacier National Park, Montana
In line with this trend, National Park Visits have shattered records, generating over $50.3 billion (Yes, billion with a "B") in visitor spending – and supporting almost 400,000 jobs.
With that kind of income coming into the national parks, they should be able to properly maintain them and even add some quality upgrades. You may want to look at camping at a National Park in 2024. Schedule quickly, spots fill up fast!
National parks typically have size restrictions on RVs at their campgrounds. The best RVs for state and national parks are under 30' in length
What are the Best Campers for National Parks?
Bish's RV recommends Go Play travel trailers for national park campgrounds. All Go Play models are under 30' in length and are super easy to tow and maneuver.

A Deeper Dive into RV Sales Stats: Now vs. Last Year
Wholesale Shipments: The continuing decline in new RV production isn't news to us, with shipments being 47% lower than the previous year. However, the rate of decline is slightly reducing.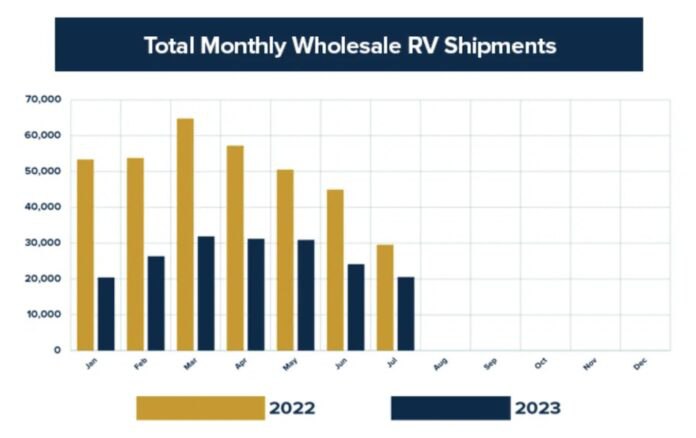 Folding campers or popups have suffered the most, witnessing a sharp 70% drop from the last year.
Josh the RV Nerd predicts a slight revival next year based on current economic trends and the increase in remote working.

Retail Registrations: This marks the 4th consecutive month where sales have surpassed shipments, although they're down by 24% from the last month.
Towables saw a pronounced decline.
Motorized vehicles witnessed a significant uptick.
Canadian RV Market Update
A glance at the Canadian market showed some intriguing extremes: Towable trailers are down even more than U.S made campers, but Motorized are up considerably more than U.S.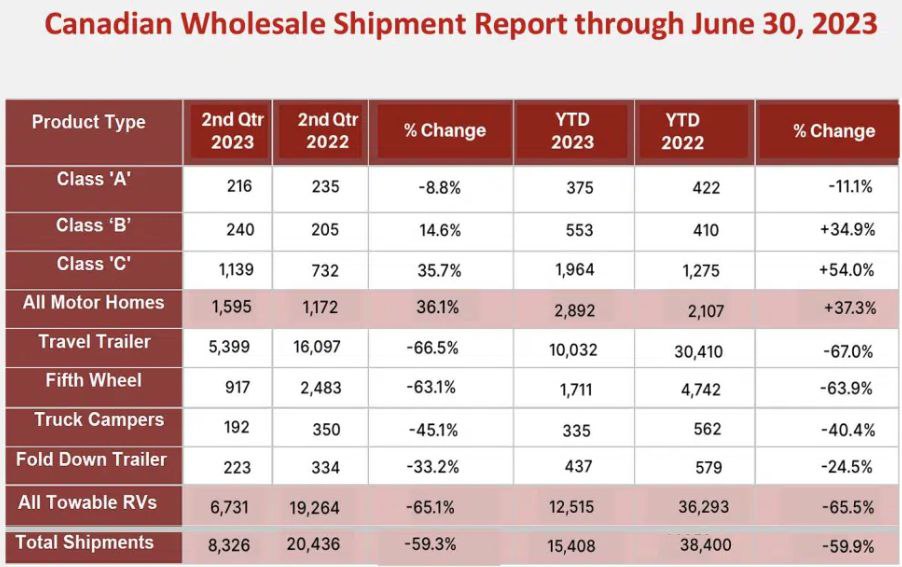 ---
Wholesale Used Values
Dealerships are possibly clearing aged inventory in preparation for the influx of 2024 models. The current data suggests:
Used Towable Data: With an average age of 2019, the average price sits at $25,056, marking a 17.3% increase.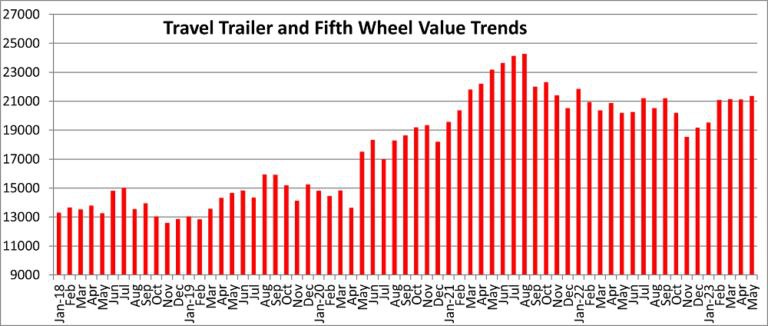 Used Motorized Data: Despite the price fluctuation trends, the average price is now $68,405, a decline of 6.8%.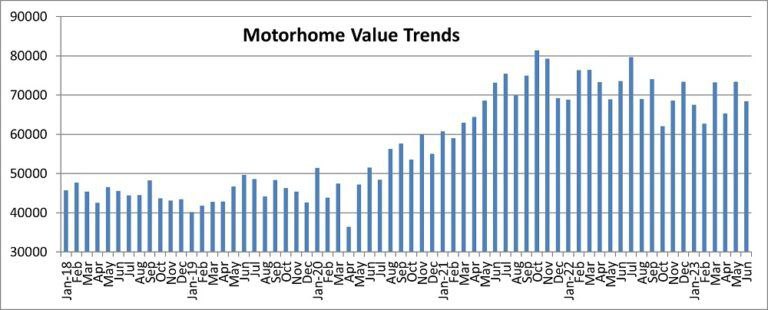 For more detailed information on New and Used RV sales trends, check out our article: September 2023 Sales Data Update


Fall 2023 Fuel Pricing – A Mixed Bag


Mixed Messages on Fuel Trends
Fuel prices are always a topic of debate, and from what I've observed, there's a bit of inconsistency in how they're reported. While many sources claim there's "relief at the gas pumps," a closer look at long-term charts suggests that this relief is not as substantial as one might hope.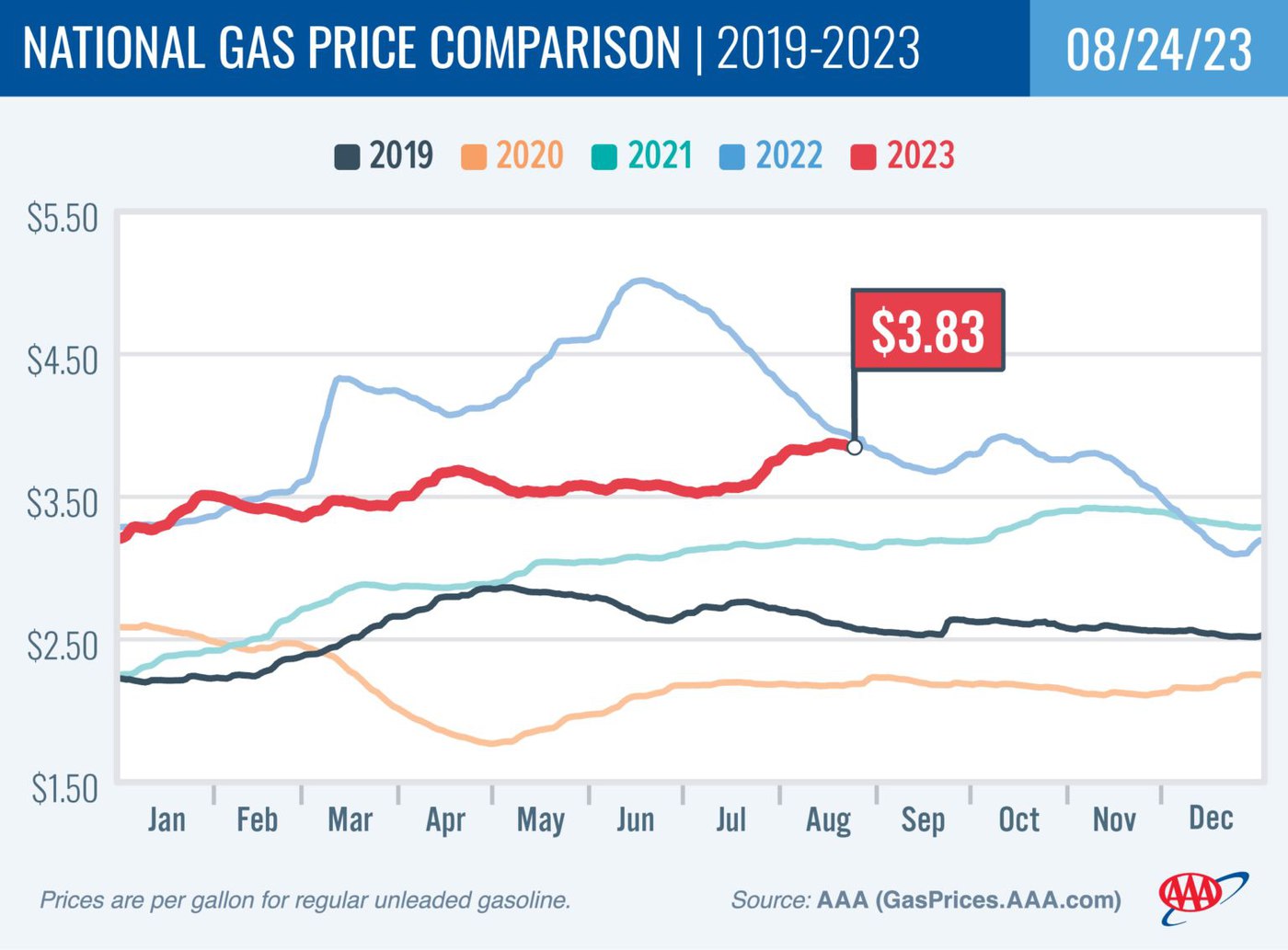 A Spike Around Holidays
There's an interesting trend to note: fuel prices seem to shoot up around significant holidays. For instance, around the Fourth of July, there was a noticeable increase in pricing. If this trend continues, we might see similar spikes during other high-travel holidays, such as Labor Day.
Factors Impacting Fuel Costs
Several elements come into play when discussing the future of fuel costs. Consumption versus replenishment rates, potential impacts of large storms, and travel trends can all affect prices. Presently, we consume at a rate that outpaces replenishment, which generally doesn't lead to decreasing costs.
Regional Fuel Price Differences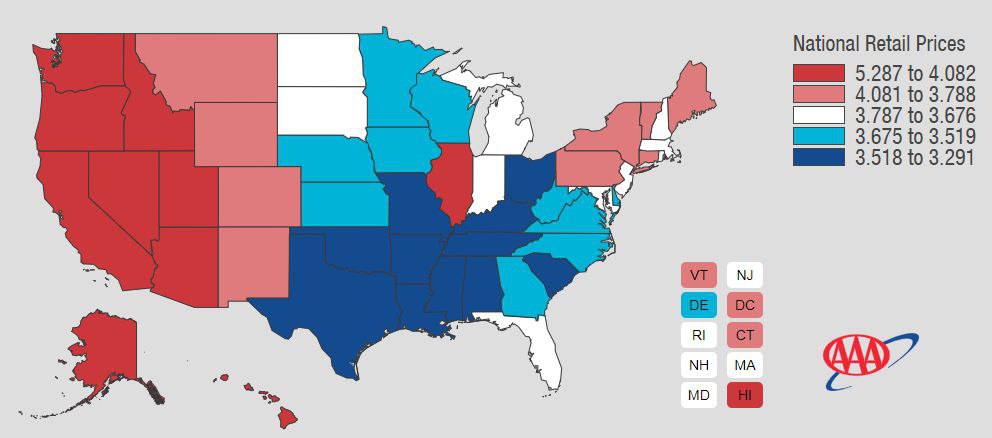 A glance at the U.S. fuel price map shows that certain states (marked in red) have above-average fuel costs, while others (in blue) enjoy prices below the national
average. It's quite concerning for residents in the high-cost areas, as they face considerably steeper prices at the pump.
Never Miss an RV Industry Update. Subscribe to our Bish's Blog Email and stay up-to-date on the latest RV News.
Concerning new RV Dealership Trend and What You Need to Know

Recently, we've noticed a trend in the RV sales industry that might be of concern for potential consumers. Let me preface by saying, the aim here is merely to inform, not criticize. I want to be fair, even as we at our own dealership continuously strive for better service.
Bish's RV isn't Perfect, but We're Trying
To set the record straight: no RV dealership is perfect, and that includes ours. We've identified areas in our service where we need improvement. For instance, we're keen on reducing RV repair turnaround times. However, the intention always remains to provide the best for our customers.
The Rise of "Pretend Factory Direct" Dealerships
There's a growing number of dealerships marketing themselves as "Factory Direct" or "wholesalers", suggesting they offer direct-from-the-manufacturer prices. But in reality, they're just dealerships. They pay the same invoices like everyone else.
A newer evolution of this trend includes dealerships branding themselves with manufacturer names like "Jayco RV of [location]" or "Keystone RV of [location]".
Misleading Branding?
Though these dealerships use manufacturers' names in their branding, they aren't actual factory outlets. They've merely received permissions to use the names.
The intention might be to provide a sense of exclusivity or a special deal, implying they have a "Factory Direct Arrangement". However, this isn't the case.
Know What to Expect
When visiting these "Factory Direct" named dealerships, it's crucial to understand they operate just like any other dealership. There's no magic formula that gives them a pricing advantage over other dealers.
Some genuine factory-direct outlets do exist, like Lazydays Motorhomes, but most are regular dealerships with standard markups.
Empowerment Through Knowledge
The primary takeaway? Be informed and make sure you understand the kind of dealership you're dealing with. Assess the way they present their information, and then determine if it aligns with your values and expectations.
Ultimately, the choice of where you take your business is up to you. Remember, knowledge is power, and it's essential to exercise your consumer rights wisely.
September 2023 Manufacturers' Updates & News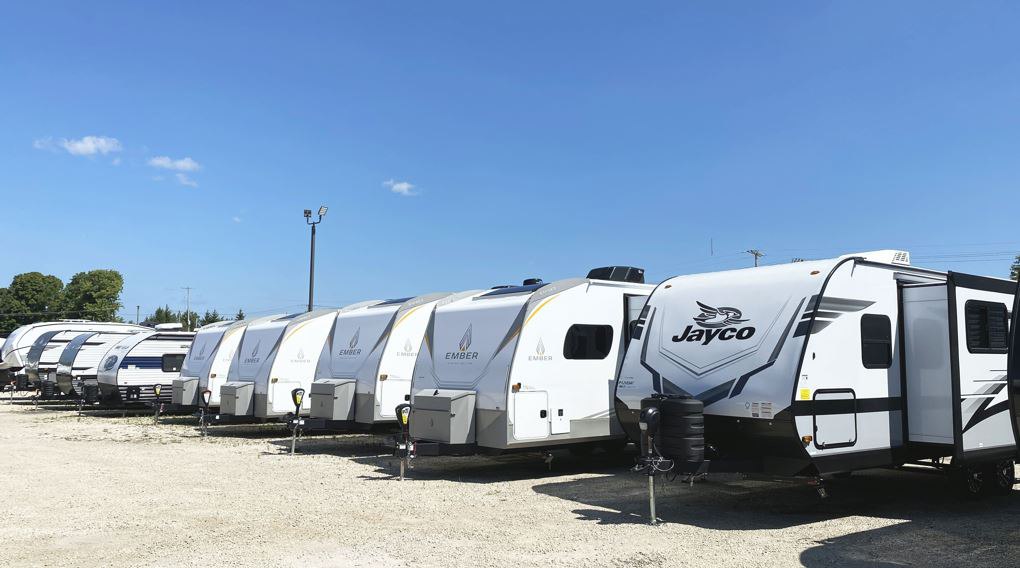 To take a deeper dive into the September 2023 Manufacturer news details, read our comprehensive News article: RV Makers Making News: September Brings Big Changes To get even more details on the September 2023 Manufacturers update, read our comprehensive News article: September 2023: The Latest Shifts and Surprises in RV Manufacturing

The Camping Conundrum: New RV Parks and Campsite Demand

As the RV industry continues to flourish, one question invariably arises: with so many RVs hitting the road, where are all these travelers going to camp?
With new RV enthusiasts joining seasoned road warriors in their love for the great outdoors, the demand for campsites is reaching new heights. While some might worry about the diminishing availability of camping spots, there's good news on the horizon.
Historically, constructing an RV park has been a significant endeavor, often taking a few years from conceptualization to completion. However, it seems we're on the precipice of a tidal wave of new campground opportunities.
As the lack of available RV parks becomes evident, entrepreneurs are stepping up to capitalize on the opportunity, recognizing the potential for lucrative returns. It's a slow and steady race, but we're beginning to see the fruits of these efforts as several new camping facilities emerge.
How much does it cost to camp in an RV Park?
Read our article to find out: The Cost to Stay At RV Parks, RV Campgrounds, and National Parks!

RV Parks Coming in the Near Future
In my recent research, I came across several new campsites and RV parks that are either in the pipeline or have recently opened their gates, adding hundreds of new spots for RV enthusiasts. This is an encouraging sign for the industry and those who love the camping lifestyle.
New US RV Parks in the Works
Overton, Nevada
New park development
90+ sites available
Comes with various amenities|

Canyon City, Colorado
New Loves Stop introduced
Offers 100+ sites for visitors

Caldwell, Idaho
New luxury RV park under construction
$30 million investment
Spans over 30 acres
Boasts 225 stalls
Described as "Like no other"

Luray RV Resort, Virginia
Under new ownership
Massive expansion undertaken
Site count increased from 73 to 350
Resort-style amenities including:
Swimming pool
Pickleball courts
Unique RV Car Track!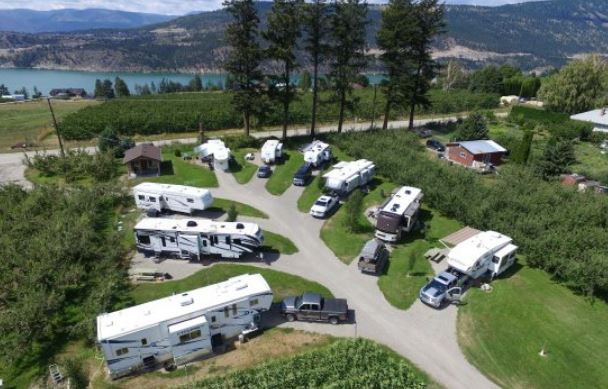 However, it's essential to approach this with a balanced view. While some of these locations offer newly renovated amenities, this might come at a premium.
The surge in demand, combined with the cost of upgrades, has led to a noticeable uptick in camping fees in some areas. More camping spots don't necessarily equate to budget-friendly options, especially with the current demand significantly outstripping supply.
This imbalance has further propelled the interest in boondocking and the adoption of solar solutions by campers who seek off-the-grid experiences. While this shift might not be everyone's cup of tea, it's heartening to know there are multiple ways to enjoy camping.
While the road ahead to completely alleviate campground congestion remains long, there's evident progress. Campers, new and old, can remain optimistic that the industry is working hard to cater to their needs and expand opportunities for memorable outdoor adventures.
Never Miss an RV Industry Update. Subscribe to our Bish's Blog Email and stay up-to-date on the latest RV News.
Wrapping Up the September 2023 RV Industry Update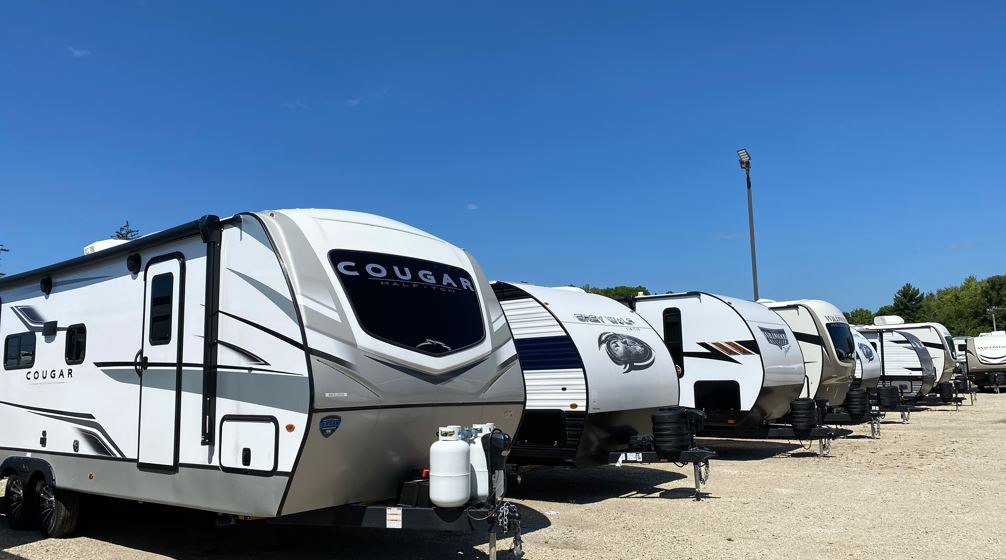 The world of RVs may be ever-changing, but now, armed with the latest insights and trends, you're in a much stronger position to navigate the next phase of your RV journey.
Whether you're considering buying a new RV or selling your current one, having this knowledge empowers you to make informed and confident decisions.
Bish's RV has been selling and servicing RVs for 35 years. But we're even more proud to be your trusted source for RV knowledge.
Our commitment is to keep you updated on all that's happening in the RV industry, ensuring you never miss out on vital news and emerging trends.

Got Questions? Talk to a Bish's RV Expert
Now that you know what's looming in the near future for RVs, you're now well-prepared for the next chapter in your RV journey.
Remember, with every twist and turn in the industry, Bish's RV is right here with you, lighting the way forward.
Safe travels, and here's to embracing the adventures that await!