By Bish's RV
Considering an Impression 235RW Fifth Wheel, but need more information to make your final decision?
You've come to the right place.
Here's a look at the pros and cons of this popular fifth wheel, as well as its specs and price.
Use this information to decide if this is the right 5th wheel for your travels!
---
Table of Contents:
What is an Impression 235RW Fifth Wheel?
Get your very own tour of the Impression 235RW from Josh the RV Nerd
The Impression 235RW Fifth Wheel is a mid-profile fifth wheel that offers a well-designed interior with a spacious kitchen and creative storage solutions.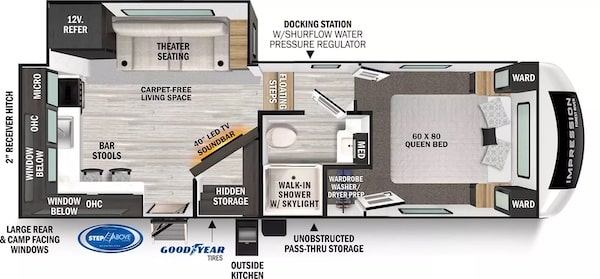 No RV is right for every RVer, but overall, this floor plan is a solid, value-priced choice for adventurers who appreciate amenities and can navigate a few design quirks. It's especially ideal for couples or single RVers, though space can be made for company.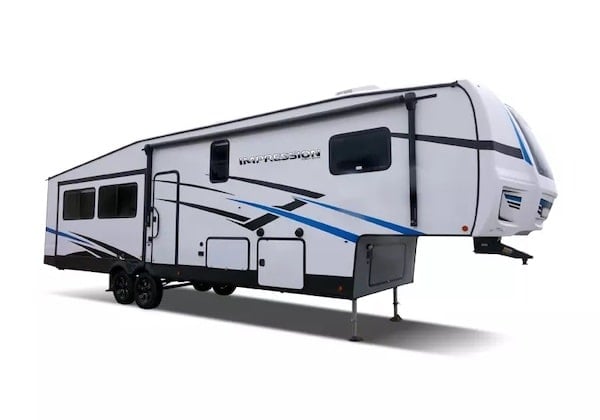 Impression 235RW Fifth Wheel Specs
| | |
| --- | --- |
| Hitch Weight: | 1,460 lbs. |
| UVW: | 7,538 lbs. |
| CCC: | 4,122 lbs. |
| | |
| --- | --- |
| Exterior Length: | 28'11" |
| Exterior Height: | 13'2" |
| Exterior Width: | 8′ |
Tanks:
| | |
| --- | --- |
| Fresh Water: | 57 gal. |
| Gray Water: | 60 gal. |
| Black Water: | 30 gal. |
See all Impression 235RW 5th Wheel Specs
Pros & Cons of the Forest River Impression 235RW 5th Wheel

Pros:

1. Snack-Tastic Kitchen
With all the essentials close at hand—the fridge, sink, and dining area—the Impression Fifth Wheel makes for a delightful experience.
2. Strategic Storage
The RV offers inventive storage solutions, like slots to securely place your stools when they're not in use.
3. Slide Functionality
If you need quick access to the bedroom and bathroom, you can partially open the rack and pinion slide without fully extending it, saving you time (although we wouldn't recommend doing this in the rain).
4. Quality Tires and Underbelly Features
The Impression comes standard with quality, Goodyear Endurance tires and a forced-air heated underbelly, not to mention 12-volt tank heating pads, providing solid value for your money.
5. Large Awning
The RV features a substantial awning, maximizing your outdoor living space.
6. Additional Cargo Hitch
A 300-pound rated cargo receiver hitch at the back offers extra utility, whether you want to carry bikes, e-bikes, or a generator rack.
---
Cons:

1. Road-Mode Accessibility
Accessing the upper deck while the slide is closed is virtually impossible unless you're planning on "yeeting" someone over the slide, which is not advisable.
2. Stool Tie-Downs Missing
Although storage solutions are mostly excellent, there are no specific tie-downs for the stools, which could be an issue during travel.
3. Weight and Payload Concerns
Despite weighing less than 8,000 pounds, the cargo-carrying capacity could stretch the limits of half-ton trucks, possibly exceeding their payload ratings.
4. Two-Headed Sewer Monster
The RV features separate outlets for gray and black tanks, complicating the sewage dumping process.
5. Un-Tinted Windows
While the windows offer expansive views, they are less tinted, potentially compromising your privacy.
6. Limited Base Solar Package
The standard 100-watt solar panel is on the lower end of what's becoming common in the industry, offering less power independence.
---
Impression 235RW 5th Wheel Price

| | |
| --- | --- |
| New Impression 235RW: | $39,000 – $71,000 |
Overall, the Impression Fifth Wheel offers a lot of pros, but also has some cons that might be deal-breakers for some. It all comes down to what you're willing to compromise on and what you're not. Remember, you're not just buying an RV; you're investing in your future adventures. So weigh the pros and cons carefully, and happy camping!