Here's Forest River's Cherokee 2024 Lineup
Hey there, RV enthusiasts! Today, we're diving deep into Forest River's Cherokee division, and we've got some exciting stuff to show you. So, buckle up, leave your comments below, and let's roll!
Table of Contents – Quick Links
Northwood RV 2023 Nash 29S: Built to Last
Alpha Wolf 280QBS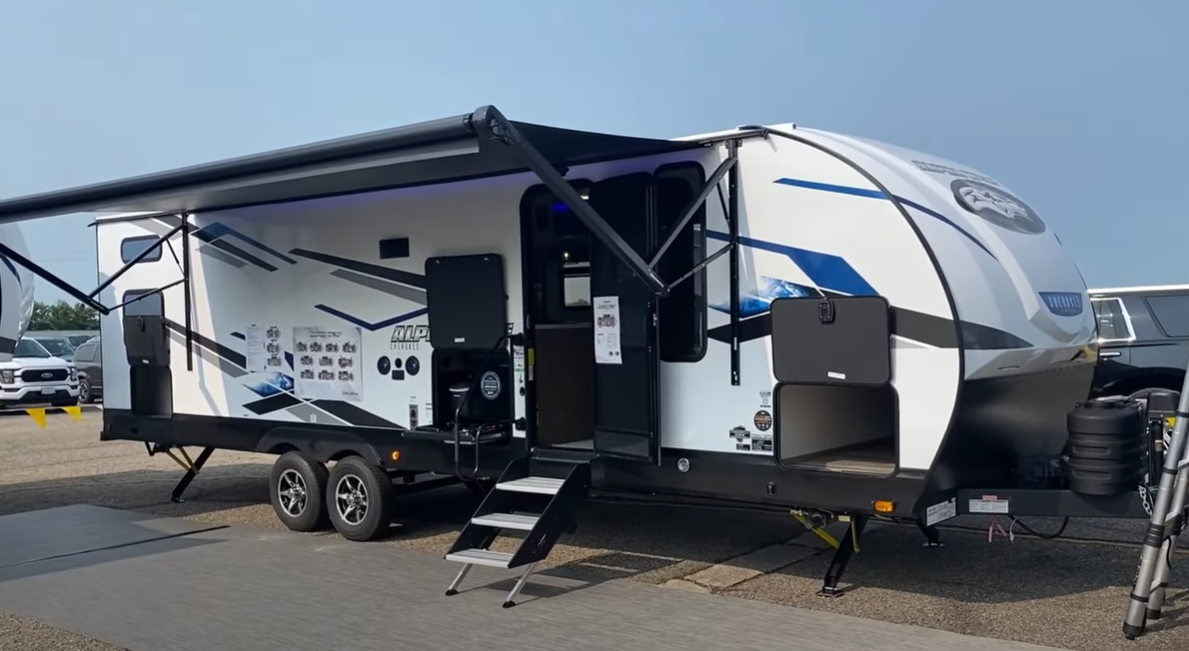 The Alpha Wolf 280QBS might not be a revolutionary design, but it fills a gap in the lineup with private bunks. You'll find all the essentials, from a powerful 15,000 BTU air conditioner to a spacious 10 cubic foot refrigerator.
And here's the kicker – no floor vents! But what really shines is the "eat and go" dinette system, perfect for families of all sizes. And guess what? A central vacuum system is now standard, ensuring that you can quickly tackle any clean up from your family meals.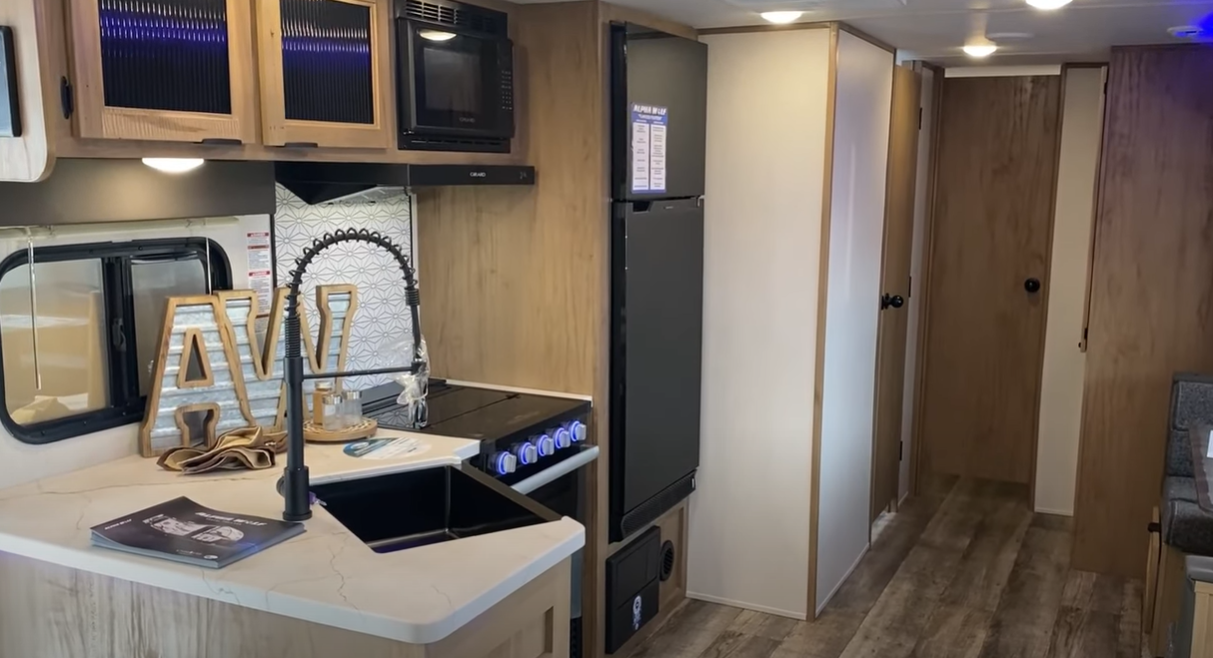 Alpha Wolf 280QBS Layout and Specs

Weights & Measurements:
HITCH WEIGHT 920lbs
GVWR 8,644lbs
UVW 6,648lbs
Cargo Capacity 1,996lbs
EXTERIOR LENGTH 34′ 2″
EXTERIOR HEIGHT 11′ 0″
EXTERIOR WIDTH 8′
FRESH WATER 81 gal.
GRAY WATER 35 gal.
BLACK WATER 35 gal.
AWNING SIZE 20′
Looking for more details? Forest River RV provides a list of the standard and optional inclusions.
Alpha 23LDE and Arctic Wolf 23MLE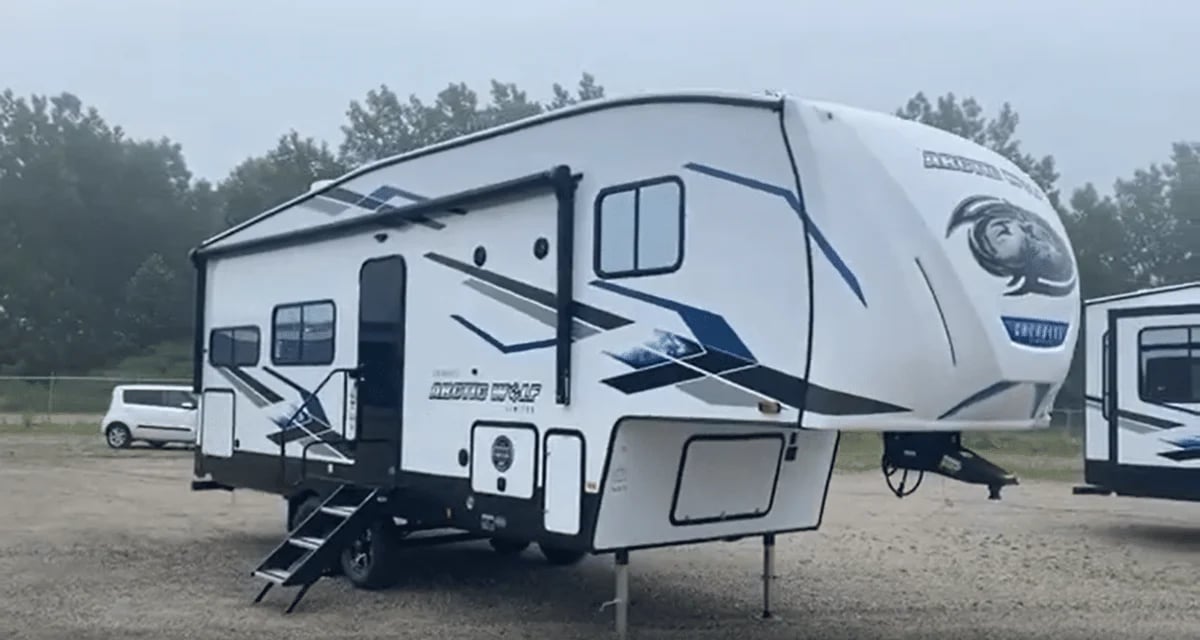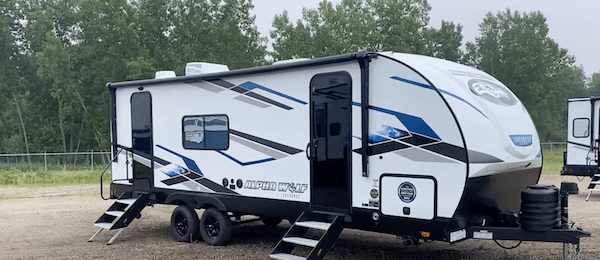 Alpha Wolf and Arctic Wolf aren't trying to reinvent the wheel, but they're definitely putting their spin on things. First off, they've supercharged the freshwater capacity, making these RVs perfect for boondocking adventures.
The upgraded 100-watt solar package with a robust charge controller is a real game-changer. Don't miss the 23LDE layout, similar to other models but with added storage and ambient lighting control.
If you're looking for ALL of the details, check out Josh the RV Nerd's reviews of the Arctic Wolf 23MLE and the Alpha Wolf 23LDE!
Let's jump into each of these RVs respectively starting with the Arctic Wolf MLE.
2024 Arctic Wolf 23MLE
The 2024 Arctic Wolf 23MLE Fifth Wheel RV is a fantastic redesign of a well-loved layout.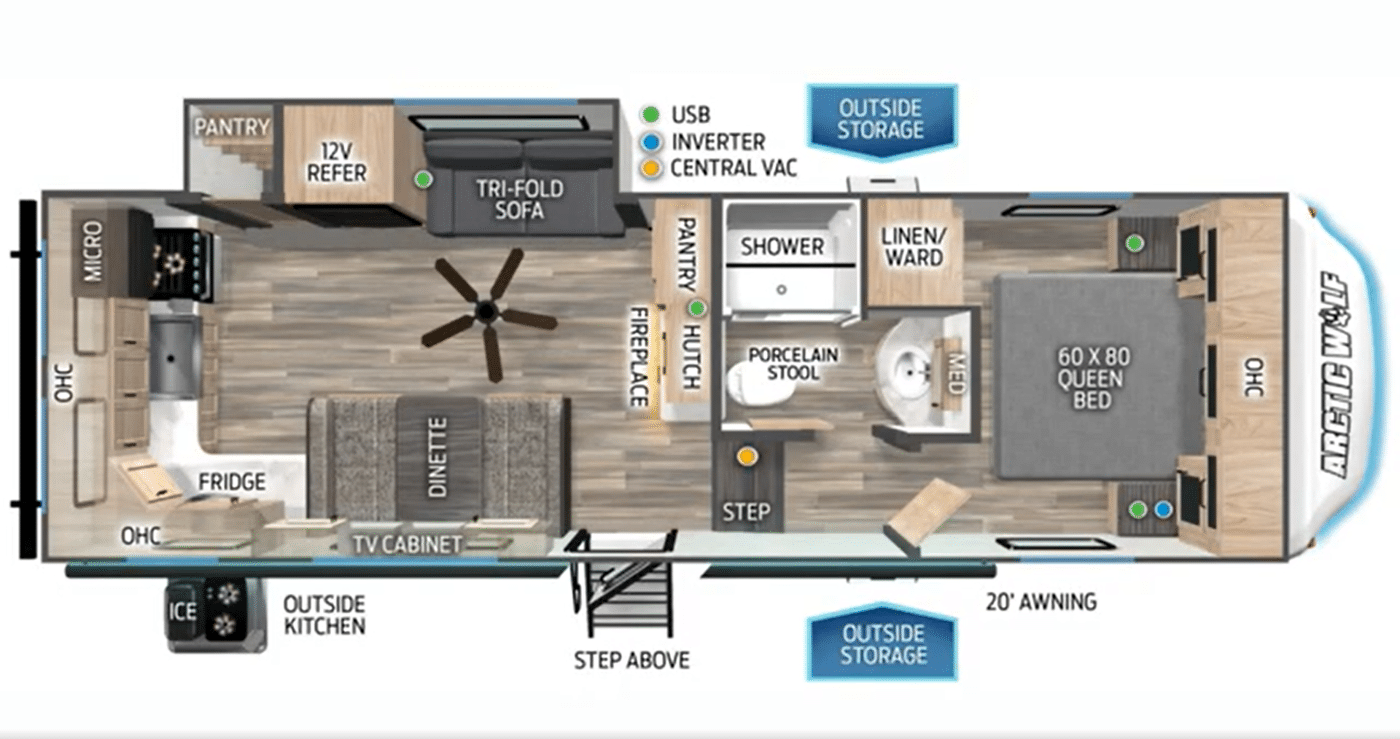 Inside, you'll find a comfy, smartly arranged living space. The tri-fold hide-a-bed sofa, included with this layout, offers a cozy place to sit and can even turn into an extra bed if needed.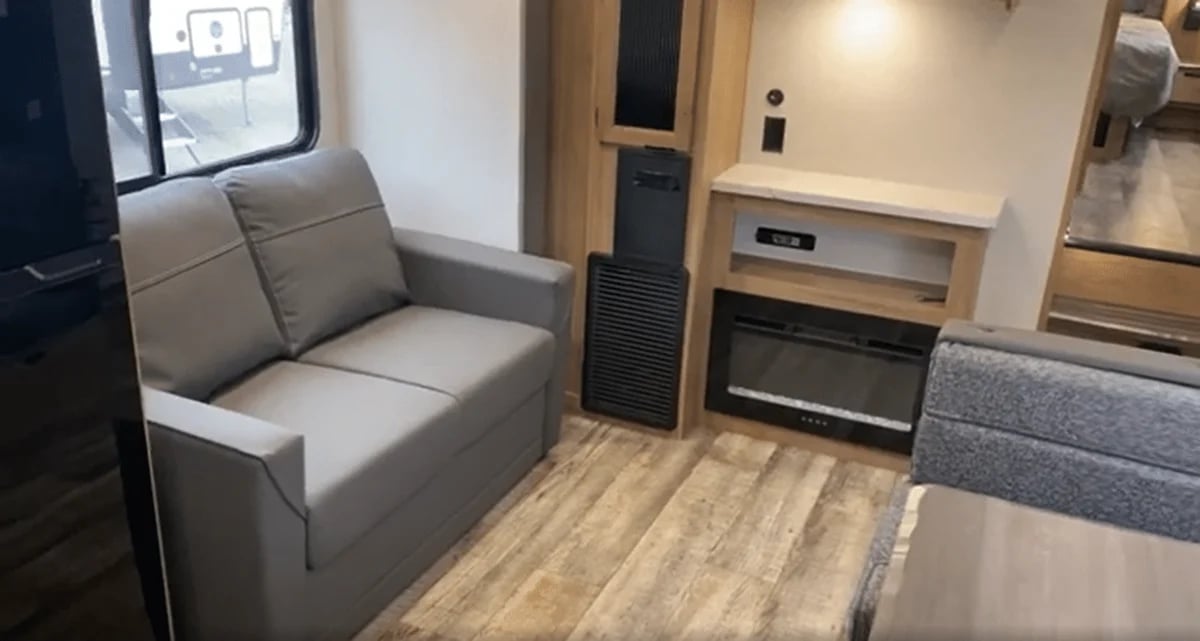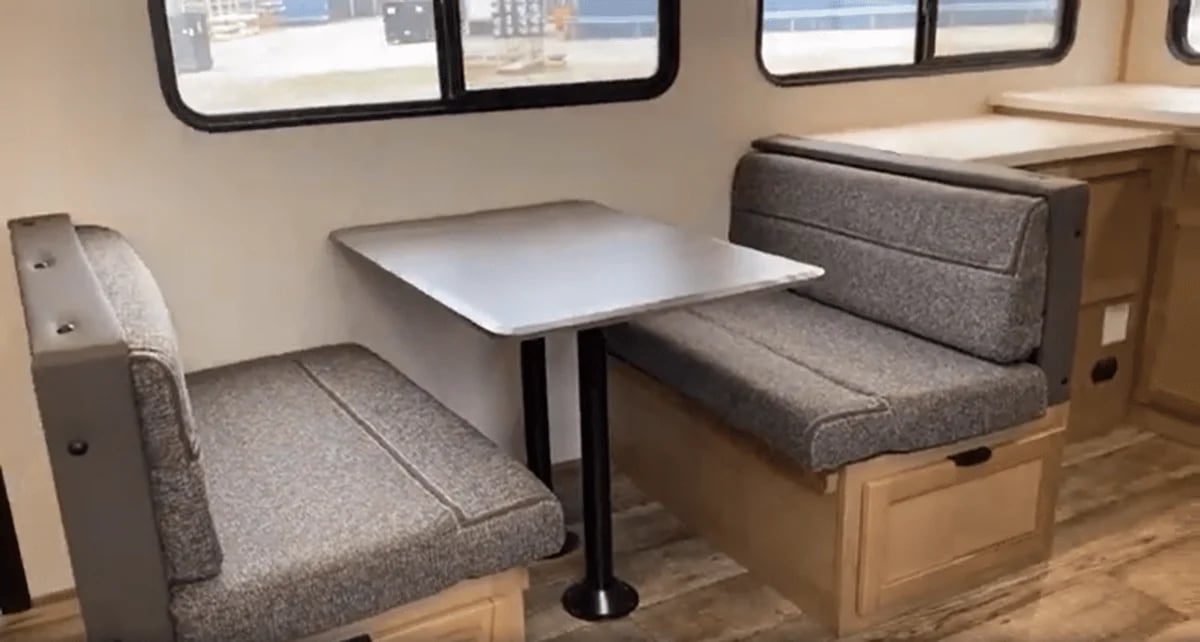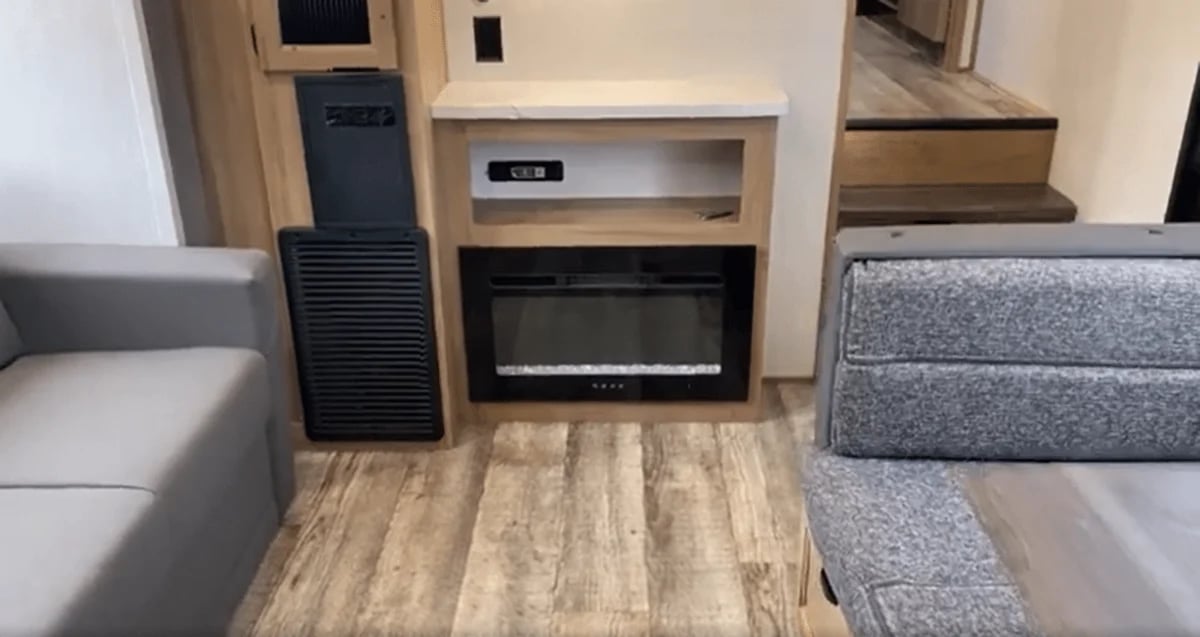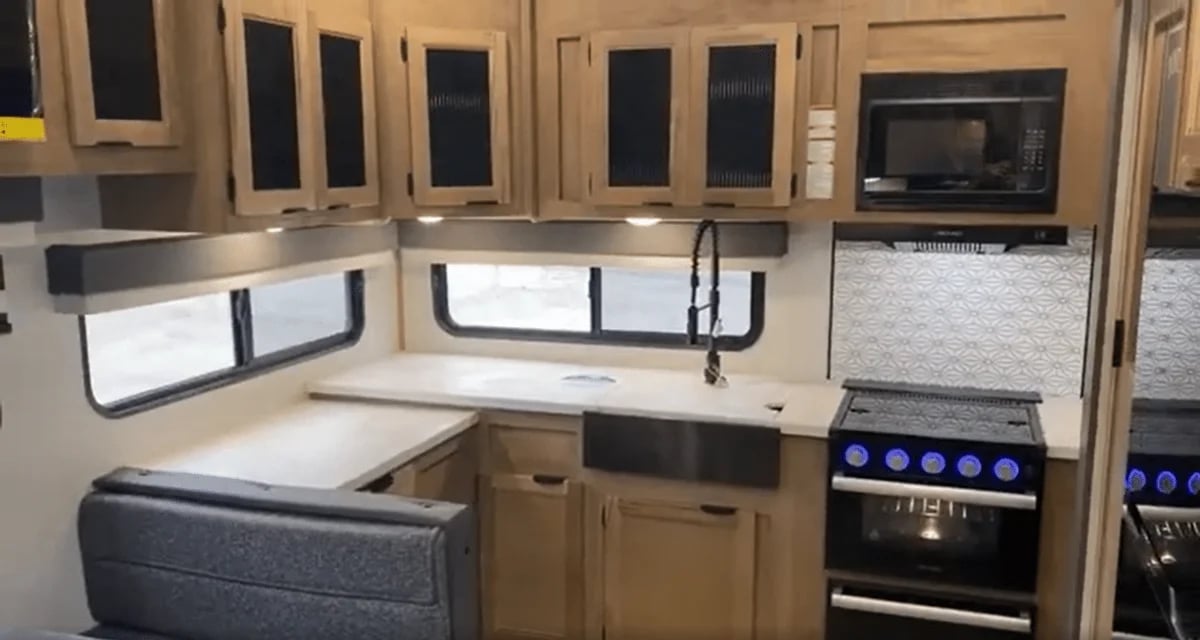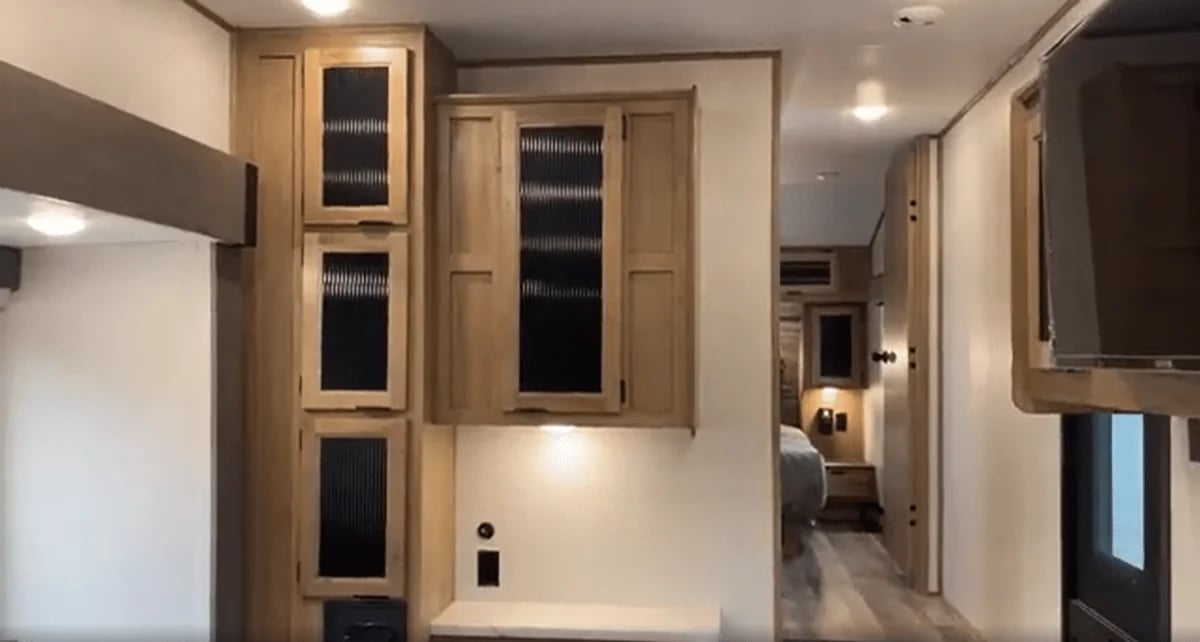 2024 Arctic Wolf 23MLE Specs
HITCH WEIGHT 1,245lbs
GVWR 9,900lbs
UVW 7,448lbs
Cargo Capacity 2,452lbs
EXTERIOR LENGTH 29′ 4″
EXTERIOR HEIGHT 12′ 11″
EXTERIOR WIDTH 96″
FRESH WATER 81 gal.
GRAY WATER 70 gal.
BLACK WATER 35 gal.
AWNING SIZE 20′
If you want a small, comfy, and well-equipped fifth wheel, the 23MLE could be the perfect fit!
2024 Alpha Wolf 23LDE
The Alpha Wolf 23LDE travel trailer has a large, open space in the living and kitchen area so that activities like eating, relaxing, and sleeping are more convenient during your outdoor adventures.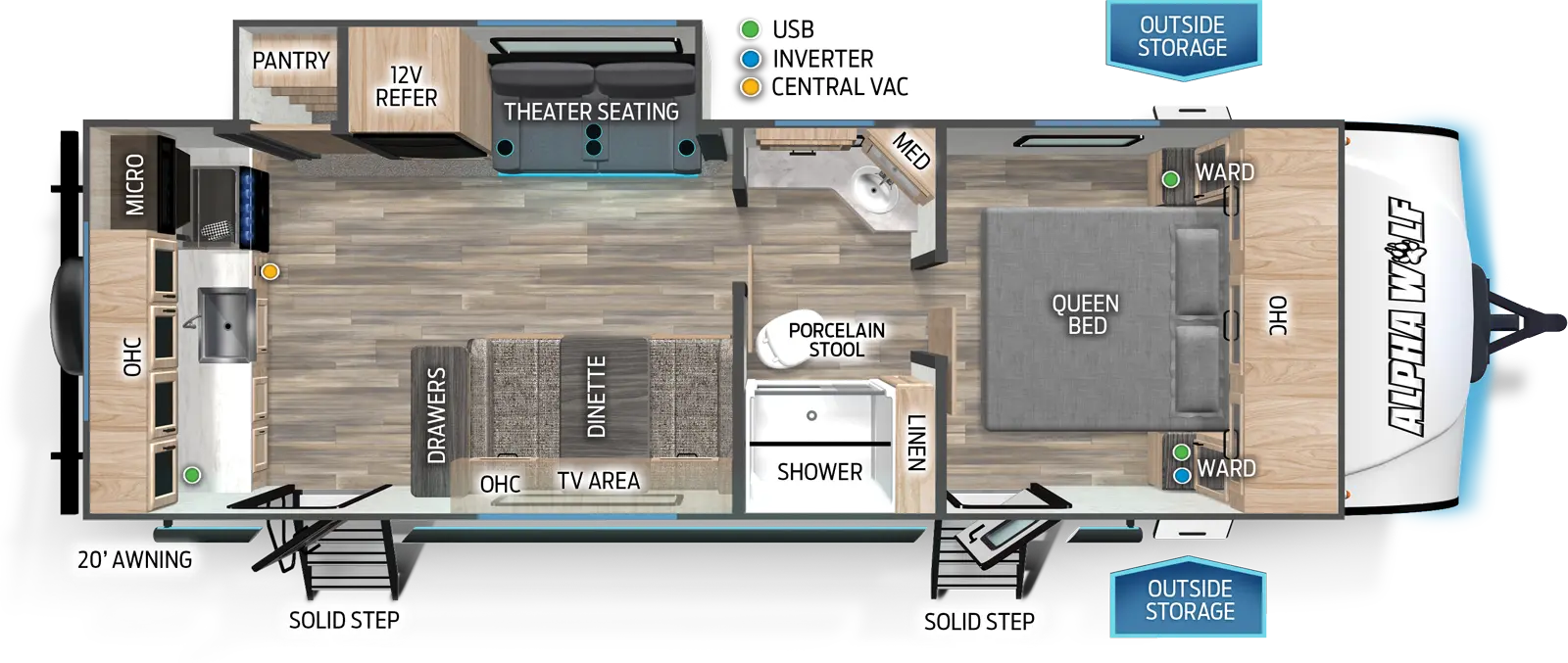 You'll love the heat and massage features in the theatre seats, rear kitchen pantry, and the extra sleeping space in the dinette .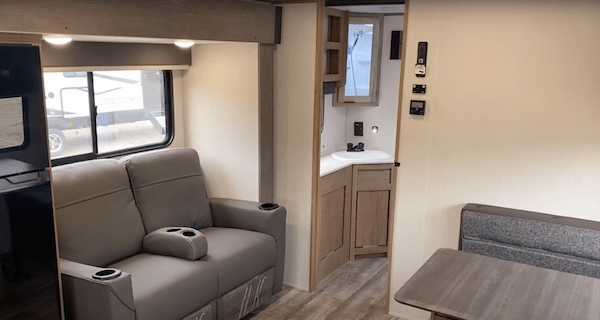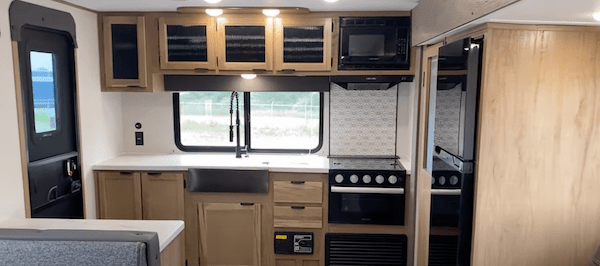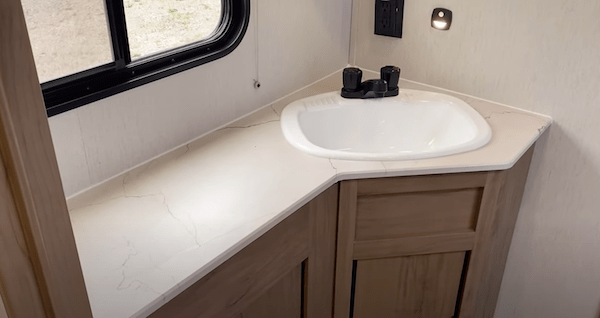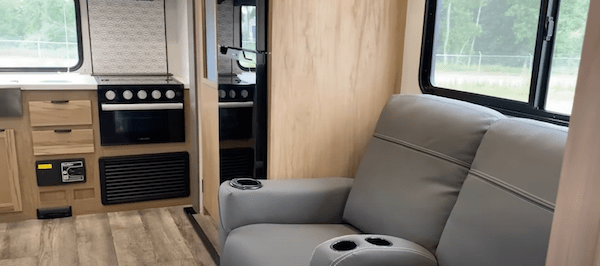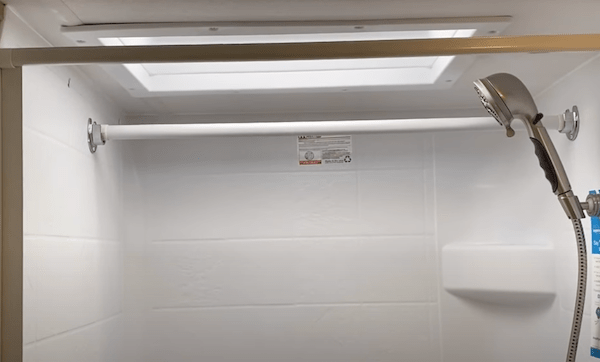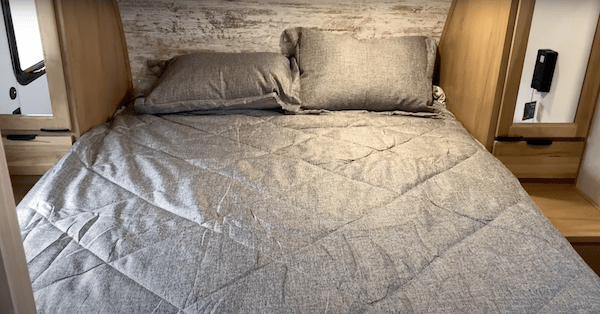 2024 Alpha Wolf 23LDE Specs
HITCH WEIGHT 770lbs
GVWR 7,770lbs
UVW 5,608lbs
Cargo Capacity 2,162lbs
EXTERIOR LENGTH 28′ 10″
EXTERIOR HEIGHT11′ 0″
EXTERIOR WIDTH 8′
FRESH WATER 81 gal.
GRAY WATER 70 gal.
BLACK WATER 35 gal.
AWNING SIZE 20′
Arctic Wolf 3910 and 3810 Suite Series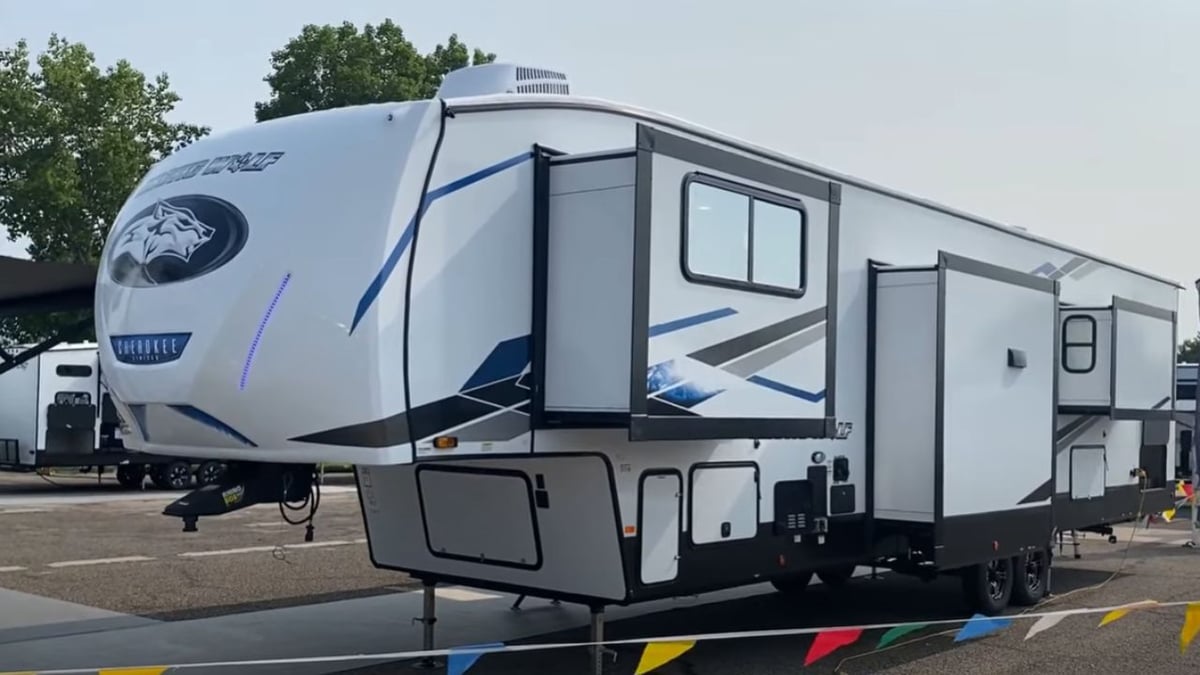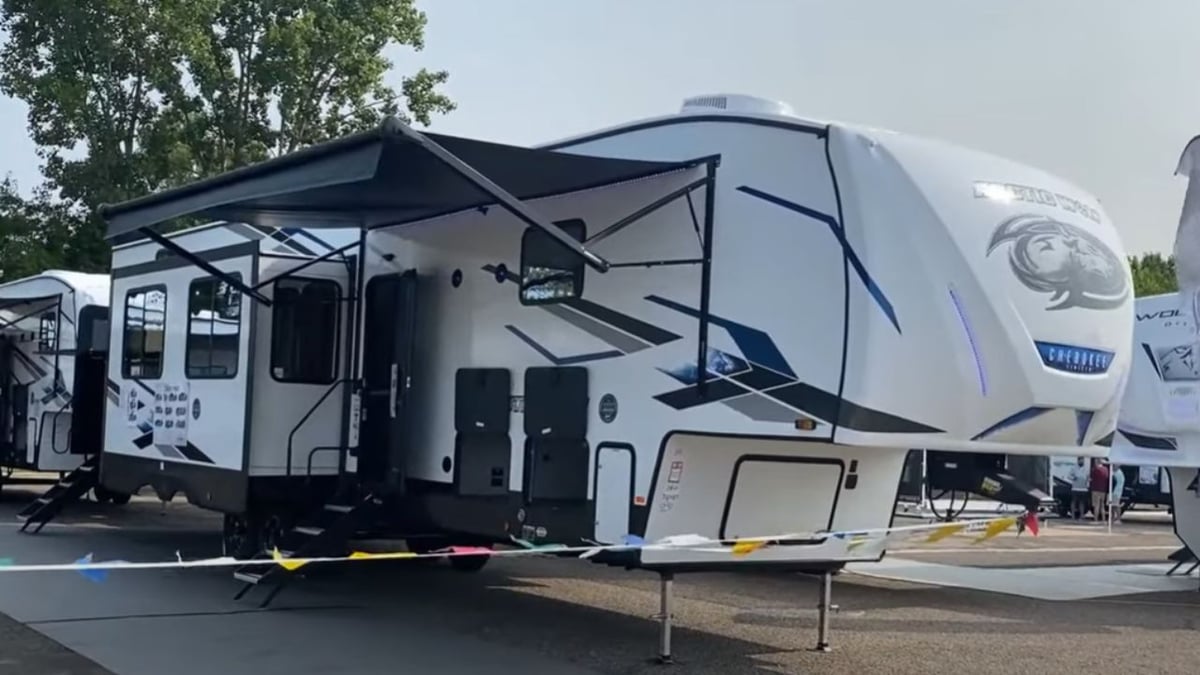 The Suite series is where luxury meets comfort. King-sized beds usually await you, but if you opt for Arctic Wolf, you'll get a spacious 60 by 80 true Queen bed. These RVs are washer/dryer prep-ready, and the headroom in the upper decks is impressive. Oh, and have you seen the electric dustpan? It's a game-changer for keeping things tidy. Let's start off with the 3910 Suite!
Arctic Wolf 3910 Suite
This is the revamp of previous Arctic Wolf Suite models. Through some creative layout decisions, the living and dining areas have become even more spacious. You can check out the current layout design below.

The shower skylight and the full walk-around space in the bedroom are just two of the amazing features. Here's a full list of the Arctic Wolf 3910 Suites features.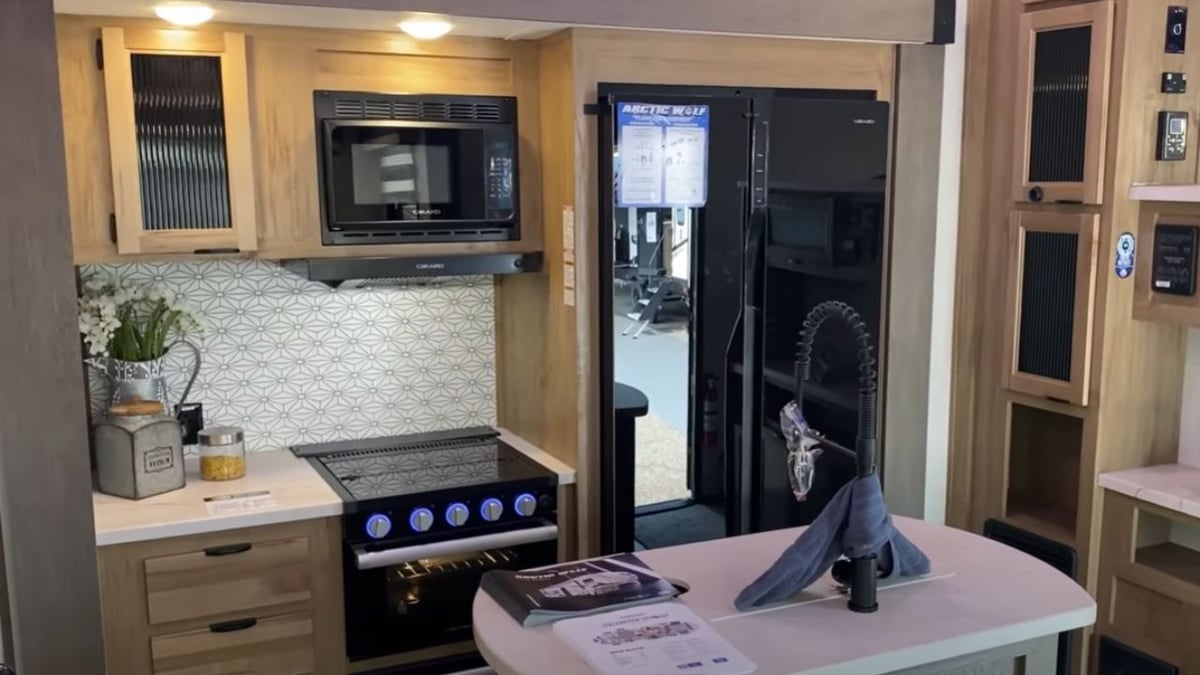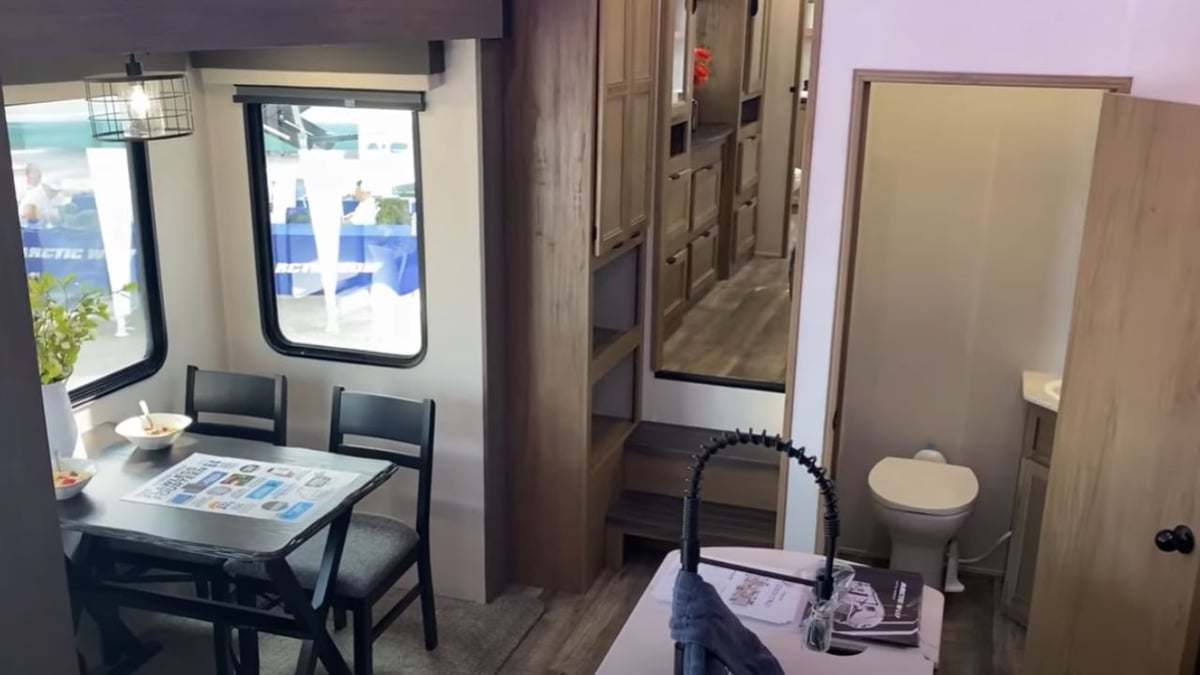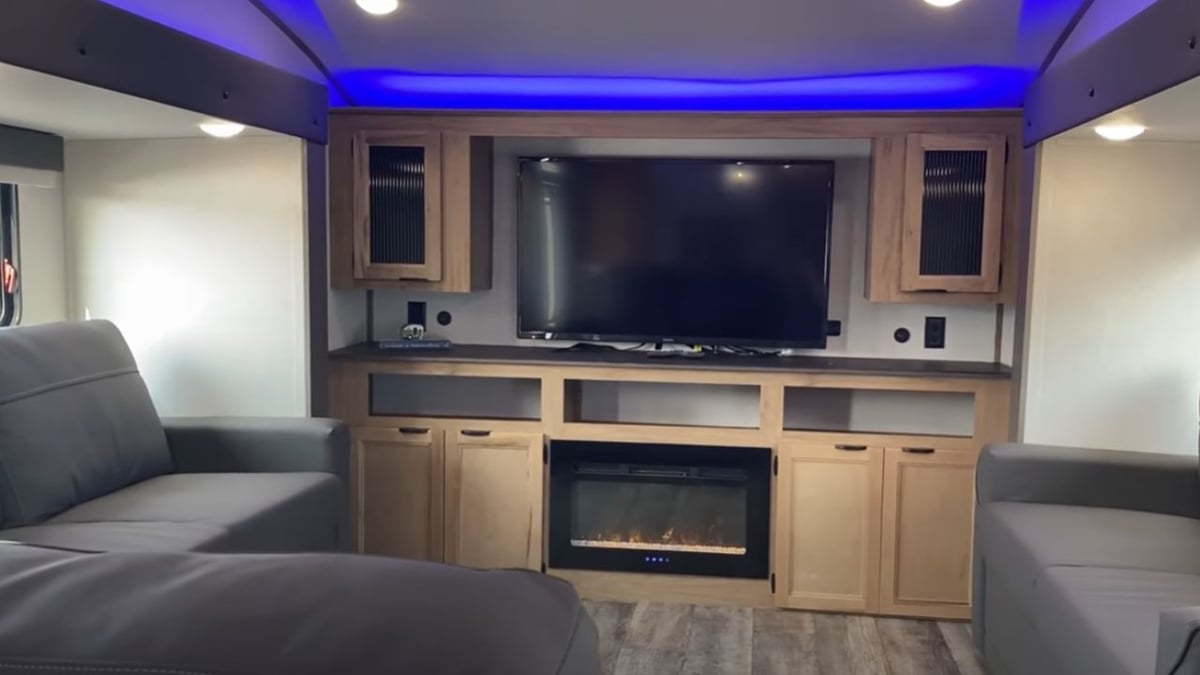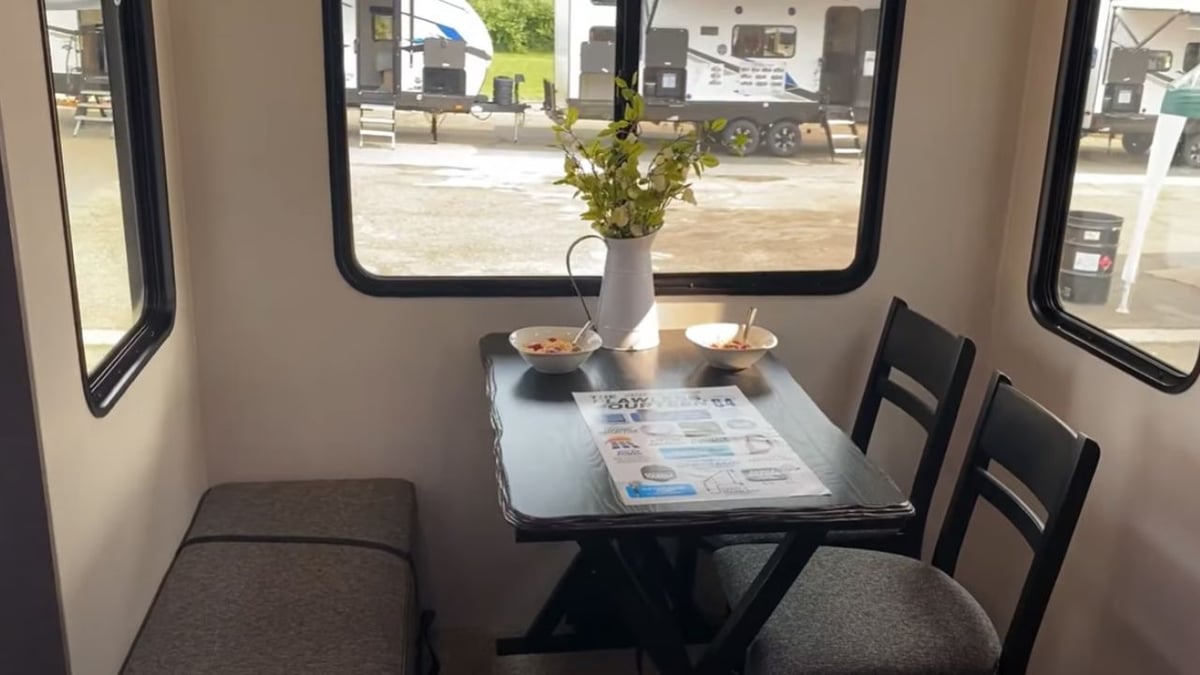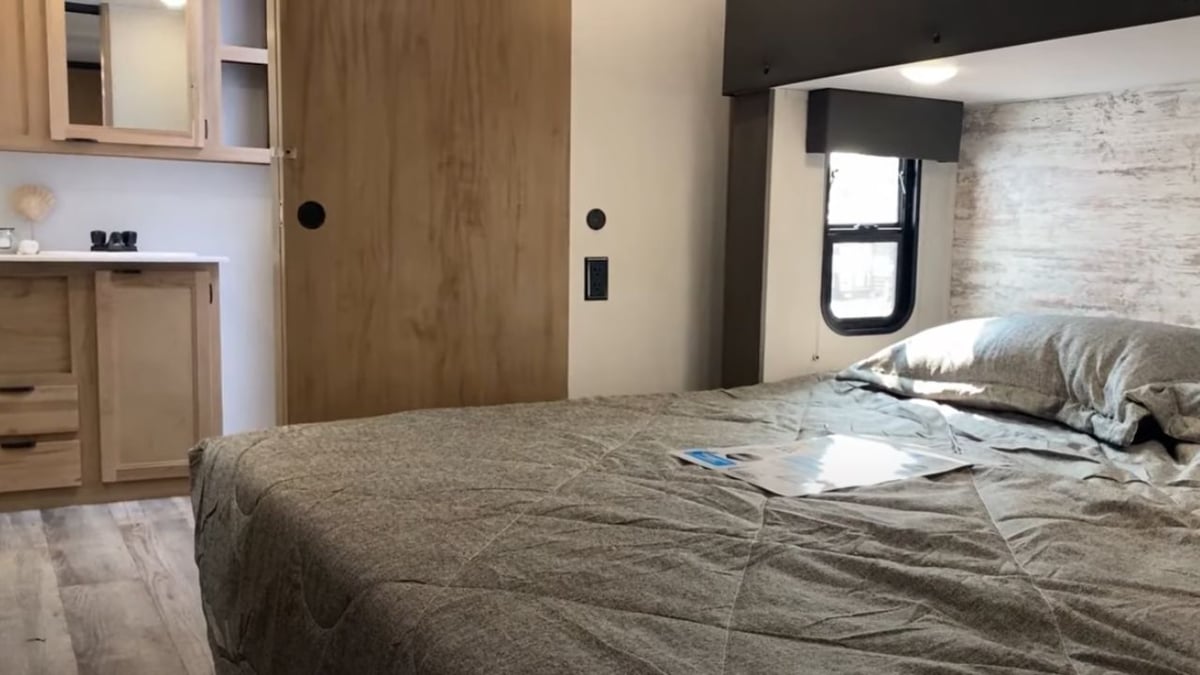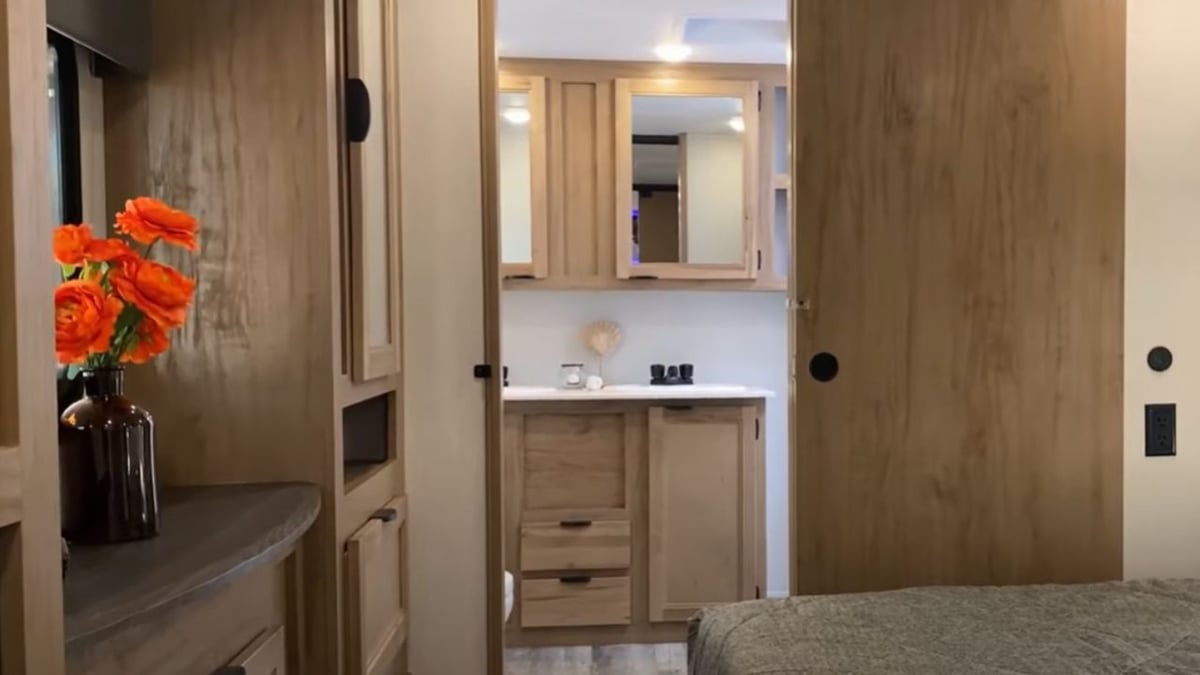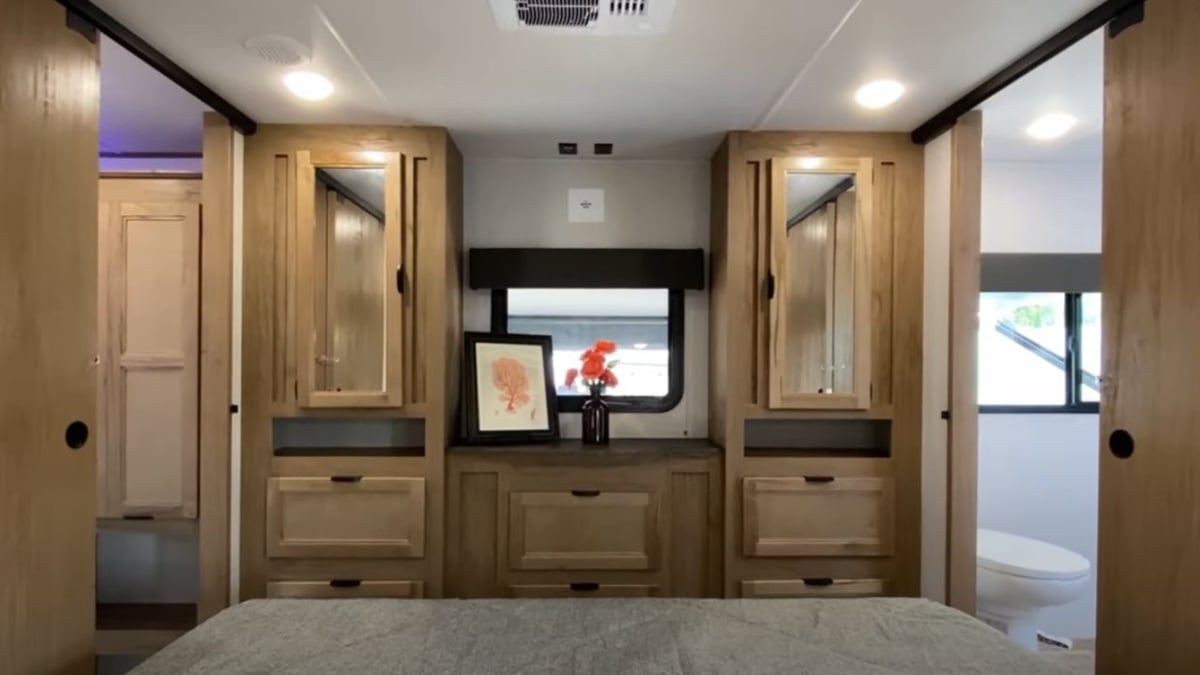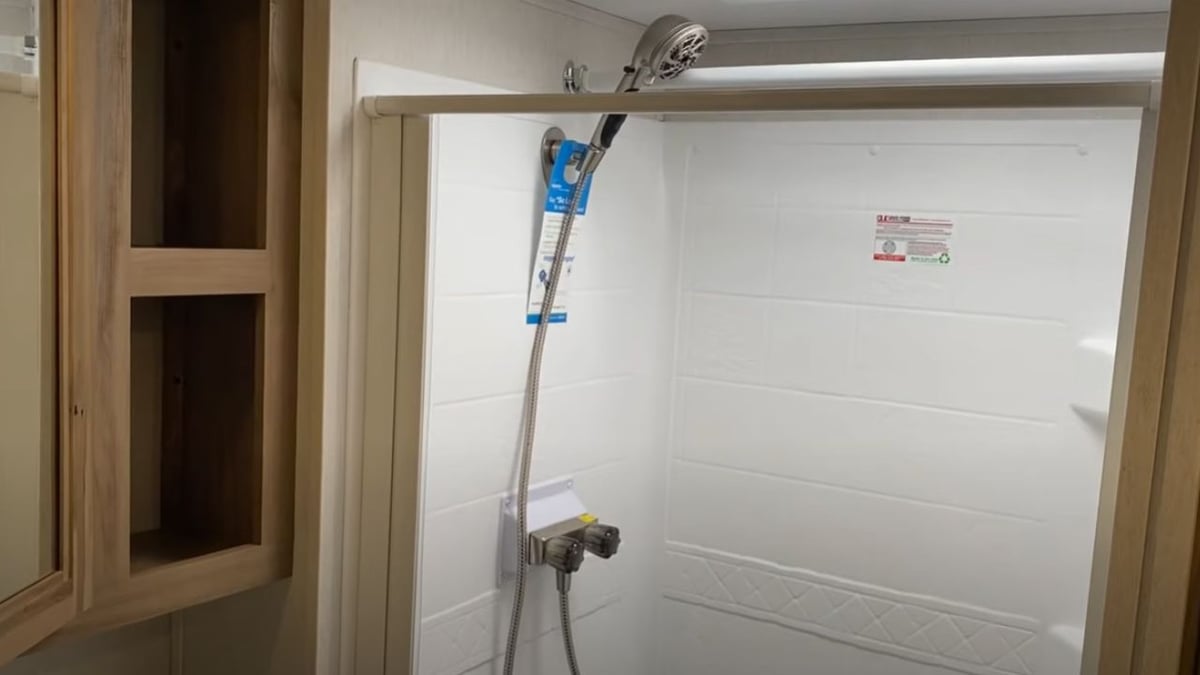 Arctic Wolf 3910 Suite Specs
HITCH WEIGHT 2,110lbs
GVWR 14,110lbs
UVW 11,188lbs
CCC2,922lbs
EXTERIOR LENGTH 43′ 6″
EXTERIOR HEIGHT 13′ 2″
EXTERIOR WIDTH 8′
FRESH WATER 81 gal.
GRAY WATER 70 gal.
BLACK WATER 70 gal.
AWNING SIZE 15′ & 15′
Arctic Wolf 3810 Suite
One of the great things about the Arctic Wolf 3810 Suite is that it blends the idea of having a second bedroom with a bunk room. This makes traveling as a family super convenient.

You might have noticed that the Arctic Wolf 3910 has a little bit more storage than this model, however, there is still plenty of it for an extended adventure in the outdoors.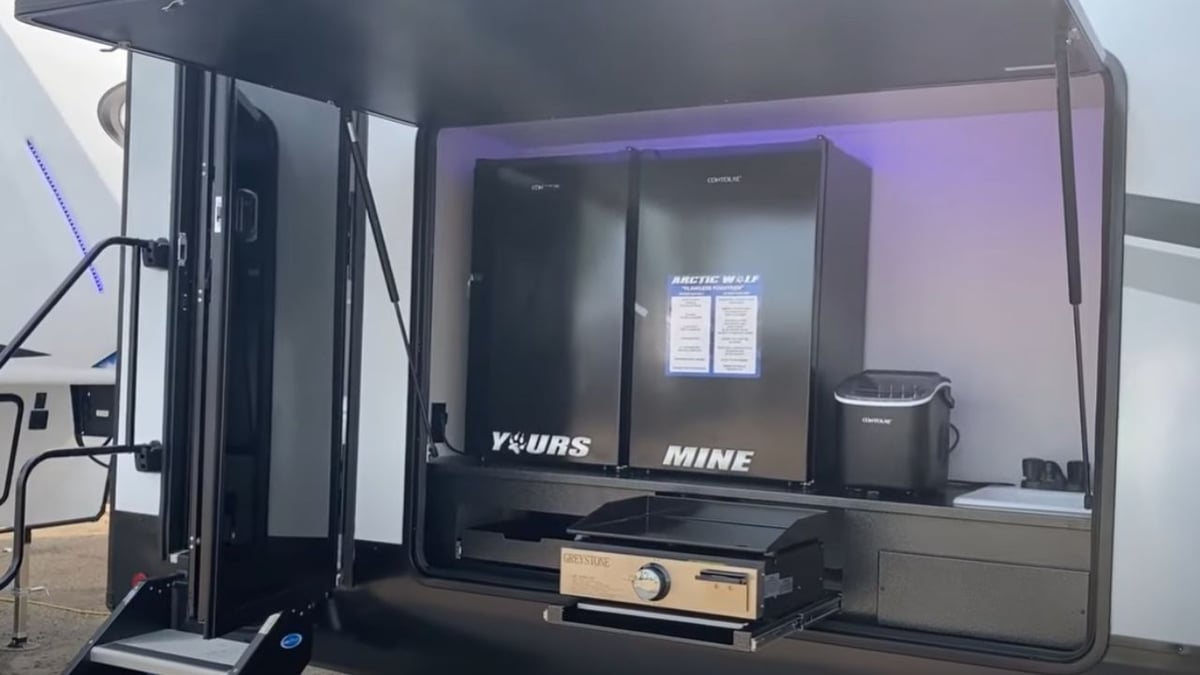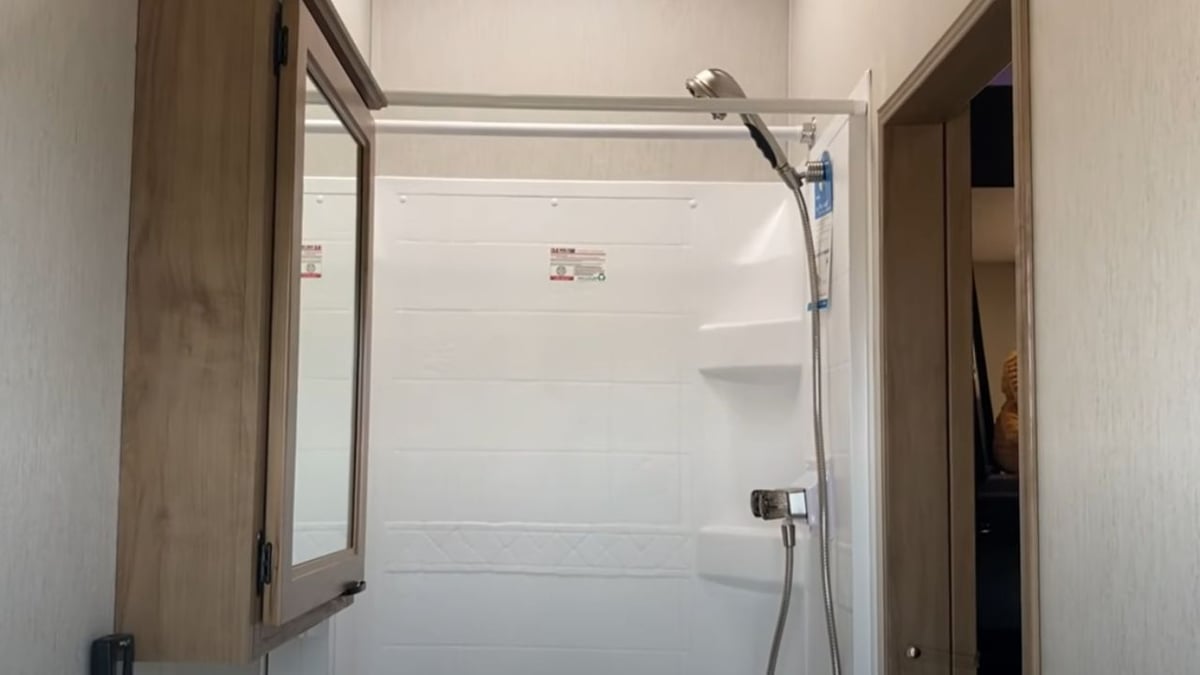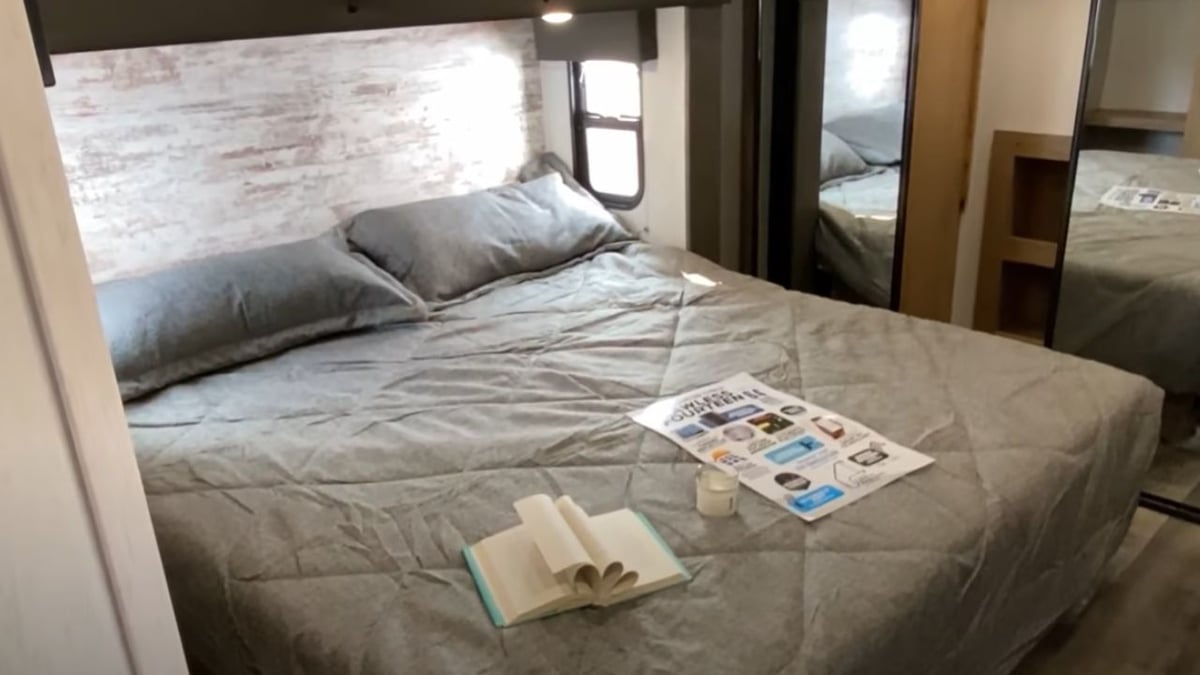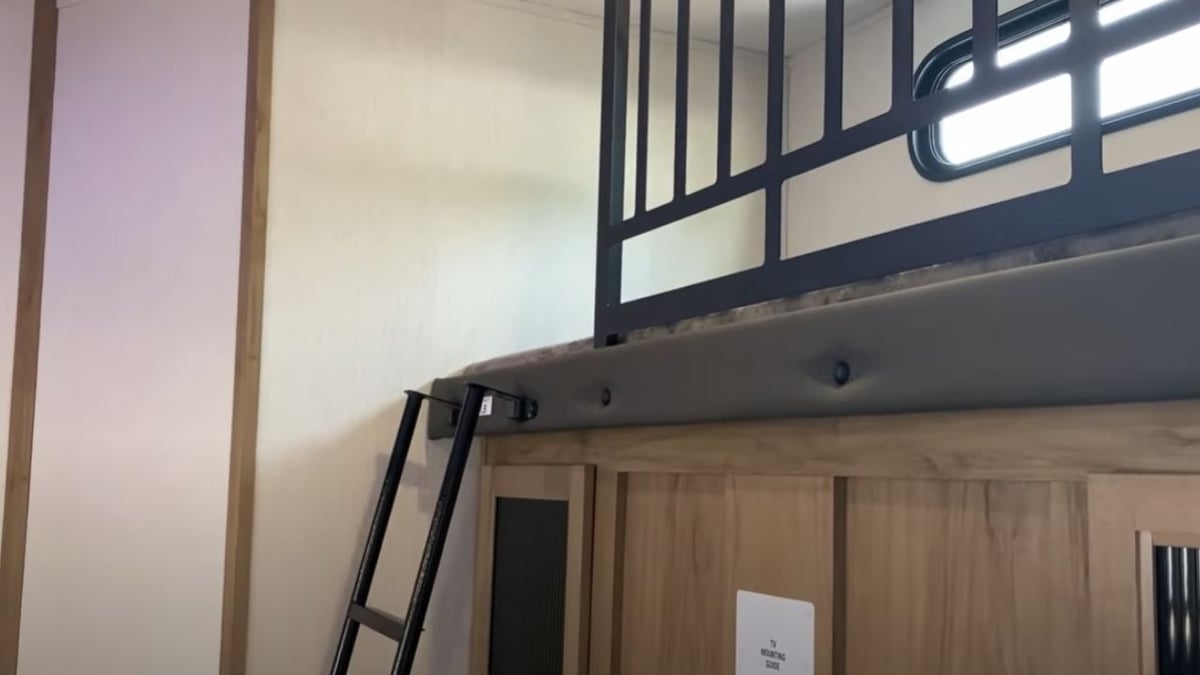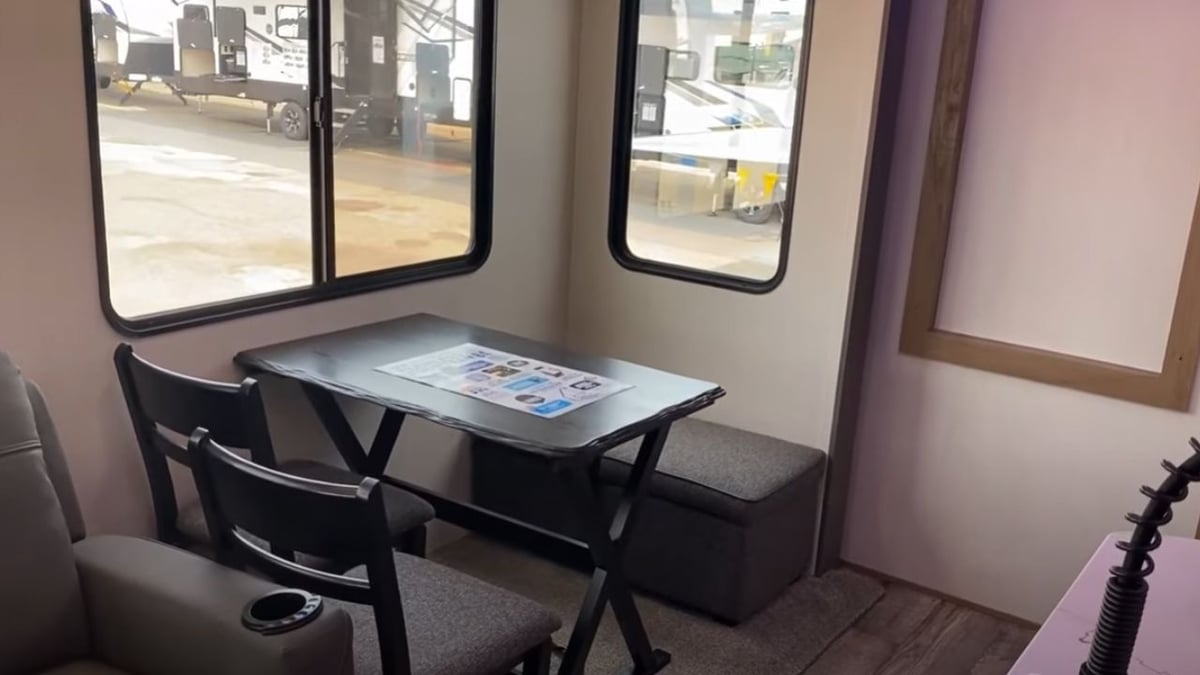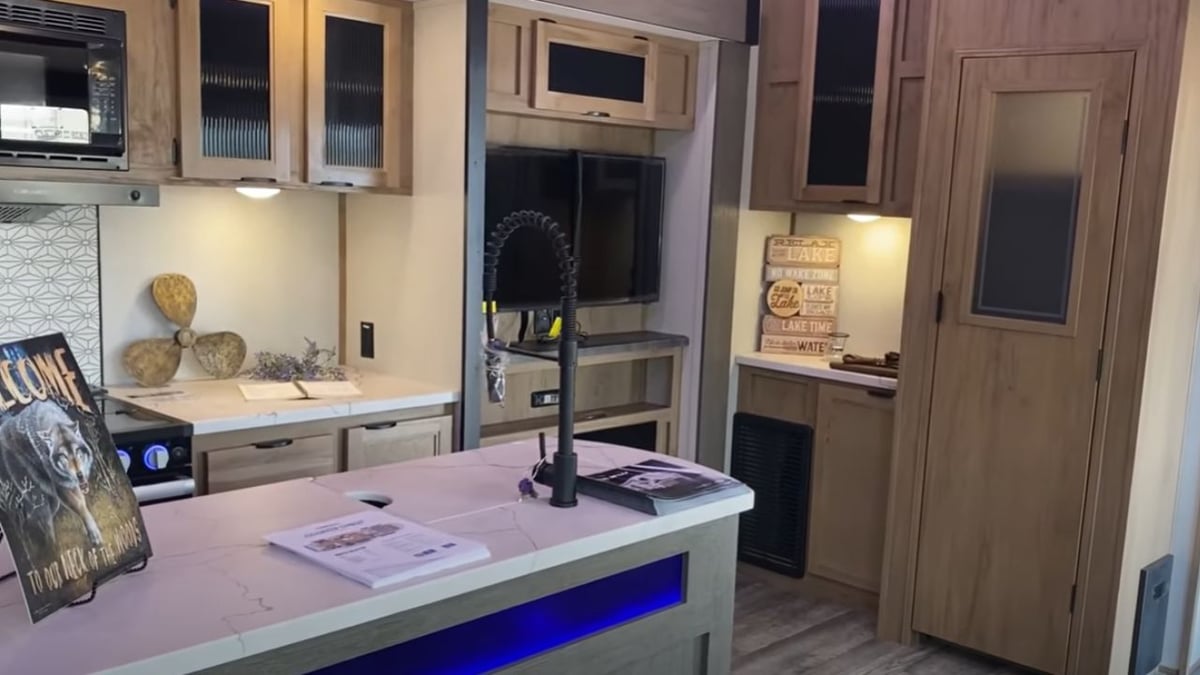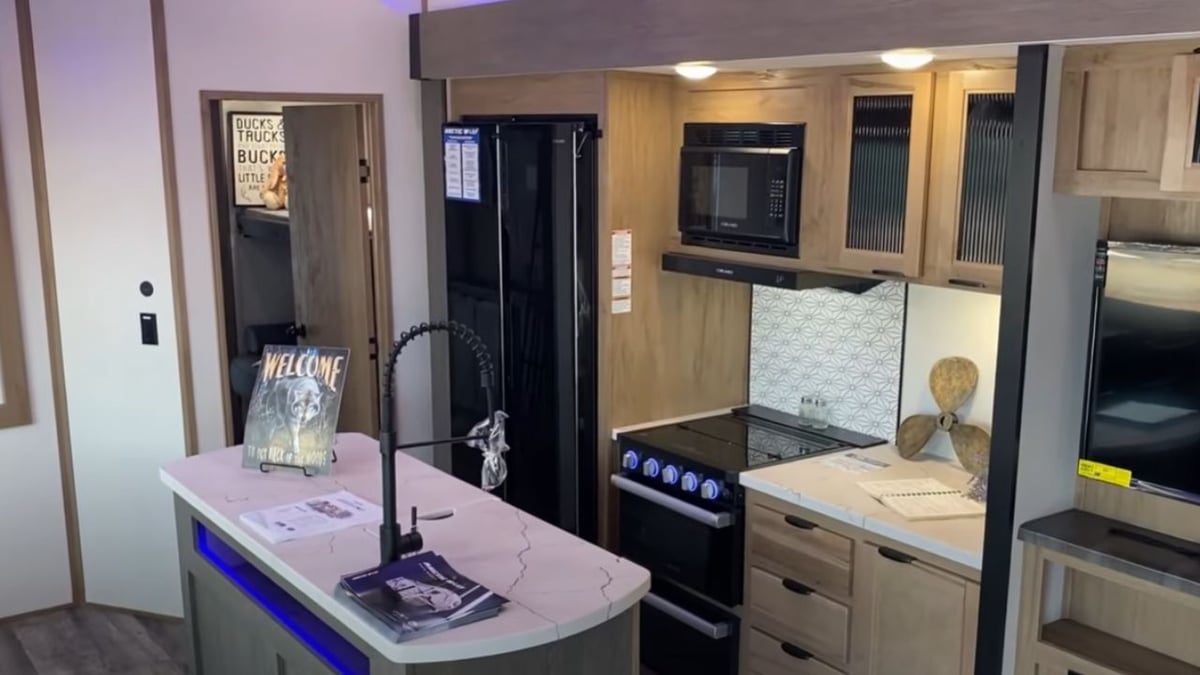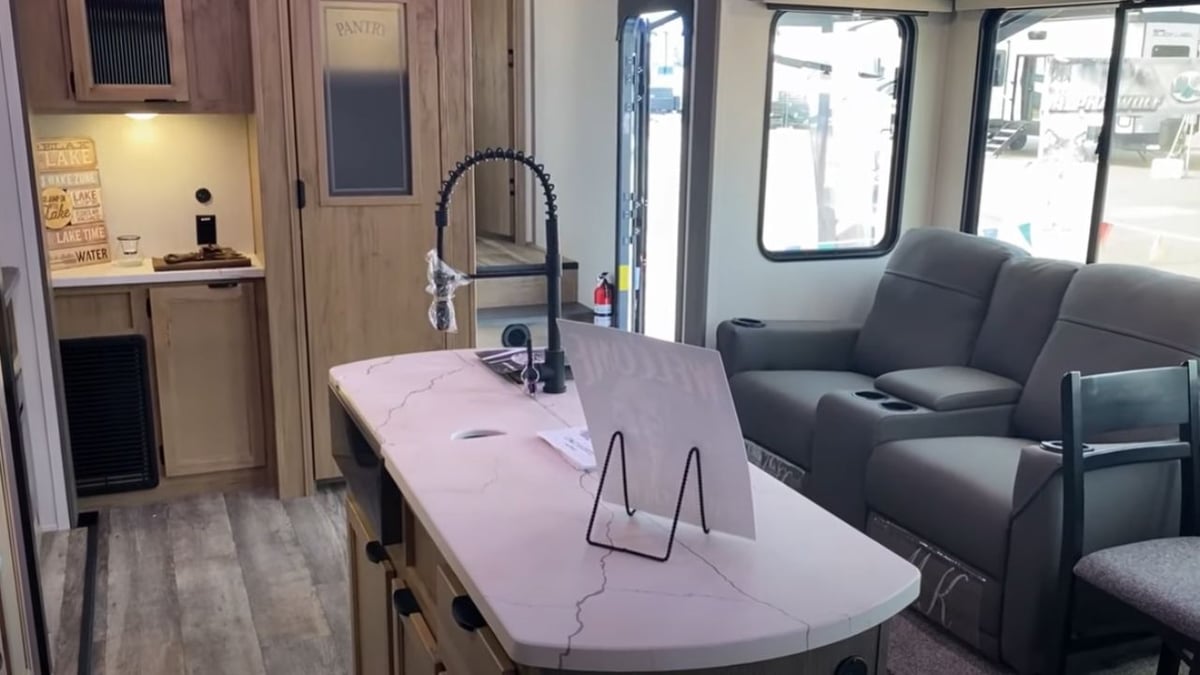 Wolf Pack 26PACK15, 32PACK13, and 320PACK13.5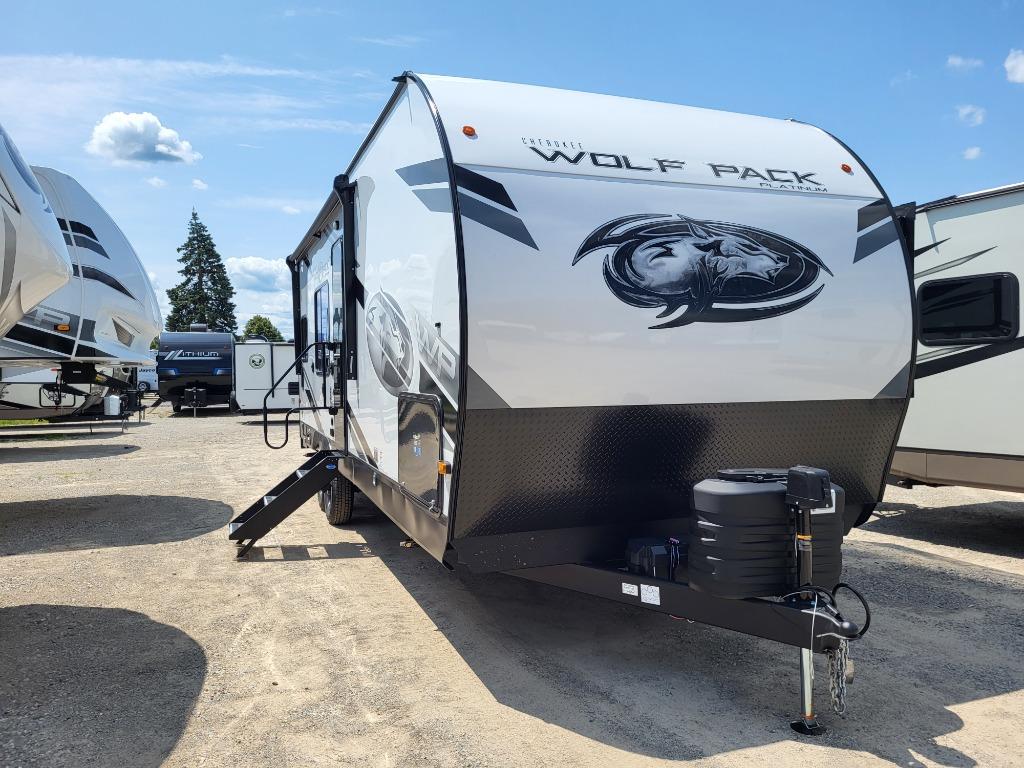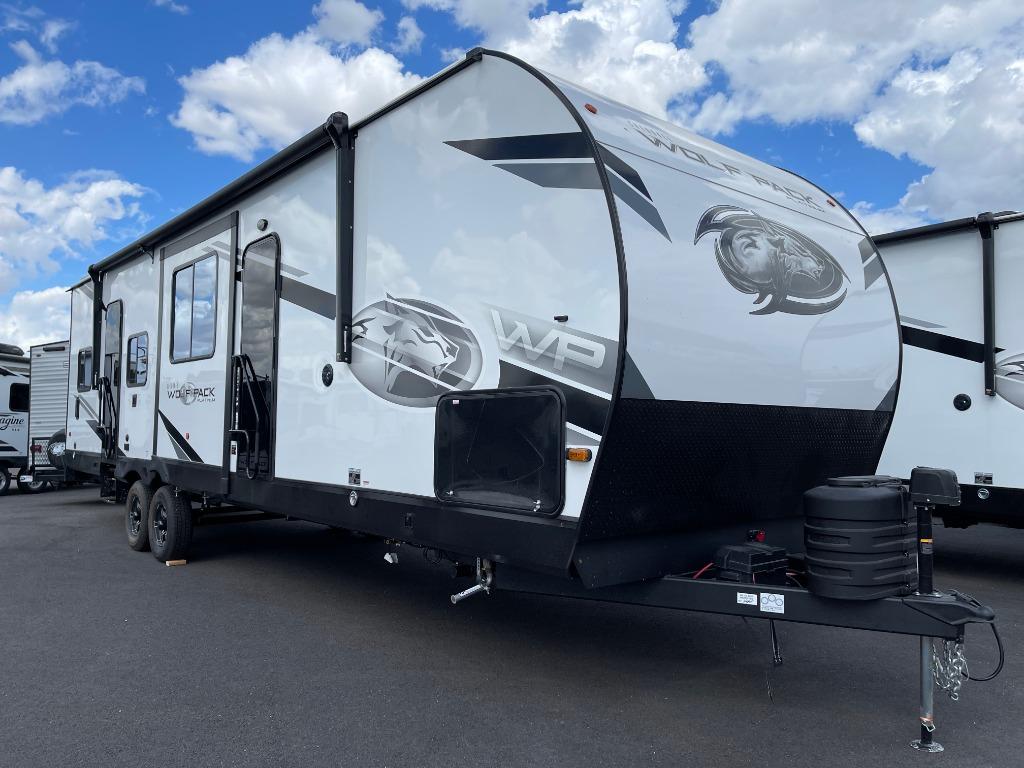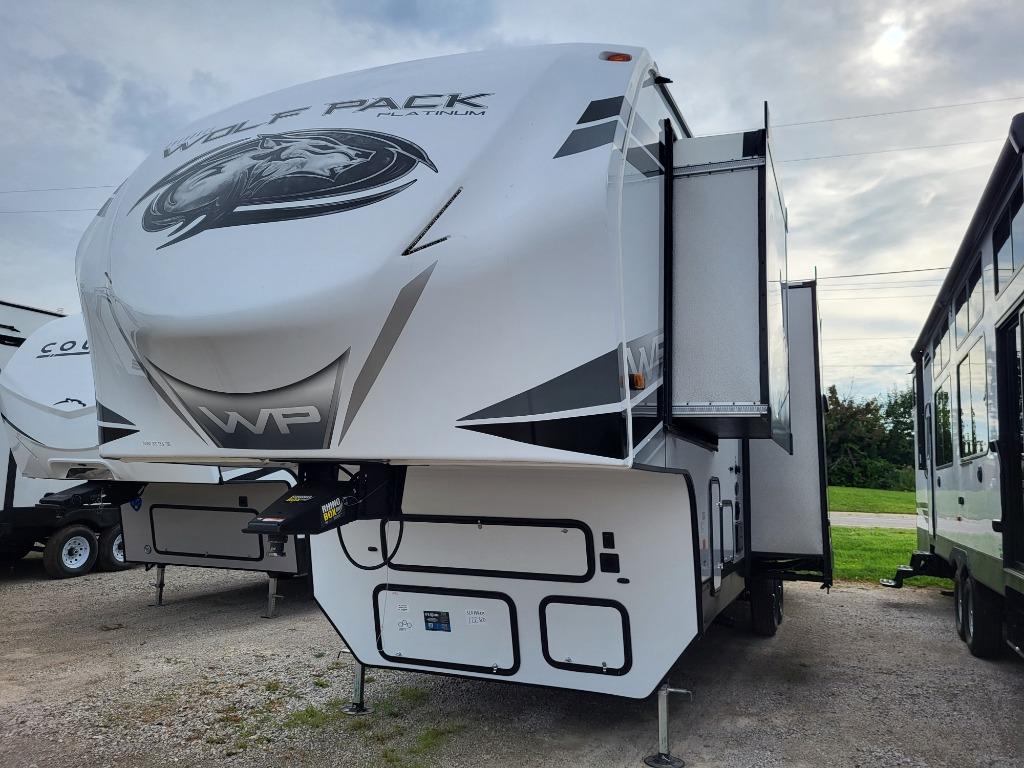 Wolf Pack may not have unleashed a ton of new features, but they've certainly expanded their lineup. Changes include a clever bed slide and a bathroom across from it. Let's dive into more details of both of these trailers now!
Wolf Pack 26PACK15
Check out the layout of the 26PACK15 model in the image below.
Wolf Pack 26PACK15 Specs
HITCH WEIGHT1,415 lb.GVWR11,615 lb.UVW7,278 lb.CCC4,337 lb.EXTERIOR LENGTH29′ 7″EXTERIOR HEIGHT12′ 5″EXTERIOR WIDTH102″FRESH WATER96 gal.GRAY WATER44 gal.BLACK WATER44 gal.AWNING SIZE15′
HITCH WEIGHT 1,415lbs
GVWR 11,615lbs
UVW 7,278lbs
Cargo Capacity 4,337lbs
EXTERIOR LENGTH 29′ 7″
EXTERIOR HEIGHT 12′ 5″
EXTERIOR WIDTH 102″
FRESH WATER 96 gal.
GRAY WATER 44 gal.
BLACK WATER 44 gal.
AWNING SIZE 15′
One of the great (but sometimes overlooked) features about the Wolf Pack 26PACK15 is the black wedge on the picnic table. This allows your drinks and food to sit level without rolling off.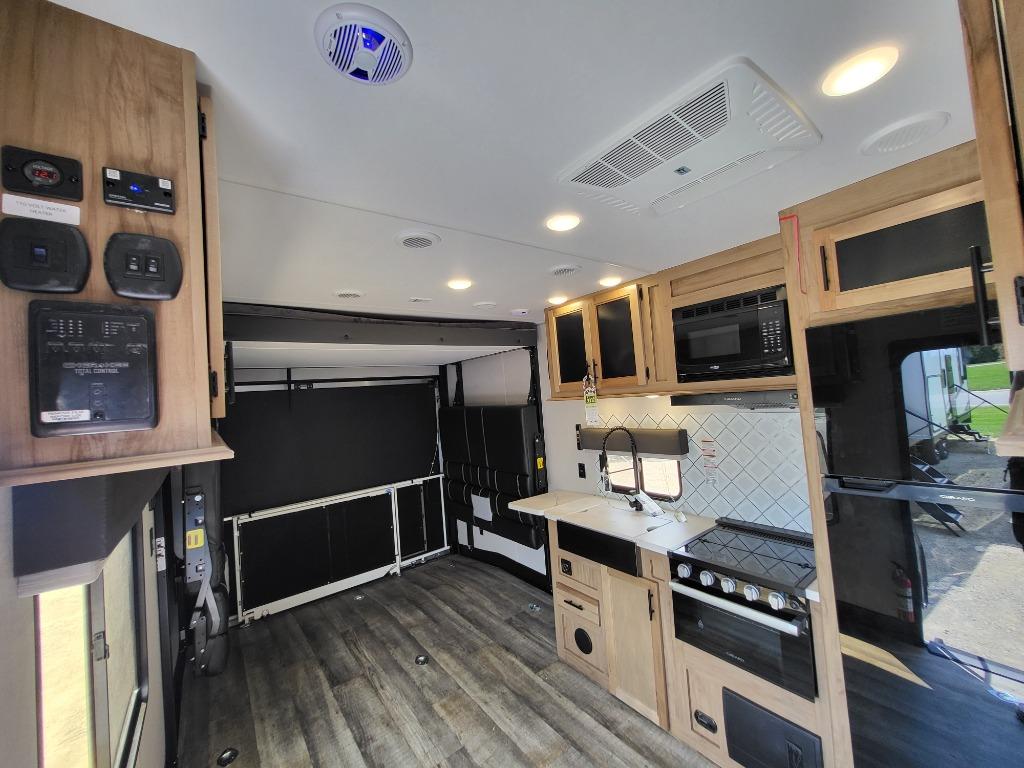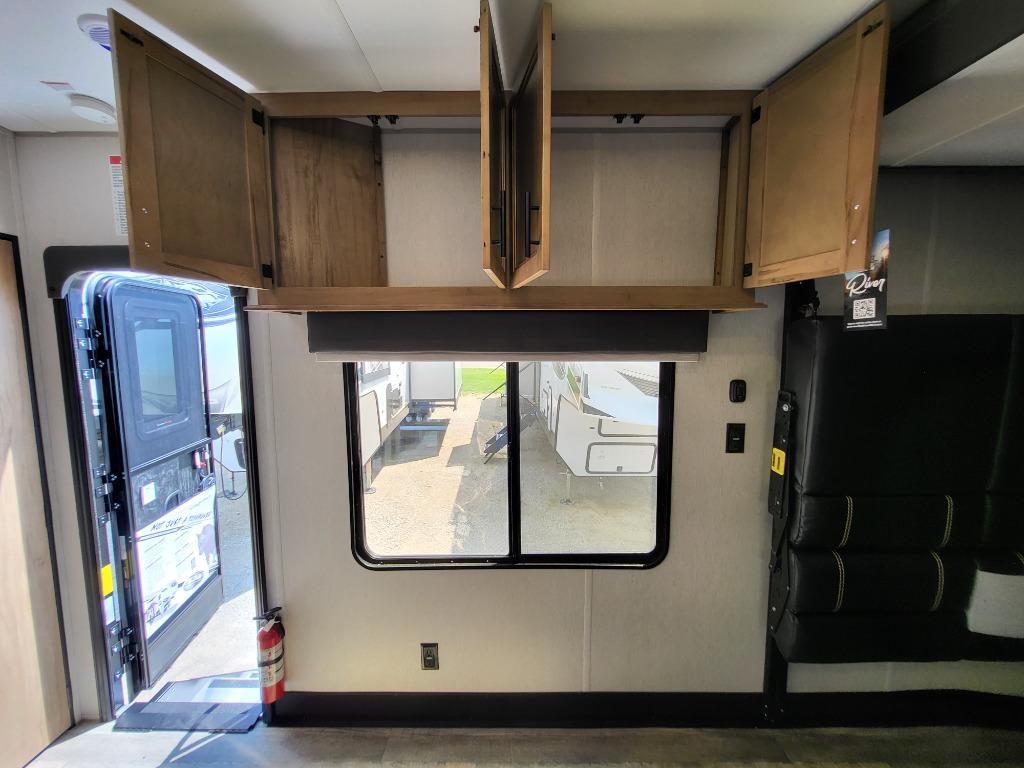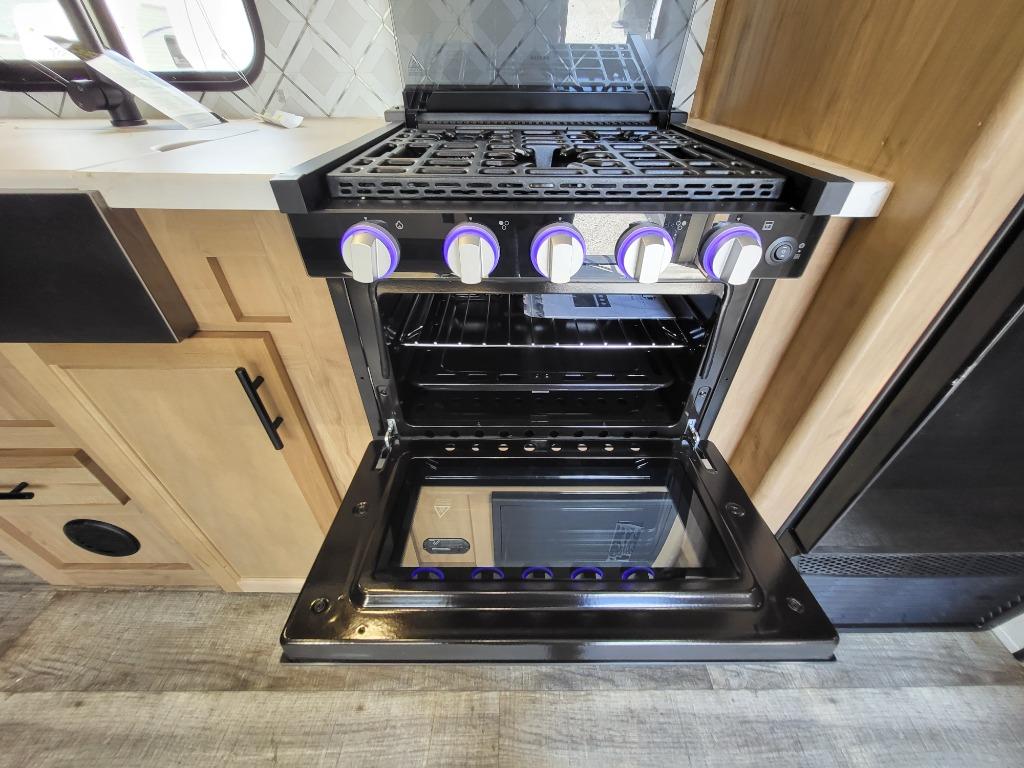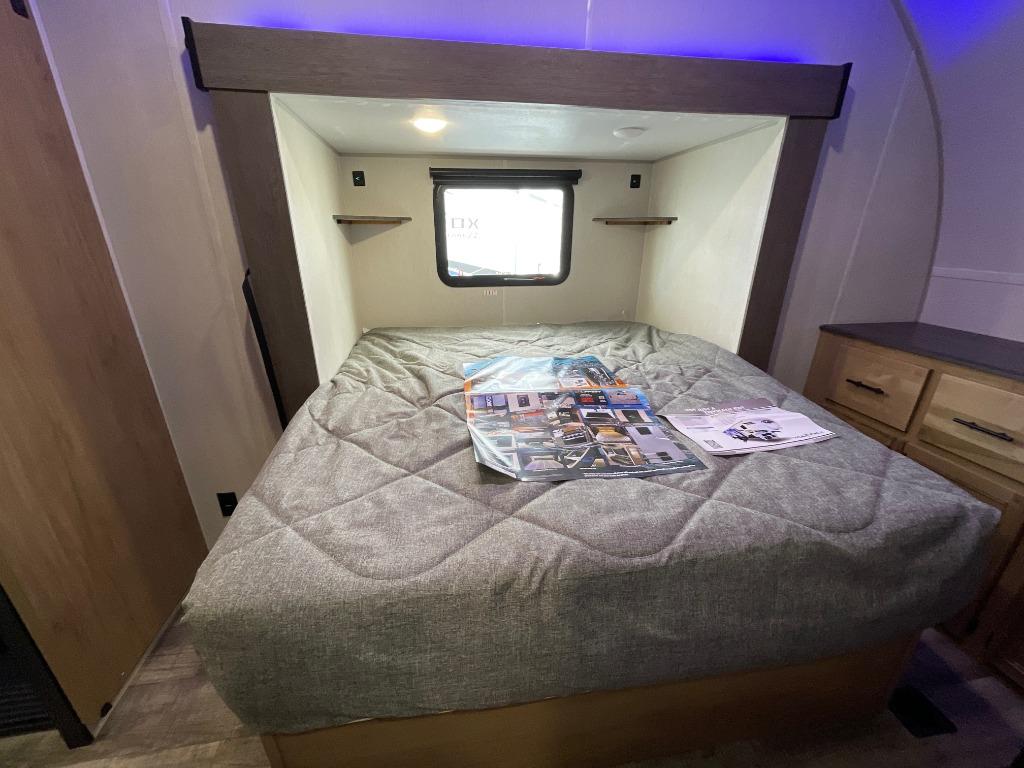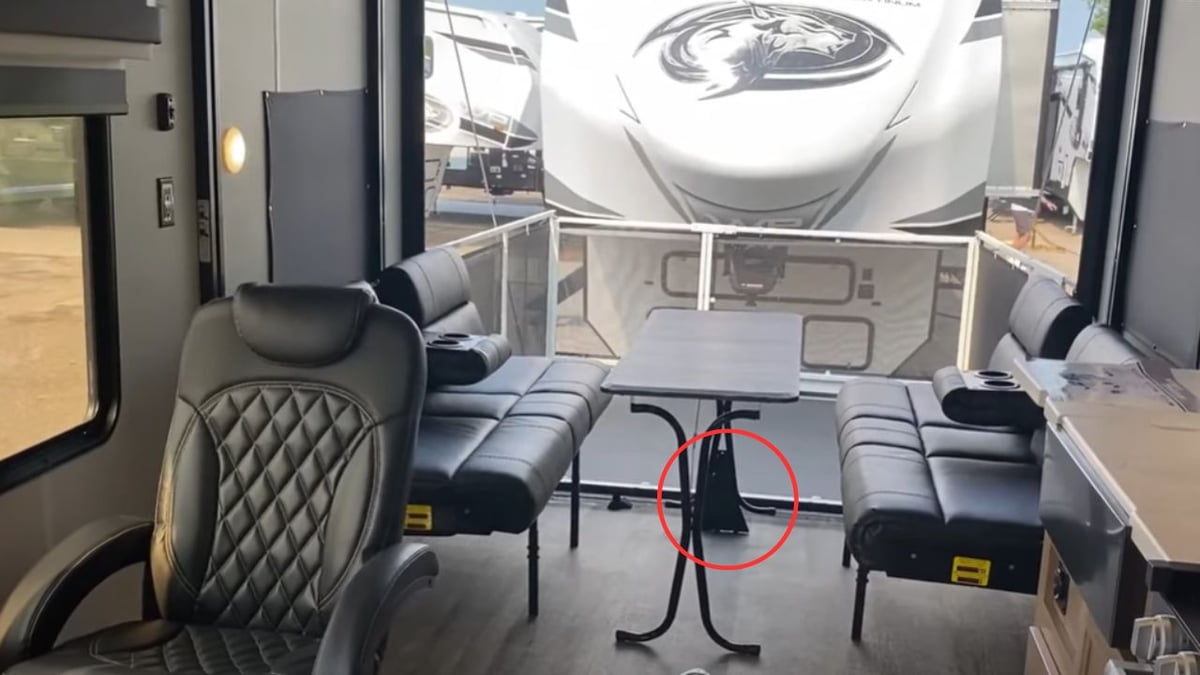 Wolf Pack 32Pack13
Touting quieter and more efficient generators than most other models, the Wolf Pack 32Pack13 comes loaded with tons of features.

Wolf Pack 32Pack13 Specs
HITCH WEIGHT 1,655lbs
GVWR 13,655lbs
UVW 9,808lbs
Cargo Capacity 3,847lbs
EXTERIOR LENGTH 37′ 5″
EXTERIOR HEIGHT 12′ 5″
EXTERIOR WIDTH 102″
FRESH WATER 96 gal.
GRAY WATER 44 gal.
BLACK WATER 44 gal.
AWNING SIZE 15′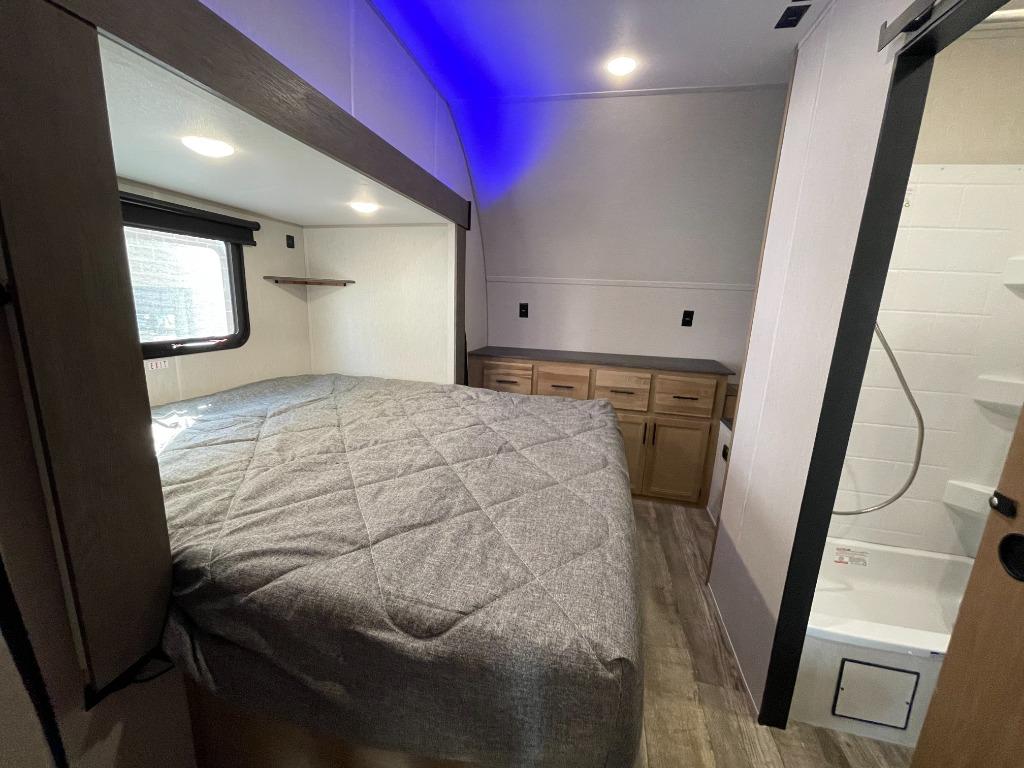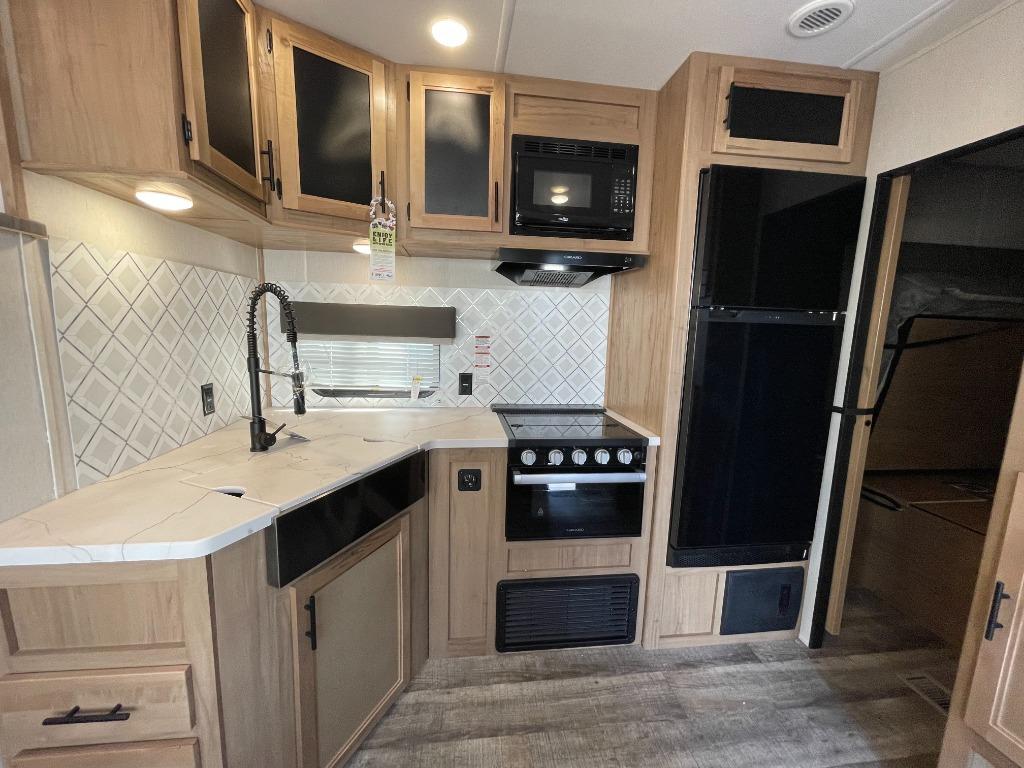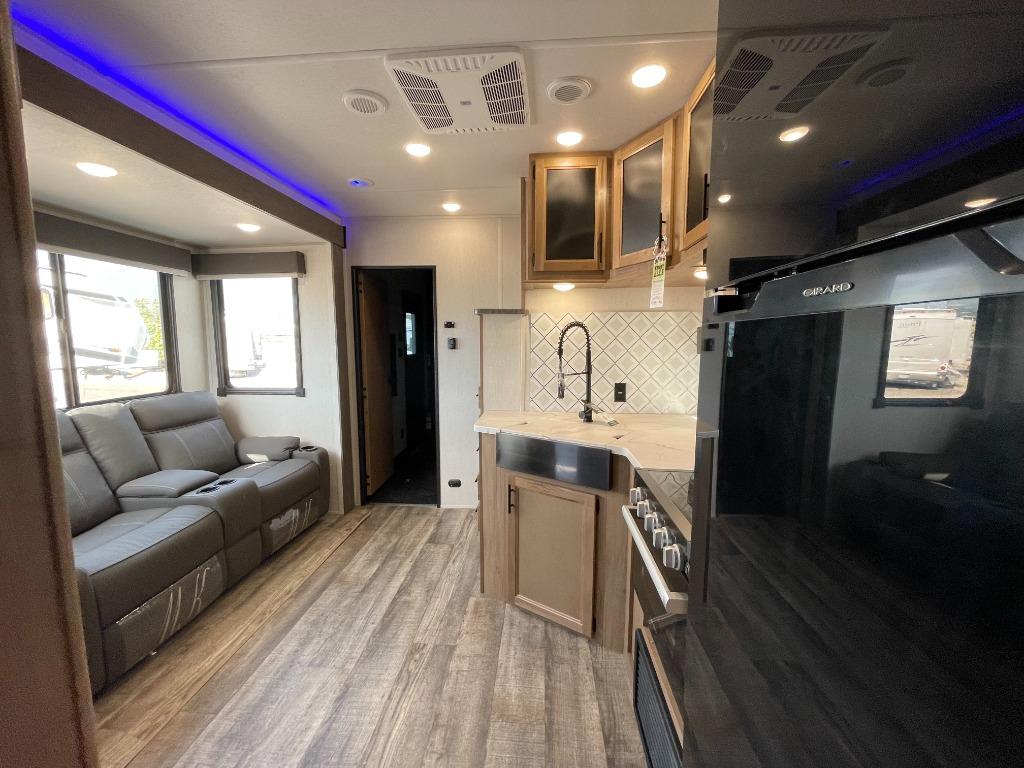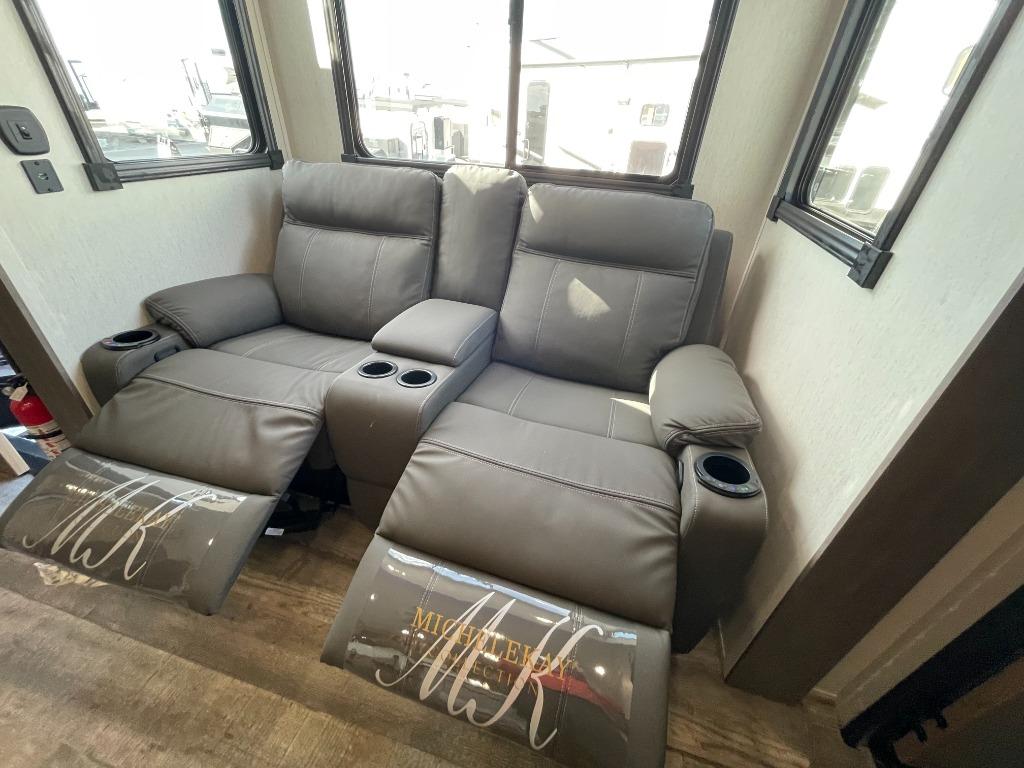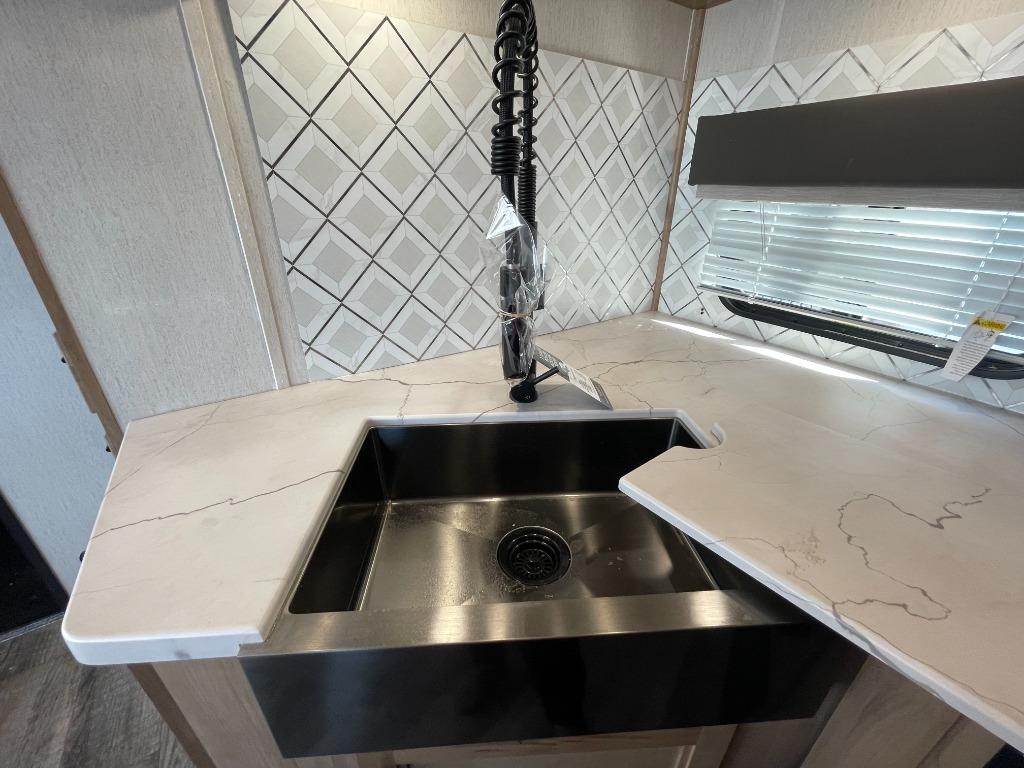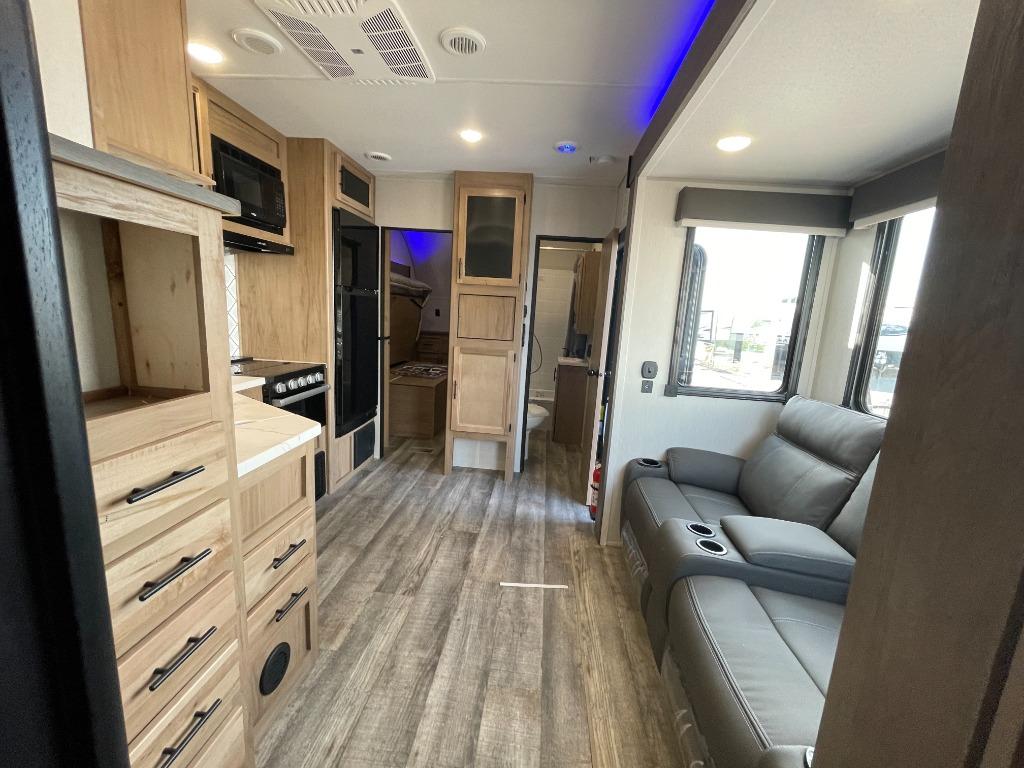 Wolf Pack 320PACK13.5
The mighty 320 Wolf Pack is back! It's been a while, but it's here to impress. With a unique breakfast bar in the kitchen, this toy hauler offers a separate garage space, ensuring your toys don't invade your living area. Need more prep-space? Just flip up the countertop extension. It's a clever design move that's both practical and convenient.

Wolf Pack 320PACK13.5 Specs
HITCH WEIGHT 2,280lbs
GVWR 14,280lbs
UVW 10,553lbs
Cargo Capacity 3,727lbs
EXTERIOR LENGTH 37′ 4″
EXTERIOR HEIGHT 13′ 5″
EXTERIOR WIDTH 102″
FRESH WATER 96 gal.
GRAY WATER 44 gal.
BLACK WATER 44 gal.
AWNING SIZE 21′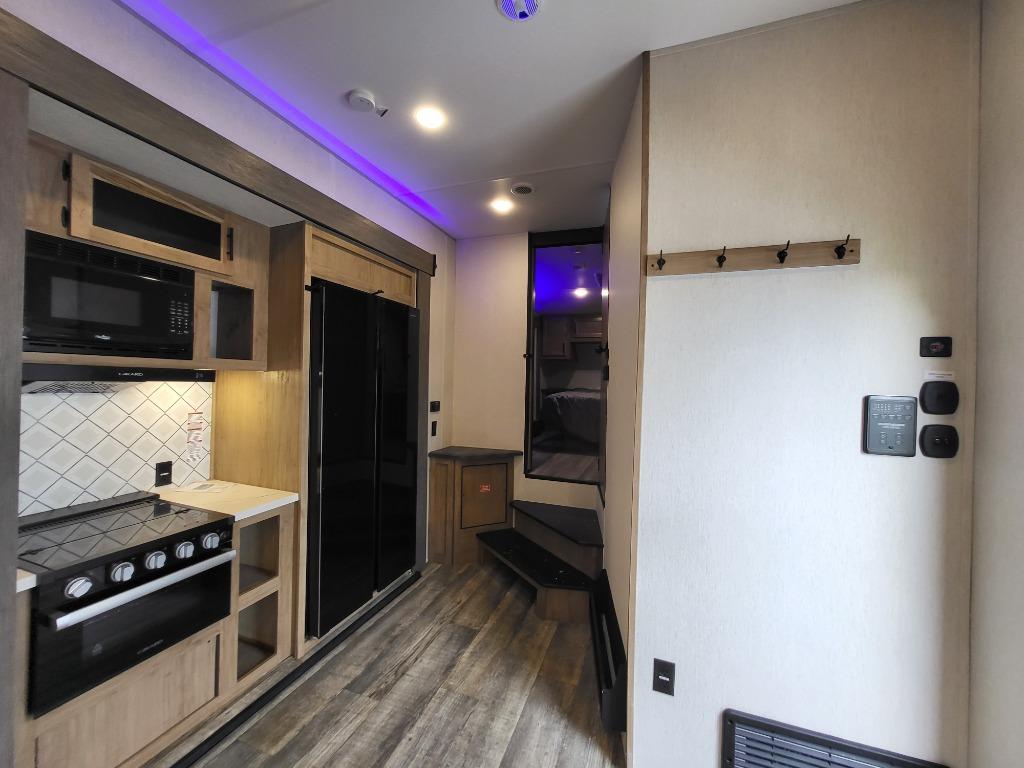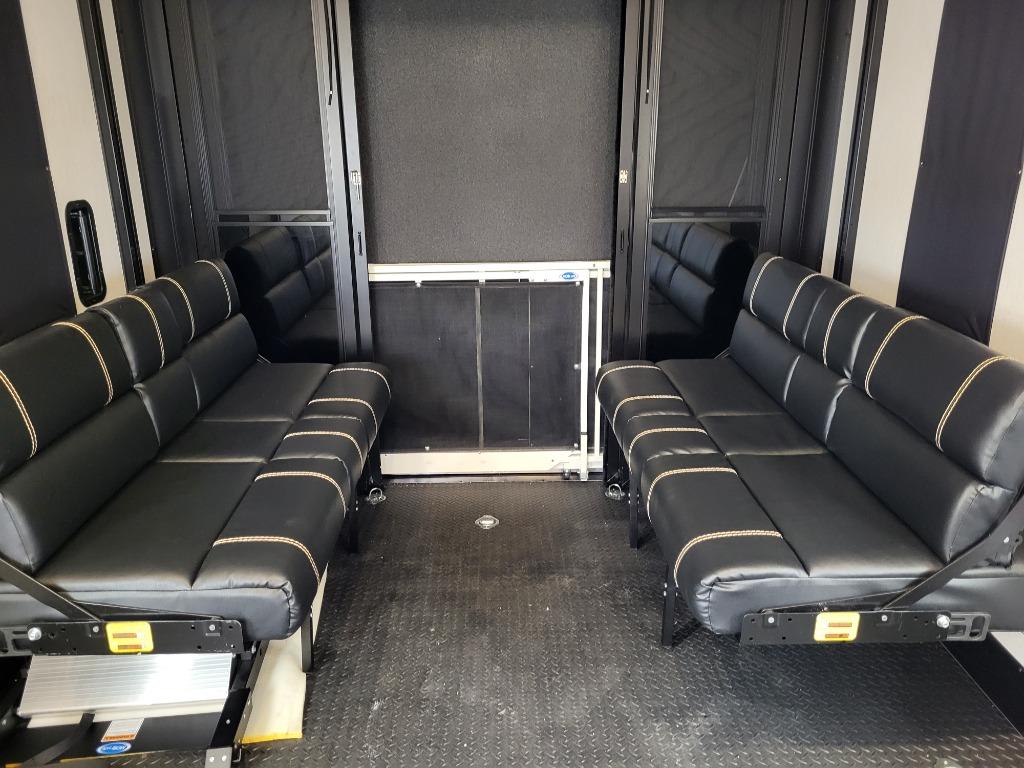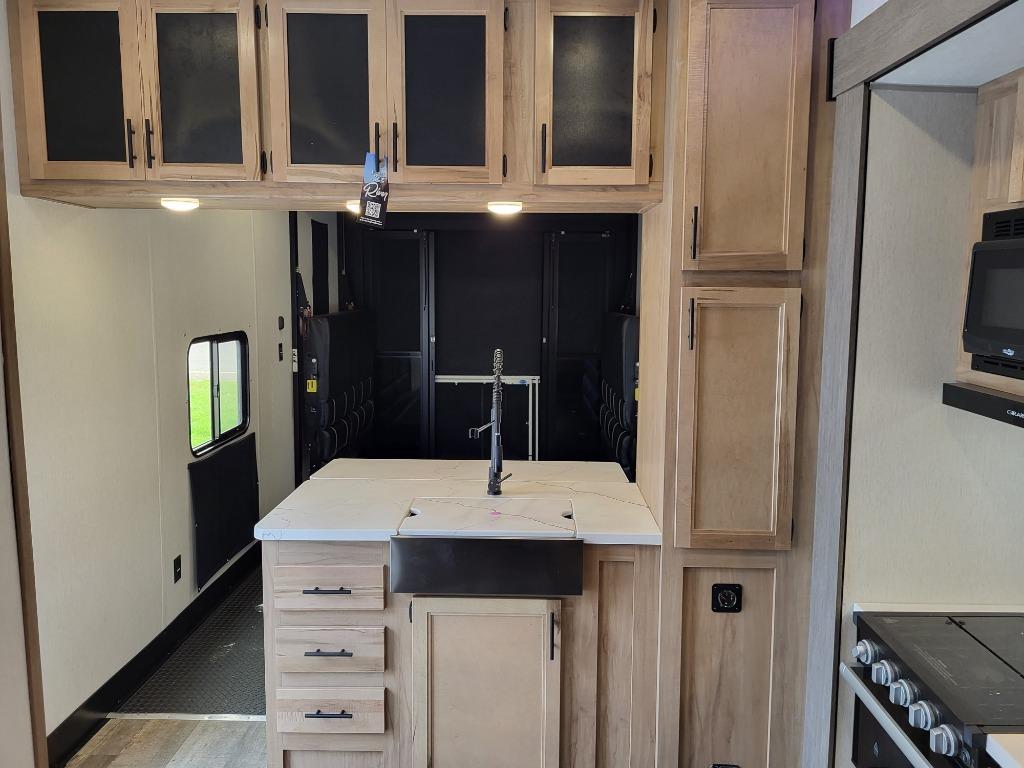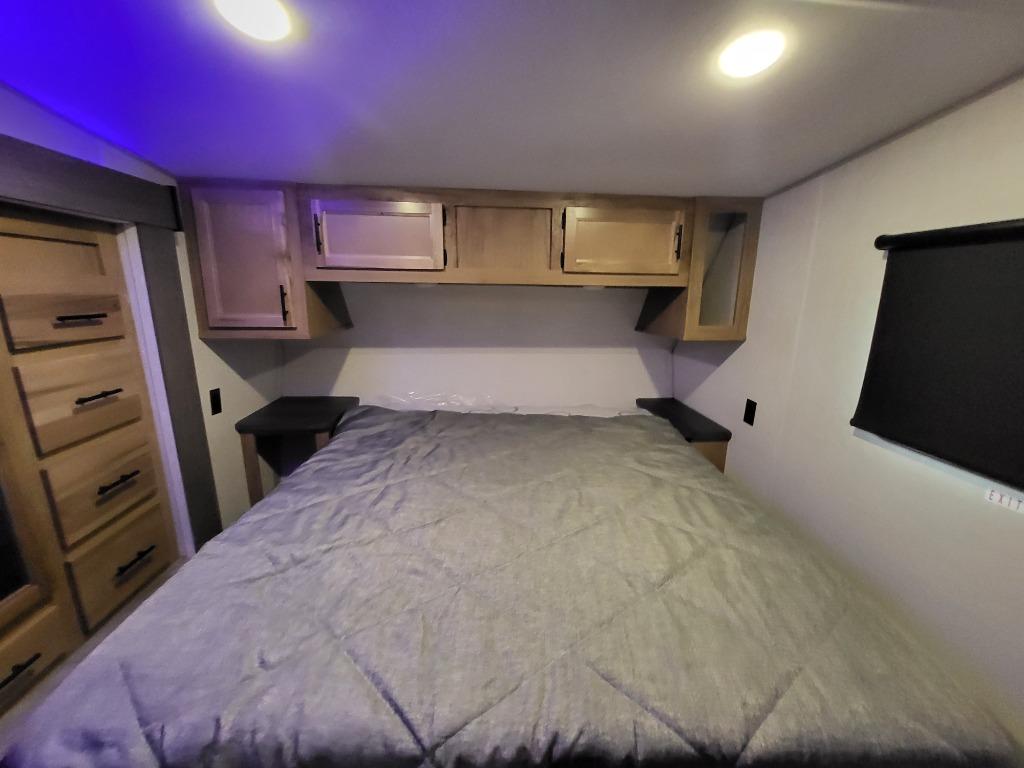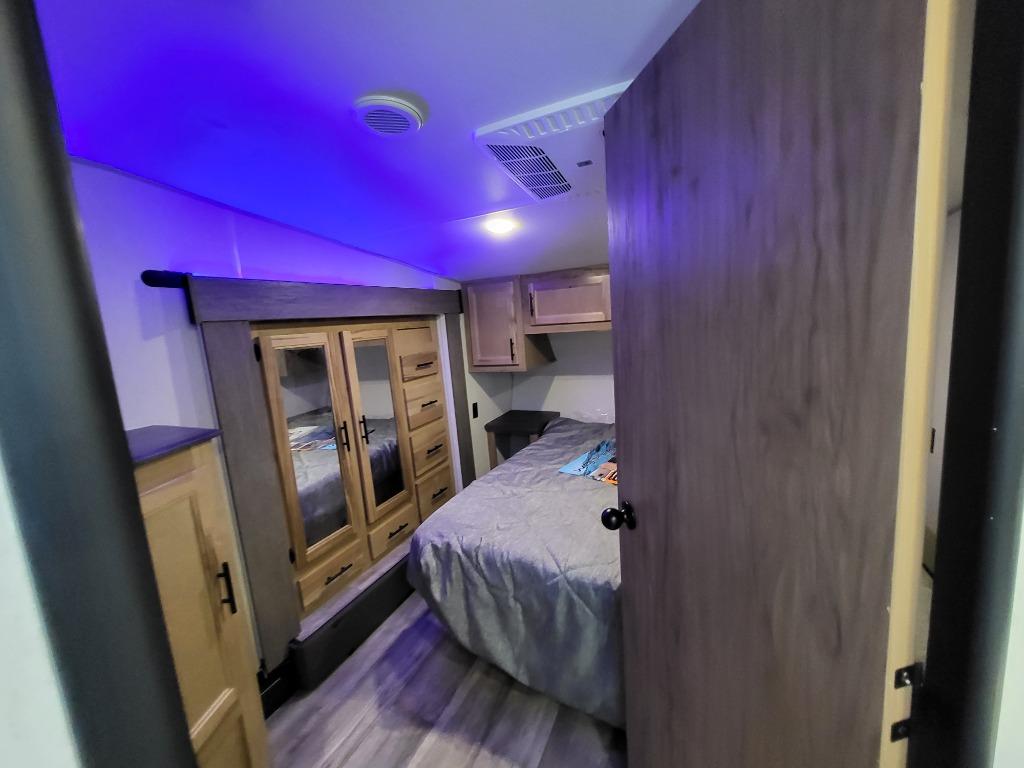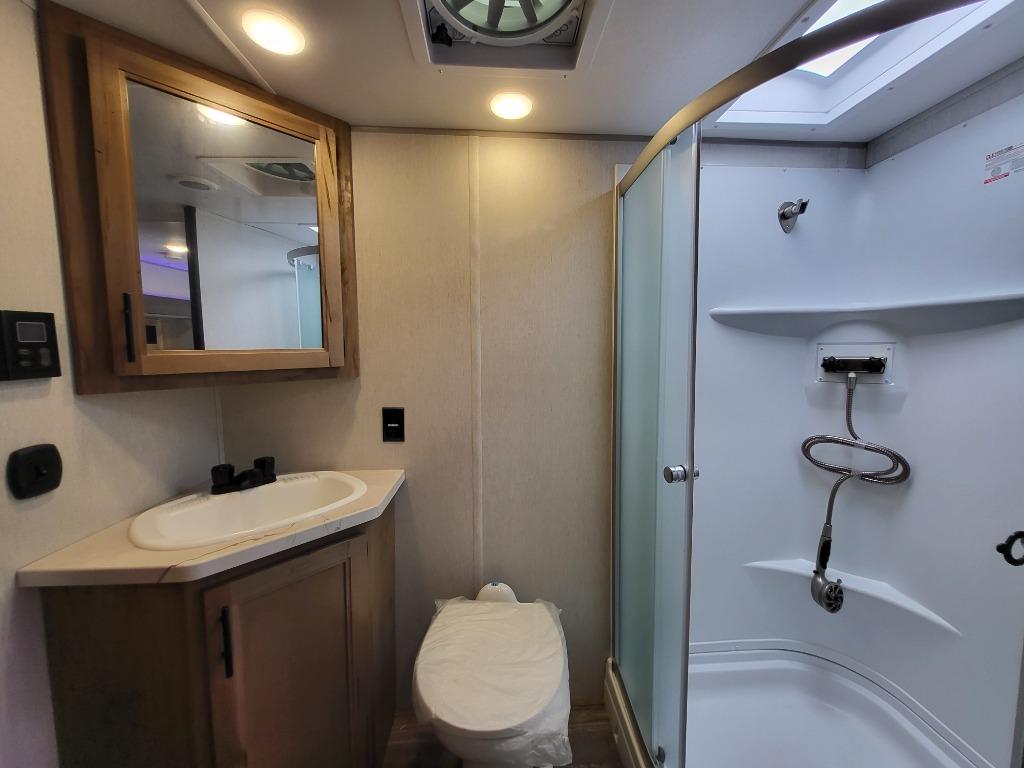 There you have it, folks – an info-packed tour through Forest River's Cherokee division. Whether you're looking for a classic, a luxury suite, or a rugged toy hauler, this lineup has it all. So, which model has caught your eye? Share your thoughts in the comments below, and until our next adventure, happy camping! 🚐🏕️