By Greg Long
Brinkley RV's Model Z line of fifth wheels has announced another member to its family. Bish's RV got a sneak peek at the Brinkley Z 3610—the strong BIG brother in the growing Brinkley family.
What I personally think is super-cool is Brinkley is custom-tailoring each floor plan and optimizing them with specific equipment and hardware. For example, while typically the Model Z's come with 2 air conditioners as standard, this massive 4 slide-out camper is enforced with a 3 AC 45,000 BTU system, and has a six-point hydraulic leveling system.
Such features won't be available in the other Model Z's. It seems Brinkley is ensuring each model comes equipped for maximum functionality.
The Z 3610 also boasts features like being hot and cold camp rated, plus carpetless, ventless, and easy-to-clean interiors, making it incredibly pet-friendly.
Brinkley Z 3610 Table of Contents
YOU Help Create Each New Brinkley Model
Brinkley RV is setting new quality standards for luxury RVs — and it's all because they are being directed by you!
I was fortunate enough to write one of the first-ever blog articles on the Brinkley Z 2900. Seeing how Brinkley took your comments on the Z 2900 and is now applying them to the new Z 3610 shows they really do want to make campers that have all the features you want. I'm impressed.
The Z 3610 has all of these wonderful features because of your comments, so keep them coming. What do you think? Let Brinkley know. Believe me, they truly are listening, so be sure to give Brinkley RV your feedback.
Brinkley Z 3610 Price Tag
The Brinkley Z 3610 has an MSRP price of $118,720.
MSRP, (Manufacturer's Suggested Retail Price) is only that — a suggestion. RV dealers can choose to make the price higher or lower.
Dealers buy new RVs from manufacturers and then sell them to you. Some dealers, like Bish's RV, are able to get great deals from the RV manufacturers because they are able to buy lots of the same types of RVs in bulk.
If a dealer is honest, they will then pass those cost savings on to you, instead of trying to milk you for as much money as they can.
It's very possible you will be able to buy a new Brinkley Z 3610 for under the MSRP of $118,720.
Bish's RV is a large-volume RV dealer and typically is able to offer RVs below MSRP price, including Brinkley Fifth Wheels.
To find out how to get the lowest price available from an RV dealer, read How to Buy an RV for the Best Price.
Brinkley Z 3610 MSRP: $118,720
---
If you would like to see how much Bish's RV is charging for a Brinkley Z 3610, visit our Brinkley Z 3610 Sales page.
---
Z 3610 Overview and Specs
The floor plan for the Z3610 is impressive. It retains everything you've come to know and love from Brinkley, but they've kicked it up a notch in several unique ways.
They've revamped the front pass-through storage and it even has a mini camp kitchenette.
But the big highlight of this RV is the middle bonus room. While some might term it as a 'mid-bunk,' it's more of a versatile "bonus space." It offers a dedicated sofa and a hidden trundle bed, and can even function as a workspace.
Weights and Measures
Empty Weight: 14,695 lbs
Cargo Rating: 3,000 lbs
Max Weight: 17,695 lbs
Hitch Weight: 2,591 lbs
Total Length: 41'11"
Body Width: 8'0"
Tires: 17.5″ H
Fresh Water: 75 gal
Gray Water: 90 gal
Black Water: 45 gal
A/C: 45,000 BTU
Solar: 370w/50a
Tires: 17.5″ H
Weight may vary based on options.
If you want to learn more about floor Plans, check out our detailed Floor Plan Guide: What do the Numbers and Letters in an RV Model Number Mean?
Z 3610 Living Room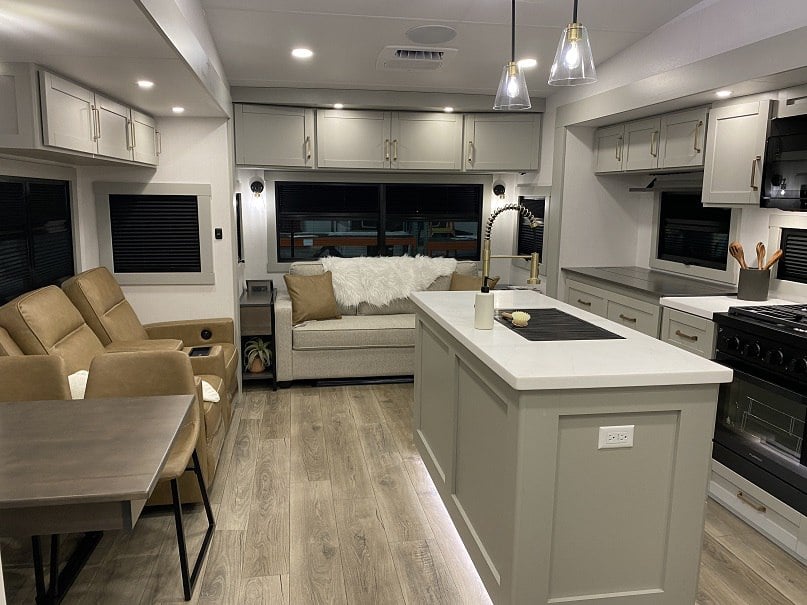 This living room looks just like the other Z models you've seen — the 3100, and the 2900. Brinkley sees no reason to change the living room layout since the feedback has been so positive.
It has the same great sofa, theater seating, and an elevating Smart TV — plus the movable ottoman/coffee table gives you a lot of versatility in setting up your living space just the way you like it.
Z 3610 Living Room Features
Fabric Sofa / Tri-Fold Hide-a-Bed Sleeper: Fabric sofas in an RV are rare, and this one is classy (Comes with Scotchgard protection).
Dual Sofa Side Stands: Equipped with pop-up USB and USB-C ports and spacious storage compartments
Movable Ottoman/Coffee Table with built-in Storage
Theater Seating: Big Comfy heated seating with USB and USB-C ports and wireless charge pad
Overhead Cabinet Storage- Including large rear overhead cabinets above the sofa
Telescoping 50" Bluetooth Smart TV (Wired into the Z 3610's sound system)
Electric Space-Heating Fireplace- For cozy nights inside
---
Want to Find Out How to Buy a Brinkley Z 3610?
---
Z 3610 Kitchen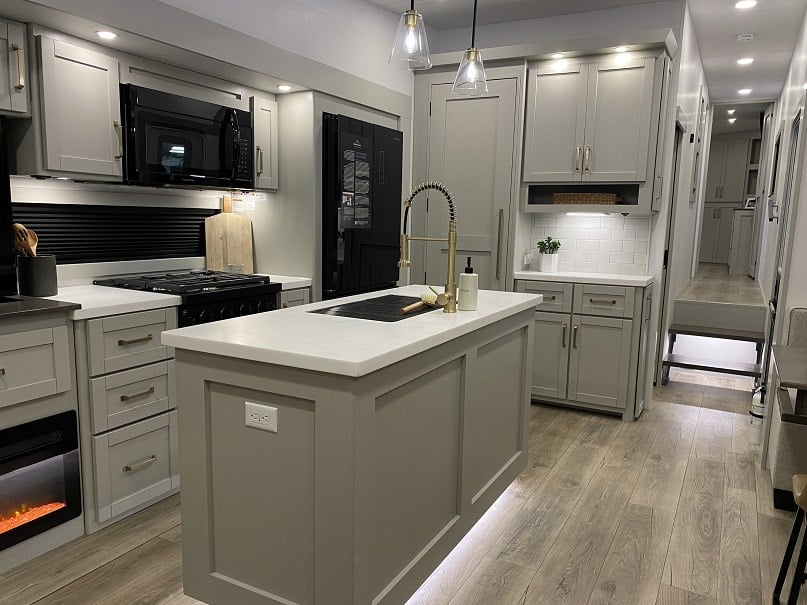 The Kitchen of the Z3610 may look the same as the other Z models, but there is a slightly minor difference.
The Z 3610 is large and even has an added bonus room, but they had to shave a couple of inches off the road-side counter space to make that bonus room happen.
There is still lots of kitchen counter space with plenty of prep space for multiple cooks to prepare family feasts.
You will also see a small, yet fantastic change in the dinette chairs. There's a removable booth on one side and chairs on the other. There's a bracket on the wall you can secure the chair legs with, so they won't slide all around, or you can remove the booth bench and chair and set them up however you like, wherever you like.
And did we mention storage space? There are cabinets and drawers galore, including a built-in spice rack drawer. This whole kitchen is spicy!
(I forgot to mention the drawers got a nice upgrade too. You will find they are sturdier and heavier duty than the previous Z models)
Z 3610 Kitchen Features
30" Microwave
Dinette with lots of leg room and 76" slide-out height
Booth Bench/2 Chair Dinette Combo (customizable)
16 Cubic Foot Refrigerator
Farm House Sink and Roller Cover
84" Pantry with Adjustable Shelves
Built-in Spice Rack Drawer
Dual Pull-Out Trash Bins
Stow'N Go Paper Towel Holder
Pull-Out Pet Dishes
Z 3610 Super Slides and Carpetless Flooring
Both the living room and kitchen have a ton of living space, thanks in large part to the floor-flush super slides. It's important to note, the slides' flooring perfectly matches the interior flooring. It's nearly seamless.
The Z 3610 is a big boy with 4 slide-outs. The amount of space 4 slides offers combined with the innovation of Brinkley RV results in one incredible fifth wheel.
The fact the slides are flush with the floor means those nasty toe stubs you get in other RVs when walking barefoot don't happen in these campers, and as an added bonus—they look fantastic!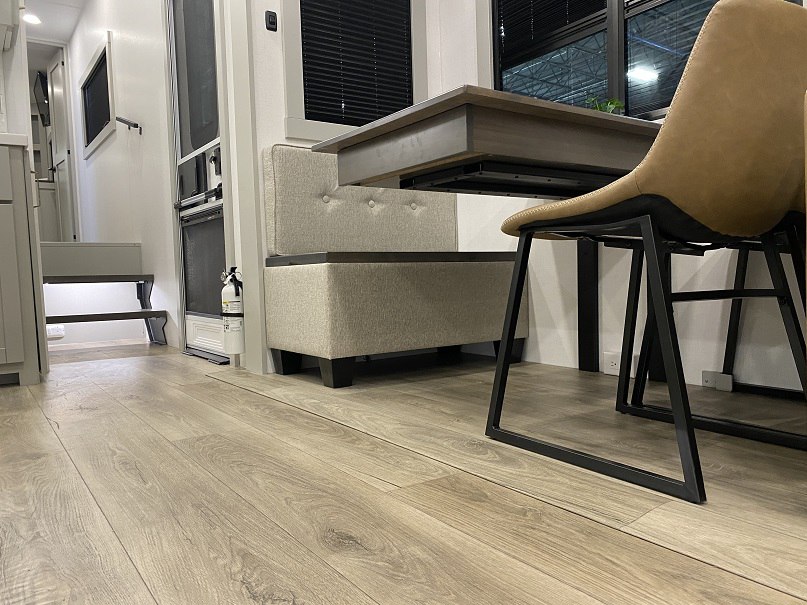 The floor is carpetless. And you'll notice there aren't any heating vents built into the floor.
Trust us, the Z 3610 does have amazing temperature controls, but the unit's vents are well hidden from view. This results in a floor that's super easy to clean with no worries about spills or stains.
Z 3610 Middle Bonus Room
The middle "Bonus Room" is what really makes the Z 3610 stand out from the other Z models.
Brinkley wanted to do this middle room differently, so they did something that seems obvious, but you just don't see it in other 5th wheels — they just made the middle room a dedicated "middle room." This middle room has so much versatility, and it also has its own dedicated central air system specifically for this room.
Some brands will give you a sofa, some brands will give you an extra bed, and some brands will give you a movable bunk. Get out of the way, Brinkley has done all these things! (And I love that they included a ladder for that upper bed)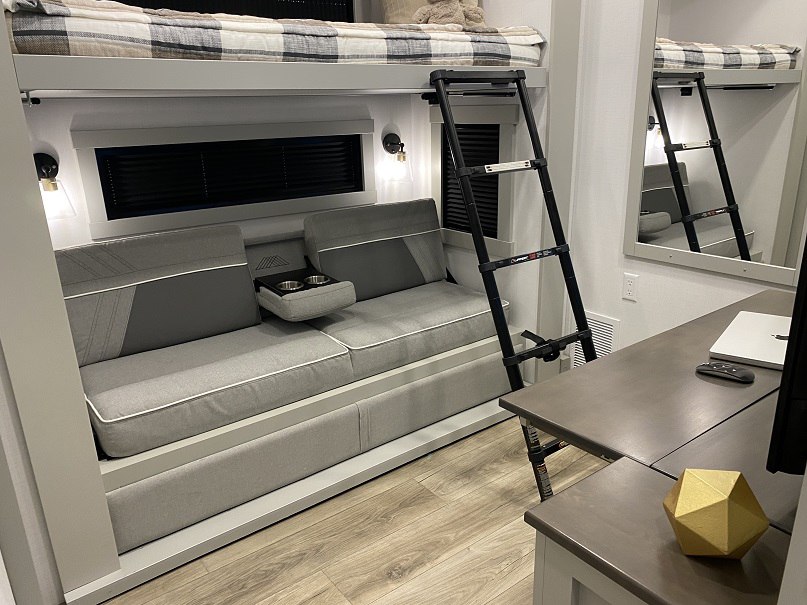 Brinkley Z 3610 Middle Bonus Room Features
Sofa Bed
Trundle Bed
Overhead Flip Bunk
Dresser w/ 50" Smart TV & Pull-Out Desk (
13.5k BTU Bonus Room Air Conditioner
Conveniently place outlets and plugs
Lots of storage space
Z 3610 Bathroom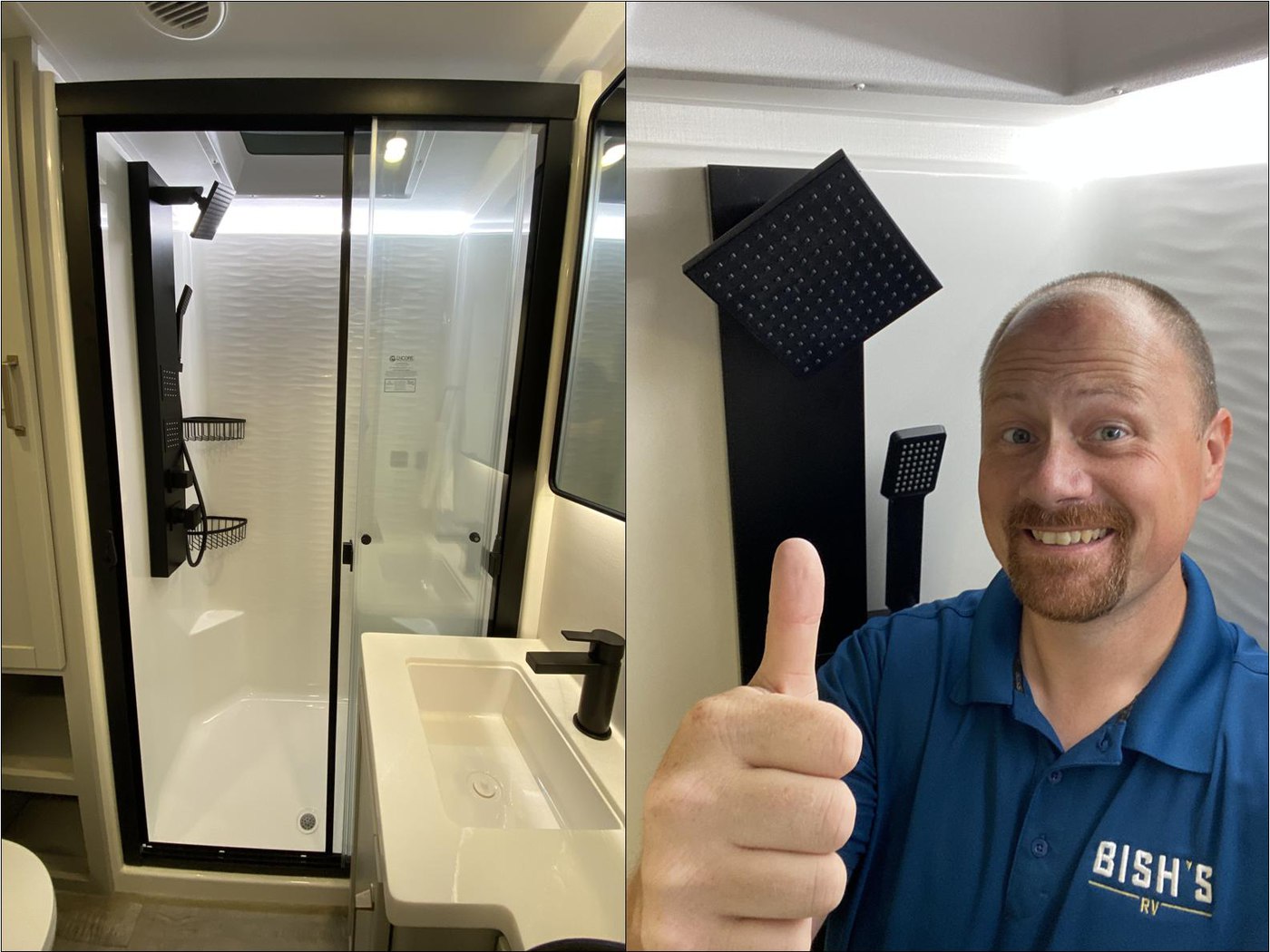 The Brinkley Z 3610 is well-paced in the middle of the camper, so no one has to walk too far in case of a gotta-go-now emergency.
It has a locking sliding door, a porcelain toilet, and a sleek recessed medicine cabinet.
Brinkley has managed to make this RV bathroom look elegant while maintaining tons of efficiency.
Z 3610 Bathroom Features
Marine-Grade Shower Light
Backlit Recessed Medicine Cabinet
Porcelain foot-flush Toilet
Glass Sliding Shower Door
Residential Shower Head with Quad Sprayers
3 Matching Bath Hooks
Oversized Linen Closet
Z 3610 Bedroom
If you're looking for a big master bedroom that you can not just sleep in, but also get some work done in away from the living room and middle bonus room, the Z 3610 has you covered.
The Z 3610 has a King-size bed, and its dresser has a slide-out top, so you can extend it out and use it as a desktop.
This model offers a queen-size bed option if you're looking for even more walk-around space. If you get the queen option, it also comes with two nightstand tables.
And, the mirrored sliding-door walk-in closet with shoe storage is a classy feature that is great when you're doing extended traveling.
Z 3610 Bedroom Features
King Size Bed with memory foam mattress (Queen-bed option with dual nightstands and storage)
32" Smart TV
Dual Bedside Shelves
Bedroom dresser with sliding top and hidden storage area.
Mirrored sliding-door wardrobe closet with shoe rack
79.5" Ceiling Height
Dual Motion Activated LED Bed Lights
Z 3610 Mega-Storage
Let's face it, you can never have too much storage, but that doesn't stop the Z 3610 from trying. There's no wasted space in this fifth wheel's interior.
I was amazed at the crazy number of spacious well-placed storage compartments the Z 3610 has. Every living area in this camper is stacked with cabinets, drawers, and functional furniture with hidden storage space.
If all your camping gear won't fit inside, there's plenty of room outside. The Z 3610's exterior has over 100 cubic feet of storage space and even has a large rear storage compartment.
Z 3610 Electrical and Solar
The Z 3610 comes equipped with a 370-watt solar package and is set up to accommodate more power options if you need some extra power alternatives.
It has a ductless air conditioning setup. The other Z models have 2 ACs with interior ducts, the Z 3610 is so big it needs 3 air units, but it has no ducts and runs off of 50-amp power at 45,000 BTUs.
Another "solar feature" of the Z 3610 is its windows. The window shades are backed with a reflective radiant barrier. This helps lessen the amount of heat or cold that can seep through the windows. Very smart!
Z 3610 Electrical and Solar Features
370 Watt Solar Panel
50 Amp MMPT Solar Controller (Inverter Prep & Lithium Ready)
Front Storage with space and accommodations for up to 5.5k Generator
3rd Dedicated AC unit for Bonus Room
Wire Conduit for Aftermarket Upgrades
Window shades backed with reflective radiant barrier
Z 3610 Exterior 
The Z 3610 is a huge 5th wheel, but despite its size, it manages to look sleek, and elegant. This fifth wheel's exterior has all kinds of great features that ensure you have plenty of reasons to get outside and enjoy the outdoors.
Z 3610 Exterior Features
Dual Power Awnings with LED Lighting
Back-up Camera and Wireless Monitor
2 Hot/Cold Showers (Each side of Coach)
Entry Steps with Motion Lights
Keyless Entry
Camp Kitchenette
Heavy-Duty Reinforced Low Maintenance Roof
Liquid Propane Quick Connect
Z 3610 Chassis and Suspension
Between the heavy-duty 17.5" luxury wheels and the wide-stance 6-point leveling jacks, the Z 3610 is stable and sturdy. You're definitely going to feel secure, whether you're rolling down the highway or camping in the wild.
Z 3610 Chassis and Suspension Features
Commercial Grade H-Rated 16 Ply Cooper Tires
17.5" Custom Aluminum Luxury Wheels
Monotube Chassis
Wide-Stance 6-point Hydraulic Leveling Jacks
Heavy Duty Axles with 8,000 lbs Leaf Springs
3,000 lbs of Gross Capacity
2" Tow-Ready Receiver Hitch
Pre-Order a Brinkley Z 3610
Although the Brinkley Z 2900 is just being shown to the public, you are still able to pre-order one through RV dealers like Bish's RV.
As we mentioned, the MSRP is $118,720, but you can get a special introductory price if you pre-order one from Bish's.
If you're unsure how the process works, check out this article on how to pre-order a Brinkley RV.
---
Check out these other Z Series 5th Wheels from Brinkley RV!
See the entire line of Brinkley RV fifth wheels:
---
Got questions? Talk to a Brinkley RV Expert:
Mason Lucero
Brinkley RV Expert & RV Outfitter
(210) 378-4024
Email: mlucero@bishs.com
---
Take your 5th Wheel Knowledge to the Next Level!
Is a 5th Wheel or Travel Trailer Better
Cost of a 5th Wheel in 2023
10 Best Selling 5th Wheels in 2023
Greg Long
Bish's RV Content Manager
---
Amateur adventurer; professional dreamer.
aka: The Bish-Blog-Guy