By Greg Long
Jayco RV is no stranger to the world of recreational vehicles, always setting benchmarks with innovative designs and top-notch features. This year is no different as we delve into what Jayco has in store for its 2024 fifth wheel lineup. From upscale posh designs to more budget-friendly options, there's something for everyone in the Jayco family.
Table of Contents
Jayco is Revamping the Fifth Wheel
Our very own Josh the RV Nerd got a sneak peek at the new fifth wheel lineup and was able to share an insightful flyby of the latest Jayco models and their unique features.
If you've kept track of Jayco's travel trailer revelations, you'd know they are on a spree of outdoing themselves, and their fifth-wheel segment is buzzing with excitement.
To discover which Jayco Fifth Wheel is the perfect fit for your style of camping, check out our article Which Jayco Fifth Wheel is Best for Me?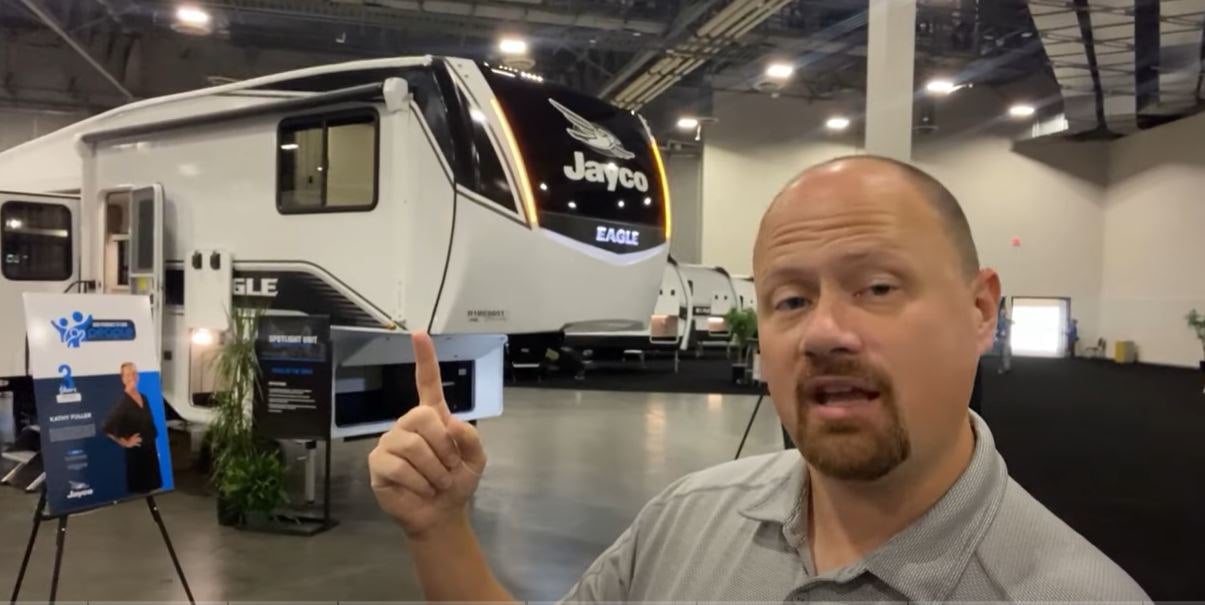 A Spectrum of Offerings
On the outside, Jayco's new lineup might look standard, but a closer look reveals a spectrum of offerings catering to both the budget-conscious and luxury-seeking travelers. While some models have been designed keeping the price point in mind, others come with extravagant features like standard-issue dishwashers – a first for Jayco.
The Eagle Evolution: Soaring Above the Competition
One of the standout updates in the lineup is in the Eagle segment. For clarity, all updates discussed regarding Eagle HT and Full Eagle equally apply to the Eagle family travel trailers.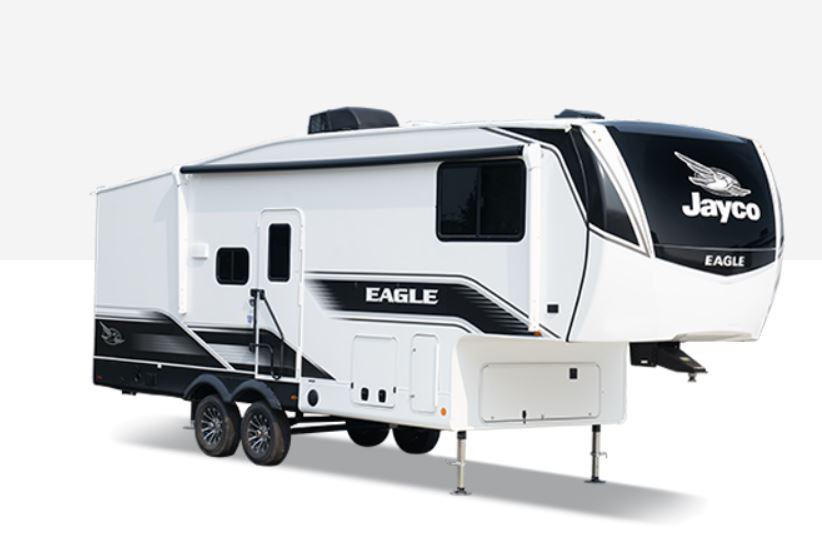 See New Jayco Eagle and Eagle HT Fifth Wheels

The Eagle HT series has seen an evolution, splitting its lineup between the enhanced Full Eagle and a revised Eagle HT series. The intention behind this redefinition is clear: provide the quintessential big Eagle features without the extras that may not resonate with every traveler.
For instance, while the new Eagle HTs have done away with certain features like the Bluetooth command system, they have retained the essentials. Highlights include:
The "Franken-Table" Arrangement: The setup includes two chairs, a floating bench, and, true to Eagle's form, an additional two folding chairs. Gone are the days when your guests feel they're seated at a fast-food joint!
Enhanced Cabinetry: The new models boast a dual Shaker cabinet style, upping the aesthetic quotient.
Bed Configuration: While the king bed option is missing, the space optimization around the bed, especially in models without a closet slide, allows room for an Olympic queen bed – six inches wider than the usual!
Storage: Although washer and dryer hookups are absent in the HT series (only to reappear in the full eagle series), the spacious closet compensates for it, ensuring you don't miss out on storage space.
Living Room: The revision of the 30.5 CKTS presents a spacious opposing slide living room, minus the upper deck slide, yet retaining the built-in wall closet.

To get all the details about the specific Eagle and Eagle HT Floor Plans, check out our articles, Jayco Eagle Floor Plans and Jayco Eagle HT Floor Plans
Eagle Essential Features
While certain features might have been pared down, Jayco ensures not to compromise on essentials. Features like Goodyear endurance radials, the MORryde shock dampening suspension, automatic leveling, and the zero to 100-degree weather package, all continue to be standard offerings. Plus, the new griddle station is standard for models with a camp kitchen and optional for those without.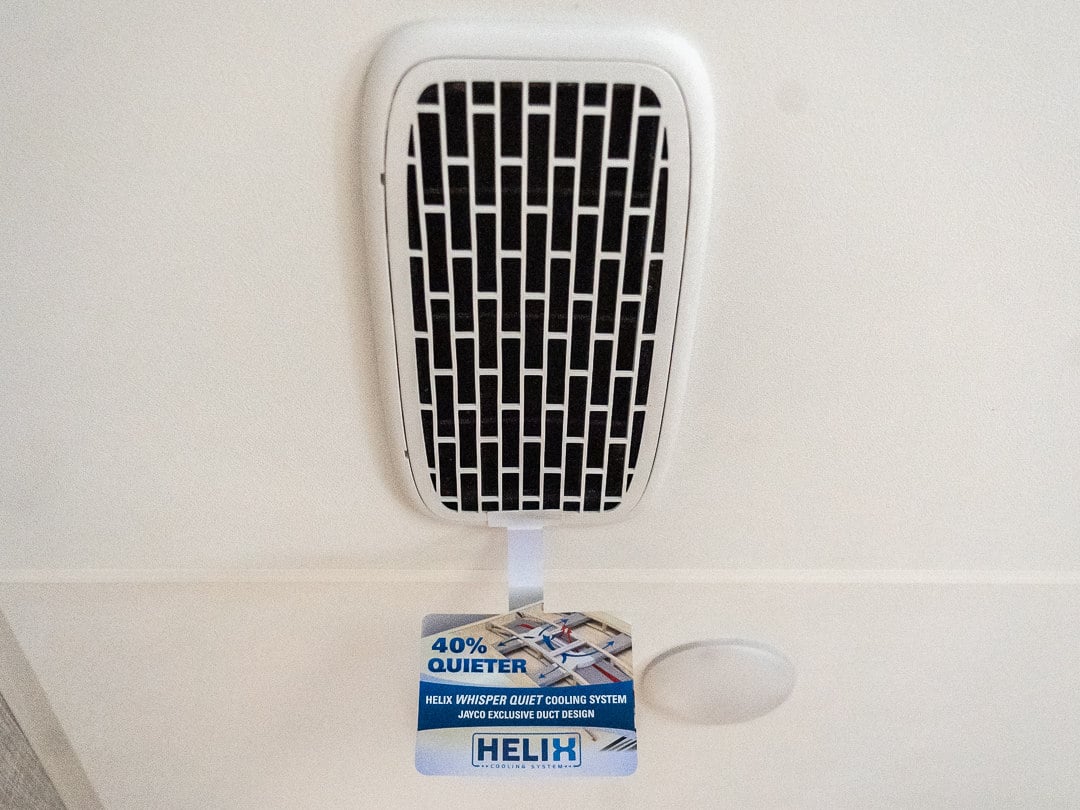 Whisper Ducted Air Conditioning: A Notable Mention
In a realm where many brands are still catching up, Jayco impresses with its Whisper ducted air conditioning system, even in their most basic fifth wheel series. Such dedication to quality and comfort truly underscores Jayco's commitment to excellence.
A Consistent Decor Scheme for Eagle 5th Wheels
The choice to use a single decor throughout the camper enhances the modernity of the RV. The consistent, light, and bright decor does away with contrasting wood tones, offering a harmonious interior atmosphere. Such a consistent scheme demonstrates the brand's attention to detail and understanding of contemporary aesthetic preferences.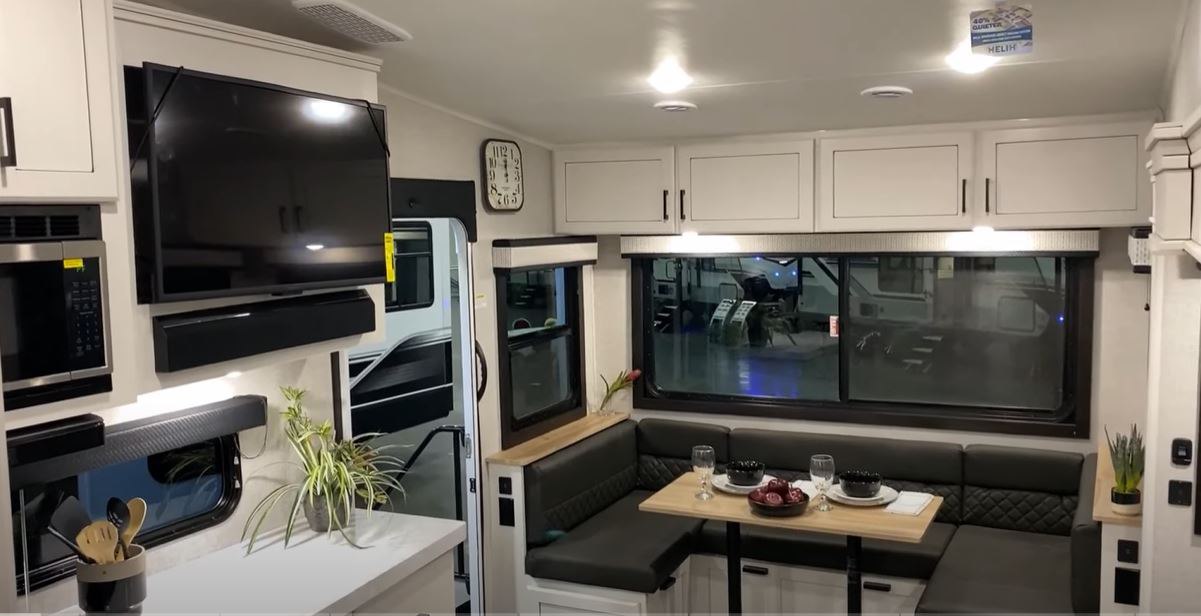 Eagle Model Revisions and Strategic Placements
The evolution of the Eagle 26RU changing to the 25RU reflects Eagle's commitment to streamlining its models. It's the smaller details, like a squared-off countertop and the placement of power outlets, that underscore the manufacturer's emphasis on modern functionality. A highlight in the series includes the spacious three-seater sofa, offering both comfort and style.
Eagle HT Series vs. Full Eagle
The differentiation between the compact HT series and the grander Full Eagle is pronounced. Each has its unique offerings, with the HT series providing ample sleeping space with its 80-inch beds. In contrast, the full eagle boasts features like 200 watts of standard solar and a windshield inset in the nose cap, balancing luxury and exterior elegance.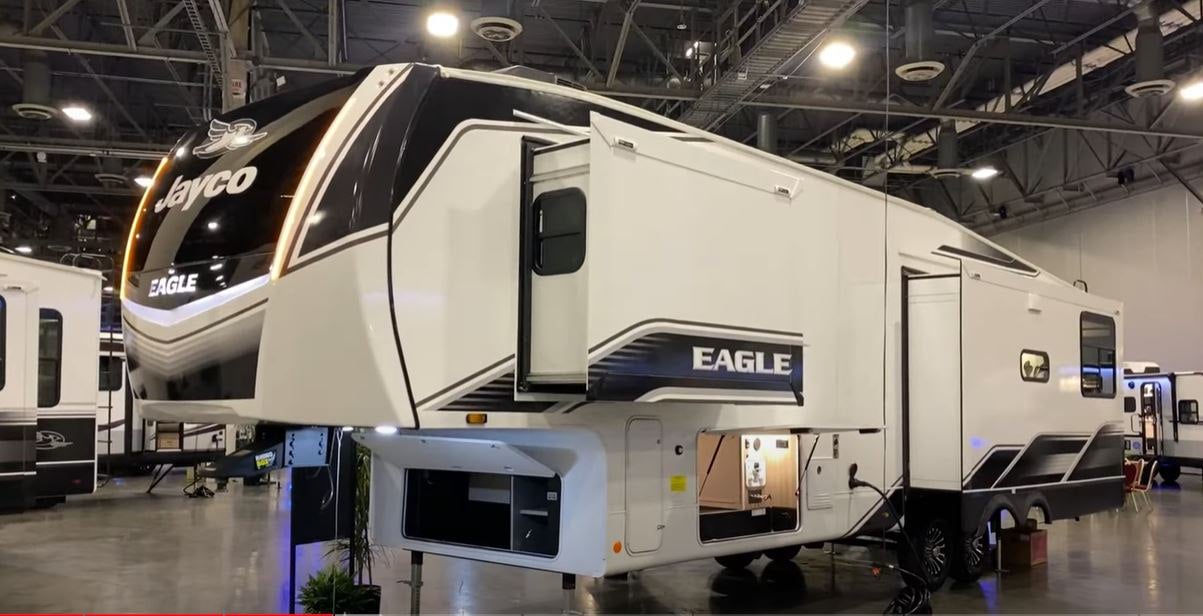 Eagle Safety and Tech Upgrades
Collaborations in the RV sector, such as that between Dexter and Bosch, have birthed impressive safety features like anti-lock braking and anti-sway systems. The Full Eagle also impresses with its tech integrations, such as the JBL sound system and HDMI 2.0 wiring, ensuring travelers remain connected and entertained.
See New Jayco Eagle and Eagle HT Fifth Wheels

North Point: Going Wide and Offering More Features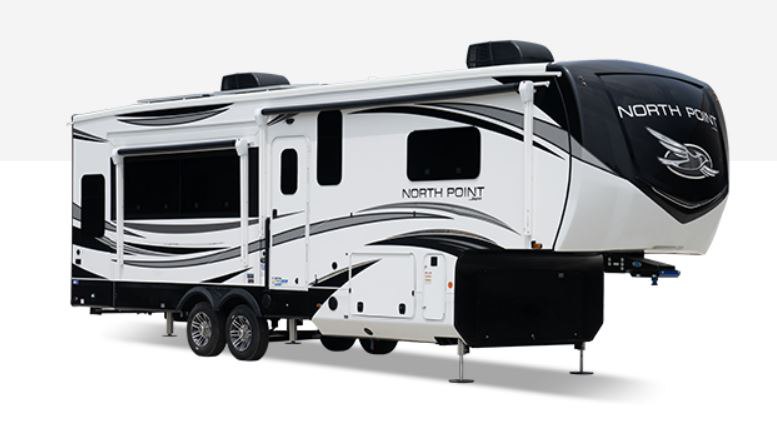 The North Point's decision to adopt a wide-body design offers travelers more space without compromising on vehicle length. This extended width has enabled features like a larger three-seater sofa, emphasizing increased comfort.
Furthermore, the doubling of the standard propane capacity demonstrates North Point's focus on ensuring longer, uninterrupted journeys.
See New Jayco North Point Fifth Wheels

North Point Luxury: Superior Furniture Fabric for Comfort and Durability
Jayco has listened to customer feedback regarding furniture fabric. Gone are the days of complaints about "cheap pleather" that cracks within a year, especially for those full-timing in their RV. The new fabric they've introduced is designed to last, enhancing the comfort and life span of the RV furniture.
To compare the various North Point Floor Plans, check out our article Jayco North Point Fifth Wheel Floor Plans. 
Smart North Point Innovations in Storage and Entertainment
A noteworthy mention is North Point's revamped front closet, which offers enhanced storage without compromising on functionality. Another plus? The standard smart TVs across all models, allowing users to stay connected and entertained.
Highlighting the North Point Series Features
Jayco continues to produce their popular family models in the North Point series, including the highly acclaimed 377 mid bunk.
However, the 390 offers a fresh take for those needing extra space—like a mother-in-law suite or accommodations for taller children. This model boasts a queen bed in the rear, a king bed in the front, both with full bathrooms, and ample storage in the bedrooms. It's reminiscent of a "rolling European efficiency apartment," with multiple separate bedrooms and shared living and kitchen spaces.
Embracing Modern Amenities
Jayco's commitment to modern living is evident. They've incorporated standard 200-watt solar panels and an anti-lock braking package—both crucial for the safety and efficiency of these larger rigs.
Additionally, the consistent GE residential kitchen appliance package ensures that all appliances, including the refrigerator, are both shock and vibration rated.
See New Jayco North Point Fifth Wheels

North Point Versus Pinnacle: What's the Difference?
While both North Point and Pinnacle are upscale, they cater to different tastes. Think of an Eagle as a bachelor's degree, North Point as a master's, and Pinnacle as a doctorate.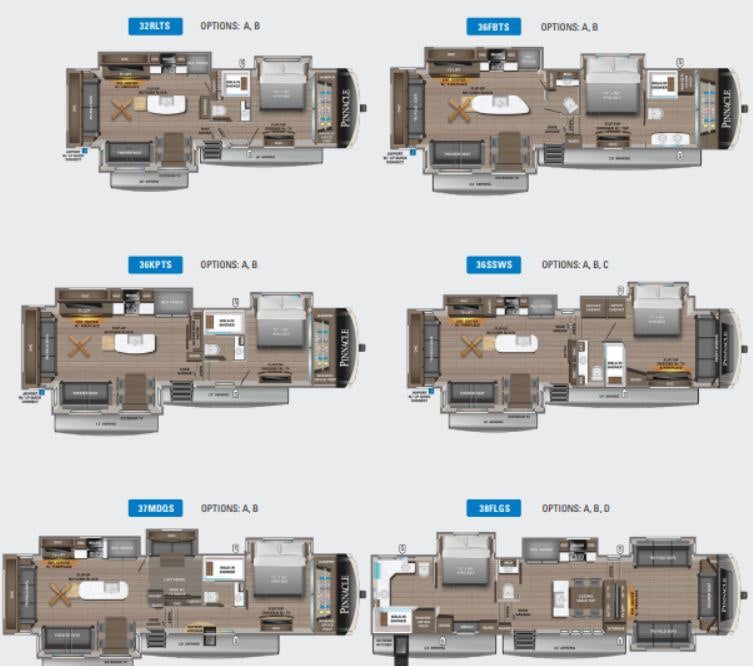 Pinnacle, for example, has embraced a fresh color scheme and design influenced by North Point. Key features in Pinnacle models include large vessel sinks, a 300-pound folding teak seat in the shower, and dual Whisper air, among others.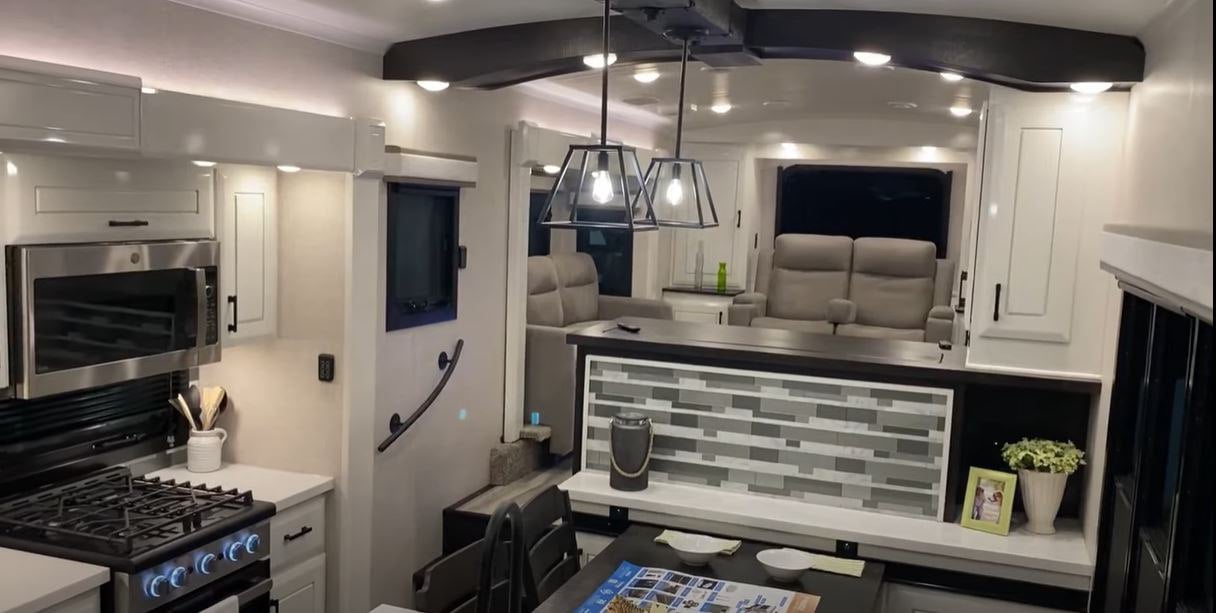 See New Jayco Pinnacle Fifth Wheels

Jayco's Big Play House: Seismic Series
The Seismic series blends luxury with functionality. These models are equipped with an NPS 6000 inverter generator, known for its fuel efficiency and quieter operation.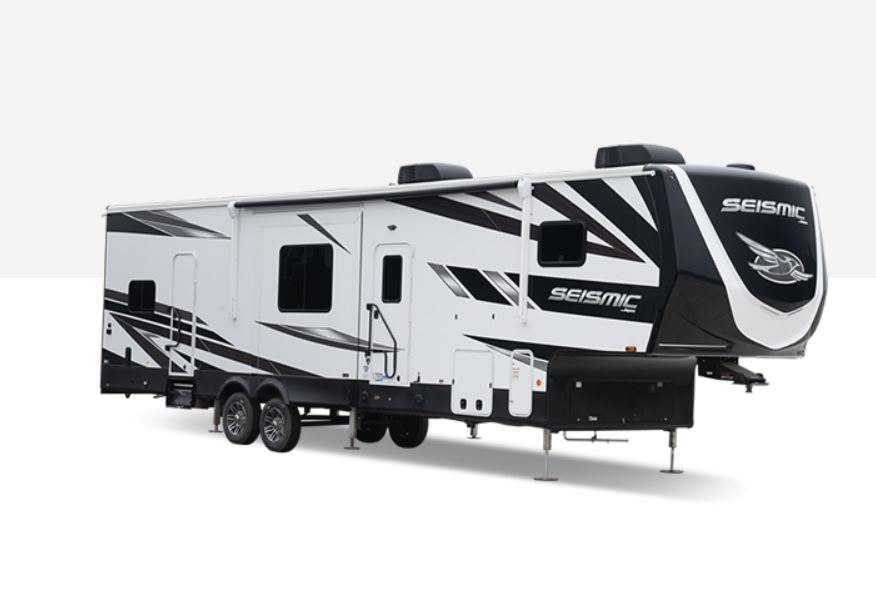 The living area is a standout feature, spacious and comfortable, unlike many toy haulers that compromise on living space. Another notable mention is the mega five-seater recliner, providing ample seating for relaxation.

If you like your toys and like having fun with family and friends in your camper, the Seismic is the perfect play house.
Seismic Luxury: Elevating the Toy Hauler Experience
For those seeking the pinnacle of toy haulers, the Seismic Luxury series, especially the 4113 model, is hard to beat. Features like dual patios, a unique kitchen layout, framed front windshield, and powerful shower setups make it a favorite among many RV enthusiasts.
See New Jayco Seismic Toy Hauler Fifth Wheels

Jayco: Pioneering the RV Industry's Path to the Future
With all these updates, Jayco continues to impress with its 2024 lineup of fifth wheels. Whether you're an RV veteran or a newbie, there's something for everyone. As always, the company's commitment to innovation, comfort, and luxury shines through.
Discover More: Dive deeper into the details and specifications of each model.
Book a Viewing: Experience the innovation of Jayco's 2024 fifth wheels in person