The world of RVs is ever-evolving, with Forest River RV at the forefront of this dynamic landscape. As 2024 approaches, the anticipation for new RV models grows exponentially.
Recently, our very own Josh the RV Nerd took a trip to the Forest River RV plant to provide us with an exclusive sneak peek. With his insights fresh in my hot little hands, I'm revved up and ready to share the exciting updates and features coming our way.
Table of Contents
The Allure of the A-Frame Division
Merging Traditional with Modern
Next Steps to Buy 2024 Forest River RV
The Rockwood 12S: Big Features in a Small Package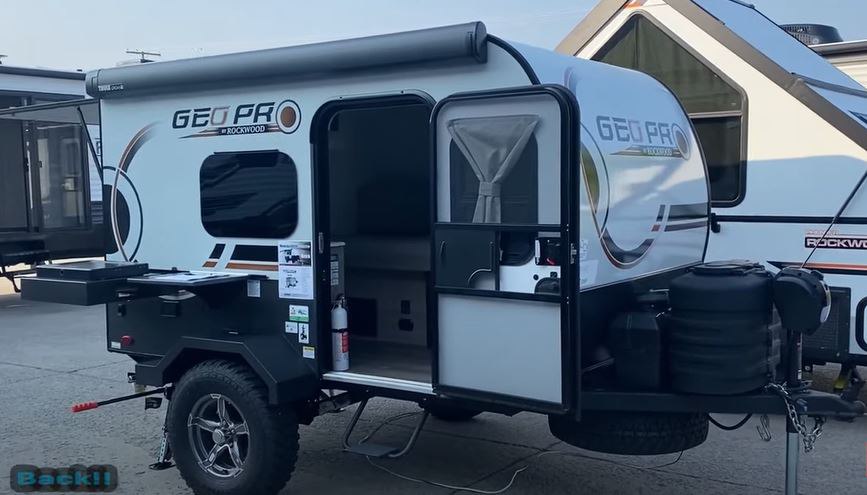 One of the standout mentions is the resurgence of the Rockwood division. You may be particularly thrilled about the reintroduction of the "12 Series", starting with the 12S model.
Designed for the avid adventurer, these models prioritize simplicity, providing a comfortable base camp to return to after a day of exploring. Their hallmark feature, the gaucho-style sofa, effortlessly converts into a cozy sleeping space, marking a blend of function and style.
The Allure of the A-Frame Division
Another note-worthy mention, the A-frame division,is sure to capture your attention. The A122S model remains a stalwart, known for its deceptive spaciousness and rugged design.
The hard-sided nature of these campers not only ensures durability but also makes them suitable for terrains that require protection from wild inhabitants. Their compact nature is a solution to those of us facing space constraints or homeowners' association regulations.
See New Rockwood A122S Travel Trailers

Unveiling the Innovations in the GEO Pro Lineup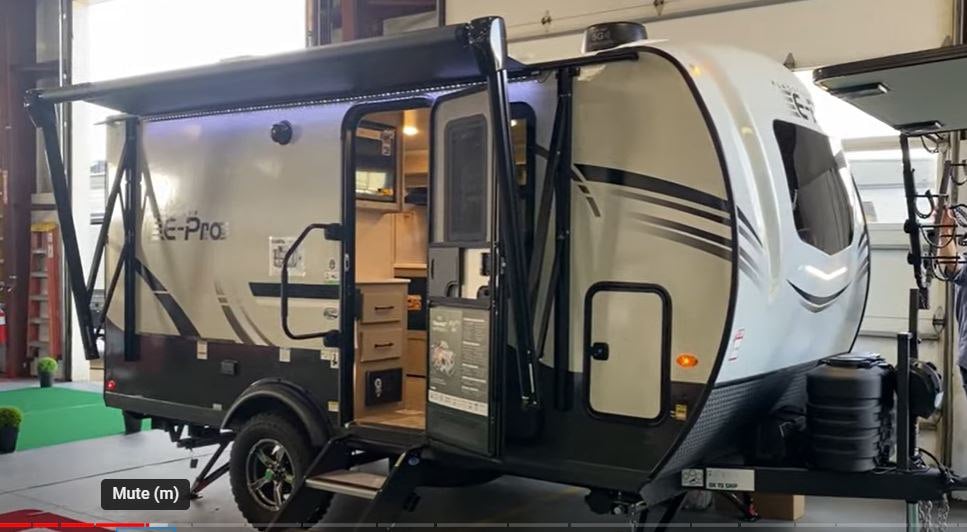 The GEO Pro series showcases some remarkable developments that we at Bish's RV find truly compelling. Packed with features that enhance the camping experience, these models are crafted with the modern traveler in mind.
From the advanced solar power capabilities to the flexible seating and bedding solutions, the Geopro lineup stands as a testament to Forest River RV's commitment to innovation.
The series also presents options tailored for different needs, whether it's a solo traveler or a cozy couple looking for a perfect getaway vehicle.


See Available New GEO Pro Travel Trailers
The Mini Lite Family Expands
As we dove deeper into our Forest River RV exploration, the Mini Lite family showcased its latest addition—the new 2517S.
Contrary to its predecessor, which was built smaller, the 2517S scales up in size, resembling floor plans similar to the Imagine XLS17MKE and the Jayco 19MRK Jay Feather. Label it as the "biggest little camper you'll find," and you wouldn't be exaggerating.
This camper's design allows for a Murphy bed up front, under which lies a sofa with kick-out incliners. As for the slide area, you're spoilt for choice between Theater seating or a dinette, enhancing customization options.
A key feature that caught our eye at Bish's was the extended countertop space. This massive solid-surface countertop is backed with easy-reach pop-up power towers, and an added benefit is the 1800-watt inverter, powerful enough to run a coffee maker—a leap forward from previous versions.
In a clever design move, the refrigerator has been placed in the slide, creating unprecedented spaciousness in the living area.
Out of all the models from various brands that we've seen, this particular design stands out for providing the most expansive feel inside without actually being significantly larger.
See Available New Rockwood Mini Lite Travel Trailers

Spotlights on Rockwood and Flagstaff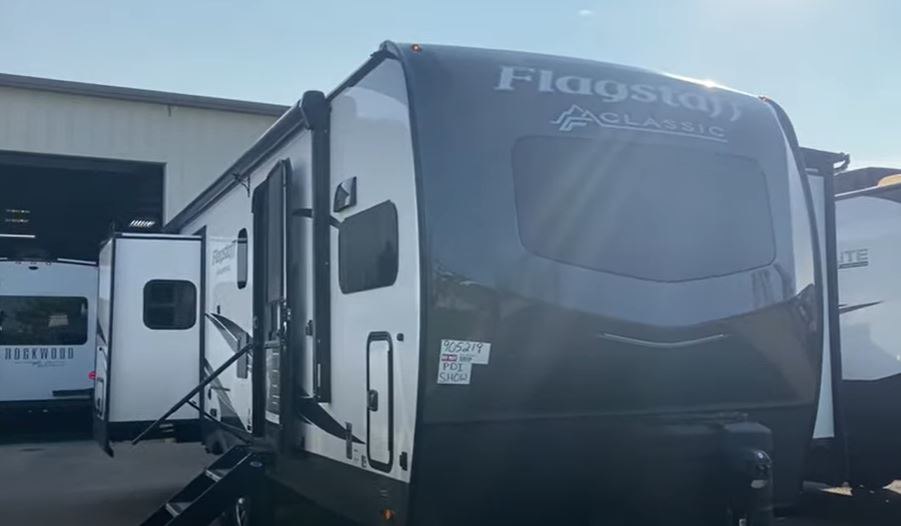 While exploring the RV range, one can't overlook the exquisite detailing in the GEO Pro and Rockwood series. Features like porcelain foot flush stools, the extra-large fume-fighting fan, and the shower Miser water saver are standard.
However, a crucial detail to remember is that every Rockwood model has a Flagstaff twin. For instance, what is labeled as a Rockwood 8264 BHS is also available as a Flagstaff, with identical features.
A significant change this year is the phase-out of the tan exterior option, with the white exterior featuring graphite accents becoming the standard choice. This might be subject to change in future models, but as of now, the tan is off the table.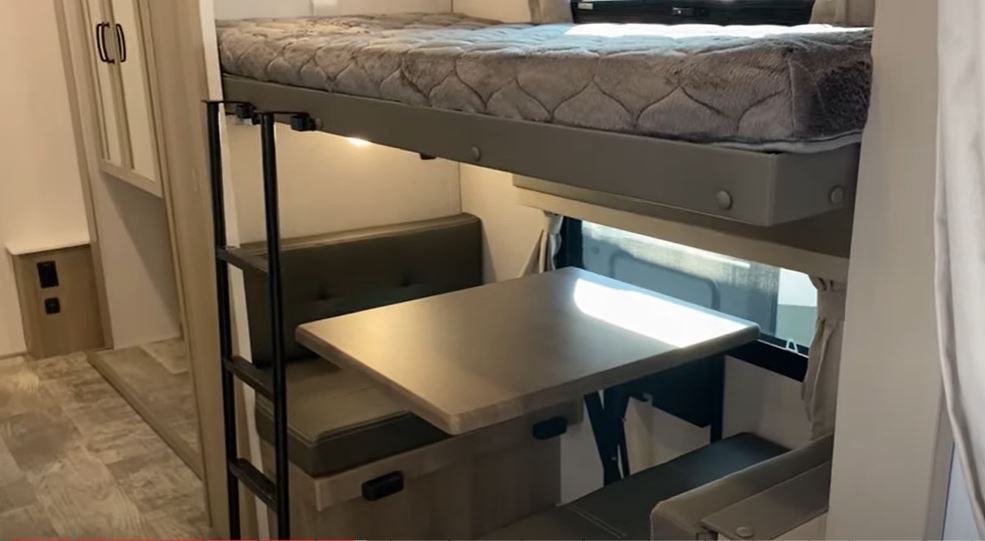 Merging Traditional with Modern
In terms of innovation, Forest River RV decided to experiment by combining the 8263 front kitchen and middle bedroom suite design with certain Class A motorhome elements. The result? A space that seamlessly integrates excellent prep space, kitchen bars doubling as dining areas, and a theater seating positioned opposite the entertainment unit.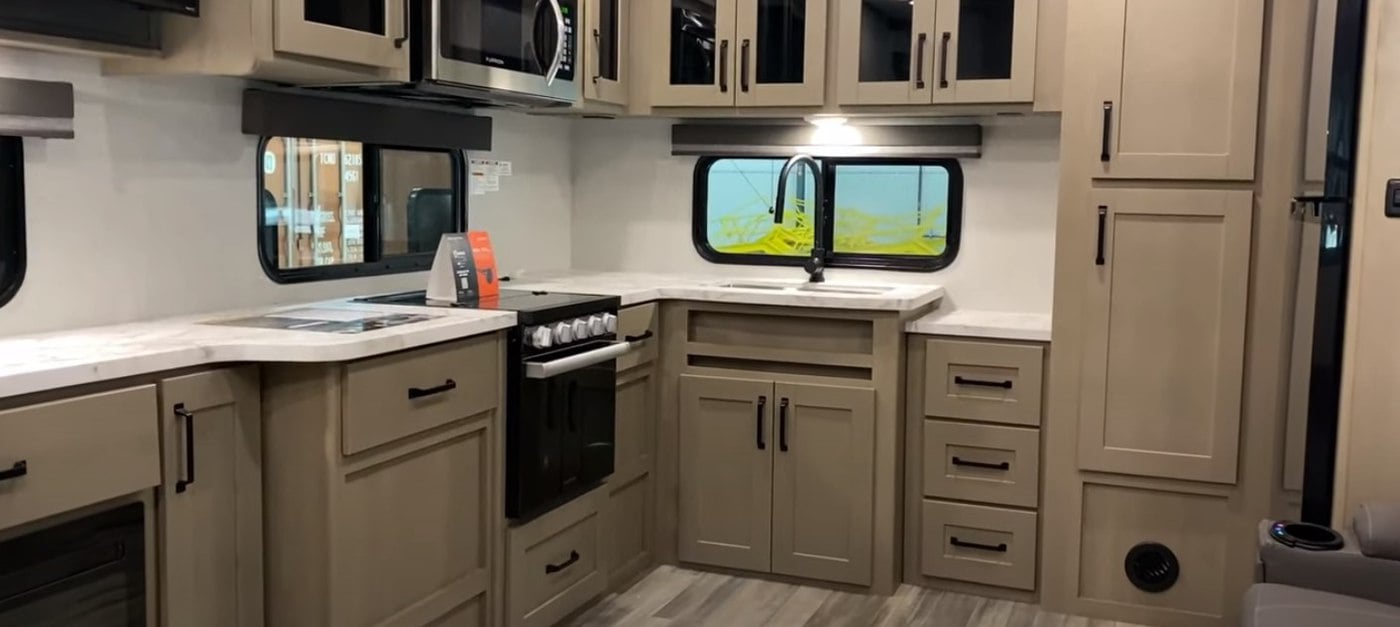 Beyond this living area, there's a middle bunk room, offering a flexible design that can be transformed into an office space.
See Available New Rockwood Signature Series Campers


Elevating the Fifth Wheel Series
There's been a rebranding in the fifth wheel models, but one that particularly piqued our interest is the rebranded 301RK (formerly known as the 2622). Its expansive kitchen, extensive storage, and towering TV position make it stand out. However, to access the upper cabinetry, you might need a step stool!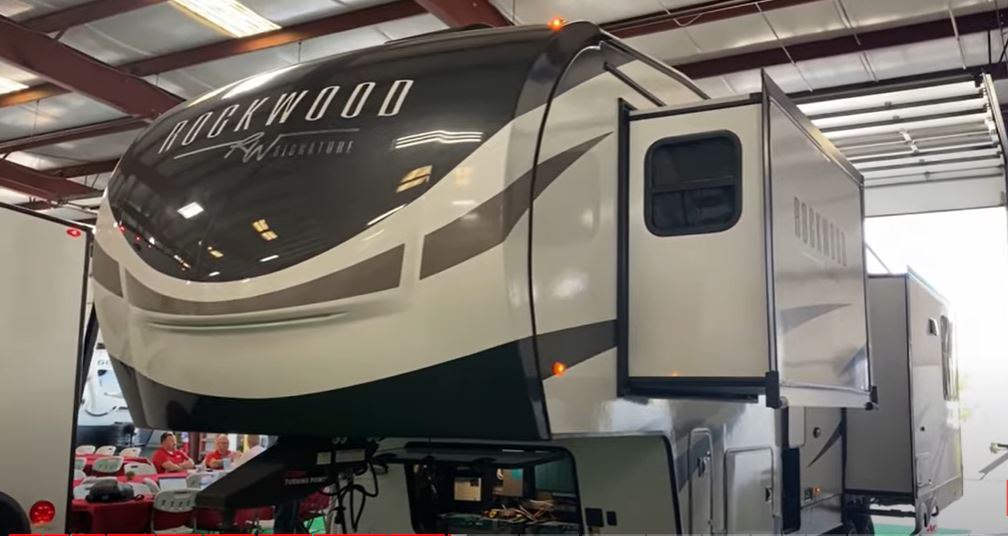 This year, for any Signature or Flagstaff classic Model measuring 32 feet or larger, a second air conditioner is a standard addition. Thus, ensuring maximum comfort regardless of how scorching the weather gets.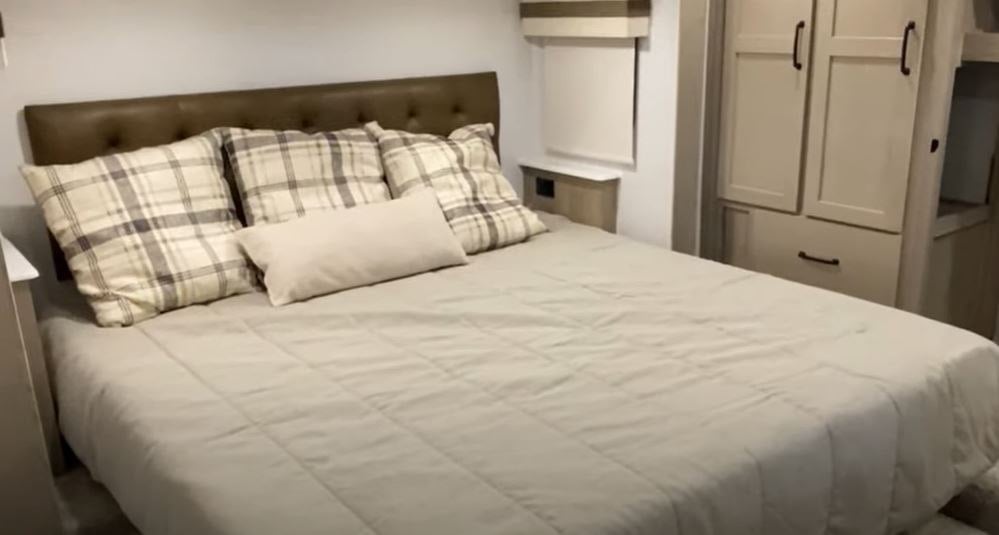 These RVs are also integrating more with solar power, enhancing their eco-friendliness and self-sustainability.
See Available New Rockwood Signature Fifth Wheels

Exploring the Wildwood FKG Model and Its Variants
The FKG model from Wildwood has borrowed some elements from Rockwood. One of the notable differences includes an elevated dining bar, offering more seating space. While the TV isn't factory included, there's space available for one.
The kitchen in this model is vast, boasting a unique pantry in the slide, a feature not seen in other designs. A surprising inclusion is the theater seat which replaces the two individual recliners of older models. They've integrated the Versa tilt bed, characterized by its power headlift, across all their models.
One distinct attribute of this model is its bathroom setup. Instead of dual sinks, it offers a secondary entry, greatly enhancing accessibility.
The interior height provides ample room in the shower, making the experience comfortable.
The "G" in FKG stands for the rear cargo garage, a significant addition to this model.
---
The V Series: A Hybrid Concept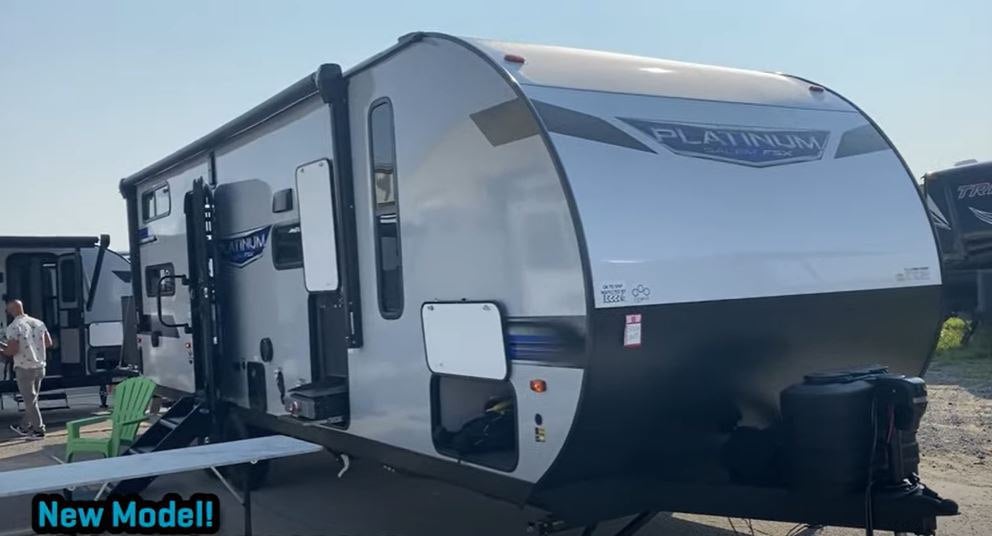 FSX's V Series is intriguing. It blurs the line between a toy hauler and a conventional trailer. It comes with a dedicated kitchen, and an entertainment setup right across the theater seat.
A special feature is the TV cabinet that can rotate. The bunks in this model are versatile. They can fold up, transforming into a workstation or bar. This flexibility allows the trailer to serve as a family or couples' space or even an office.
The walkout rear patio is an additional space to load items like e-bikes, golf carts, and more.
Despite its utility, the living room and kitchen maintain a traditional feel.
Contact an RV Expert about Pre-Ordering a Wildwood FSX V-Series RV

Exploring the Salem/Wildwood 178
The Wildwood 178, also known as the Salem 178, has undergone some modifications. Previously designed with an East-West Corner Bed, it now features a North-South Murphy bed.
The dining area, formerly a U-dinette, has been revamped to include a pivoting table, addressing the issue of limited counter space. They've managed to evolve and stay ahead of the curve with this model, introducing features like shower surround paneling and skylights.
They've even replaced outdoor speakers with a portable Bluetooth speaker, which comes included with the model.
See Available Salem/Wildwood 178 Campers

Ibex Vibe Innovation
Ibex truly caught our attention with its distinctive Vibe floor plan. Forest River's dedication to innovation is evident in their European-style, max airflow swing-out windows and an induction cooktop.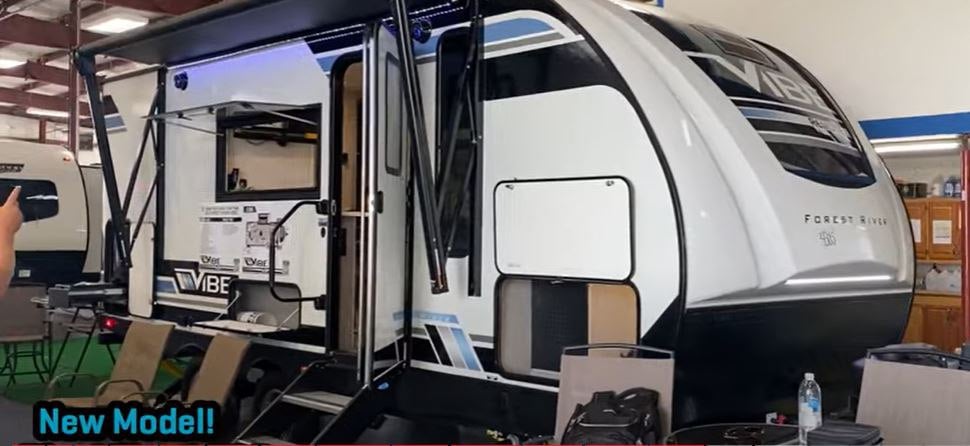 A unique feature that garnered our appreciation was the dining bar positioned perfectly overlooking the campsite windows. This refreshing design approach is something we believe more RV enthusiasts would want to see.
Furthermore, the Ibex's no-slide design astonished us. For many of our customers, having an RV without slides means ease of maintenance and a decrease in potential issues, such as water penetration.
Additional features like an expansive pantry, a spacious bathroom, and the dining bar, combined with the no-slide concept, truly showcase Ibex's forward-thinking.
See Available New Ibex Campers

Heritage Glen: Setting New Standards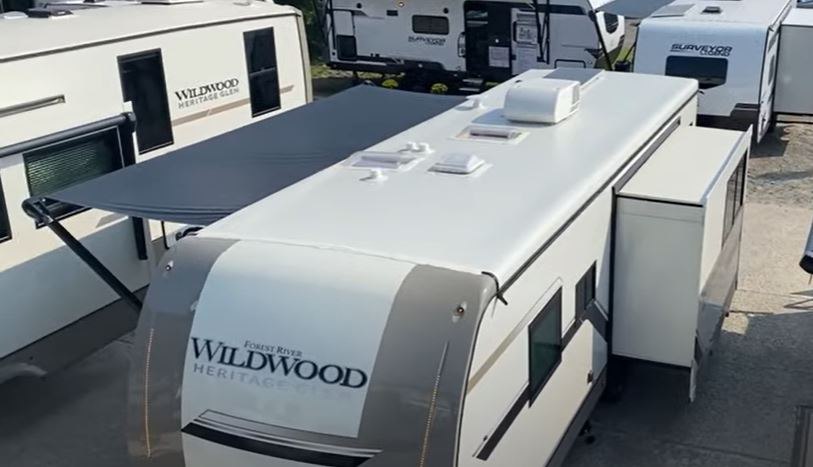 Heritage Glen is another name that resonated with innovation. Their move from traditional rubberized roofing to a full fiberglass roof shell drew our attention.
For many RV owners, this translates to less maintenance and a significant reduction in potential weather-related damages.
As we delve deeper into their offerings, it's clear that they've transformed from simply offering cost-effective solutions to pioneering in design and functionality.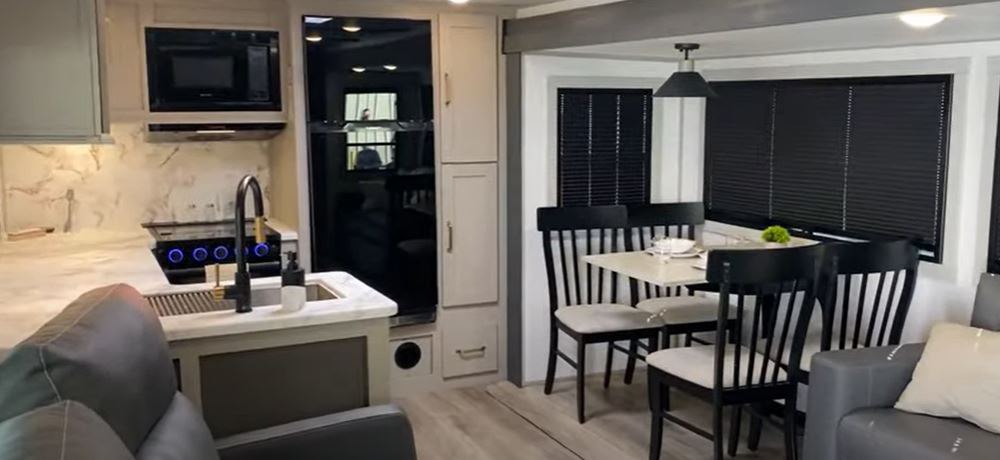 Their carpetless designs, "square flow" windows, and the adoption of the RV airflow system in their air conditioning demonstrate this transformation.
Moreover, the Heritage Glen's dual suite models, optimized for larger families or for those seeking a mother-in-law suite, truly differentiate them in the market. Offering such versatility proves that they're catering to a wider array of RV enthusiasts, showing an understanding of varying needs and preferences.
See Available New Heritage Glen Campers
Charting Your Next Adventure with Forest River
As you contemplate embarking on new journeys in the upcoming year, now is the perfect moment to dive deeper into the 2024 Forest River RV lineup.
Steps for Finding Your Next Forest River Camper
Begin by jotting down your specific travel needs and desires. Do you prefer expansive spaces for long trips or a compact design for weekend getaways?
Once you have your checklist ready, we recommend visiting our showroom or browsing our online catalog, where you can compare models and floor plans to pinpoint the one tailored for you.
Reach Out to an RV Expert
Celebrating 35 years in the RV industry, Bish's RV is always eager to share our RV knowledge with our community. Whether you have questions about the newest Forest River models, financing options, or general RVing tips, don't hesitate to reach out.
We're here to ensure your RV experience is smooth, memorable, and above all, filled with adventure.
Schedule a Free Consultation with a Bish's Forest River Expert


Not Sure which Forest River RV is right for you? Check them all out and decide for yourself
Want to Learn More about RVs? Check out these Articles!