If you're on the hunt for a family-friendly and creatively designed RV, look no further! The 2023 Transcend 321BH Travel Trailer by Grand Design RV is breaking the mold with its smart bunkhouse layout and numerous innovative features.
From ample storage to private bunk spaces and a bath-and-a-half model, this RV is sure to impress taller people and families alike. Let's dive into the exciting features that make this camper stand out from the crowd.
Table of Contents – Quick Links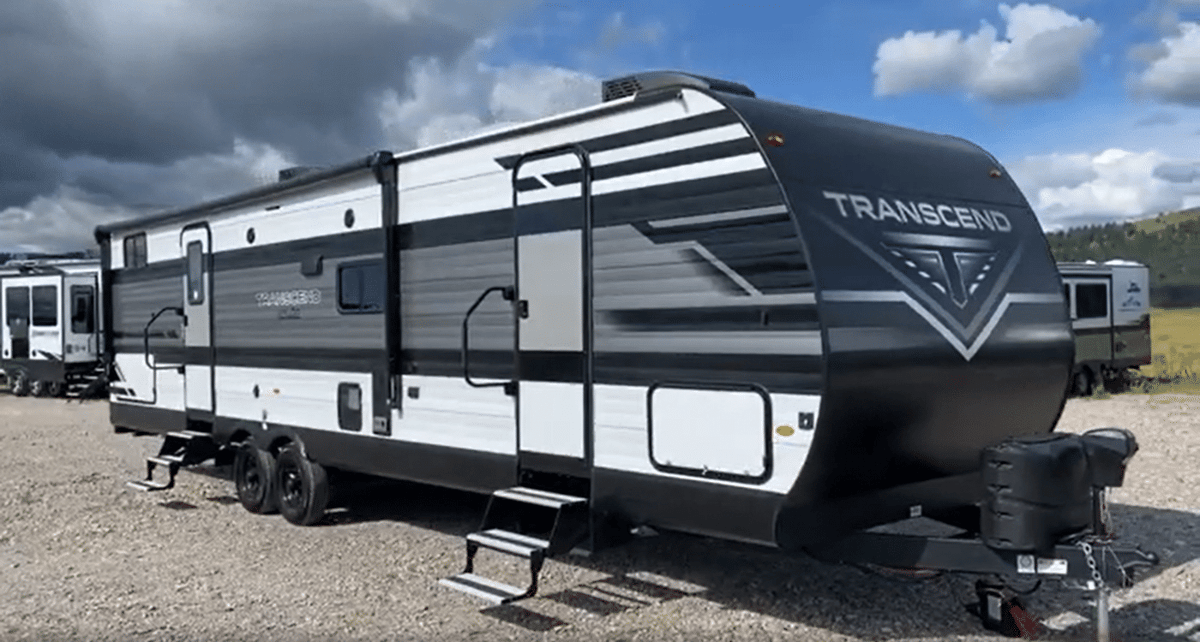 Smart Bunkhouse Design
The Transcend 321BH's bunkhouse is a game-changer for families. Grand Design took the traditional concept of a rear bunk slide-out and reimagined it with a focus on functionality and storage.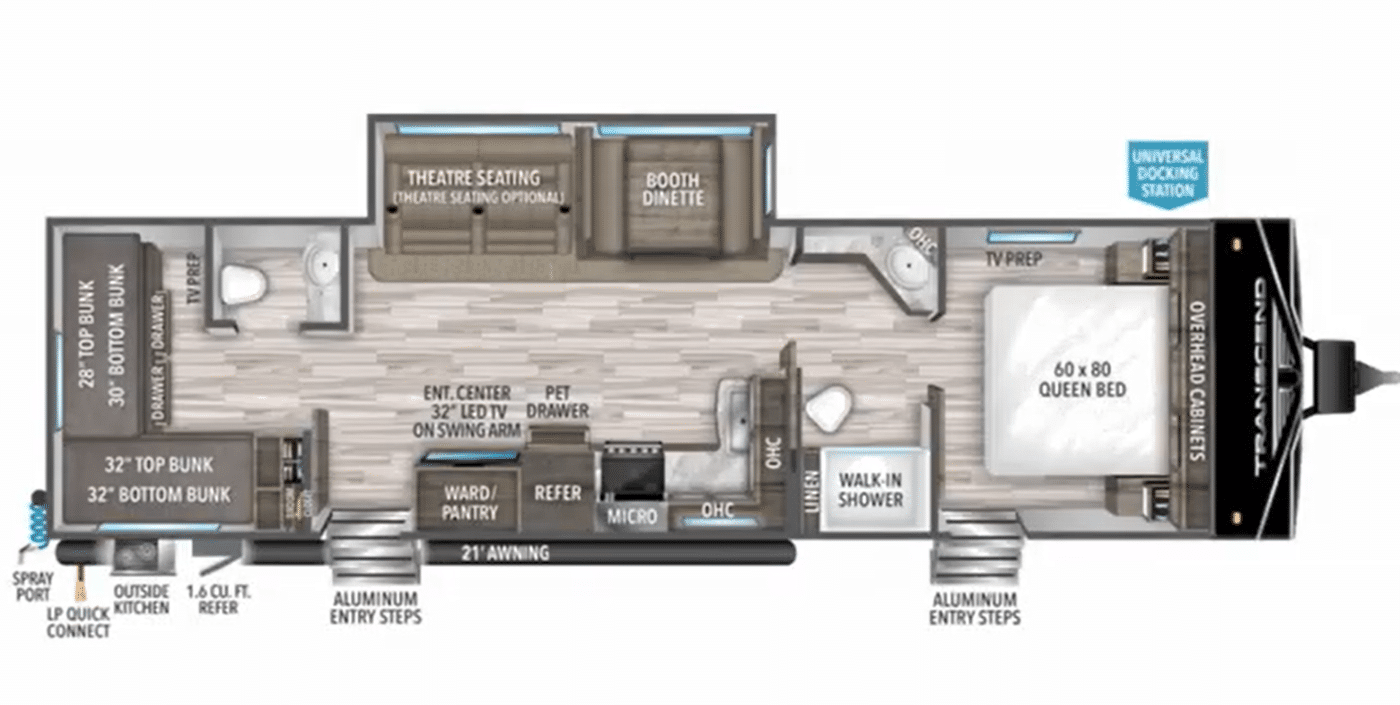 The living room boasts plenty of space and storage, avoiding the cramped feel often seen in bunk models. Instead of the standard entertainment center, this model offers a direct-facing entertainment area, making it a haven for quality family time. 
Plus, the true queen bed is a rare gem in travel trailers, offering parents a comfortable resting place.
Private Bunk Spaces & Half Bath
One of the RV's highlights is its L-shaped bunk configuration, which is perfect for accommodating bigger kids or adult family members.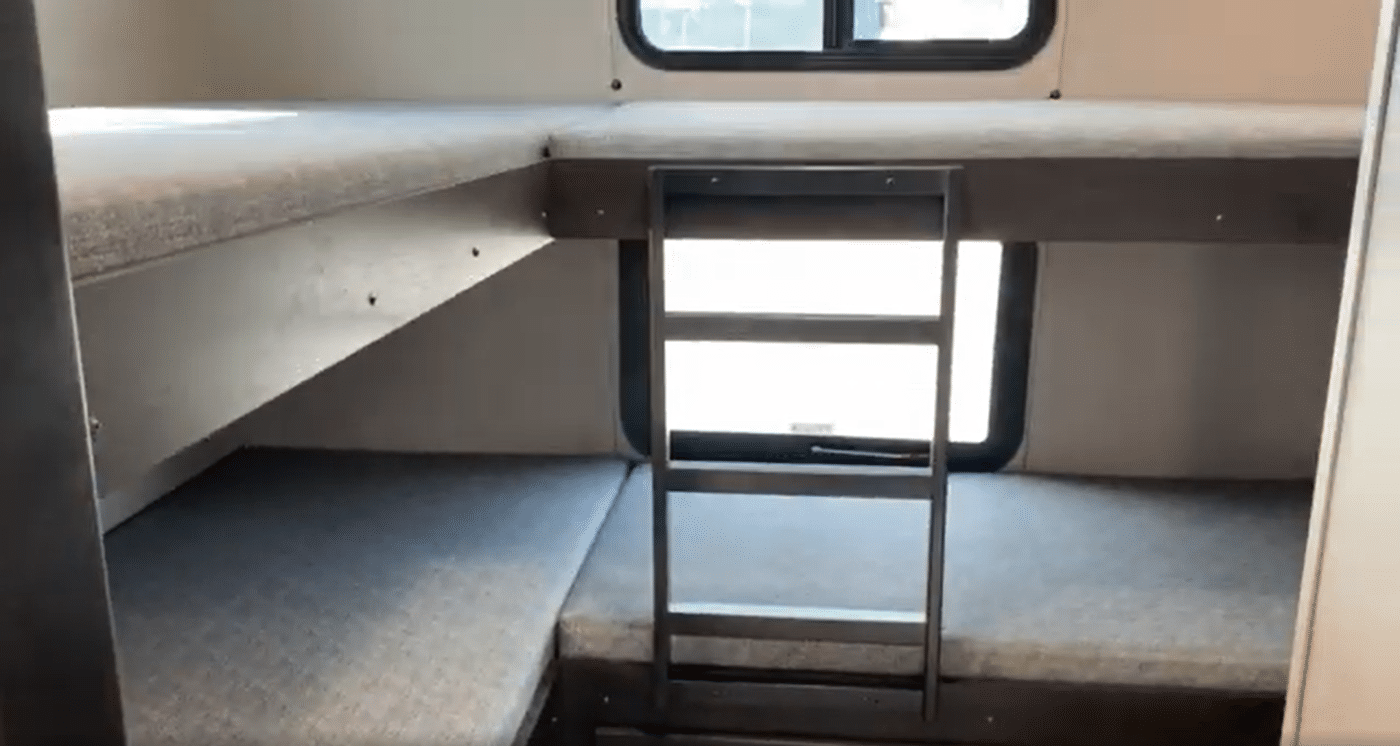 The longer bunk beds can comfortably sleep taller individuals without sacrificing space or comfort. Additionally, the half bath in the bunkhouse is a game-changer, especially when you're camping with multiple people.
No more waiting in line for the bathroom; the bath-and-a-half design adds a touch of luxury and convenience.
Thoughtful Storage Solutions
Shoe Garage
Wastebasket Space
Deep Open-Face Linen Tower
Grand Design didn't hold back when it came to storage in the Transcend 321BH.
Throughout the RV, you'll find purpose-made spaces like a clutter cutter shoe garage by the door, a large wastebasket space under the kitchen sink, and cleverly designed dresser drawers in the bedroom.
Even the bathroom features a deep open-face linen tower, perfect for keeping your essentials organized.
Stylish Exterior
The Transcend 321BH's exterior is as impressive as its interior. Its unique style sets it apart from traditional stick and tin campers. 
The use of thicker corrugated aluminum not only enhances its appearance but also makes it more impact and dent-resistant, adding durability to your investment.
Additionally, the factory-installed solar package with a 165-watt roof panel and 25-amp charge controller provides eco-conscious campers with an excellent power option.
Enhanced Campsite Experience
The Transcend 321BH is designed to make your camping experience more enjoyable and comfortable.
With its outdoor kitchenette equipped with a two-burner cooktop, you can prepare meals conveniently while enjoying the fresh air. The included garden hose sprayer near the license plate bracket allows for quick cleanups after a day of outdoor fun.
Moreover, the ladder on the back of the RV provides easy access to the roof, making maintenance tasks hassle-free.
Conclusion
The 2023 Transcend 321BH Travel Trailer by Grand Design RV is a creative and well-thought-out RV that caters to families, including taller individuals. Its brilliant bunkhouse design, private bunk spaces, bath-and-a-half model, and smart storage solutions make it a top choice for families seeking a comfortable and enjoyable camping experience.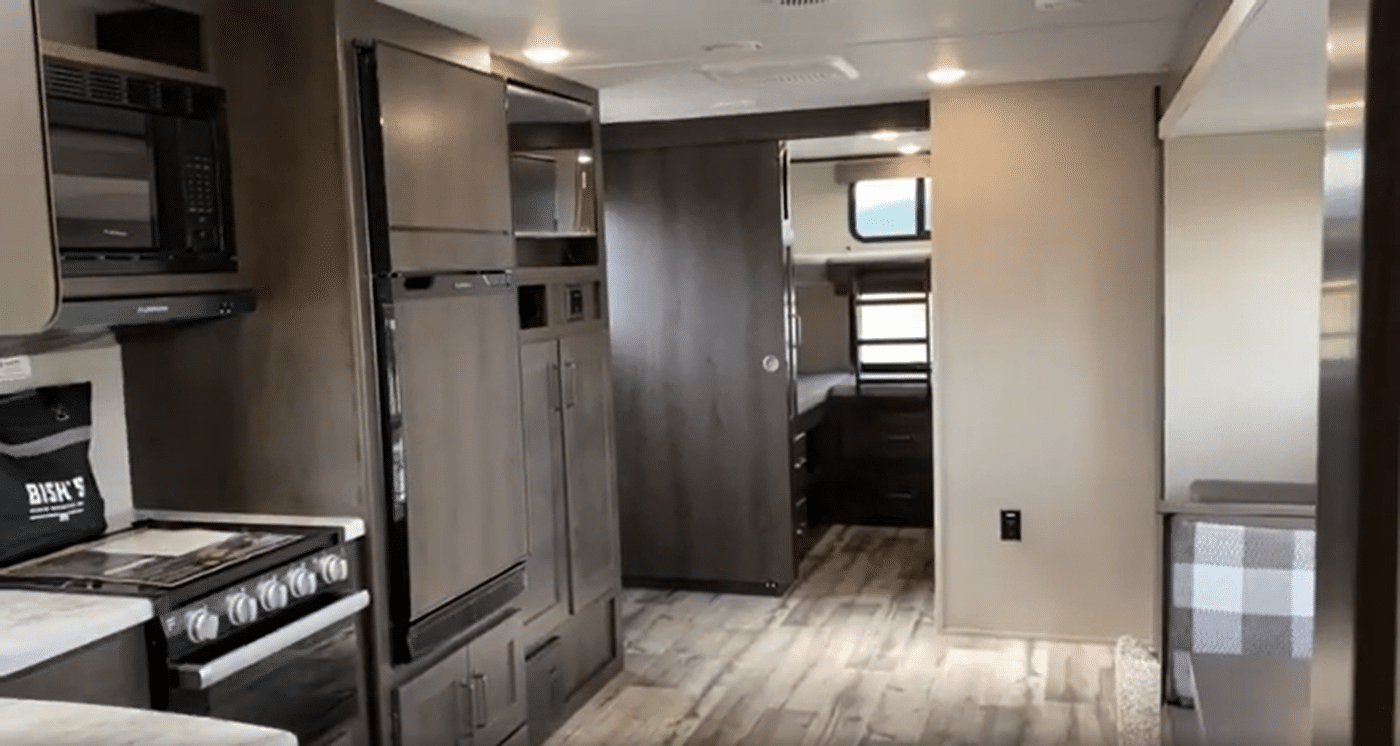 With its unique exterior and functional features, the Transcend 321BH is a true game-changer in the world of RVs.
So, why wait? Upgrade your camping adventures with this exceptional travel trailer and create lasting memories with your loved ones. Happy camping!
Get the RV Nerd Preferred Price
We are offering an exclusive price on this floorplan for 30 days after Josh the RV Nerd releases his review on YouTube.
RV Nerd Preferred Sales Price (Valid Until 09/21/2023)
Transcend 321BH
Starting as low as $39,995
*Why do RV costs vary? Get the facts here now!