Northwood 2023 Nash 29S Travel Trailer
Josh the RV Nerd is back, this time highlighting the Northwood RV 2023 Nash 29S Travel Trailer, which, in his words, is thicker than a bowl of oatmeal!
With a tried-and-true layout, Northwood has made this RV unique through durability, convenience, and plenty of features.
Join us as we explore this tough travel trailer so that you can see if it is right for you.
Table of Contents
Northwood RV 2023 Nash 29S: Built to Last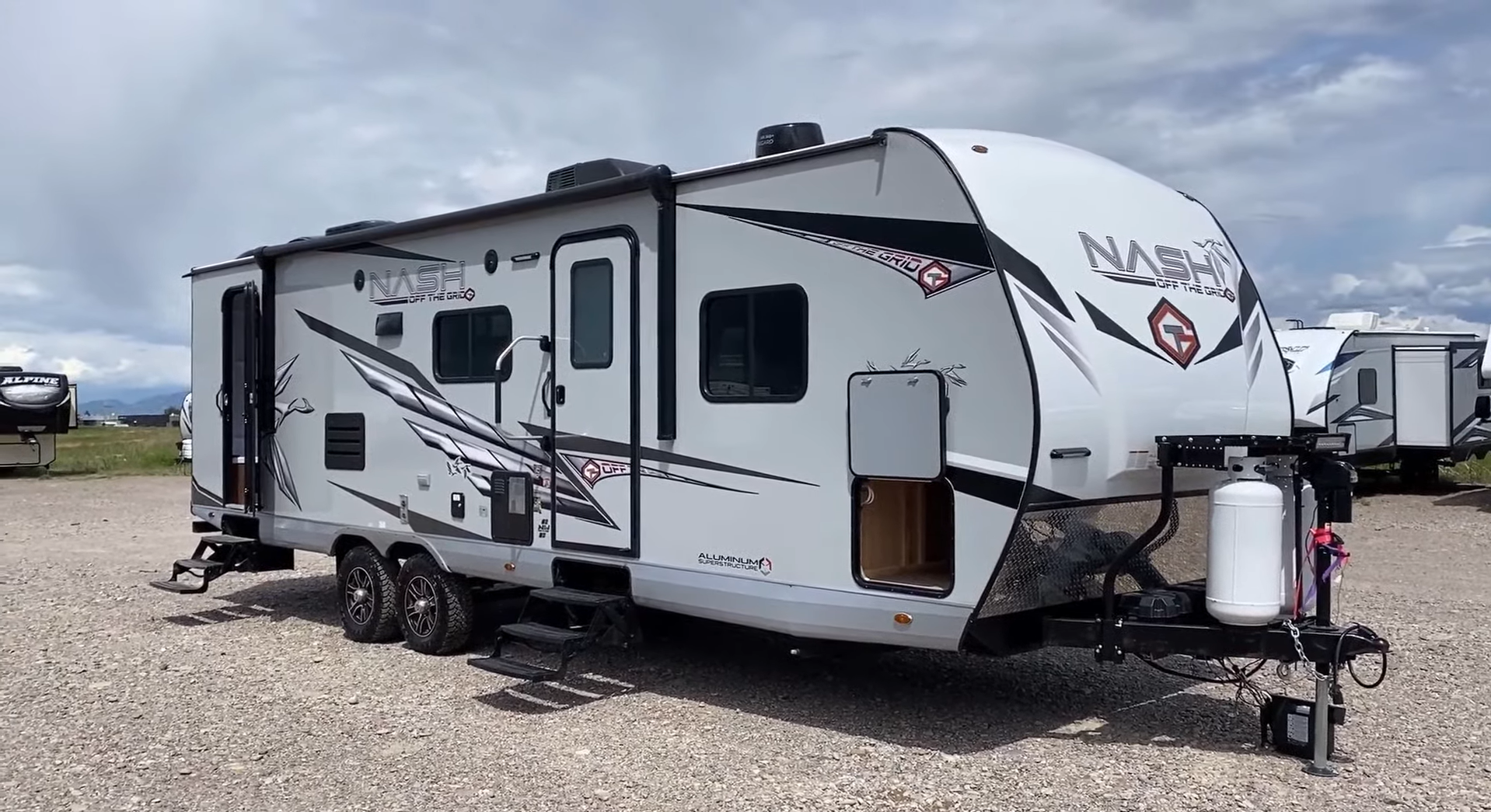 The Nash 29S is designed with adventure in mind, with features like the "Off the Grid" package that includes 40-pound propane tanks, solar prep, and even onboard generator accommodations.
These additions ensure that travelers can enjoy extended periods of camping in remote locations without worrying about running out of essential resources.
The Nash 29S is a fantastic option for adventurers seeking an RV that can handle rugged terrain and extended off-grid trips while maintaining a high level of quality and comfort.
2023 Nash 29S Specs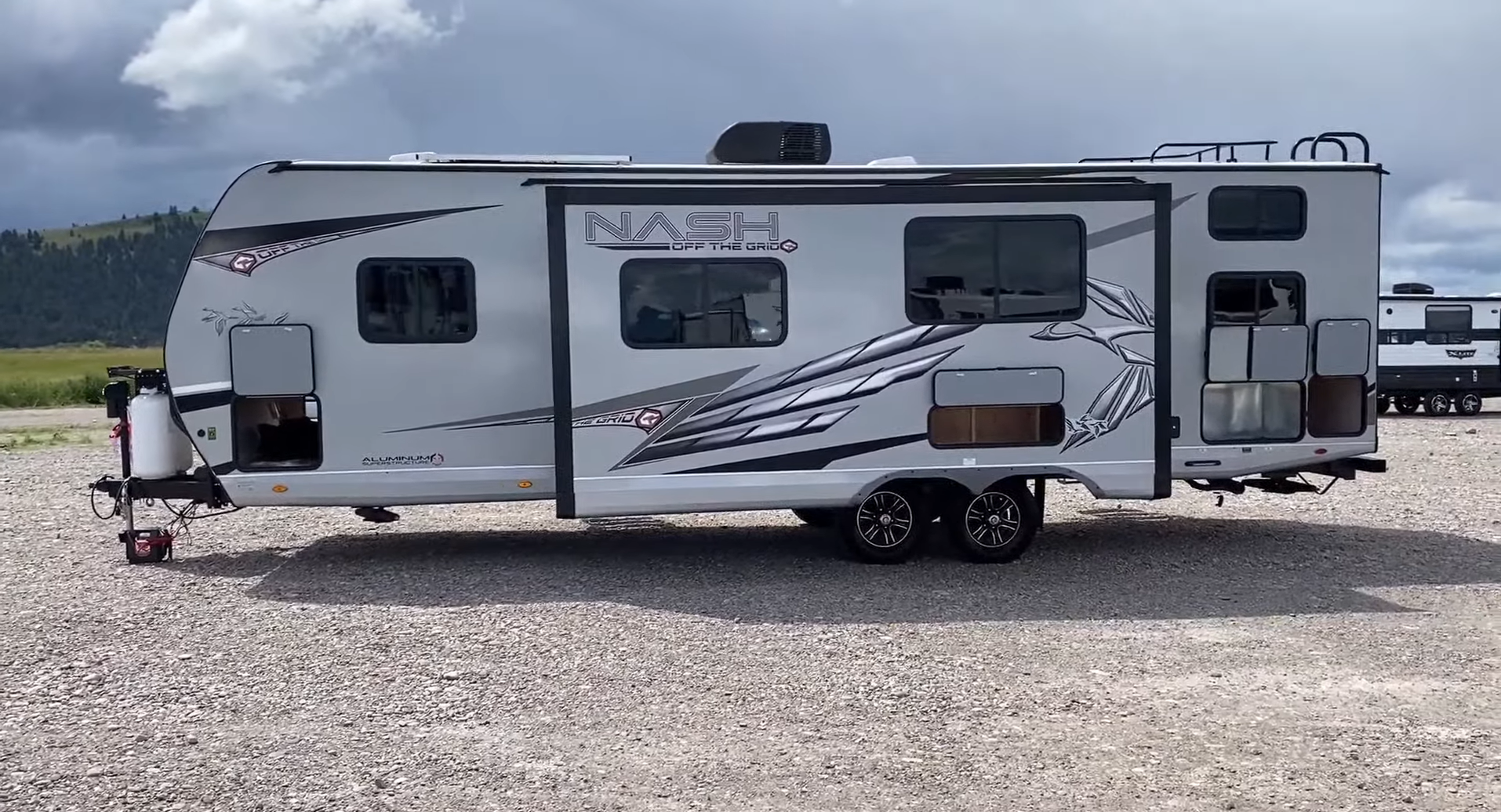 Weights & Measurements:
Hitch – 796lbs
Cargo – 3,340lbs
Empty – 7,360lbs
Max – 10,700lbs
Length – 32'4″
Height – 11'6″
Width – 8'
Fresh – 50gal
Gray – 40gal
Black – 35gal
Nash 29S Layout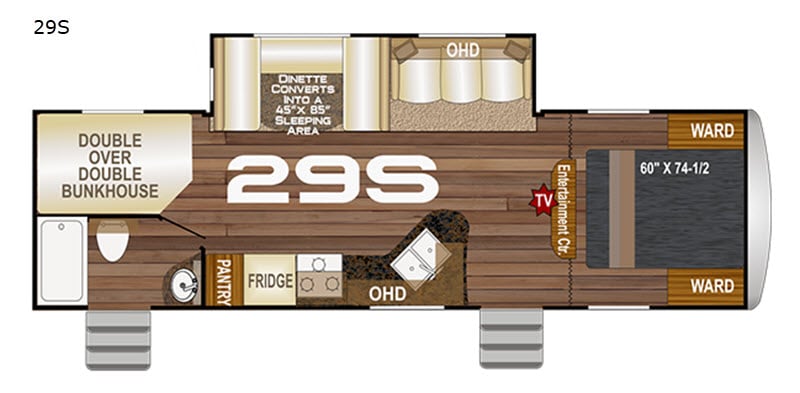 The 29S utilizes a classic, practical, family-friendly layout. The floor plan features a double-over-double bunkhouse, making the RV ideal for families or groups of friends.
This family-friendly focus is also highlighted in the U-shaped dinette, which provides ample seating and converts into a bed if necessary.
One standout feature of the Nash 29S is a direct-entry bathroom, which is currently less common in the RV industry. This practical entrance reduces foot traffic through the RV, keeping it cleaner over time, which is particularly valuable for families who prefer not to track dirt and debris into their living space.
Make the 2023 Nash 29S Yours!
Nash 29S Living Area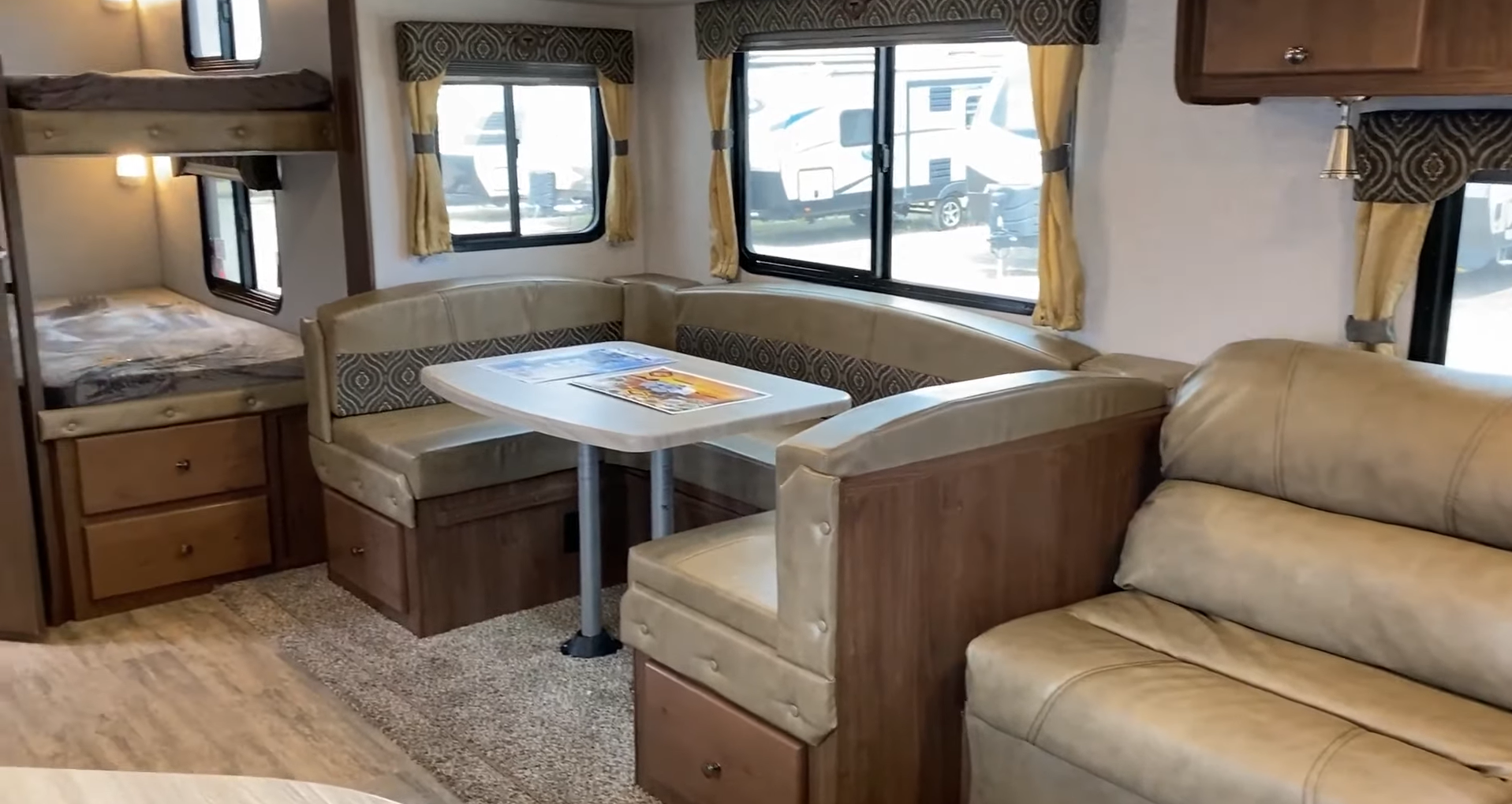 Spacious and open layout.
360-degree spin-around entertainment center allowing the use of the TV in either the Living Room or Bedroom.
Thoughtful design providing easy passage from the front to the back of the RV in road mode, accommodating travelers moving through.
Double-over-double bunks, with lights at the headboard end of each bunk, allowing easy access for those in the bunk, but, as Josh points out, may pose as a challenge for adults trying to turn off lights their children left on.

Nash 29S Kitchen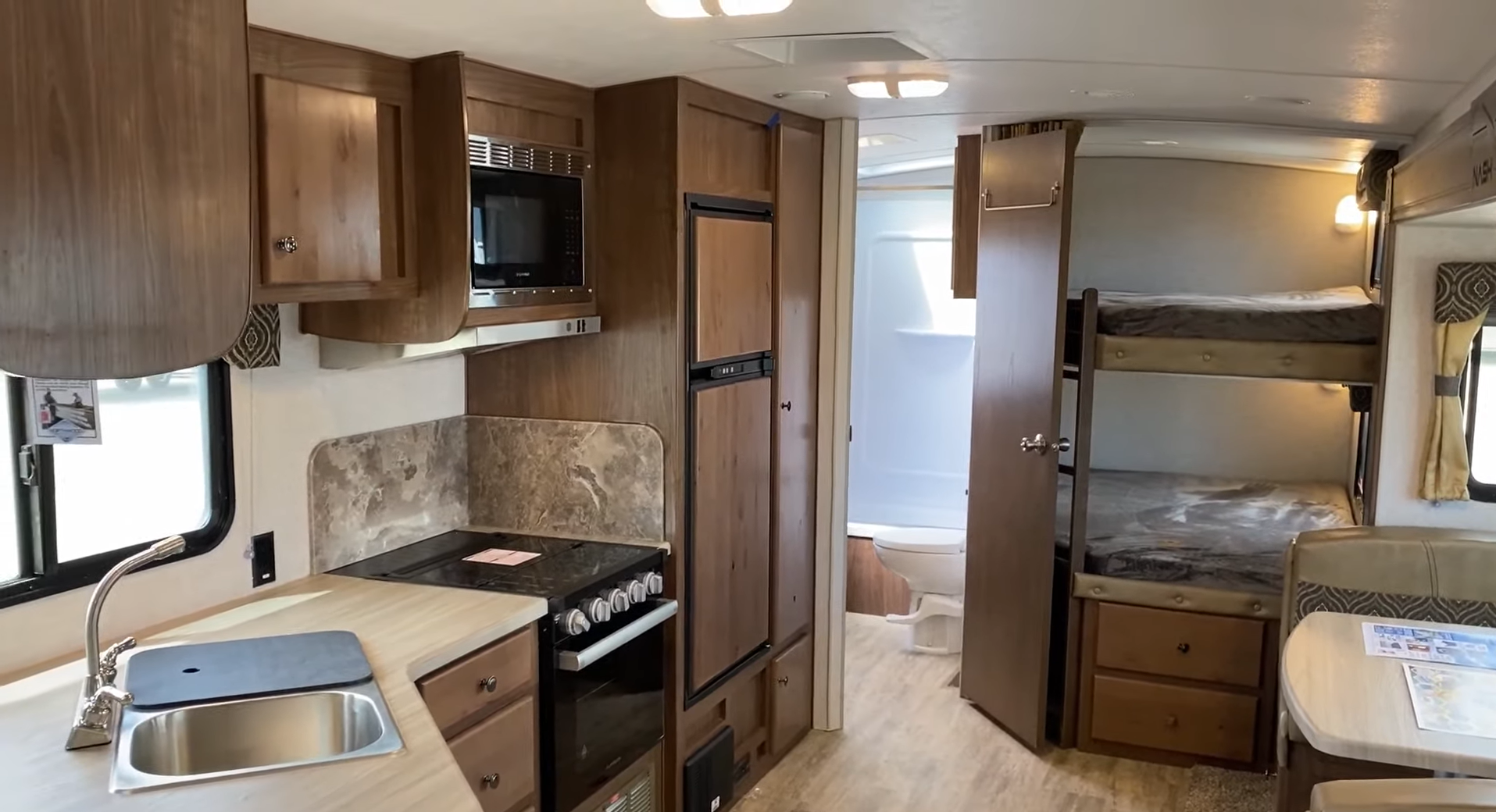 Unique kitchen design includes a side splash, a rarity in the RV industry, improving meal preparation and clean-up.
Thoughtful placement of kitchen appliances and storage, maximizing functionality within the available space.
Spacious countertop provides room for meal prep and cooking, enhancing the overall usability of the kitchen area.
Thicker side walls allow for household outlets in the wall above the counter, which is exceptionally rare in an RV.
Serious attention to detail in the RV's interior, featuring solid hardwood cabinet doors and heavy-duty drawer glides.

Nash 29S Bathroom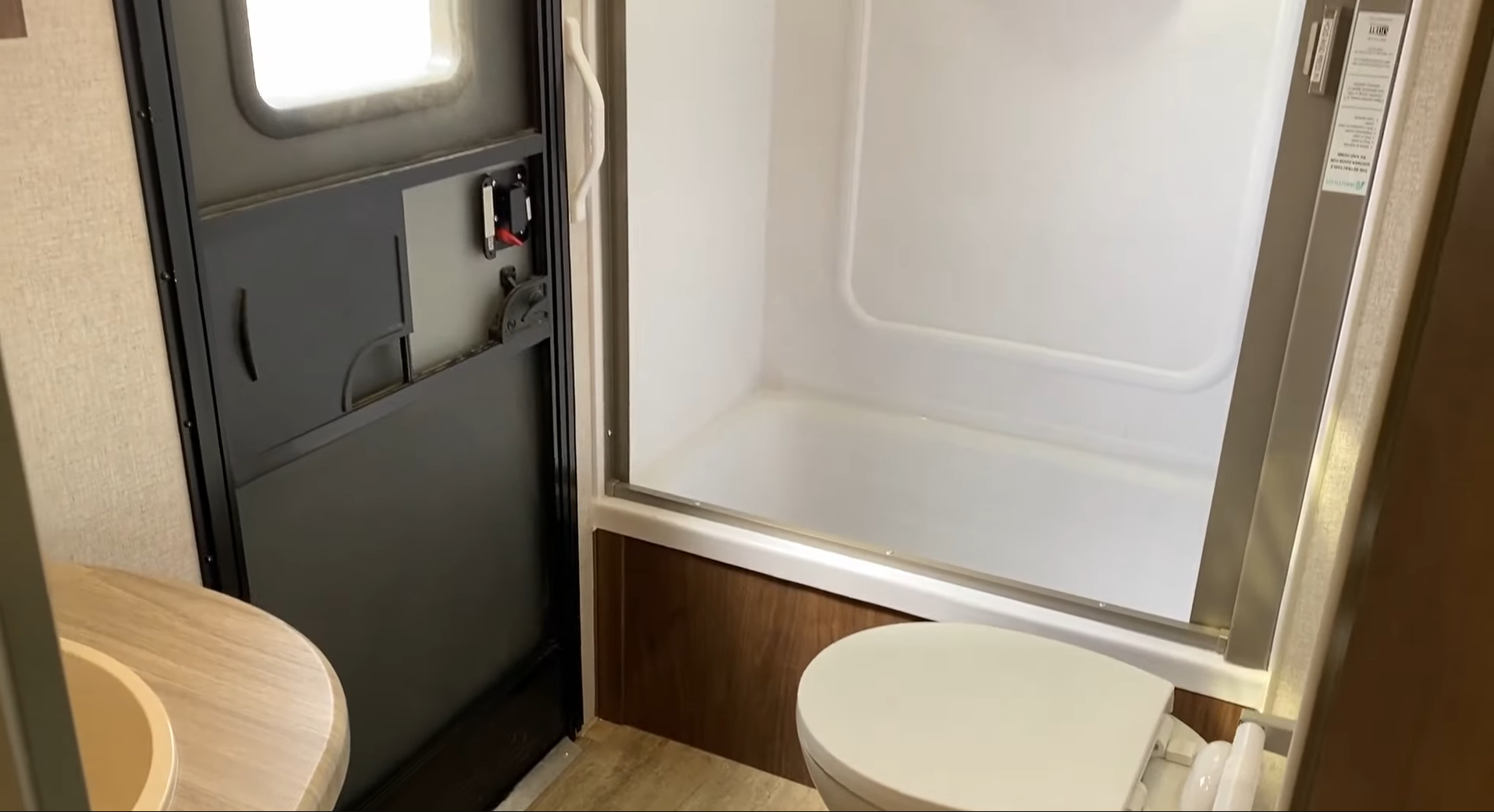 Generous headroom in the shower, ensuring comfort for users of various heights.
Porcelain foot flush toilet with ample space around it for comfortable use.
Unique bathroom design with a medicine cabinet perpendicular to the sink, which while not losing any functionality, may not be everyone's favorite choice.
A large vent fan to enhance ventilation and keep the bathroom fresh during use.
Direct entrance for ease of access and reduced congestion and dirt-tracking in the trailer.

Nash 29S Bedroom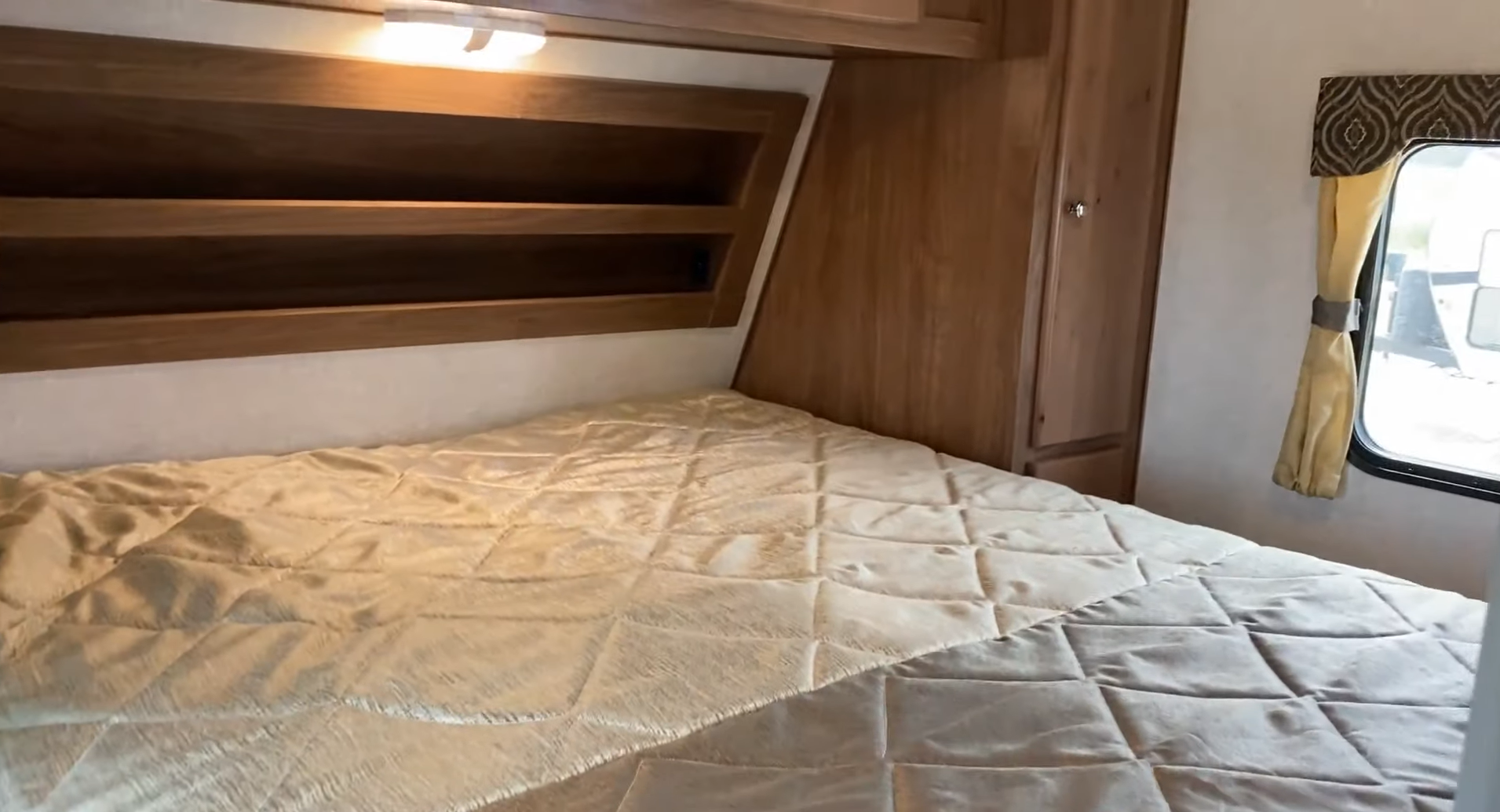 Camp queen bed, which may be a downside toward taller individuals.
USB outlets on both sides of the bed allow for convenient charging.
Offers ample shelf and dresser space instead of hanging storage, which can be a practical choice for those who prefer folding clothes.
Layout allows for easy access from both sides of the bed, improving movement within the space.

Nash 29S Exterior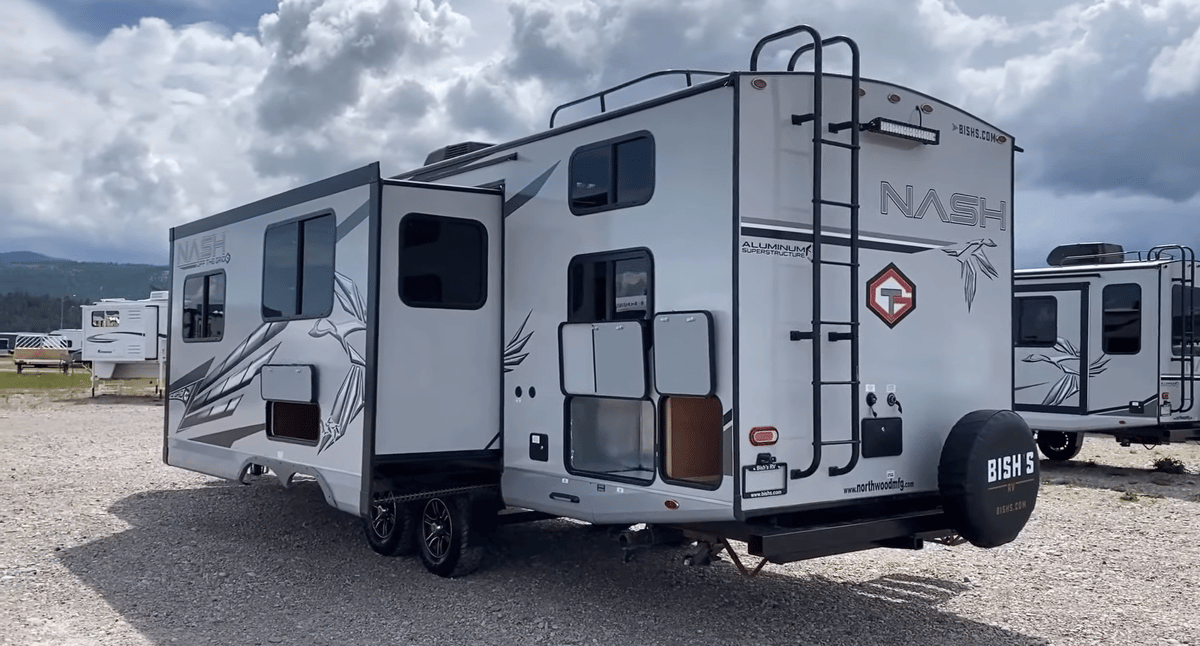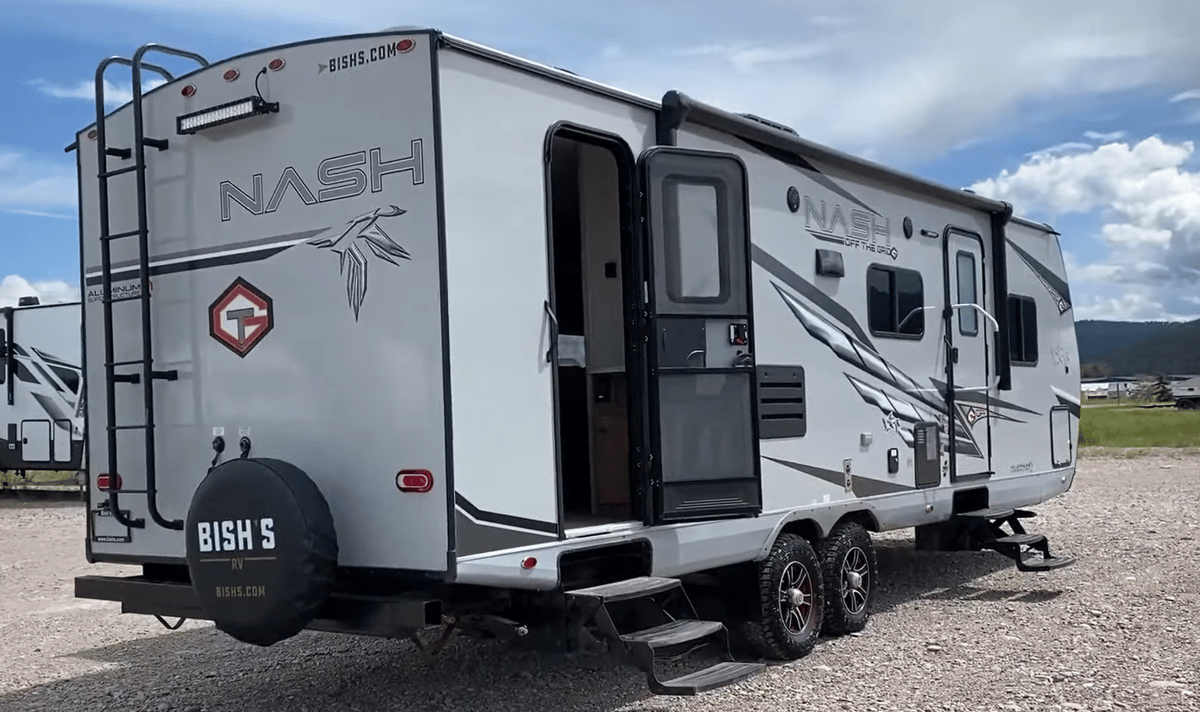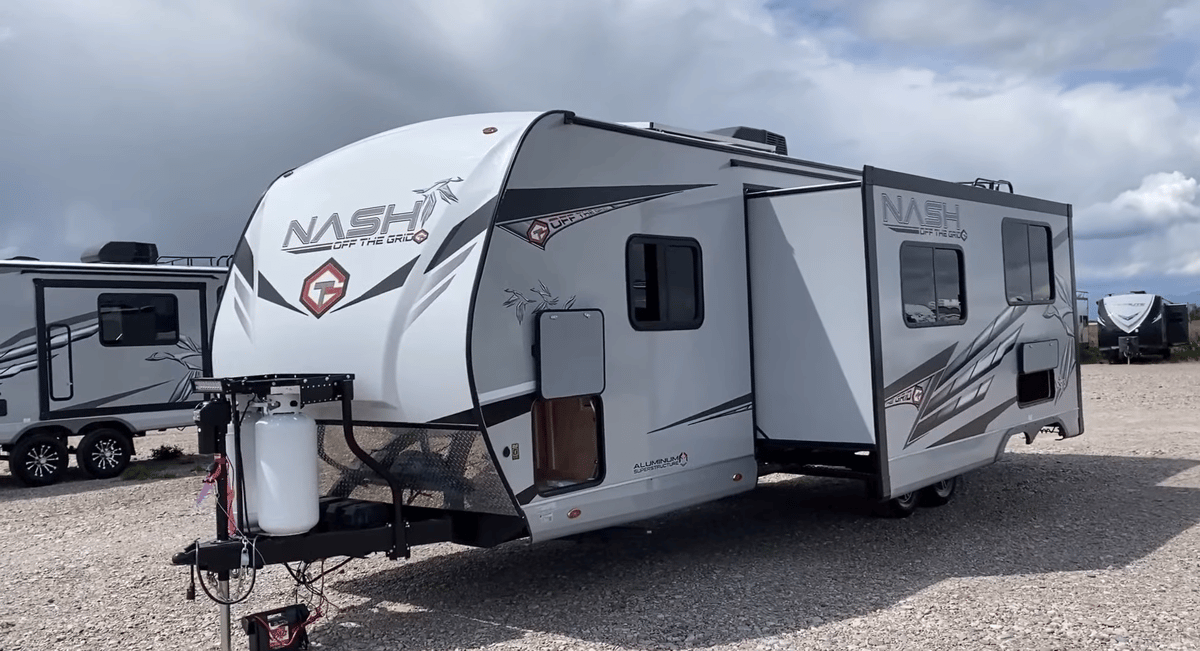 Rugged tires and shock suspension provide the RV with increased off-road capabilities, ideal for adventurous travelers.
The location of the sewer connection, tucked under the RV with good ground clearance, adds convenience and ease of use.
The "Off the Grid" package enhances off-grid capabilities, including features such as light bars, solar prep, and a 45-watt battery tender.
Features ideal for campers seeking self-sufficiency and remote camping experiences.
Nash 29S Road Mode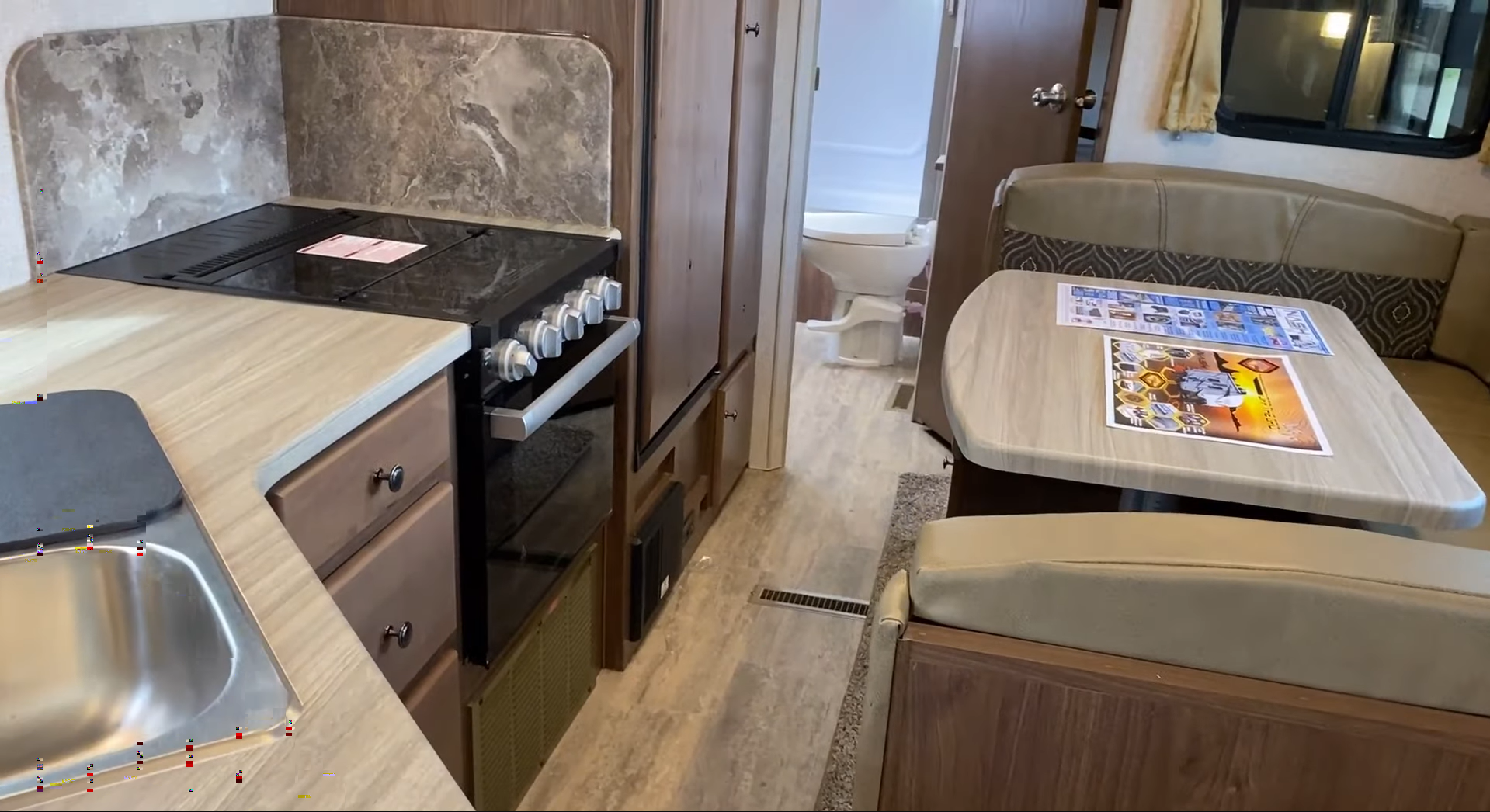 Intelligent ladder placement for bunk access, ensuring safe and convenient entry and exit.
Efficient movement from the front to the back of the RV is facilitated by the well-thought-out layout, allowing travelers to navigate the RV comfortably during travel.
Multiple entry doors provide flexibility for access and exit, reducing congestion during travel.

Nash 29S Pros and Cons
Pros:
Shock assisted suspension package.
Open-feeling vaulted ceiling.
Great travel access.
Prepped for onboard generator.
Thick… everything.
Cons:
Limited bed size.
Lack of hanging storage.
Limited interior privacy.
Potentially inconvenient bunk light placement.
Make the Nash 29S Your Next RV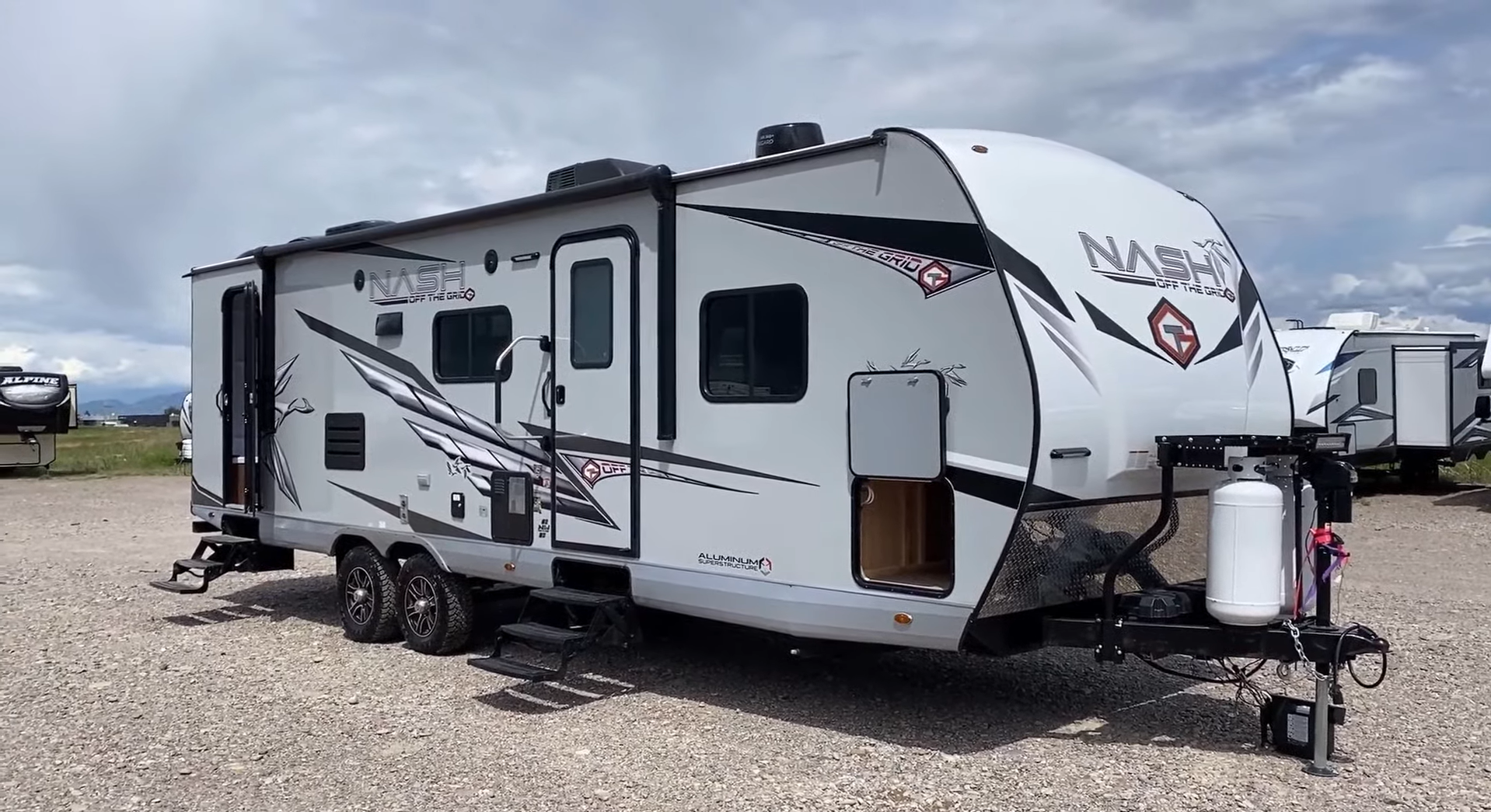 Summing It All Up
The Northwood RV 2023 Nash 29S stands out for its unique design and various features. The focus on durability and efficiency in its construction makes it a great choice for those looking for an affordable mid-sized travel trailer.
40-pound propane tanks, onboard generator accommodations, multiple entrances, and sheer durability and quality make the Northwood 2023 Nash 29S the brick house that it is. Ideal for adventurers seeking an RV that can handle rugged terrain and extended off-grid trips while maintaining a high level of quality and comfort.
If you are interested in owning a Nash 29S for yourself and your family, Bish's RV is here to help. You can pre-order now and lock in special pre-order pricing.