The Entry Time Period Has Ended!
We had almost 1,400 photos submitted into the 2024 Bish's RV Memory Calendar Photo Contest! Thank you to everyone who submitted and we'll be announcing the winners by Friday, November 3, 2023.
If you missed your chance to submit, no worries! We'll be doing another one-of-a-kind calendar for 2025. Watch our social pages next year the contest.



It's been a full season of great camping memories and we want to see them! Share your memories with us by entering our 2024 Bish's RV Memory Calendar Contest!
Bish's RV is all about making memories, and we would love to feature some of our customer's favorite memories in our 2024 calendar. Photos of your favorite memory, adventure, activity, camping spot, camping trip, or even your sweet camping rig are welcome.
Submit your photos through our entry form on this page along with your contact information and where this picture was taken at. We'll be taking submissions until Monday, October 2, 2023, 10:59 p.m. MDT.
The final photos picked will be in the 2024 Bish's RV Memory Calendar, and the winners will receive $75 Visa gift cards along with copies of the 2024 Calendar. If your photo is chosen to be on our front cover, you'll receive a $150 Visa gift card plus copies of the 2024 Calendar! The winners will be announced by Friday, November 3, 2023.
We're excited to see what this camping season has brought you. Happy camping and good luck! 
Read the full rules.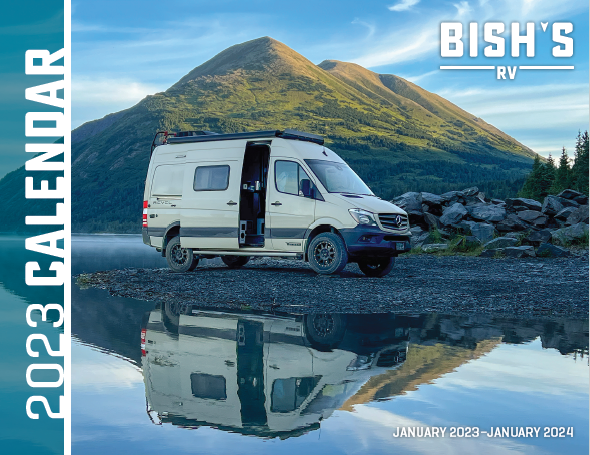 ---
WHAT SIZE SHOULD THE PHOTOS BE?

Our portal will accept photos with sizes up to 50 MB. To be considered for the calendar, photos should be at least 300 PPI in resolution to make sure that they're clear enough to be printed. Usually, this means the photo itself is larger than 1080 x 1920px.

DO MY PHOTOS NEED TO HAVE BEEN TAKEN IN 2023?

Nope! While 2023 photos are always preferred, we won't know if you don't tell us otherwise!

HOW MANY PHOTOS MAY I ENTER?

You're welcome to enter as many photos as you'd like. They will all need to be submitted as separate entries.

WHAT DO I DO IF MY PHOTO IS TOO LARGE TO UPLOAD TO YOUR FORM?

Email your submission to us at contact@bishs.com and include all of the information that you would have included in the form submission.

WHEN IS THE SUBMISSION DEADLINE?

You may submit photos until October 2, 2023, at 10:59 MDT.

HOW MANY WINNERS WILL THERE BE?

A total of 14 winners will be chosen: 13 winners for the monthly categories (1 winner each month from January 2024 to January 2025), and 1 winner will be selected for the front cover.

WHAT ARE THE PRIZES?

The winners featured in the months will receive a $75 Visa gift card. The winner whose photo is chosen for the cover will win a $150 Visa gift card.

WHEN WILL THE WINNERS BE ANNOUNCED?

The 14 winners will be contacted with the information from their entry form by October 20, 2023. The winners will be announced publicly by November 3, 2023.