Seminars With Josh The RV Nerd
Inside the Bish's RV display at the 75th Annual Omaha International Boat Sports & Travel Show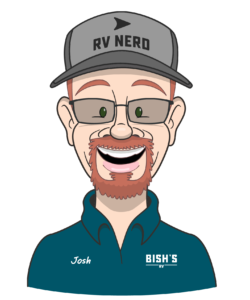 75th Annual Omaha International Boat Sports & Travel Show 
February 23rd to 26th at the CHI Health Center
Bish's RV of Omaha is headed back to the Omaha RV Show with the best deals of the season!
Unlock your RV Show Price on all of our RVs with blowout pricing on all remaining 2022s. We'll also have great financing options available like 90 days no payments on your approved credit. 
Bish's RV is also excited for our resident RV Nerd, Josh, to be presenting seminars within our display focusing on the new Brinkley Model Z fifth wheels on Feb. 24th and 25th. There is no additional charge for these seminars and they are only 30 minutes with a Q&A session after. He'll also be wandering around our booth during the show too. Scroll up to see the seminar schedule.
Come see Bish's RV at the 75th Annual Omaha International Boat Sports & Travel Show from Feb. 23-26 inside CHI Health Center for the best RV Show Season deals! Don't miss it!
SHOP NEW RVS
MSRP:

$30,392

Bish's Discount:

$14,393

Sale Price:

$15,999

MSRP:

$30,392

Bish's Discount:

$14,393

Sale Price:

$15,999

MSRP:

$32,505

Bish's Discount:

$14,506

Sale Price:

$17,999

MSRP:

$32,505

Bish's Discount:

$14,506

Sale Price:

$17,999

MSRP:

$32,505

Bish's Discount:

$14,506

Sale Price:

$17,999

MSRP:

$29,634

Bish's Discount:

$10,639

Sale Price:

$18,995

MSRP:

$31,226

Bish's Discount:

$11,727

Sale Price:

$19,499

MSRP:

$31,226

Bish's Discount:

$11,727

Sale Price:

$19,499

MSRP:

$31,226

Bish's Discount:

$11,727

Sale Price:

$19,499

MSRP:

$31,226

Bish's Discount:

$11,727

Sale Price:

$19,499

MSRP:

$31,226

Bish's Discount:

$11,727

Sale Price:

$19,499

MSRP:

$30,468

Bish's Discount:

$10,469

Sale Price:

$19,999

MSRP:

$34,342

Bish's Discount:

$13,343

Sale Price:

$20,999

MSRP:

$37,900

Bish's Discount:

$15,123

Sale Price:

$22,777

MSRP:

$37,900

Bish's Discount:

$15,123

Sale Price:

$22,777

MSRP:

$37,900

Bish's Discount:

$15,123

Sale Price:

$22,777

MSRP:

$34,522

Bish's Discount:

$11,622

Sale Price:

$22,900

MSRP:

$34,522

Bish's Discount:

$11,622

Sale Price:

$22,900

MSRP:

$38,818

Bish's Discount:

$14,823

Sale Price:

$23,995

MSRP:

$47,328

Bish's Discount:

$22,333

Sale Price:

$24,995

MSRP:

$36,614

Bish's Discount:

$10,624

Sale Price:

$25,990

MSRP:

$32,278

Bish's Discount:

$6,279

Sale Price:

$25,999

MSRP:

$31,341

Bish's Discount:

$5,342

Sale Price:

$25,999

MSRP:

$31,271

Bish's Discount:

$5,272

Sale Price:

$25,999

MSRP:

$32,321

Bish's Discount:

$6,322

Sale Price:

$25,999

MSRP:

$30,991

Bish's Discount:

$3,992

Sale Price:

$26,999

MSRP:

$45,913

Bish's Discount:

$18,002

Sale Price:

$27,911

MSRP:

$30,291

Bish's Discount:

$2,292

Sale Price:

$27,999

MSRP:

$36,561

Bish's Discount:

$7,562

Sale Price:

$28,999

MSRP:

$37,172

Bish's Discount:

$7,173

Sale Price:

$29,999

MSRP:

$37,172

Bish's Discount:

$7,173

Sale Price:

$29,999

MSRP:

$44,487

Bish's Discount:

$13,488

Sale Price:

$30,999

MSRP:

$44,937

Bish's Discount:

$13,938

Sale Price:

$30,999

MSRP:

$47,532

Bish's Discount:

$15,533

Sale Price:

$31,999

MSRP:

$45,501

Bish's Discount:

$13,502

Sale Price:

$31,999

MSRP:

$47,918

Bish's Discount:

$14,919

Sale Price:

$32,999

MSRP:

$47,050

Bish's Discount:

$14,051

Sale Price:

$32,999

MSRP:

$47,918

Bish's Discount:

$14,919

Sale Price:

$32,999

MSRP:

$47,532

Bish's Discount:

$14,533

Sale Price:

$32,999

MSRP:

$50,821

Bish's Discount:

$16,822

Sale Price:

$33,999

MSRP:

$44,637

Bish's Discount:

$9,860

Sale Price:

$34,777

MSRP:

$51,646

Bish's Discount:

$16,647

Sale Price:

$34,999

MSRP:

$47,975

Bish's Discount:

$12,976

Sale Price:

$34,999

MSRP:

$47,696

Bish's Discount:

$12,697

Sale Price:

$34,999

MSRP:

$49,393

Bish's Discount:

$14,394

Sale Price:

$34,999

MSRP:

$46,846

Bish's Discount:

$10,847

Sale Price:

$35,999

MSRP:

$51,288

Bish's Discount:

$14,289

Sale Price:

$36,999

MSRP:

$48,116

Bish's Discount:

$10,117

Sale Price:

$37,999

MSRP:

$59,489

Bish's Discount:

$19,578

Sale Price:

$39,911

MSRP:

$54,881

Bish's Discount:

$14,882

Sale Price:

$39,999
SHOP PRE-OWNED RVS
List Price:

$23,649

Bish's Discount:

$4,650

Our Price:

$18,999

List Price:

$17,042

Bish's Discount:

$6,043

Our Price:

$10,999

List Price:

$19,448

Bish's Discount:

$3,449

Our Price:

$15,999

List Price:

$21,185

Bish's Discount:

$5,186

Our Price:

$15,999

List Price:

$21,349

Bish's Discount:

$4,550

Our Price:

$16,799

List Price:

$21,966

Bish's Discount:

$4,967

Our Price:

$16,999

List Price:

$18,789

Bish's Discount:

$1,790

Our Price:

$16,999

List Price:

$22,364

Bish's Discount:

$4,105

Our Price:

$18,259

List Price:

$21,800

Bish's Discount:

$2,801

Our Price:

$18,999

List Price:

$23,658

Bish's Discount:

$4,659

Our Price:

$18,999

List Price:

$22,620

Bish's Discount:

$3,621

Our Price:

$18,999

List Price:

$23,312

Bish's Discount:

$4,313

Our Price:

$18,999

List Price:

$23,456

Bish's Discount:

$3,735

Our Price:

$19,721

List Price:

$23,456

Bish's Discount:

$3,511

Our Price:

$19,945

List Price:

$24,383

Bish's Discount:

$4,384

Our Price:

$19,999

List Price:

$24,092

Bish's Discount:

$4,093

Our Price:

$19,999

List Price:

$22,125

Bish's Discount:

$2,126

Our Price:

$19,999

List Price:

$25,944

Bish's Discount:

$5,945

Our Price:

$19,999

List Price:

$26,700

Bish's Discount:

$5,450

Our Price:

$21,250

List Price:

$31,984

Bish's Discount:

$9,985

Our Price:

$21,999

List Price:

$29,770

Bish's Discount:

$6,771

Our Price:

$22,999

List Price:

$28,547

Bish's Discount:

$5,548

Our Price:

$22,999

List Price:

$29,430

Bish's Discount:

$5,431

Our Price:

$23,999

List Price:

$32,164

Bish's Discount:

$5,165

Our Price:

$26,999

List Price:

$35,134

Bish's Discount:

$7,135

Our Price:

$27,999

List Price:

$50,051

Bish's Discount:

$20,052

Our Price:

$29,999

List Price:

$31,100

Bish's Discount:

$1,101

Our Price:

$29,999

List Price:

$35,655

Bish's Discount:

$5,656

Our Price:

$29,999

List Price:

$31,400

Bish's Discount:

$1,401

Our Price:

$29,999

List Price:

$41,226

Bish's Discount:

$5,227

Our Price:

$35,999

List Price:

$51,023

Bish's Discount:

$15,024

Our Price:

$35,999

List Price:

$53,200

Bish's Discount:

$13,201

Our Price:

$39,999

List Price:

$55,794

Bish's Discount:

$11,522

Our Price:

$44,272

List Price:

$57,884

Bish's Discount:

$6,122

Our Price:

$51,762

List Price:

$63,132

Bish's Discount:

$7,133

Our Price:

$55,999

List Price:

$15,779

Bish's Discount:

$5,780

Our Price:

$9,999

List Price:

$63,564

Bish's Discount:

$8,565

Our Price:

$54,999

List Price:

$71,269

Bish's Discount:

$5,270

Our Price:

$65,999

List Price:

$98,900

Bish's Discount:

$23,910

Our Price:

$74,990