Jayco Pinnacle
"Designed Around the Most Discretionary of Tastes"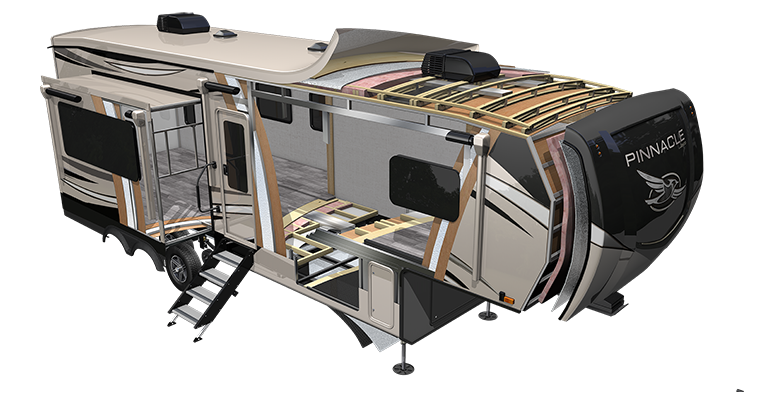 2 Year Hitch-to-Bumper Warranty & 3 year Structural Warranty

Magnum Truss™ Roof System: Able to withstand 4,500 lbs weight capacity

Stronghold VBL™ Vacuum Bond Laminated Gelcoated Fiberglass Walls

American Made Goodyear Tires

Dexter Easy-Lube Axles with Self-Adjusting Brakes

Custom Built 5th Wheel Frame

JayCommand With Tire Pressure Monitoring System

BlackStone 22" Outside Griddles

5/8" Tongue & Groove Plywood Floor - Glued & Screwed
Specifications Comparison
(Swipe Right for More Models)
| | | | | | | | |
| --- | --- | --- | --- | --- | --- | --- | --- |
| Top Features | Jayco Pinnacle | | Keystone Montana | | Grand Design Solitude | | keystone Alpine |
| 5/8" Tongue & Groove Plywood Floor | Standard | | DynaSpan (OSB+) | | DynaSpan (OSB+) | | NO |
| 3/8" Tongue & Groove Plywood Roof | Standard | | NO (OSB) | | NO (OSB) | | NO (OSB) |
| Magnum Truss Roof Assembly Rated Up To 4,500 Pound | Standard | | NO | | NO | | NO |
| Stronghold VBL™ Vacuum Bond Laminated Gelcoated Fiberglass Walls | Standard | | NO | | NO | | NO |
| 2" Tube Steel Welded Across I-Beam Frame | Standard | | NO | | NO | | NO |
| Extreme Weather Package (120V Tank Heaters/12V Heat Tape - All Tanks) | Standard | | 12V Pads | | 12V Pads | | 12V Pads |
| Galvanized Battery Box With 6 Battery Capacity | Standard | | Plastic - 2 Battery | | Plastic - 2 Battery | | Plastic - 2 Battery |
| Outside Kitchen With Jayport Blackstone Griddle Cooktop | Standard | | NO | | NO | | NO |
| Insignia (Residential 24" Oven With 4 Burner Stove | Standard | | NO | | YES | | NO |
| Pull-Out Countertop Extension With 24" X 24" Butcher Block Top | Standard | | NO | | NO | | NO |
| JayCommand With Tire Pressure Monitoring System (TPMS) | Standard | | NO | | NO | | NO |
| Refrigerator Temperature Sensors Linked To Jaycommand® | Standard | | NO | | NO | | NO |
| Drinking Water System Plumbed Into Residential Refer Ice/Water | Standard | | NO | | NO | | NO |
| | | | | | | | |
What makes the Jayco Pinnacle the top-of-the-line Jayco travel trailer?
Jayco Pinnacle fifth wheels come standard with tons of features you won't find anywhere else. It's easy to understand why Keystone Montana, Grand Design Solitude, and Keystone Alpine RVers are making the switch and moving to Jayco Pinnacles.
A trendsetter in the luxury fifth wheel market, Pinnacle's combination of technology, lavish details, and sharp appearance can't be beaten. Solid hardwood maple cabinetry, larger bathrooms, and extra standard features stand out to even the most discerning RVer. Jayco is constantly innovating and adding new features to their Pinnacle including new the new JayVoice voice command system, which powers lighting, AC, and furnaces, all with the simple command of "Jayco".
Some key Pinnacle construction features include the Climate Shield Package which comes standard with radiant barrier insulation, double layer fiberglass, heated underbelly, 110-volt tank blankets, 12-volt heat tape, and PEX plumbing. These features ensure that the Pinnacle stays cool in the summer and warm in the spring and fall. Jayco has also updated their luxury Pinnacle with some awesome new tech features! JayCommand, is the smartest smart coach in the industry. The Smart RV system will control features like lighting, slide rooms, awnings, HVAC, TPMS, leveling and other functions all from the convenience of a phone!
The Jayco Pinnacle was thoughtfully designed make you feel right at home. You'll will appreciate having access to residential features like washer/dryer prep and entertainment centers with fireplaces throughout the Pinnacle floorplans.
With the longest warranty in the industry, you can rest assured that your Jayco is protected against any potential flaws in materials or workmanship thanks to the unbeatable 2-year limited warranty, which covers two camping seasons and 3-years of structural protection. No other manufacturer offers longer, more comprehensive coverage.
Is the Jayco Pinnacle better than the competition?
At Jayco they pack a ton of extra value standard options into their units that other manufactures don't, making the customer's travels more fun, and saving time and money in the long run. Some of these features include:
2+3 year warranty
Warranty for Full Time RV Use
American Made Good Year tires
JayCommand Smart RV system
Magnum Truss Roof System
Custom Frames
Stronghold VBL Laminated Walls
JaySMART Lighting
Durable Plywood Construction
Pmax 500 Slide Floors
Galvanized Steel Wheel Wells
Dual 15K Whisper Quiet A/C
JayPort System
Heavy Duty 75 lb. Full Ext Drawer guides
Additionally, no one in the market offers a 5 star handling package standard like Jayco does. This package includes 87 MPH rated Goodyear tires, Dexter Axles and heavy-duty shackles, MORryde Pin Box and LRE3000 Suspension.
Why Bish's RV?
You can shop online at bishs.com, video chat with a Bish's RV Outfitter, and take care of all paperwork online. Plus, we offer free home delivery within 50 miles of our dealerships.
Purchase with Confidence- We offer a "No Regrets 72-Hour RV Return Guarantee" If for ANY reason you're not satisfied with your RV purchase, we'll refund or exchange it within 72 hours after purchasing it—no questions asked!
We carry better RV products than the competitors and always at the best price! Without charging Hidden Fees.
The price we quote you includes all fees, so there are no surprises when you sign your purchase
More Frequently Asked Questions:
What's the difference between the Jayco Pinnacle and North Point?
Jayco North Point and Pinnacle construction and floor plans are similar, but what sets the Pinnacle apart from the North Point is 102-inch-wide body on the Pinnacle and a 96-inch-wide standard body on the North Point. North Points ride on a CRE (Compression, Rubber, Equalization) 3,000 (3 inches of vertical wheel travel variance) suspension system, whereas a Pinnacle rides on a CRE 4,000. Additionally, Pinnacle's have 3 different exterior paint packages while the North Point only has 1. To find more differences between the two, check out our friend Josh the RV Nerd's video comparing North Point and Pinnacle.
Is Jayco a good RV?
Better than good, Jayco RVs are backed by more than fifty years of research and design.
Jayco invests in its product and research, with the industry's largest team of engineers, Jayco's experts tirelessly examine and improve existing and new features before integrating them into current or future models. Even relatively common changes go through rigorous testing, so you can rest assured you're investing in a top-quality product.
What is a good Warranty for an RV?
Jayco's industry leading 2+3 Warranty covers you and your RV longer than the competition. Jayco can offer a longer warranty because their products are well engineered and rigorously tested before being designed and implemented. An extra-long warranty also means that Jayco is continuously collecting data allowing them to be more aware of potential issues, or feature improvements.
Featured RV Inventory
No Payments for 90 days *AOC

MSRP:

$150,306

Bish's Discount:

$66,315

Sale Price:

$83,991

No Payments for 90 days *AOC

MSRP:

$152,931

Bish's Discount:

$68,940

Sale Price:

$83,991

MSRP:

$148,940

Bish's Discount:

$48,945

Sale Price:

$99,995

MSRP:

$146,254

Bish's Discount:

$41,262

Sale Price:

$104,992
Shop All Inventory