Jayco Jay Flight
"The Perfect Mix of Lightweight and Luxury"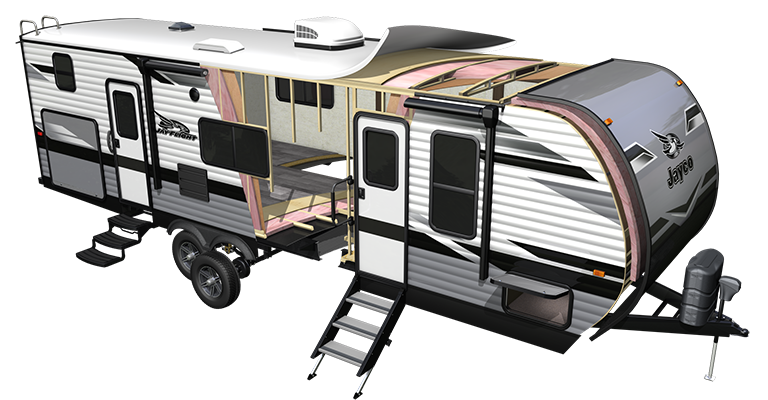 2 Year Hitch-to-Bumper Warranty & 3 year Structural Warranty

American Made Goodyear Tires

JaySMART Exterior Lighting with Side Camera Prep

Magnum Truss™ Roof System: Able to withstand 4,500 lbs weight capacity

Custom Designed I-Beam Frame with Integrated A-Frame

Plywood Single Bunks Rated At 300Lbs & Double Bunks Rated At 600Lbs

5/8" Tongue & Groove Plywood Floor - Glued & Screwed

Screwed Lumbercore Cabinet Framing

Easy-Lube Axles with Self-Adjusting Brakes

Dual 30Lb LP Bottles With Cover
Specifications Comparison
(Swipe Right for More Models)
| | | | | | | | | | |
| --- | --- | --- | --- | --- | --- | --- | --- | --- | --- |
| Top features | Jayco Jay Flight | | Forest River Wolf Pup | | Keystone Hideout | | Forest River Salem | | Grand Design Transcend |
| Custom Designed I-Beam Frame With Integrated A-Frame | Standard | | NO | | NO | | NO | | NO |
| Magnum Truss Roof System - 4,500 Lbs. Capacity | Standard | | NO | | NO | | NO | | NO |
| 3/8" Plywood Roof Deck | Standard | | NO | | NO | | NO | | NO |
| American Made Goodyear Tires | Standard | | NO | | NO | | NO | | NO |
| JaySMART Exterior Lighting With Side Camera Prep | Standard | | NO | | NO | | NO | | NO |
| G20 Dark Tint Windows | Standard | | NO | | NO | | NO | | YES |
| 2 30Lb Lp Bottles With Cover (Jay Flight) | Standard | | NO | | NO | | NO | | NO |
| Two Interior Designs - Classic Cottage & Modern Farmhouse | Standard | | NO | | NO | | NO | | NO |
| Keyed-Alike Entry And Baggage Doors | Standard | | NO | | NO | | NO | | NO |
| 4" Bunk Matts - Single Bunks Rated 300 lbs. And Doubles 600 lbs. | Standard | | NO | | NO | | NO | | NO |
| Linoleum Throughout Unit - No Carpet | Standard | | NO | | NO | | NO | | NO |
| Exterior LED Lights | Standard | | NO | | NO | | NO | | NO |
| | | | | | | | | | |
What's the difference between the Jayco Jay Flight and the Jay Flight SLX?
The Jay Flight can be defined as the larger, big brother to the Jay Flight SLX. Both brands are built identically when it comes to superior Jayco construction. The things that do differentiate them though, is their trim. The Jay Flight has extra graphics on the exterior and bigger windows. SLX's have 20-lb. LP whereas the full Jay Flight has 30-lb. LP bottles. Both have Goodyear endurance radial tires rated at 87 MPH with galvanized steel wheel wells and Jay SMART safety lighting systems. However, the full Jay Flight has aluminum rims vs stock rims on the SLX. The SLX has 2 entry steps, and the full Jay Flights have 3 steps. The SLX has fewer windows, some of which do not open, whereas with the full Jay Flight you get more windows, and all open. For more information on the difference, you can visit our friend Josh the RV nerd's video comparing the 2 trims.
Are Jayco Jay Flights good trailers?
Backed by features, unmatchable construction, and numerous floor plans to fit the needs of all customers, the Jay Flight continues to be one of the top selling travel trailers in North America. It's no wonder customers are switching from Forest River's Salem and Wolf Pup, Keystone Hideout, and Grand Design Transcend. The Jay Flight and Jay Flight SLX's integrated A frame are designed and engineered exclusively by Jayco engineers. They decide where they want the cross members and how thick the steel is. Jayco believes that the travel trailer's strength begins with the foundations just like a home. The more intact the frame and chassis area is, the more intact the rest of a unit will be. Once the frame is built, the 5/8 tongue and groove plywood is glued and screwed to the frame, unlike the competitors which staple OSB. Every single unit has fiberglass insulation glued and cut into place so that every nook and cranny is insulated, keeping your unit warm in fall and spring and cool in summer. The thermal packages that come standard on all Jay Flights have an enclosed underbelly which are tucked inside the I-beam, vs the competitors which attach their underbelly on top of the I-beam leaving sagging and giving room for mice, critters, and water to creep inside.
Jay flights also have the strongest mesa crimped metal that avoids warping during extreme temperatures. Most of the competition uses longer weaker metal which is prone to buckling. The Jay Flight also has extra wide corner mold extrusions which ensure the unit is waterproof, most competitors use prefabricated straight pieces and shape it with rubber mallets to save money. Jay Flights also come standard with an outside shower, black tank flush, power awning with LED lights, and roof top solar prep. The construction alone on all Jay Flights makes for the strongest and safest trailer on the market. More exterior features include an electric tongue jack with light, 30lb LP bottles with covers, backup camera prep, and side marker lights.
Why Bish's RV?
You can shop online at bishs.com, video chat with a Bish's RV Outfitter, and take care of all paperwork online. Plus, we offer free home delivery within 50 miles of our dealerships.
Purchase with Confidence- We offer a "No Regrets 72-Hour RV Return Guarantee" If for ANY reason you're not satisfied with your RV purchase, we'll refund or exchange it within 72 hours after purchasing it—no questions asked!
We carry better RV products than the competitors and always at the best price! Without charging Hidden Fees.
The price we quote you includes all fees, so there are no surprises when you sign your purchase
More Frequently Asked Questions:
What is the difference between the Jay Flight SLX 7 and SLX 8?
Focusing on the SLX 7 models:
The SLX 7 has 7-foot-wide construction
All units are less than 10 feet overall in height with the Baja and roof A/C under 10'6'
4" cambered box-tub frame on most models
1-piece seamless flooring
1-piece seamless roof deck
Side mounted A/C – 8,000 BTUs
2 stabilizer jacks with sand pads
3 cubic feet gas/electric refrigerator
Optional fiberglass sidewalls
What does the Jay Flight SLX Baja package include?
The Baja package is a very popular option on the western built units. See features listed below:
SLX 7
30lb propane bottle
Large freshwater tank (20-30 gallon model dependent)
Flipped axle
Enclosed underbelly
Double entrance step
4 stab jacks
Black diamond plate sidewall skirt
SLX 8
2 30-lb propane bottles
16" Good year off-road tires with black rim
Flipped axle
Triple entrance step on select models
What does the Jay Flight SLX Rocky Mountain edition include?
The Rocky Mountain package is available only on the Jay Flight SLX 8. Those options include:
SLX 7
8 cubic feet gas/electric refrigerator
Tile-like backsplash
Sink cover and rolling dryer rack
Decorative slide out room with LED lighting
Pull-out kitchen faucet with sprayer
6-glass gas/electric DSI water heater
Wood framed living room and bedroom windows
2nd fresh water tank making 80 gallons of fresh water capacity
Medicine cabinet in bathroom
Porcelain toilet
Enhance metal exterior
Rear view camera prep
Is Jayco a good RV?
Better than good, Jayco RVs are backed by more than fifty years of research and design.
Jayco invests in its product and research, with the industry's largest team of engineers, Jayco's experts tirelessly examine and improve existing and new features before integrating them into current or future models. Even relatively common changes go through rigorous testing, so you can rest assured you're investing in a top-quality product.
What is a good Warranty for an RV?
Jayco's industry leading 2+3 Warranty covers you and your RV longer than the competition. Jayco can offer a longer warranty because their products are well engineered and rigorously tested before being designed and implemented. An extra-long warranty also means that Jayco is continuously collecting data allowing them to be more aware of potential issues, or feature improvements.
Featured RV Inventory
MSRP:

$33,540

Bish's Discount:

$11,545

Sale Price:

$21,995

MSRP:

$33,649

Bish's Discount:

$11,654

Sale Price:

$21,995

MSRP:

$34,323

Bish's Discount:

$11,336

Sale Price:

$22,987

MSRP:

$36,788

Bish's Discount:

$9,801

Sale Price:

$26,987

MSRP:

$43,475

Bish's Discount:

$14,980

Sale Price:

$28,495

MSRP:

$43,475

Bish's Discount:

$14,980

Sale Price:

$28,495

MSRP:

$39,906

Bish's Discount:

$10,911

Sale Price:

$28,995

Perfect for travel and family fun!

MSRP:

$46,386

Bish's Discount:

$15,391

Sale Price:

$30,995

MSRP:

$44,450

Bish's Discount:

$13,453

Sale Price:

$30,997

MSRP:

$54,970

Bish's Discount:

$21,978

Sale Price:

$32,992

Last one in stock - priced to move!

MSRP:

$63,449

Bish's Discount:

$16,454

Sale Price:

$46,995

MSRP:

$30,392

Bish's Discount:

$14,402

Sale Price:

$15,990

MSRP:

$30,392

Bish's Discount:

$14,402

Sale Price:

$15,990

MSRP:

$30,392

Bish's Discount:

$14,402

Sale Price:

$15,990

MSRP:

$30,392

Bish's Discount:

$14,402

Sale Price:

$15,990

MSRP:

$30,392

Bish's Discount:

$14,402

Sale Price:

$15,990

MSRP:

$30,392

Bish's Discount:

$14,402

Sale Price:

$15,990

MSRP:

$30,392

Bish's Discount:

$14,393

Sale Price:

$15,999

MSRP:

$30,392

Bish's Discount:

$14,393

Sale Price:

$15,999

MSRP:

$30,865

Bish's Discount:

$13,370

Sale Price:

$17,495

MSRP:

$32,505

Bish's Discount:

$14,894

Sale Price:

$17,611

MSRP:

$32,505

Bish's Discount:

$14,894

Sale Price:

$17,611

MSRP:

$31,697

Bish's Discount:

$13,707

Sale Price:

$17,990

MSRP:

$28,501

Bish's Discount:

$10,506

Sale Price:

$17,995

MSRP:

$27,609

Bish's Discount:

$9,614

Sale Price:

$17,995

MSRP:

$29,276

Bish's Discount:

$11,281

Sale Price:

$17,995

MSRP:

$32,505

Bish's Discount:

$14,506

Sale Price:

$17,999

MSRP:

$32,505

Bish's Discount:

$14,506

Sale Price:

$17,999

MSRP:

$32,505

Bish's Discount:

$14,506

Sale Price:

$17,999

MSRP:

$31,226

Bish's Discount:

$13,227

Sale Price:

$17,999

MSRP:

$30,865

Bish's Discount:

$12,370

Sale Price:

$18,495

Easy to tow for family fun!

MSRP:

$31,983

Bish's Discount:

$13,488

Sale Price:

$18,495

MSRP:

$31,983

Bish's Discount:

$13,488

Sale Price:

$18,495

MSRP:

$28,442

Bish's Discount:

$9,665

Sale Price:

$18,777

MSRP:

$29,276

Bish's Discount:

$10,286

Sale Price:

$18,990

MSRP:

$31,104

Bish's Discount:

$12,113

Sale Price:

$18,991

MSRP:

$27,609

Bish's Discount:

$8,614

Sale Price:

$18,995

MSRP:

$31,907

Bish's Discount:

$12,912

Sale Price:

$18,995

MSRP:

$31,697

Bish's Discount:

$12,702

Sale Price:

$18,995

MSRP:

$31,697

Bish's Discount:

$12,702

Sale Price:

$18,995

MSRP:

$31,697

Bish's Discount:

$12,702

Sale Price:

$18,995

MSRP:

$31,697

Bish's Discount:

$12,702

Sale Price:

$18,995

MSRP:

$29,276

Bish's Discount:

$10,281

Sale Price:

$18,995

MSRP:

$29,634

Bish's Discount:

$10,639

Sale Price:

$18,995

MSRP:

$29,485

Bish's Discount:

$10,490

Sale Price:

$18,995

Easy to Tow & Great for Families!

MSRP:

$29,485

Bish's Discount:

$10,490

Sale Price:

$18,995

MSRP:

$31,226

Bish's Discount:

$11,939

Sale Price:

$19,287

MSRP:

$33,401

Bish's Discount:

$13,906

Sale Price:

$19,495

MSRP:

$31,226

Bish's Discount:

$11,727

Sale Price:

$19,499

MSRP:

$31,226

Bish's Discount:

$11,727

Sale Price:

$19,499
Shop All Inventory