Seminars With Josh The RV Nerd
Inside the Bish's RV booth at the 41st Annual Idaho RV SuperShow & Sale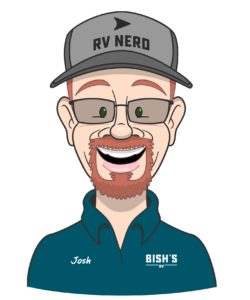 41st Annual Idaho RV SuperShow & Sale
January 12th to 16th at the Idaho RV SuperShow & Sale
Bish's RV of Meridian is headed back to the Boise RV Show with the best deals of the season!
Unlock your RV Show Price on all of our RVs with additional savings on all remaining 2022s. We'll also have great financing options available like 90 days no payments on your approved credit. 
Plus, take advantage of Same-Day Delivery on select RVs. 
Bish's RV is also excited for our resident RV Nerd, Josh, to be presenting seminars within our booth on Jan. 12th, 13th and 14th. There is no additional charge for these seminars and they are only 30 minutes with a Q&A session after. He'll also be wandering around our booth Thursday, Friday, and Saturday. Scroll up to see the seminar schedule.
Come see Bish's RV at the Idaho RV SuperShow & Sale from Jan. 12-16 inside Expo Idaho for the best RV Show Season deals! Don't miss it!
SHOP NEW RVS
MSRP:

$33,649

Bish's Discount:

$11,654

Sale Price:

$21,995

MSRP:

$39,906

Bish's Discount:

$10,911

Sale Price:

$28,995

MSRP:

$70,482

Bish's Discount:

$20,487

Sale Price:

$49,995

MSRP:

$30,865

Bish's Discount:

$13,370

Sale Price:

$17,495

MSRP:

$30,865

Bish's Discount:

$12,370

Sale Price:

$18,495

MSRP:

$31,907

Bish's Discount:

$12,912

Sale Price:

$18,995

MSRP:

$31,697

Bish's Discount:

$12,702

Sale Price:

$18,995

MSRP:

$31,697

Bish's Discount:

$12,702

Sale Price:

$18,995

MSRP:

$31,697

Bish's Discount:

$12,702

Sale Price:

$18,995

MSRP:

$31,697

Bish's Discount:

$12,702

Sale Price:

$18,995

MSRP:

$34,233

Bish's Discount:

$14,238

Sale Price:

$19,995

MSRP:

$34,233

Bish's Discount:

$14,238

Sale Price:

$19,995

MSRP:

$34,233

Bish's Discount:

$14,238

Sale Price:

$19,995

MSRP:

$34,233

Bish's Discount:

$14,238

Sale Price:

$19,995

MSRP:

$34,233

Bish's Discount:

$14,238

Sale Price:

$19,995

MSRP:

$34,233

Bish's Discount:

$14,238

Sale Price:

$19,995

MSRP:

$34,233

Bish's Discount:

$14,238

Sale Price:

$19,995

MSRP:

$34,233

Bish's Discount:

$14,238

Sale Price:

$19,995

MSRP:

$34,233

Bish's Discount:

$14,238

Sale Price:

$19,995

MSRP:

$34,233

Bish's Discount:

$14,238

Sale Price:

$19,995

MSRP:

$34,021

Bish's Discount:

$14,026

Sale Price:

$19,995

MSRP:

$34,021

Bish's Discount:

$14,026

Sale Price:

$19,995

MSRP:

$33,811

Bish's Discount:

$13,816

Sale Price:

$19,995

MSRP:

$33,811

Bish's Discount:

$13,816

Sale Price:

$19,995

MSRP:

$31,598

Bish's Discount:

$11,603

Sale Price:

$19,995

MSRP:

$36,347

Bish's Discount:

$14,352

Sale Price:

$21,995

MSRP:

$36,347

Bish's Discount:

$14,352

Sale Price:

$21,995

MSRP:

$36,347

Bish's Discount:

$14,352

Sale Price:

$21,995

MSRP:

$36,347

Bish's Discount:

$14,352

Sale Price:

$21,995

MSRP:

$33,649

Bish's Discount:

$11,654

Sale Price:

$21,995

MSRP:

$33,649

Bish's Discount:

$11,654

Sale Price:

$21,995

MSRP:

$33,649

Bish's Discount:

$11,654

Sale Price:

$21,995

MSRP:

$33,649

Bish's Discount:

$11,654

Sale Price:

$21,995

MSRP:

$35,589

Bish's Discount:

$12,594

Sale Price:

$22,995

MSRP:

$35,589

Bish's Discount:

$12,594

Sale Price:

$22,995

MSRP:

$35,589

Bish's Discount:

$12,594

Sale Price:

$22,995

MSRP:

$35,589

Bish's Discount:

$12,594

Sale Price:

$22,995

MSRP:

$36,788

Bish's Discount:

$12,793

Sale Price:

$23,995

MSRP:

$36,761

Bish's Discount:

$11,766

Sale Price:

$24,995

MSRP:

$28,151

Bish's Discount:

$3,156

Sale Price:

$24,995

MSRP:

$28,151

Bish's Discount:

$3,156

Sale Price:

$24,995

MSRP:

$28,151

Bish's Discount:

$3,156

Sale Price:

$24,995

MSRP:

$28,151

Bish's Discount:

$3,156

Sale Price:

$24,995

MSRP:

$28,151

Bish's Discount:

$3,156

Sale Price:

$24,995

MSRP:

$38,356

Bish's Discount:

$13,361

Sale Price:

$24,995

MSRP:

$38,973

Bish's Discount:

$13,478

Sale Price:

$25,495

MSRP:

$54,845

Bish's Discount:

$27,934

Sale Price:

$26,911

MSRP:

$40,537

Bish's Discount:

$13,542

Sale Price:

$26,995

MSRP:

$38,843

Bish's Discount:

$11,848

Sale Price:

$26,995

MSRP:

$42,592

Bish's Discount:

$14,597

Sale Price:

$27,995
SHOP PRE-OWNED RVS
List Price:

$15,648

Bish's Discount:

$7,653

Our Price:

$7,995

List Price:

$12,995

Bish's Discount:

$2,000

Our Price:

$10,995

List Price:

$16,995

Bish's Discount:

$4,000

Our Price:

$12,995

List Price:

$17,995

Bish's Discount:

$4,000

Our Price:

$13,995

List Price:

$19,966

Bish's Discount:

$4,071

Our Price:

$15,895

List Price:

$21,568

Bish's Discount:

$5,573

Our Price:

$15,995

List Price:

$18,995

Bish's Discount:

$3,000

Our Price:

$15,995

List Price:

$21,358

Bish's Discount:

$5,117

Our Price:

$16,241

List Price:

$22,918

Bish's Discount:

$6,007

Our Price:

$16,911

List Price:

$19,548

Bish's Discount:

$2,553

Our Price:

$16,995

List Price:

$22,995

Bish's Discount:

$6,000

Our Price:

$16,995

List Price:

$22,548

Bish's Discount:

$5,553

Our Price:

$16,995

List Price:

$27,458

Bish's Discount:

$9,963

Our Price:

$17,495

List Price:

$21,568

Bish's Discount:

$3,573

Our Price:

$17,995

List Price:

$22,995

Bish's Discount:

$5,000

Our Price:

$17,995

List Price:

$257,180

Bish's Discount:

$239,185

Our Price:

$17,995

List Price:

$22,845

Bish's Discount:

$4,626

Our Price:

$18,219

List Price:

$24,589

Bish's Discount:

$6,267

Our Price:

$18,322

List Price:

$37,548

Bish's Discount:

$18,553

Our Price:

$18,995

List Price:

$21,568

Bish's Discount:

$2,573

Our Price:

$18,995

List Price:

$22,995

Bish's Discount:

$4,000

Our Price:

$18,995

List Price:

$22,418

Bish's Discount:

$3,423

Our Price:

$18,995

List Price:

$24,474

Bish's Discount:

$5,479

Our Price:

$18,995

List Price:

$31,548

Bish's Discount:

$12,070

Our Price:

$19,478

List Price:

$28,415

Bish's Discount:

$8,590

Our Price:

$19,825

List Price:

$28,498

Bish's Discount:

$8,566

Our Price:

$19,932

List Price:

$23,917

Bish's Discount:

$3,922

Our Price:

$19,995

List Price:

$27,817

Bish's Discount:

$6,906

Our Price:

$20,911

List Price:

$24,995

Bish's Discount:

$3,758

Our Price:

$21,237

List Price:

$32,654

Bish's Discount:

$10,716

Our Price:

$21,938

List Price:

$29,815

Bish's Discount:

$7,820

Our Price:

$21,995

List Price:

$26,995

Bish's Discount:

$4,459

Our Price:

$22,536

List Price:

$28,995

Bish's Discount:

$6,422

Our Price:

$22,573

List Price:

$27,418

Bish's Discount:

$4,423

Our Price:

$22,995

List Price:

$26,995

Bish's Discount:

$4,000

Our Price:

$22,995

List Price:

$28,995

Bish's Discount:

$5,630

Our Price:

$23,365

List Price:

$26,995

Bish's Discount:

$3,000

Our Price:

$23,995

List Price:

$25,995

Bish's Discount:

$1,347

Our Price:

$24,648

List Price:

$34,658

Bish's Discount:

$9,776

Our Price:

$24,882

List Price:

$36,995

Bish's Discount:

$12,084

Our Price:

$24,911

List Price:

$25,995

Bish's Discount:

$1,000

Our Price:

$24,995

List Price:

$32,587

Bish's Discount:

$7,592

Our Price:

$24,995

List Price:

$31,784

Bish's Discount:

$6,400

Our Price:

$25,384

List Price:

$38,708

Bish's Discount:

$12,713

Our Price:

$25,995

List Price:

$31,995

Bish's Discount:

$6,000

Our Price:

$25,995

List Price:

$29,995

Bish's Discount:

$3,706

Our Price:

$26,289

List Price:

$37,529

Bish's Discount:

$10,534

Our Price:

$26,995

List Price:

$30,995

Bish's Discount:

$4,000

Our Price:

$26,995

List Price:

$32,548

Bish's Discount:

$5,553

Our Price:

$26,995

List Price:

$31,995

Bish's Discount:

$4,000

Our Price:

$27,995