By Aaron Brunson
Small RV, BIG Features: 2024 Wildwood 24VIEW Travel Trailer
Measuring just under 30 feet from tip to tail, but still perfect for various types of travelers—families, couples, solo campers, or even those seeking an unconventional office or craft room on wheels. But here's the real kicker: hidden within this RV is a secret room!
Want to see it? Keep reading or watch the video. Let's go!
Don't want to wait? Checkout similar Wildwood Models 👇
Table of Contents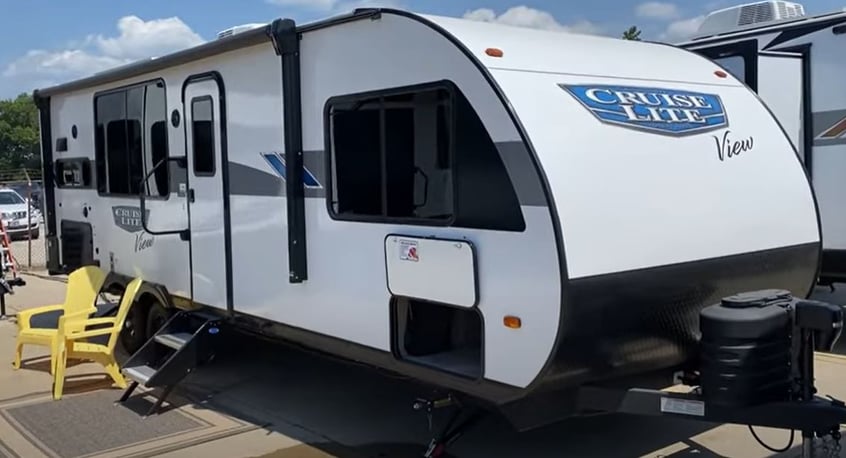 The Unique View Series Approach
Now, let's get right into what sets this RV apart from the rest. For ages, people have been yearning for RV windows on the camping side, instead of staring at the uninspiring neighbor's RV. Well, Forest River heard the call and designed this RV series with an incredible amount of window coverage. In fact, it boasts more square footage of window space than almost anything else out there, even rivaling some big fifth wheels. But that's not all—there's an astonishing 17 linear feet of kitchen countertop space, surpassing many larger RVs. Bear in mind, these are new Forest River Inc. products so a lot of the information on their website will get updated as more of it comes out.
Check out the layout: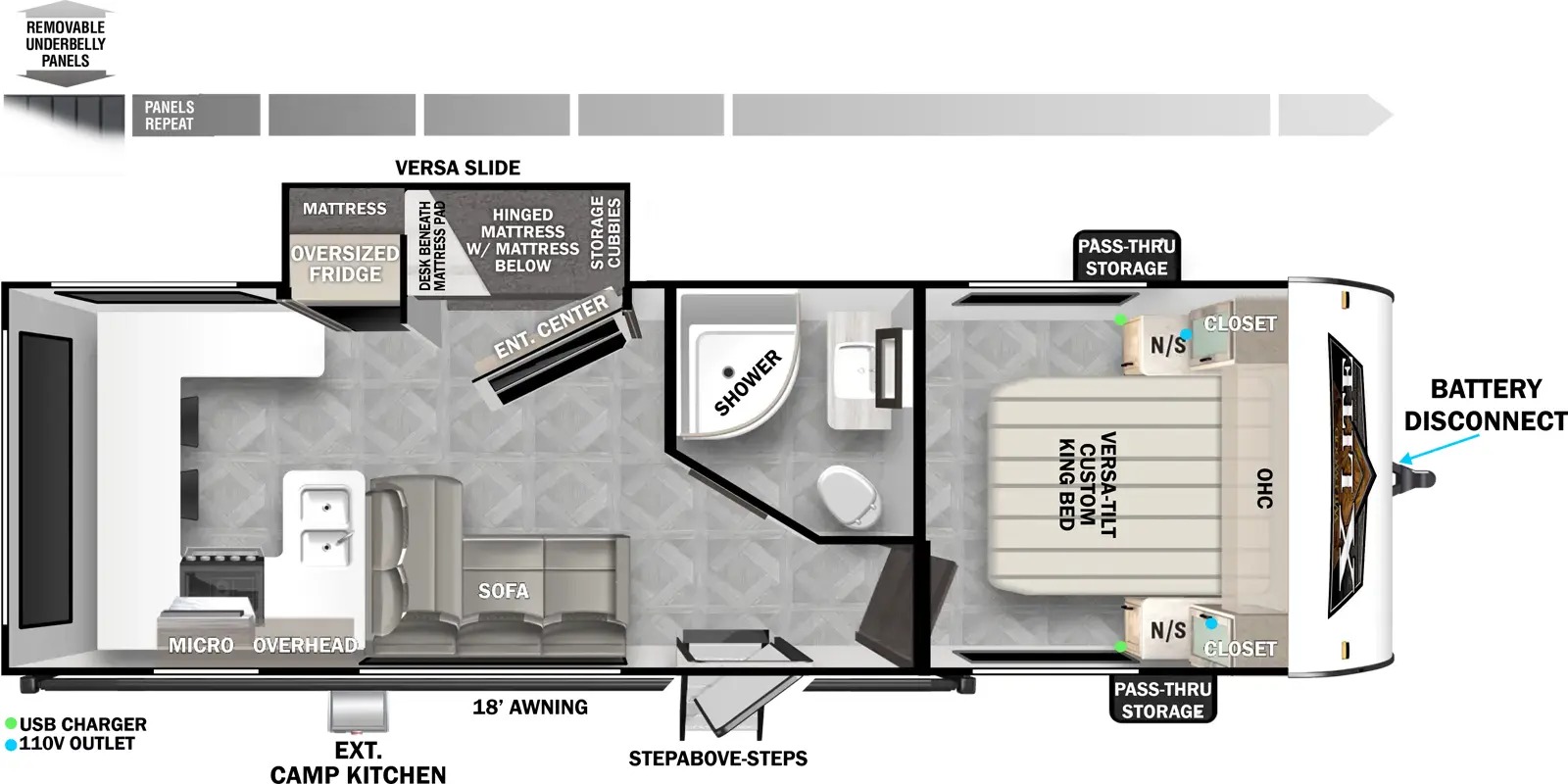 Here's some specs as well: 
| Specification | Wildwood X-Lite 24View |
| --- | --- |
| Hitch Weight (lb.) | 640 |
| UVW (lb.) | 6,158 |
| CCC (lb.) | 1,482 |
| Exterior Length | 29′ 11″ |
| Exterior Height | 10′ 4″ |
| Exterior Width | 96″ |
| Fresh Water (gal.) | 44 |
| Gray Water (gal.) | 60 |
| Black Water (gal.) | 30 |
| Awning Size | 18′ |
A Peek Inside
Now, let's take a closer look inside this compact wonder. At first glance, it may seem like your typical bunkhouse, but remember, this is a first-run prototype with some unique features. While the bunks are perfect for the kids, Salem and Wildwood have plans to make them versatile—flipping open for storage, a craft room, or even an office.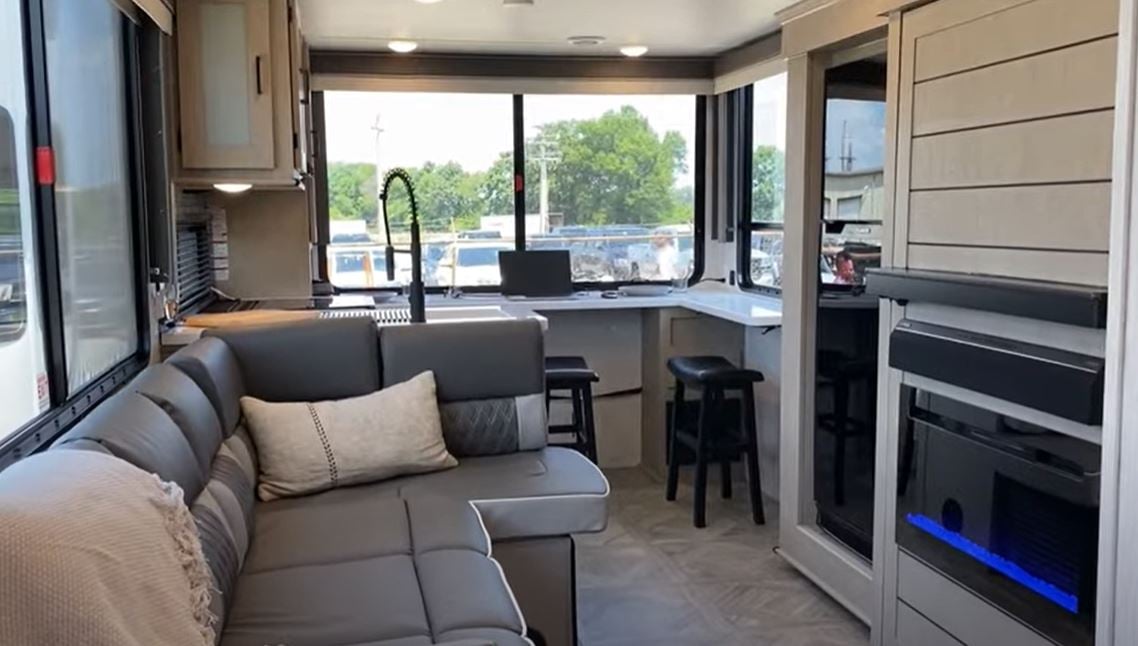 Here's where things get exciting! Behind the entertainment center's slide, hidden away, is a room that you might not even notice at first. By default, it's set up with bunks, but the possibilities are endless. Whether you need storage, a workspace, or simply a cozy nook for reading, this hidden room has you covered.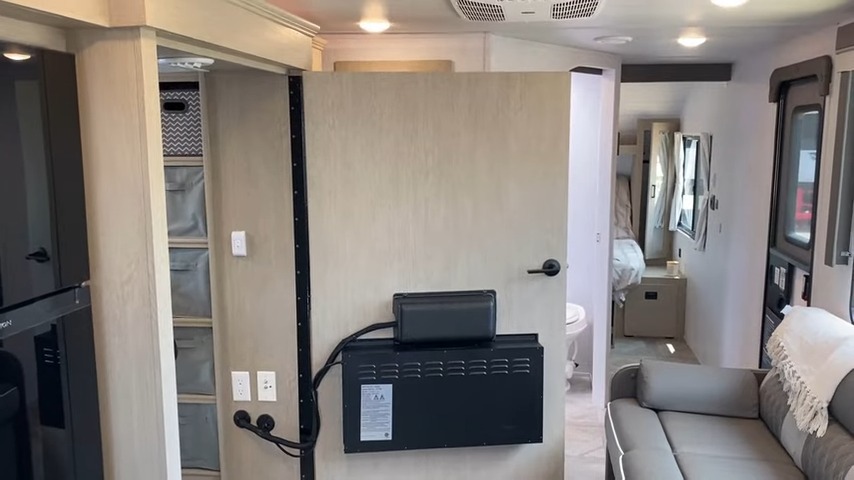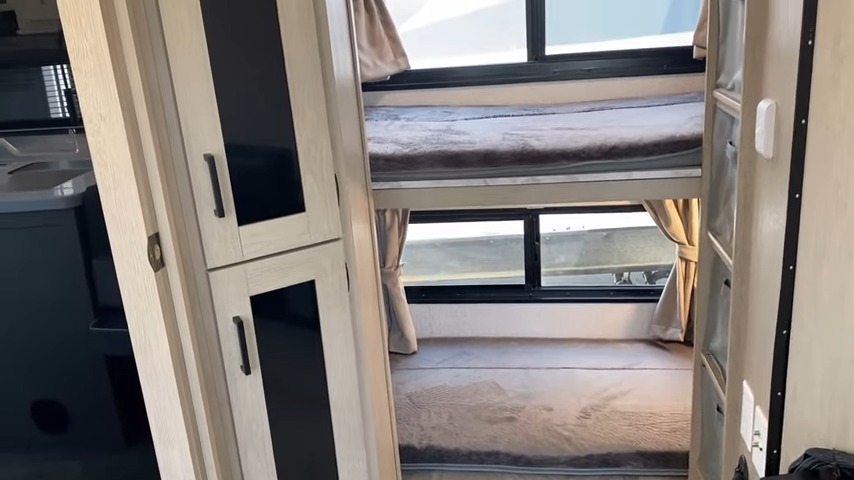 A Clever Kitchen
Can we just talk about that counter space?! So much more room for activities! If you wanted to work out in the great outdoors (why would you though?) you totally could!
It also helps a ton with food prep. We'll talk about something on the outside that is a game changer as well here shortly!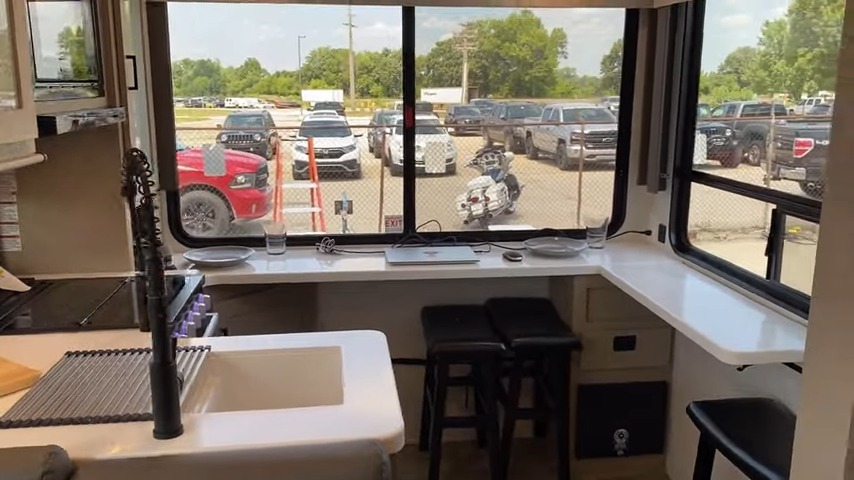 Keeping Cool in Style
While those massive windows are fantastic, they do present a challenge: keeping the RV cool in the summer. Salem and Wildwood counter this with central air, and you can even upgrade to a 15,000 BTU unit. The window coverage is astounding, but it's possible because of the non-laminated construction.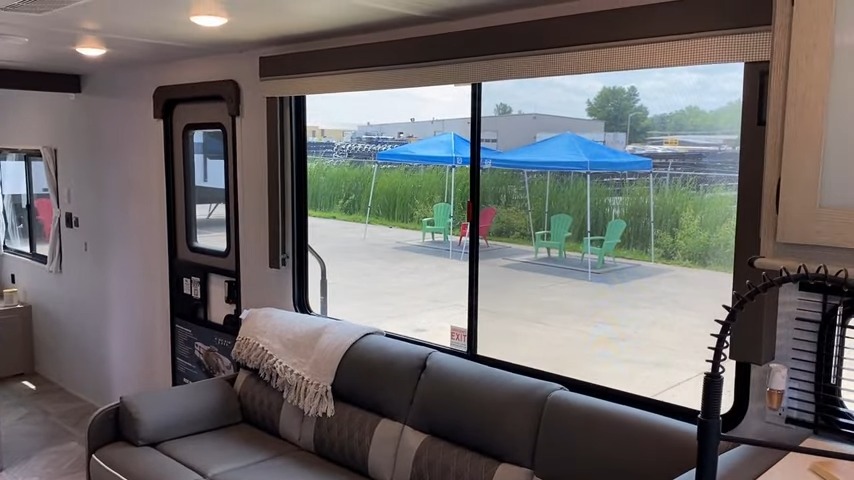 Multi-Purpose RV Living
This RV series is all about versatility. With the kitchen counter folding down and the fridge moving out of the way, you can have a spacious area for various uses—dining, pet spaces, or even a playpen for the little ones.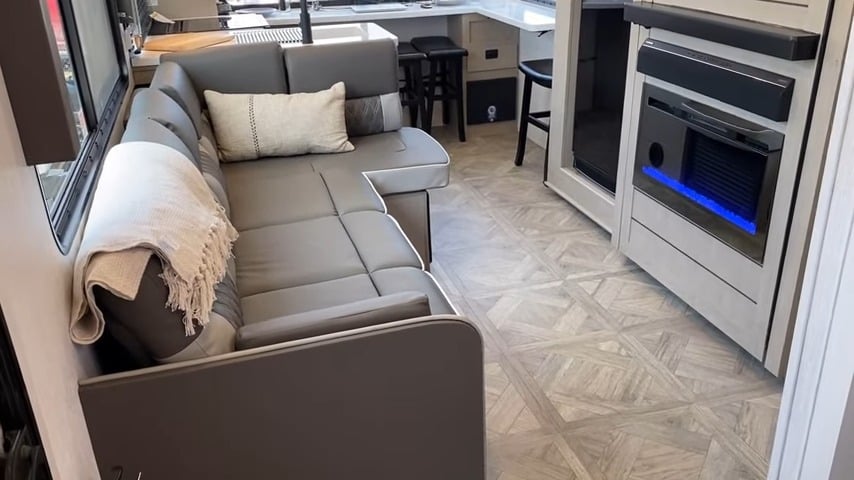 The Bedroom
Moving into the bedroom, you'll find more surprises. The custom king bed on a power actuator offers comfort and convenience. The wardrobe and hanging storage are thoughtful additions, and those camp-side windows continue here. The bedroom doesn't skimp on storage. There's hanging wardrobe space on both sides, along with a laundry hamper for your convenience. The bed lifts for extra storage, but be careful with heavy mattresses.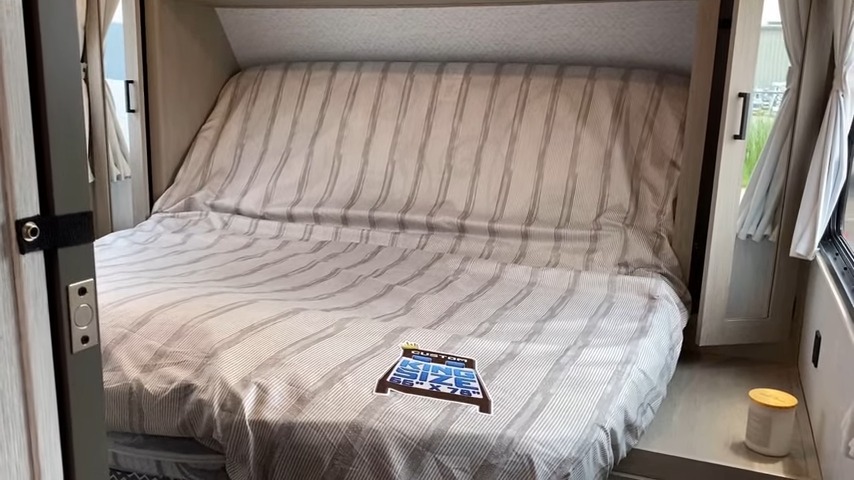 Practical Bathroom Considerations
The bathroom might feel a tad cozy, especially for lefties, but it's functional. It could use a bit more storage, but it gets the job done. Taller folks, beware—the skylight might get a bit too close for comfort.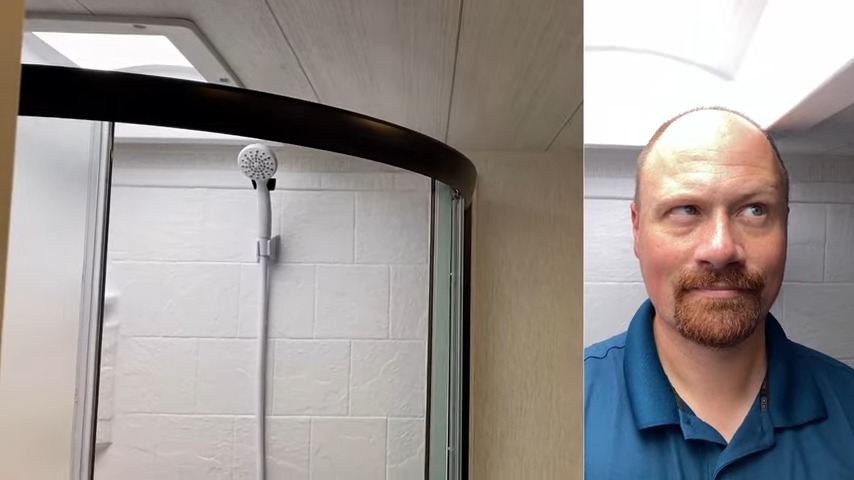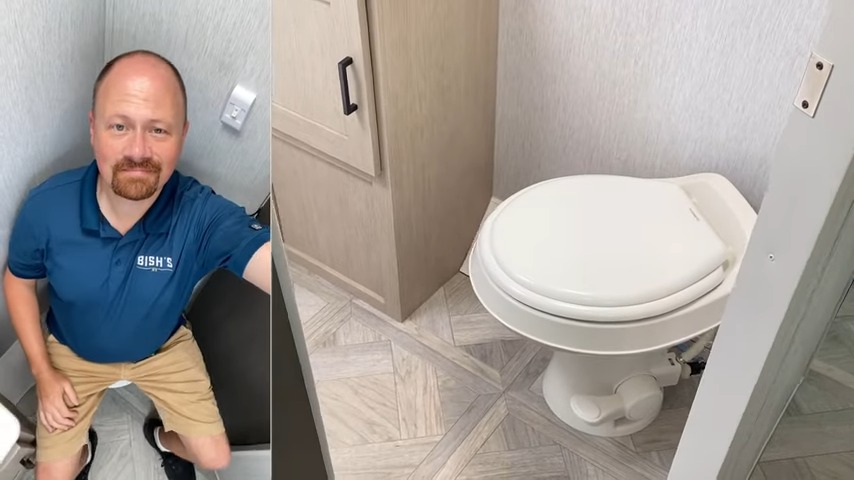 For those moments when you need your own space, a sliding door separates the bedroom from the living area. Plus, it's not just about the room but the little details, like dimmable lights for a cozy atmosphere.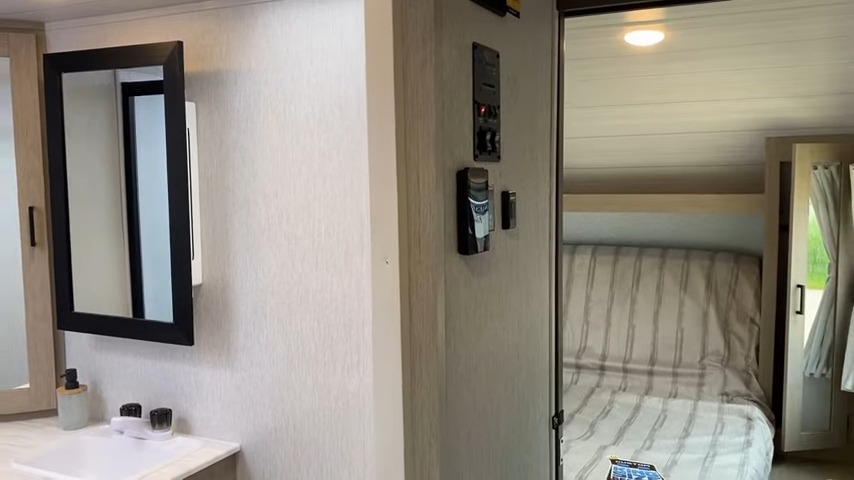 Practicality Outside
Stepping outside, the RV impresses yet again. The pass-through compartment offers plenty of storage. With a laundry hamper and mechanical components neatly tucked away, the exterior is as functional as the interior.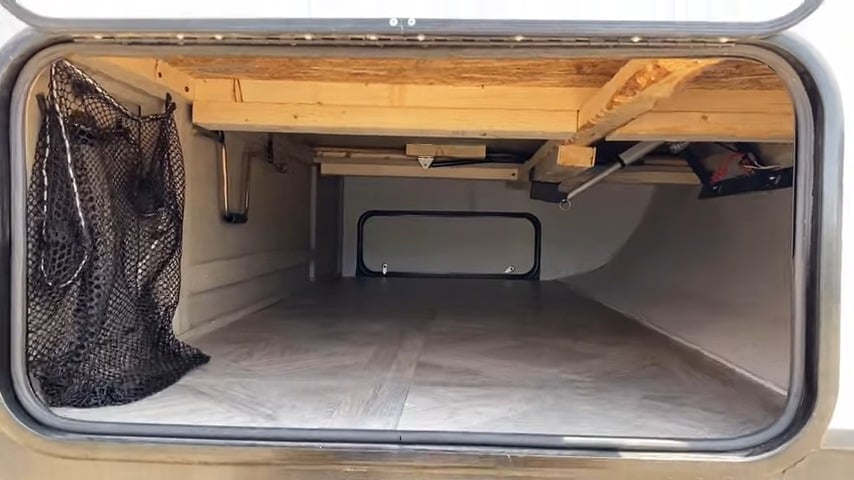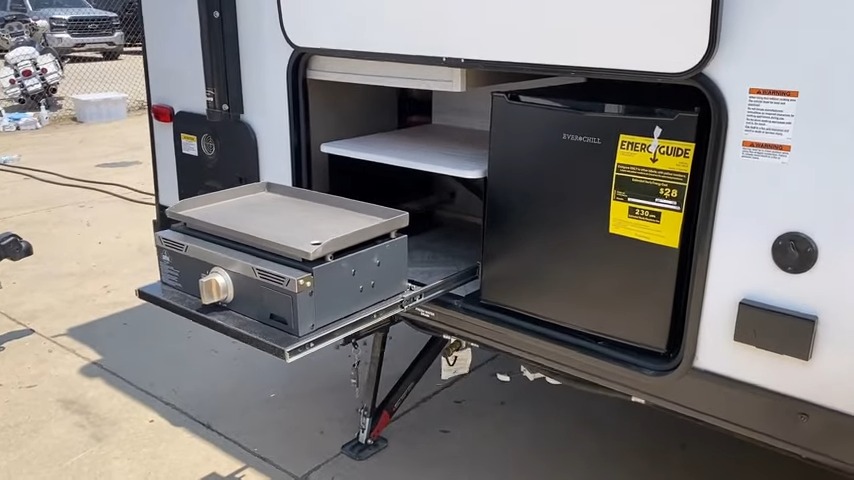 The optional 200-watt solar package ensures you're powered up wherever you roam. And with the fiberglass exterior, the Salem and Wildwood are polished up this RV to be a real beauty.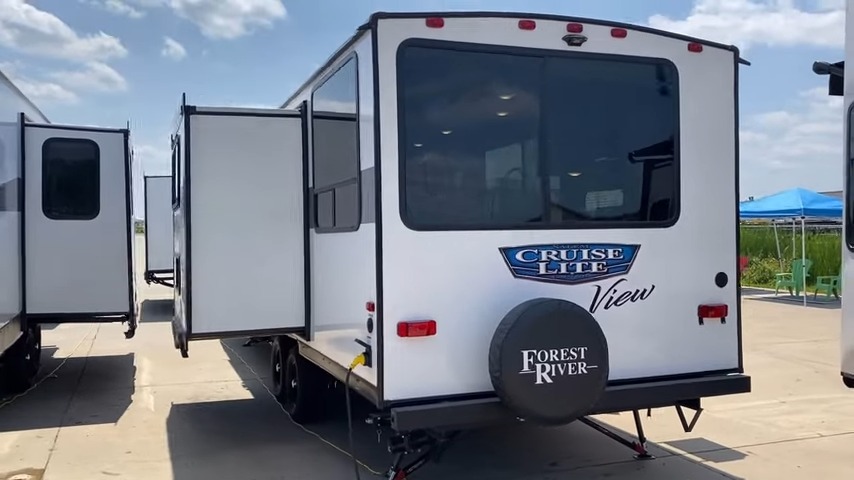 A Potential Bummer
Now, let's address a potential downside. This RV has two sewer connections—one for the bathroom and one for the kitchen. It's something to consider, especially if you prefer a single sewer connection. If that's a big deal for you, this might be a no-go, but hey if it's not, at least you know now!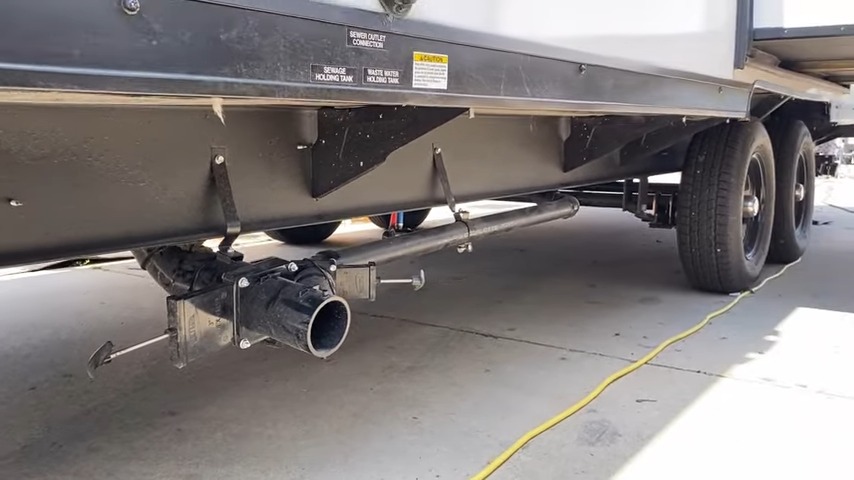 Final Thoughts
This RV series is unique, innovative, and bursting with potential. Salem and Wildwood have taken existing ideas, twisted them around, and created something new, exciting, and functional. However, the proximity of the slide to the kitchen might not be ideal for everyone. Your feedback matters, so let us know what you love, what you could live without, and what you'd change. We hope you're as excited about this new View Series RV as we are!
Remember, we're here to help you embark on your next adventure. So, drop us a line when you're ready to make your RV dreams come true. Until then, take care, stay safe, and happy camping, everyone! 🚐🌲
Reach out below 👇 to learn about this and similar travel trailers