By Braden Price
Josh the RV Nerd from Bish's RV was welcomed to the world of East to West RV to see what is new and upcoming to the East to West 2024 lineup.
This post will briefly follow Josh's observations of each new RV and give a quick description of the features we will be seeing on these new models. Keep in mind that these RVs are not finalized and are subject to change but are likely very close to the final model.
So, buckle up as we look at what the world of RVs has to look forward to from East to West in 2024.
Table of Contents
Della Terra 220RBLE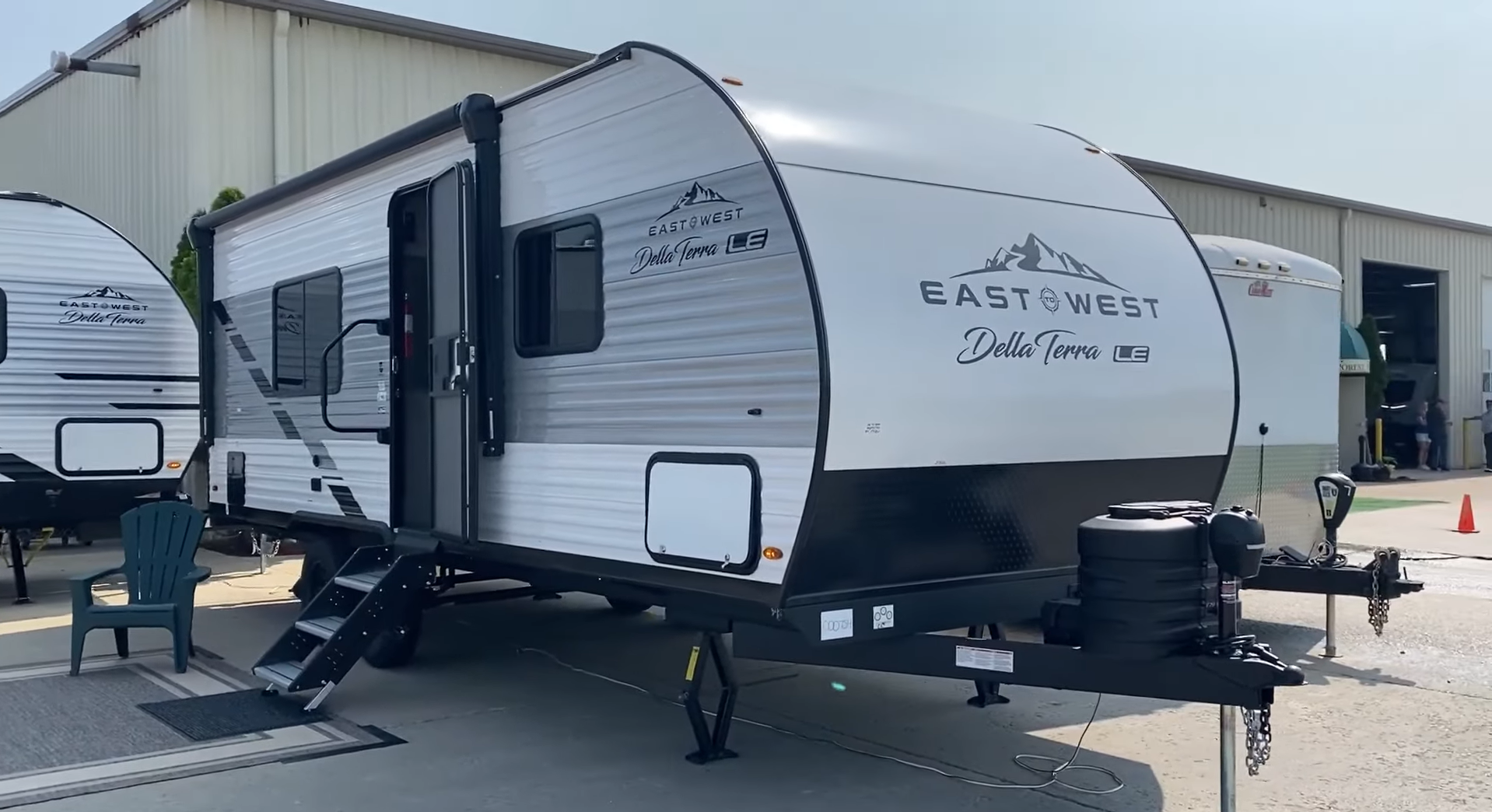 Della Terra, known for its affordability and practicality, continues to impress with the 220RBLE model. This compact, no-slide travel trailer caters to couples seeking simplicity and comfort. The key features in this 2024 model include:
Reinstated Shower Surround: East to West listened to customer feedback and reintroduced the shower surround paneling, enhancing the bathroom's durability and aesthetics.
Centralized Air: Ensuring year-round comfort, centralized air conditioning has also been reinstated, addressing one of the essential everyday needs in an RV.
Bed Space: Della Terra pushes for comfort even more with space for an 80-inch-long bed. Whether you prefer a 72×80 king bed or a 60×80 queen, the 220RBLE has the room.
Competitive Pricing: Della Terra's LE series aims to offer competitive price points, attempting to return to pre-pandemic prices and making RVing more accessible without compromising on quality.
---
Della Terra 300DB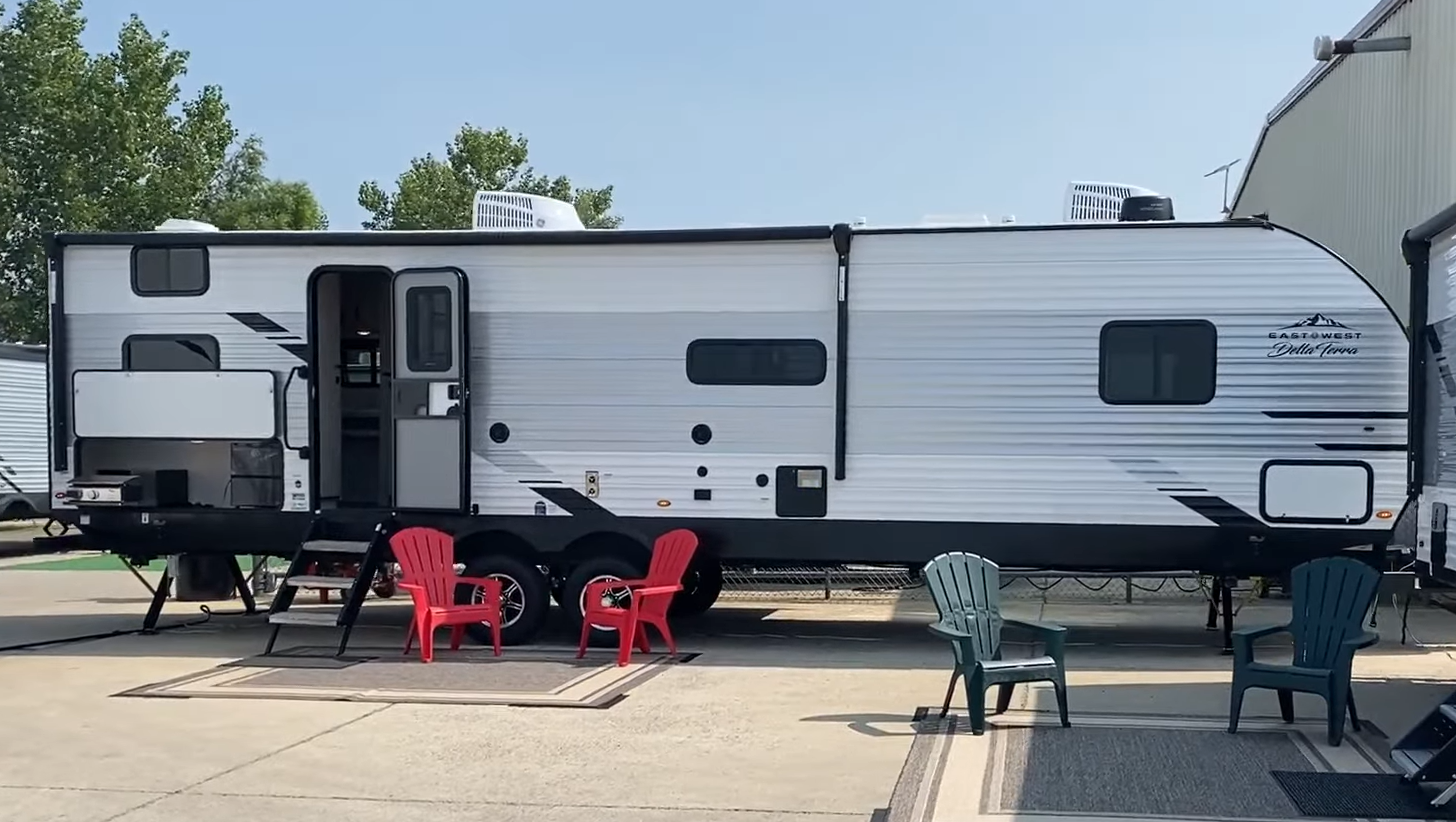 The 300DB model from Della Terra focuses on being family-friendly while still maintaining affordability and comfort through its use of space and features:
Enhanced Features: This model includes power jacks, a full propane oven, a camp kitchen, an enclosed underbelly, and a carpetless and ventless floor, providing a comfortable and functional living space.
Built for the family: The 300DB is a bath-and-a-half, double-over-double bunk model with a private bathroom and sliding privacy door for the bunks themselves, providing personal space for everyone in the family or group.
Spacious Interiors: With its extra tall 6'9″ interior and ample storage, the 2024 Della Terra 300DB offers convenience and comfort for the entire family.
---
Alta 2870KTH Toy Hauler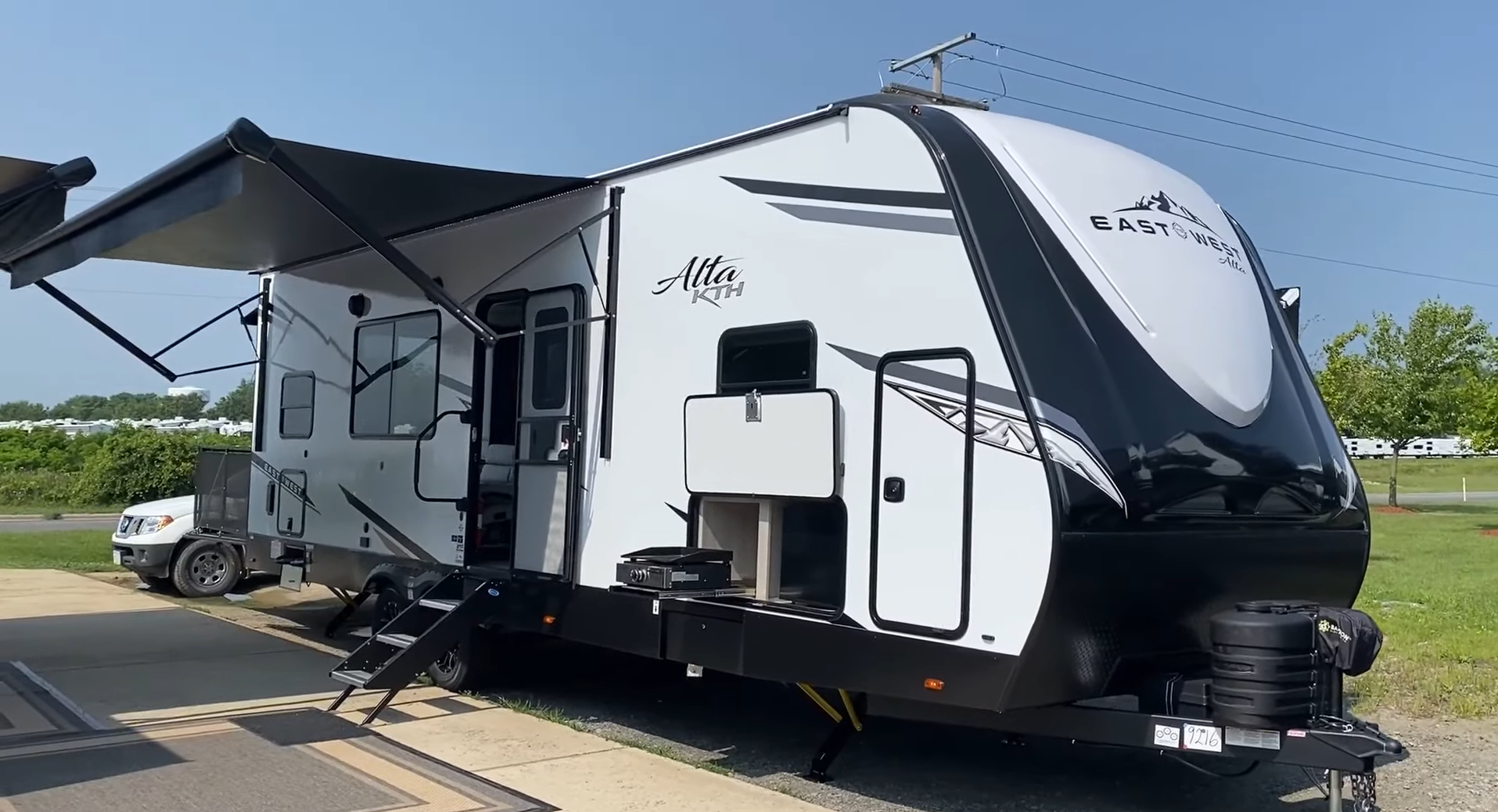 Alta, the shining star of East to West's lineup, continues to impress. The 2024 Alta 2870KTH model is part of the KTH Toy Hauler series and boasts impressive improvements:
On-Board Generators: Alta now offers the capacity for on-board generators, ensuring you have power wherever you go.
Tall Ceilings: With a massive 8.5-foot interior height, tall individuals will have plenty of space, allowing everyone in the 2870KTH to avoid feeling cramped.
Abundant Kitchen Space: The 2870KTH kitchen features extensive counter space and numerous drawers, addressing a common concern in many toy haulers.
---
Alta Xtreme 3100KXT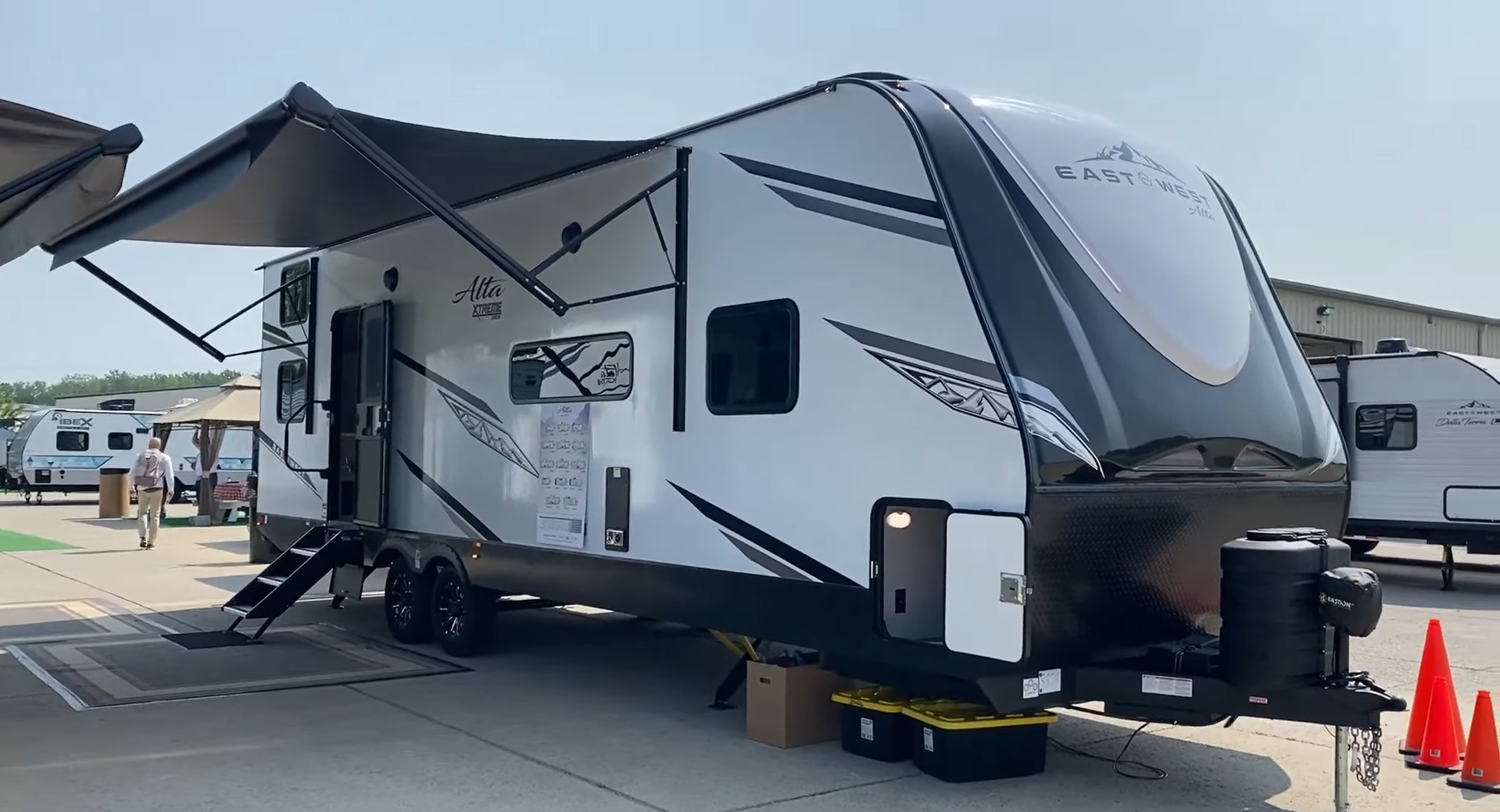 Where other manufacturers are pushing for smaller, cheaper, and lighter, the Alta Xtreme 3100KXT went another direction to build something bigger and cooler than anything before:
Multi-Functional Bunkhouse: The 3100KXT immediately stands out with a double-over-double bunk arrangement that easily converts into an office space without any owner modifications, making this a fantastic trailer for both work and play.
Premium Upgrades: With three-inch walls, an 8-8.5-foot ceiling, an expansive countertop, a 16 cubic foot 20v compressor fridge, and a residential-sized cooktop, the Alta Xtreme caters to those who want the best.
---
Tandara 27BH-OK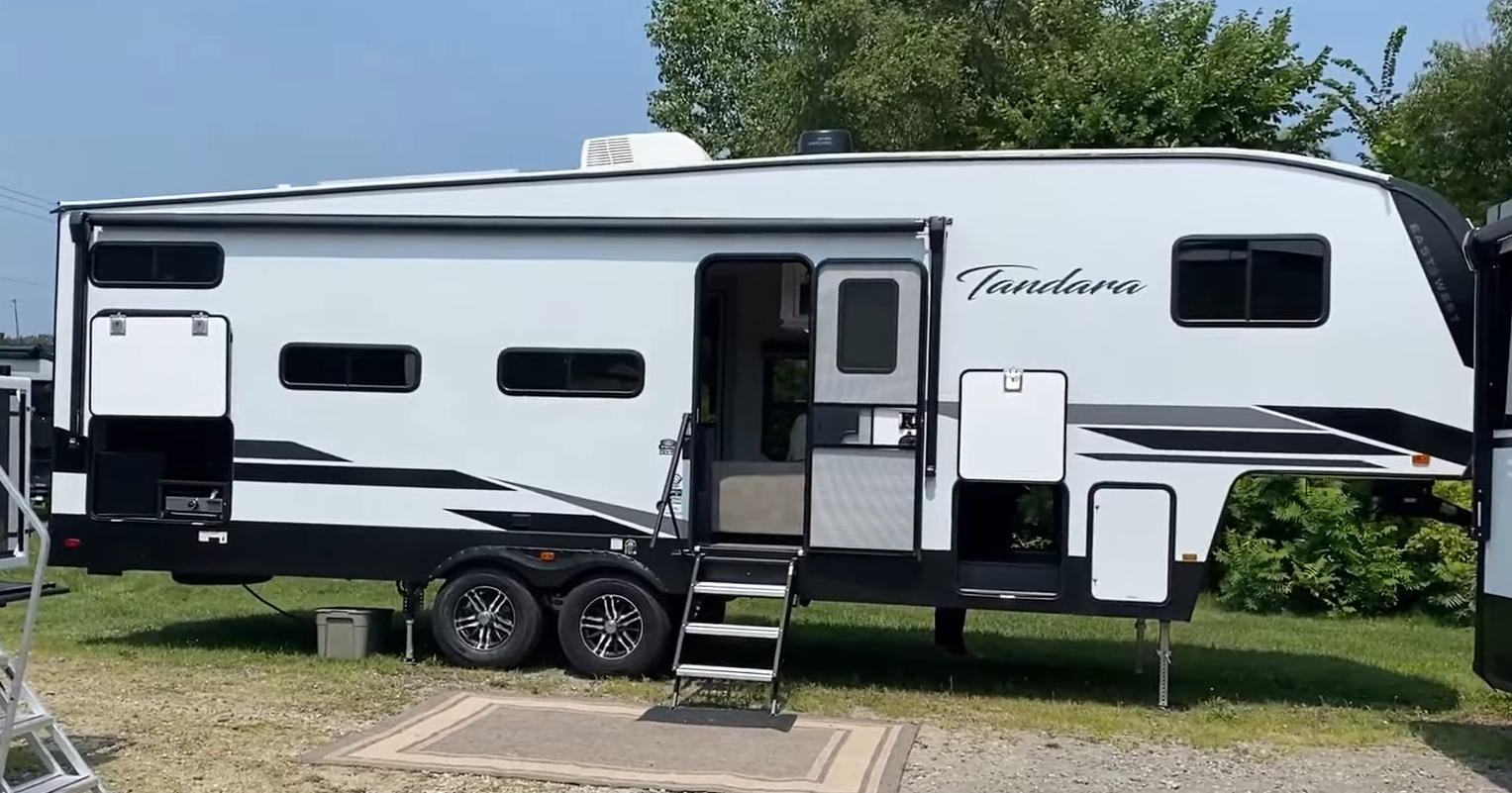 Tandara is one of East to West's fifth wheel series, and it has undergone significant revisions to enhance your camping experience. According to Josh the RV Nerd, we haven't even seen all of the improvements planned, but here is what we know so far:
Goodyear Tires: The 27BH-OK now features Goodyear tires with a MORryde suspension package, assuring safety and reliability on the road.
Improved Features: Improved blackout roller shades provide privacy and better control over lighting. The Tandara 27BH-OK also moved to a larger oven and a residential-sized microwave, upgrading your cooking experience.
Pet-Friendly: With pet-friendly features and better vent fans, Tandara ensures your furry friends are comfortable and your RV is easy to clean.
---
Blackthorn 3101RL-OK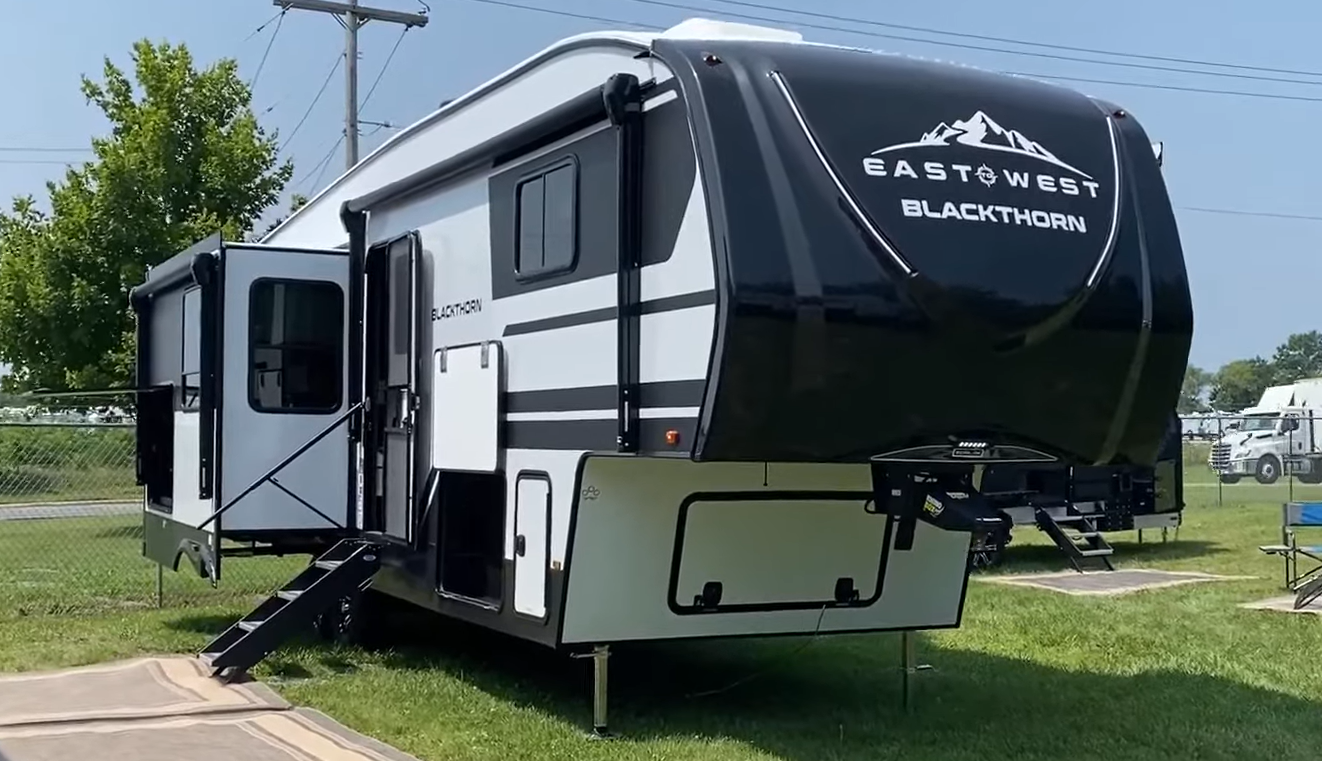 East to West has introduced the Blackthorn Series, an impressive alternative to other fifth-wheel brands, aiming to strike a balance between upscale features and affordability:
Tandara and Beyond: According to Josh the RV Nerd's understanding, the new Blackthorn series will have all of the features of the Tandara, plus a step beyond. Making this series a sort of in-between the Tandara and the Ahara.
Polished Interiors: Blackthorn offers an upscale look and feel with features like a pull-out drawer on the table, a slide-out waste basket, and more residential-sized appliances.
Possible continued upgrades: Josh was told that the series might soon adopt more features like frameless windows that open for improved airflow. Other potential improvements may pop up as well, adding to the overall appeal of the 3101RL-OK and making this a series to keep an eye on.
---
Ahara 325RL Fifth Wheel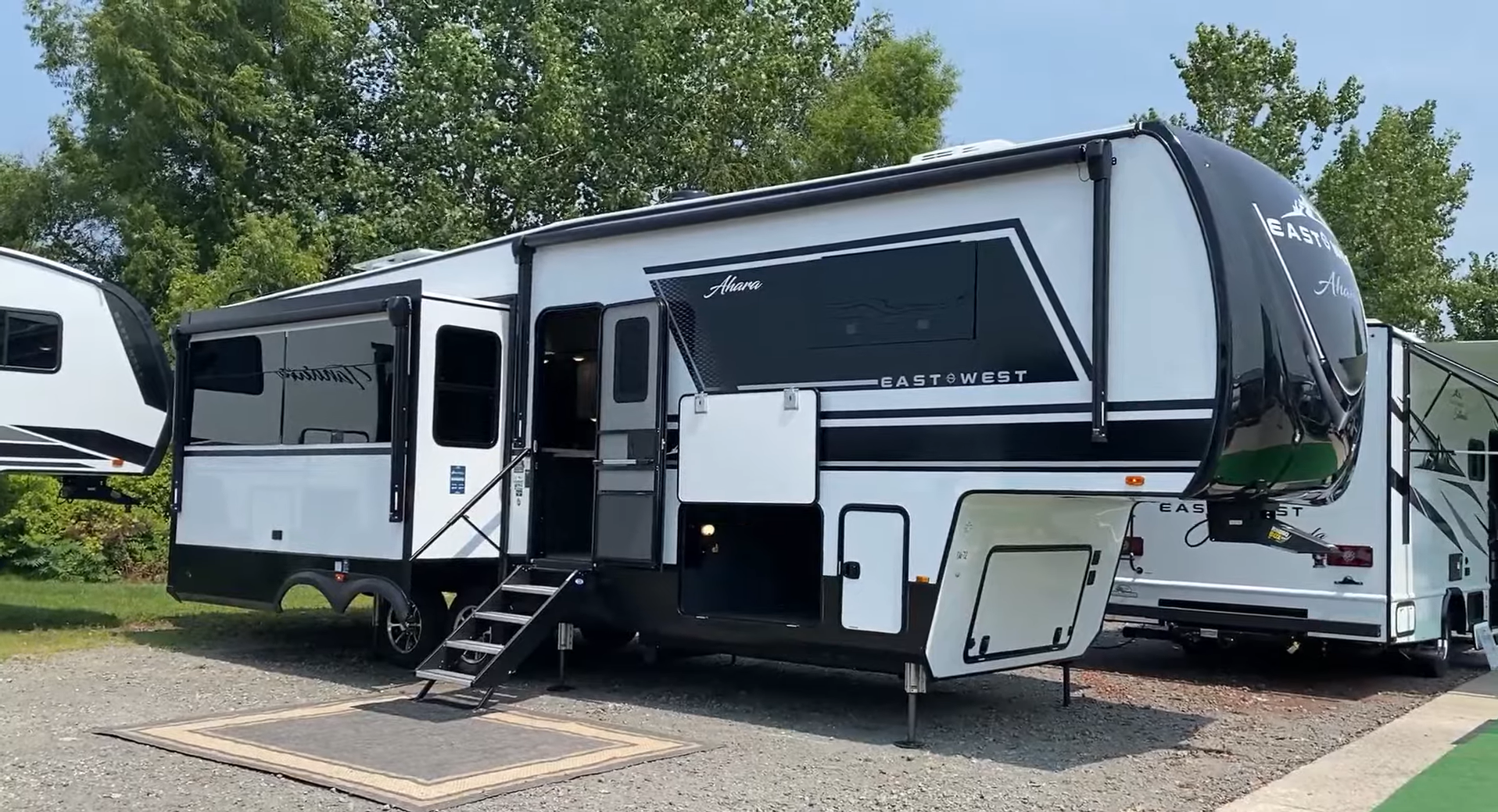 The Ahara fifth wheel series sets a new standard for luxury and comfort in the East to West lineup:
101-Inch-Wide Body: The Ahara boasts a spacious and comfortable interior, providing a more enjoyable living space.
Improved Kitchen: The Ahara features a larger oven and a residential-sized microwave, and even smaller features like a pull-out cutting board and a portable paper towel dispenser, making it feel more like home.
Better Ventilation: With rain sensors, bigger bath fans, and a triple factory air conditioning system Ahara ensures a fresh and pleasant environment.
---
Takoda 350KTH Toy Hauler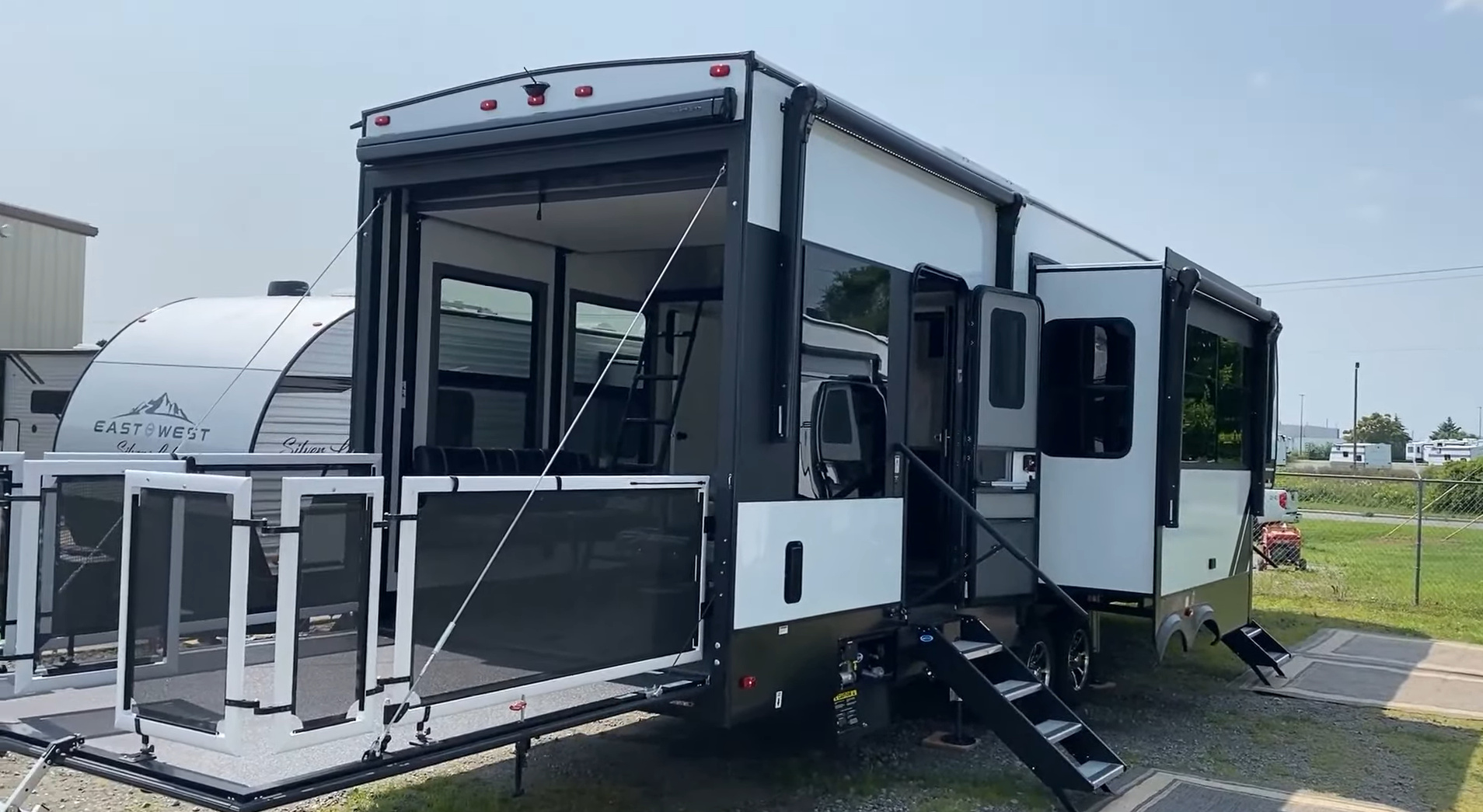 The Takoda 350KTH Toy Hauler takes the amazing features of the Ahara 325RL Fifth Wheel and adds a garage to the back, featuring:
Inverter Generator: Utilizing an NPS inverter generator, this toy hauler ensures you have power on the go.
Quality of Life Improvements: The 350KTH has a remote-start key fob, a pull-start in case of a drained battery, three side power-awnings and a rear power awning, 3-season enclosed doors in the back, a telescopic ladder, and much more.
Cargo Space: The floor design hosts numerous tie-down points, ensuring that you won't run out of space for your gear.
---
Get Your Own East to West RV
East to West RVs have continued to evolve and innovate with their 2024 lineup, and it seems like the improvements aren't done yet. Whether you're looking for an affordable travel trailer, a spacious fifth wheel, or a toy hauler with all the bells and whistles, East to West has something to offer in 2024.
If you're interested in purchasing an East to West RV for yourself or your family, Bish's RV is excited to make that happen for you. Click below to shop East to West's line-up for your very own East to West trailer!