By Jackson Nuttall
The Cherokee division of Forest River has introduced an exceptional RV that defies categorization.
The 2023 Wolf Pack 27Pack10 Bunkhouse Toy Hauler Travel Trailer is a crossover-style floor plan that combines the features of a toy hauler with the convenience of a bunkhouse and a rear patio deck.
Table of Contents – Quick Links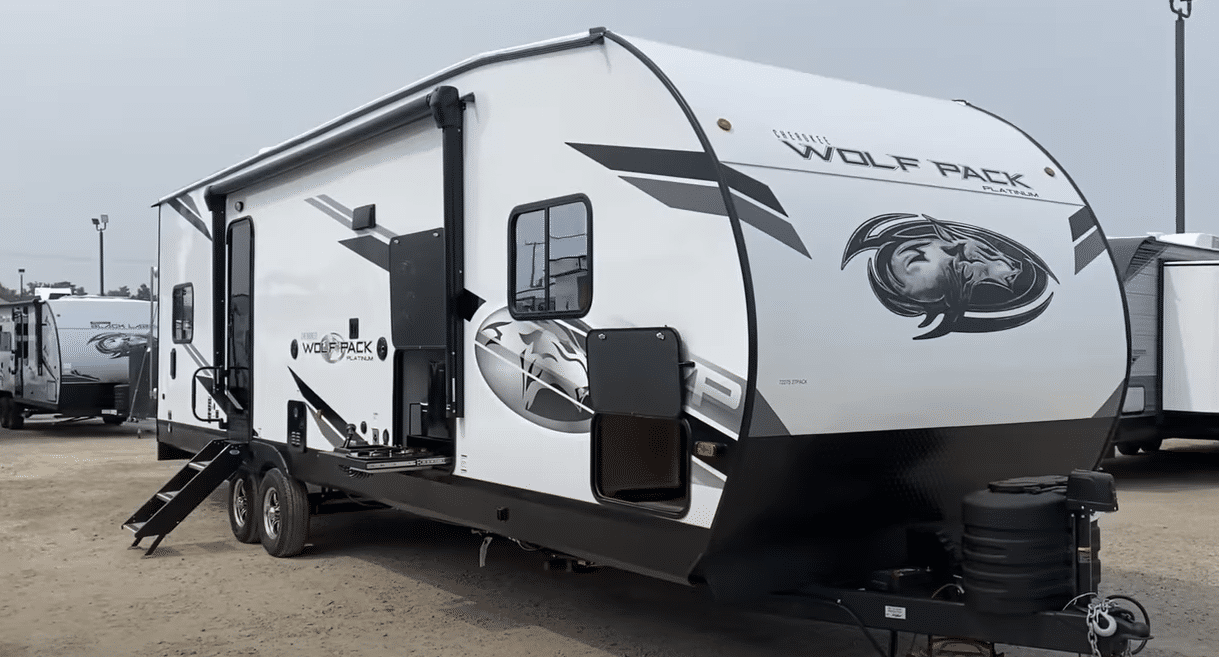 In this article, we'll explore the various aspects of this versatile RV that make it stand out from the crowd.
Features 
Power Lift/Lower Bunks
Spacious Cargo Area
Rear Patio Deck
The Wolf Pack 27Pack10 offers a range of distinctive features that set it apart from other RVs. With its power lift/lower bunks, this RV provides a spacious cargo area that can be utilized for transporting bicycles, kayaks, or other equipment.
Additionally, the rear patio deck adds an extra level of outdoor living space, perfect for relaxing and enjoying the campground scenery.
Flexibility in Usage
While the Wolf Pack 27Pack10 is primarily considered a bunkhouse, its adaptable design allows for multiple usage scenarios. By moving the bunks aside, the RV can be transformed into a comfortable couples' camper with ample cargo space.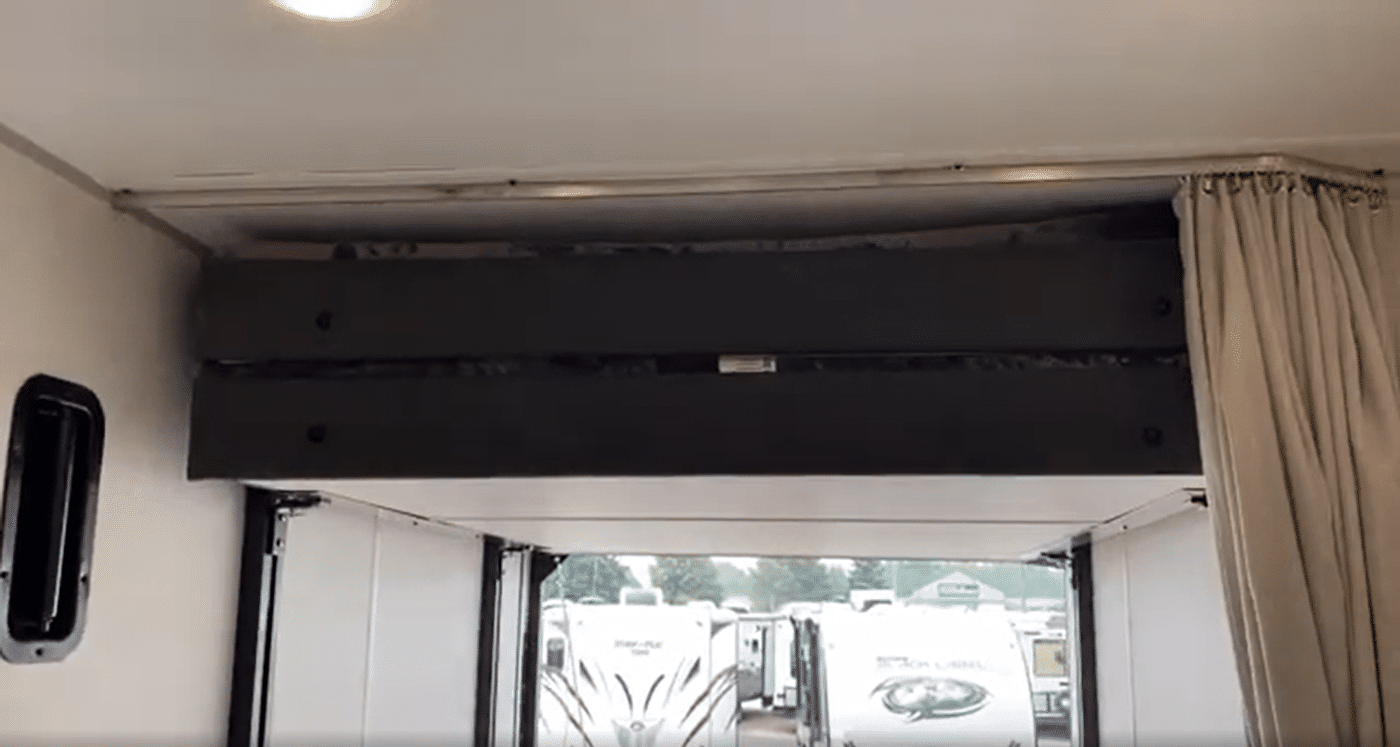 Whether you need to carry bikes, e-bikes, kayaks, or even dog kennels, this RV can accommodate your needs. The power bed lift system makes it easy to convert the cargo area into a spacious patio space, complete with a mini camp convenience center.
Impressive Amenities and Upgrades
Private Front Bedroom
Camp King Bed
Plumbed Outdoor Sink
Power Jacks
Heated Belly
Tank Heaters
Improved Solar Package
Blackout Snap-on Shades
TV Hookups
Prepped for a Four-Camera System
The Wolf Pack 27Pack10 comes equipped with several noteworthy amenities and upgrades. These include a private front bedroom with a unique Camp King bed, a plumbed outdoor sink, power jacks, a closed heated belly, tank heaters, and an improved solar package.
The RV also features blackout snap-on shades for added privacy and protection, along with TV hookups and prepping for a four-camera system.
Functional Living Space
The living area of the Wolf Pack 27Pack10 offers a traditional travel trailer layout. It features a jackknife sofa, optional theater seating, and entertainment options.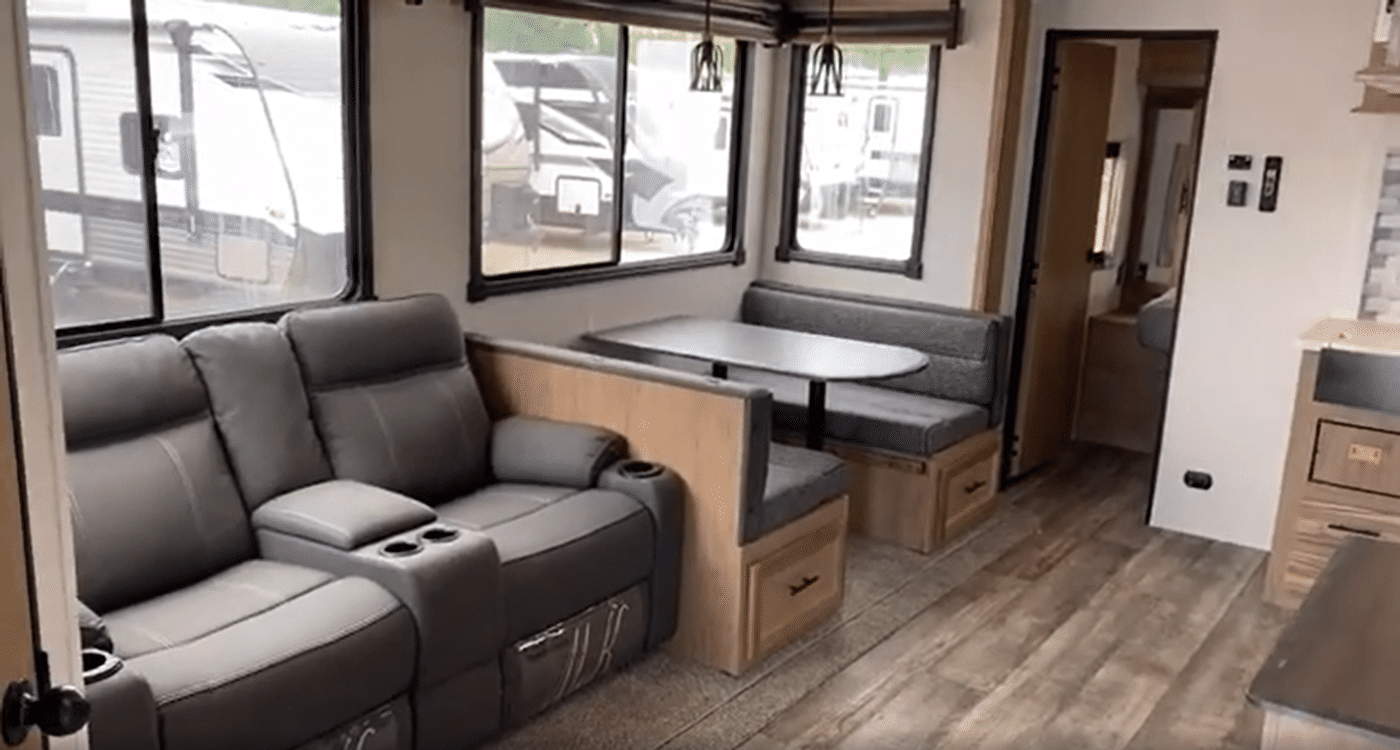 The cargo tie-downs and ample storage space make it convenient for loading and securing items. The wide-body design of the RV provides extra interior space, making it larger than many fifth wheel toy haulers.
Bathroom and Kitchen
The bathroom in the Wolf Pack 27Pack10 is designed for comfort and functionality. It features a spacious shower with ample headroom, a porcelain foot-flush toilet, and a cleverly designed shower/tub combo.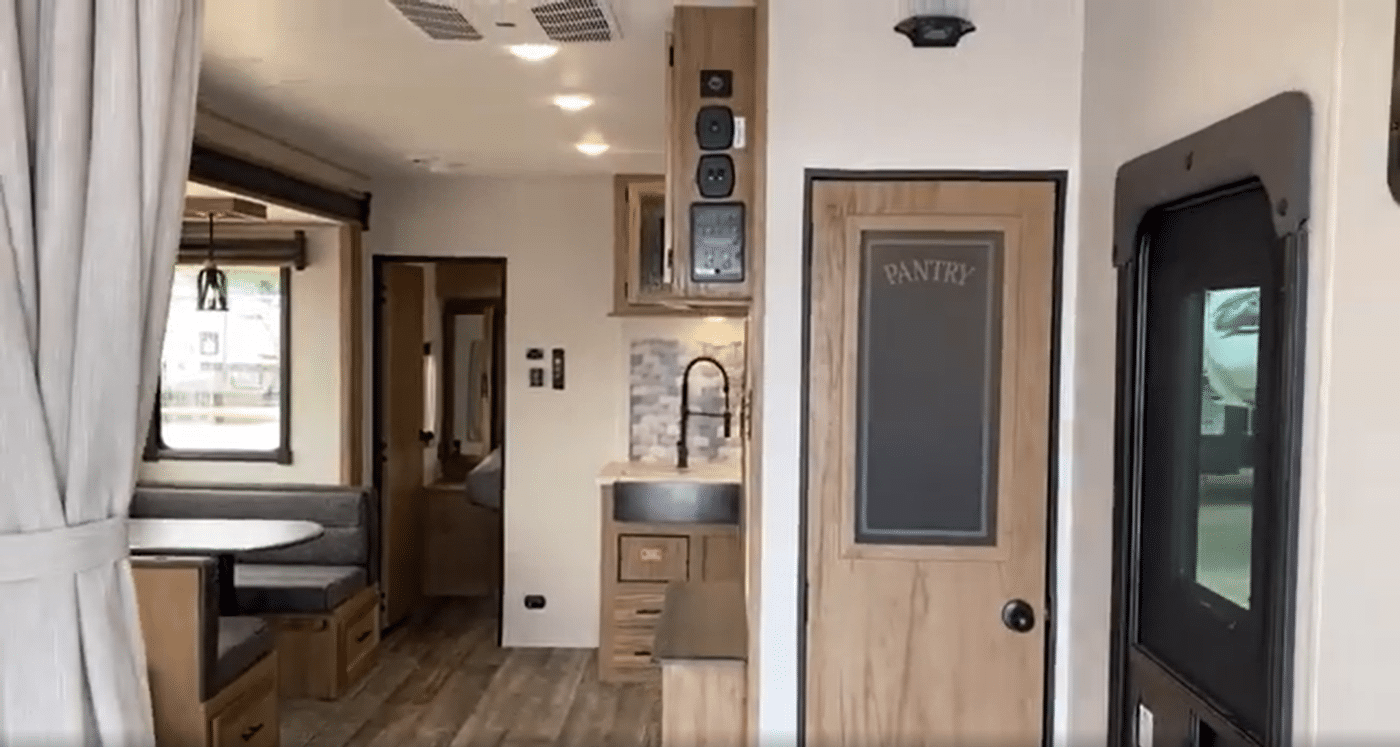 The kitchen area includes a black stainless farm sink, a high-rise sprayer faucet, and generous counter space. The pantry offers walk-in storage, and the refrigerator is a 12-volt DC compressor fridge for efficient cooling.
Conclusion
The 2023 Wolf Pack 27Pack10 Bunkhouse Toy Hauler Travel Trailer from Forest River's Cherokee division is a truly unique and versatile RV.
Its crossover design combines the features of a bunkhouse, toy hauler, and patio deck, offering endless possibilities for different camping adventures.
With its impressive amenities, flexible usage options, and thoughtful design, this RV is an excellent choice for outdoor enthusiasts seeking a one-of-a-kind camping experience.
Consider the Wolf Pack 27Pack10 as your next RV and embark on unforgettable journeys with comfort and convenience.
Wolf Pack 27Pack10 Price:
$38,000 – $81,000
*Why do RV costs vary? Get the facts here now!