Table of Contents – Quick Links
.
.
The 2023 Wildwood 33TS Travel Trailer by Forest River RV is a remarkable triple-slide bunkhouse family camping travel trailer that offers a range of features and amenities to cater to the needs of every family member. 
With its spacious layout, taller ceilings, and thoughtful design, this RV provides ample space and comfortable sleeping arrangements for the whole family. Let's delve into the various aspects and features of this incredible RV.
.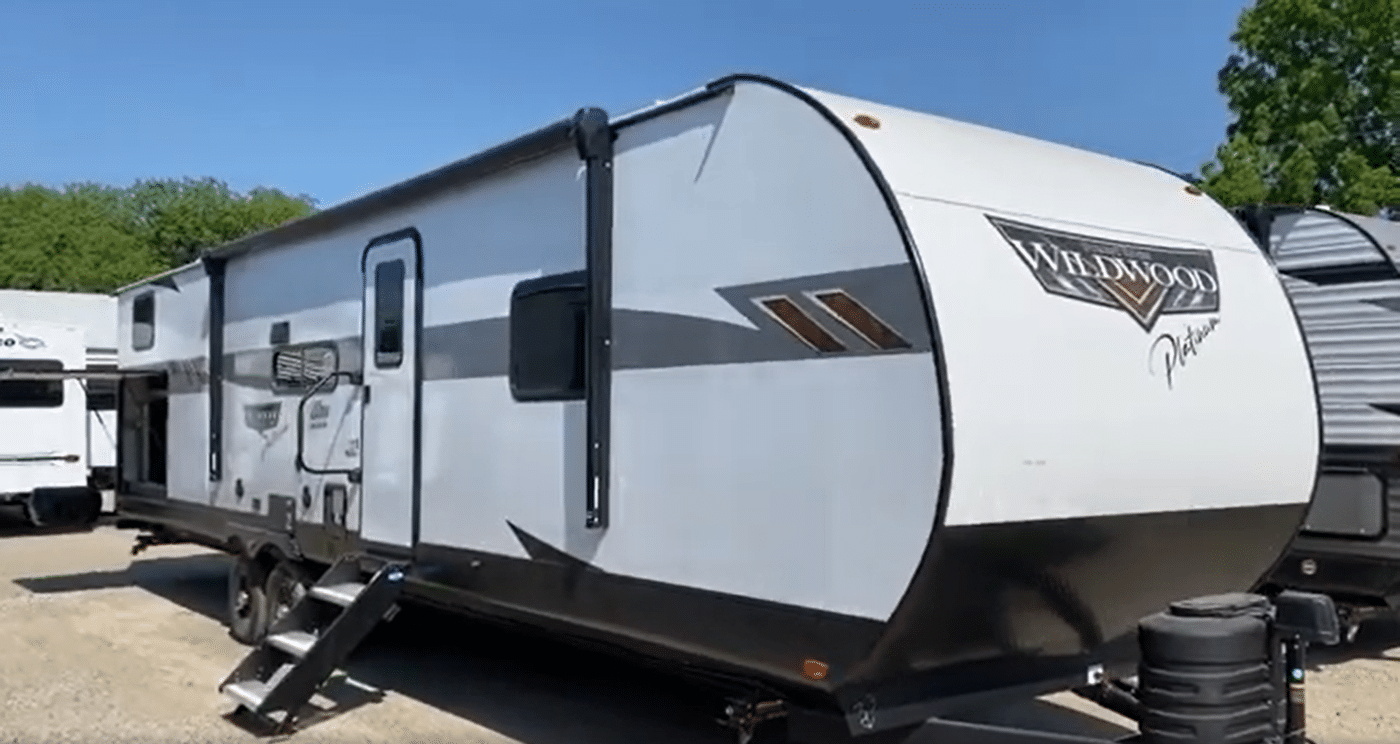 .
.
Features
Slide In the Bedroom
Stackable Washer
Dryer Prep
Full Size Camp Kitchen
One of the standout features of the 2023 Wildwood 33TS Travel Trailer is its rare offering of a slide in the bedroom, giving it an edge over other RVs in the market. 
But that's not all – this RV goes the extra mile by providing stackable washer and dryer prep in the private front bedroom, making it a true rarity. 
The versatility and convenience of this feature allow for easy laundry access and ensure that your family's clothes stay clean and fresh during your camping adventures.
.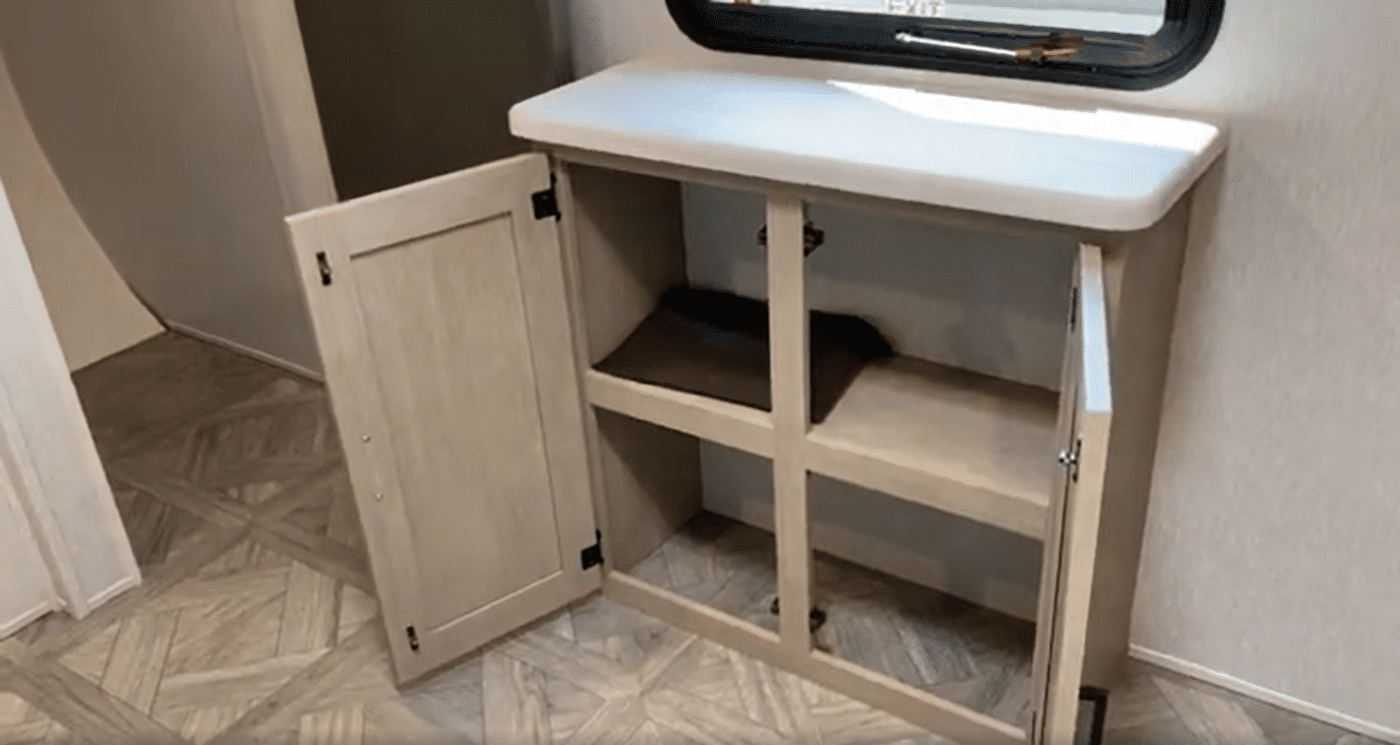 .
The exterior of the 2023 Wildwood 33TS Travel Trailer is available in the Platinum fiberglass upgrade package, offering a sleek and modern look. 
Unlike many other camp kitchens that seem to be getting smaller, this RV boasts a full-size camp kitchen with a spacious fridge, a real sink, and even a bumper-mounted grille that can swing out for your grilling needs. 
This attention to detail and focus on providing ample space in the camp kitchen is a true testament to the RV's commitment to meeting the needs of modern campers.
.
Design and Functionality
The 2023 Wildwood 33TS Travel Trailer can be likened to a pretend park model or a destination trailer, thanks to its lack of slides on the campsite. 
This makes it perfect for leaving in a park or seasonal site, as it doesn't take up excessive camp space with slide-outs. However, on the off-door side, this RV features triple slides, providing additional living space and enhancing the overall comfort of your camping experience.
While the front closet does mean that the RV lacks a full pass-through storage, it compensates for it with its various other offerings. 
.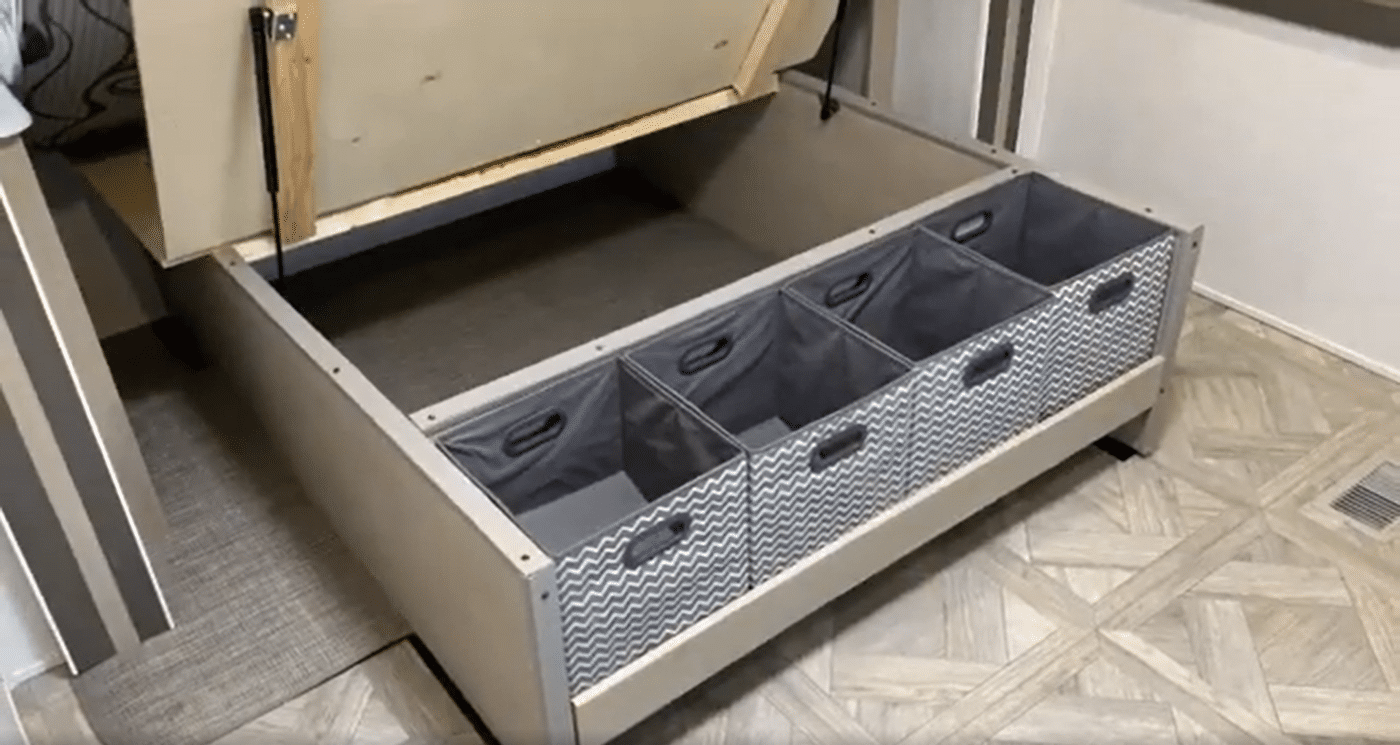 .
The front room is incredibly versatile, making it suitable for storing clothes, using shelf organizers, or even installing a combo washer-dryer or a stackable unit. This adaptability allows you to customize the space according to your needs and preferences.
Despite being a stick-and-tin camper, the 2023 Wildwood 33TS Travel Trailer doesn't compromise on functionality and comfort. The six-foot-nine ceiling height and light color palette create an airy and spacious interior, complemented by accent lighting that adds warmth and brightness. 
The carpetless Marine woven slide flooring further enhances the modern and clean aesthetic of the RV.
.
Comfort and Convenience
In terms of functionality, this RV leaves no stone unturned. The L-shaped Peninsula counter in the kitchen features strategically placed sinks, allowing you to work and still enjoy the view of the TV. 
The Carless construction of the Wildwood series extends to the bunk room, where lightweight totes act as convenient storage solutions and dresser drawers. These thoughtful touches provide practicality and convenience for your family's camping needs.
The Versa Lounge is a highlight in the living area of the 2023 Wildwood 33TS Travel Trailer. This convertible Swiss Army sofa offers versatility, transforming into an extra-large booth dinette or a comfortable jackknife sofa. 
.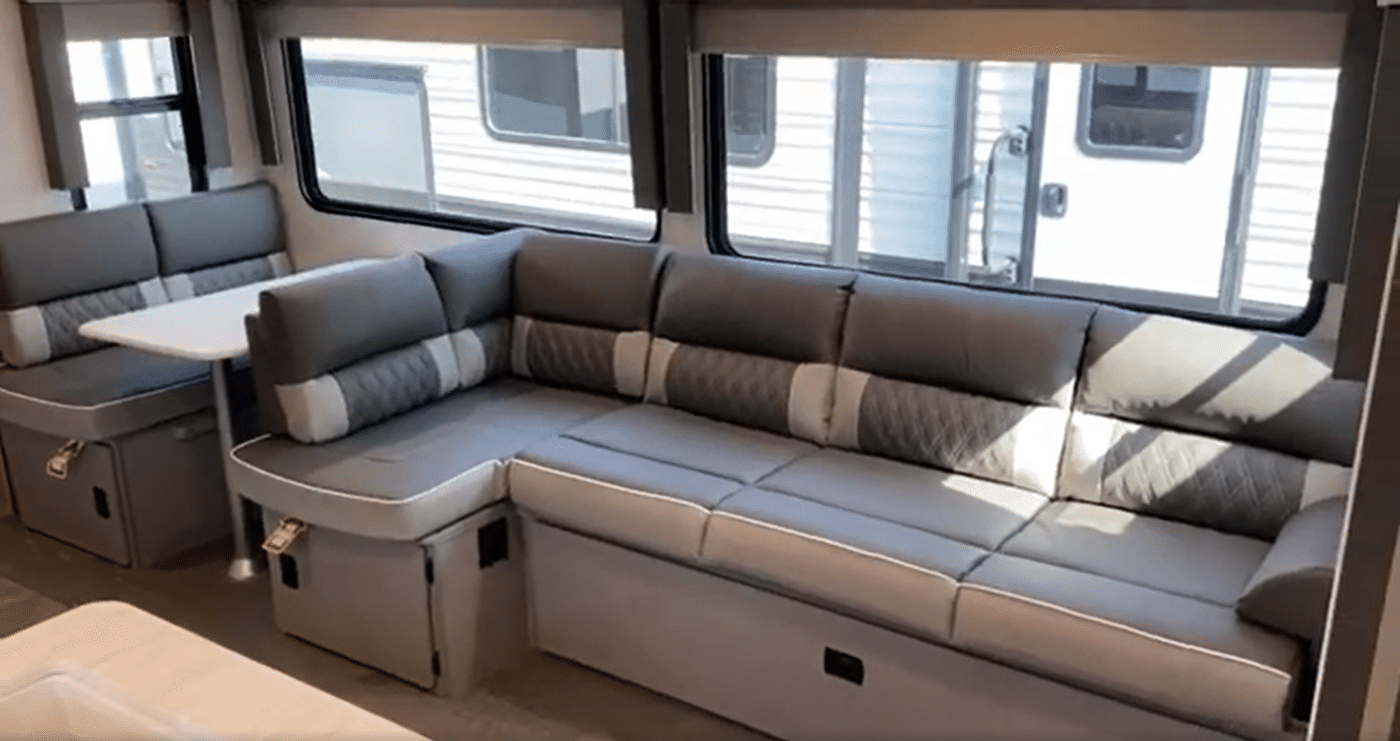 .
The rear bunk room can easily be converted into an office space or a gaming room, making it adaptable to various preferences and interests. The inclusion of TV hookups in the bunk room adds to its versatility and functionality.
The bathroom in this RV strikes a balance between space and functionality. The open-face storage allows for easy access to items like toilet paper and towels. With a radius shower and a thoughtful design, the bathroom provides a comfortable and functional space, considering the RV's dimensions. 
The inclusion of a medicine cabinet and ample counter space adds to the overall convenience and usability of this area.
.
Perfect for Your Camping Adventures
Heated Underbelly
Quick Drop Stabilizer Jacks
39 Ft. Awning
Dimmer Lighting
Ample Storage
The 2023 Wildwood 33TS Travel Trailer is designed with your camping adventures in mind. With its enclosed and heated underbelly, you can enjoy camping in various weather conditions. 
The quick drop stabilizer jacks offer improved stability, and the fully walkable roof provides ease of maintenance and accessibility. Additionally, the 39-foot awning provides ample shade and protection, enhancing your outdoor experience.
Forest River RV has considered every detail to ensure your comfort and satisfaction while camping. The thoughtful placement of power outlets, the inclusion of dimmer lighting, and the ample storage options make this RV a home away from home.
.
Conclusion
The 2023 Wildwood 33TS Travel Trailer by Forest River RV is a rare find in the RV market, offering a triple slide bunkhouse layout with a range of features and amenities. 
Whether you're looking for a spacious and comfortable travel trailer for your family camping trips or a destination trailer for extended stays, this RV has you covered. With its versatile design, ample storage, and attention to detail, the 2023 Wildwood 33TS is a true gem for camping enthusiasts. 
Experience the joy of outdoor living in style with this exceptional RV from Forest River.
.
 You get more than just a great RV when you buy from Bish's — find out all the extra free benefits we throw in and discover The FREE Stuff You Get When You Buy From Bish's RV!

Our dealerships across the country may not be the "cheapest," but we pride ourselves on having some of the lowest prices on Wildwood campers!
Wildwood 33TS:
Starting as low as $43,991
(Click "Get Lowest Price" button to lock in discount)
*Why do RV costs vary? Get the facts here now!
.