By Josh Nuttall
In this blog article, we'll explore the luxurious 2023 Avalanche 390DS Fifth Wheel. This RV stands out from the crowd with its unique triple bedroom, double bath design, making it more like a rolling apartment on wheels.
We'll delve into its impressive features and discuss why this RV could be the perfect choice for various types of travelers.
Table of Contents – Quick Links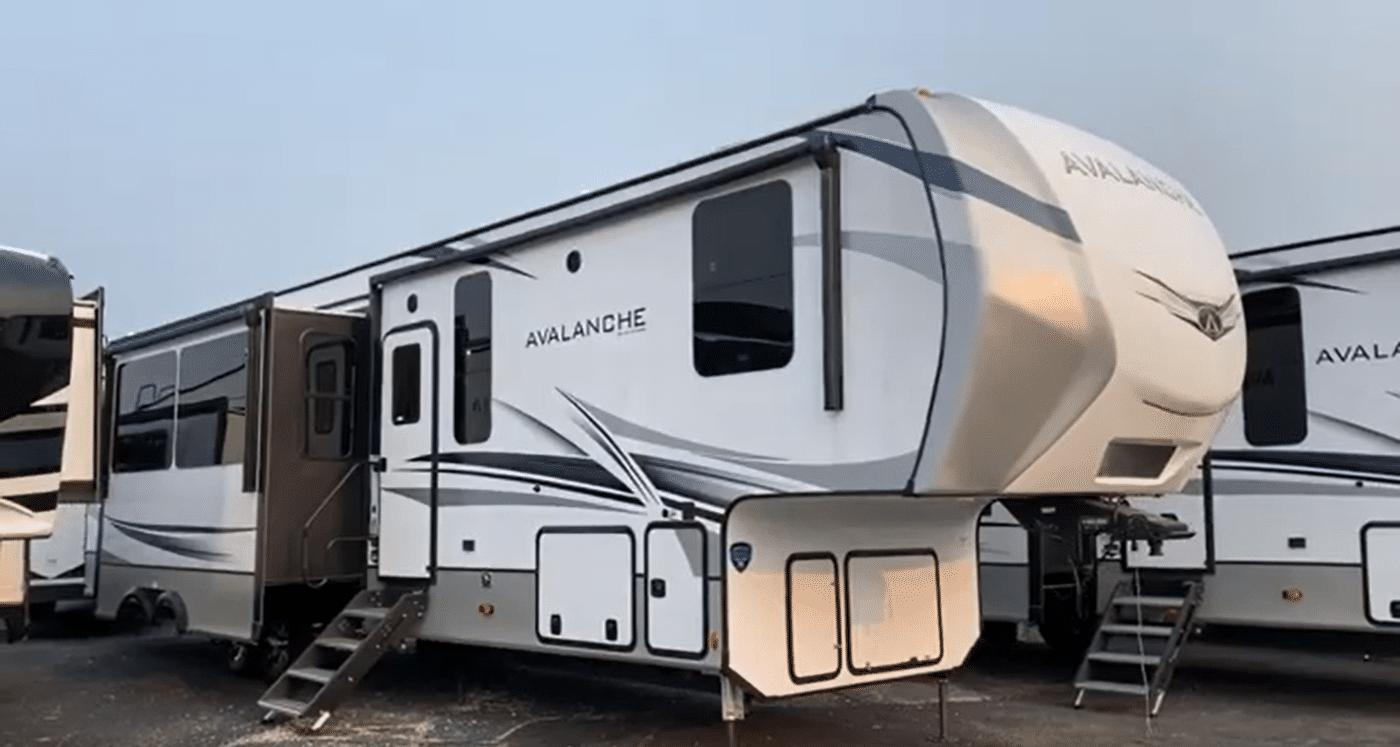 Features of the RV
Two Private Bedrooms/Bathrooms
Front King Bed
Washer/Dryer Hookups
Back Queen Bed Slide
3-Person Loft w/ Storage
Triple Bedroom, Double Bath Design
The standout feature of the 2023 Avalanche 390DS Fifth Wheel is its exceptional layout. With two separate and private bedrooms and two full bathrooms, it offers the perfect blend of convenience and privacy.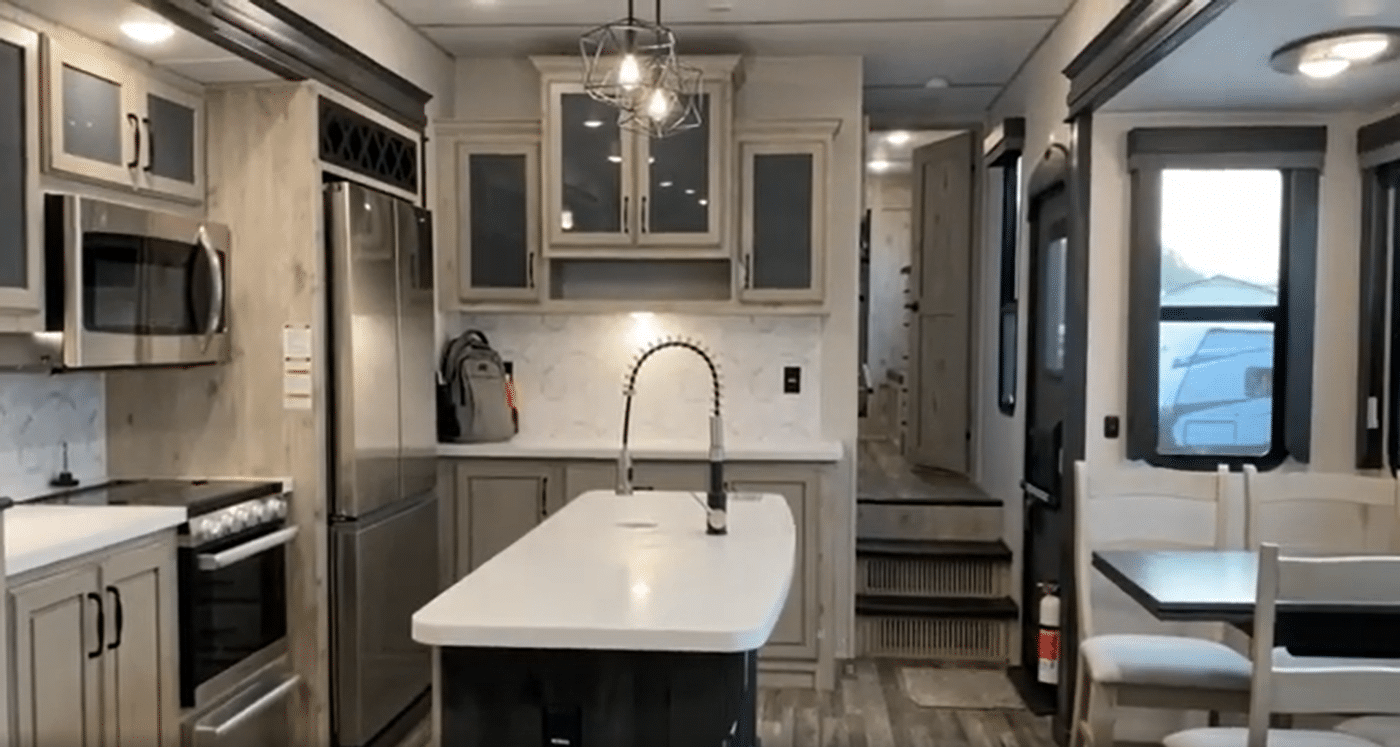 The front bedroom boasts a king bed and a full slide with washer/dryer hookups, while the back bedroom includes a queen bed slide, a full bathroom with a shower, and a separate exit door.
Additionally, a three-person loft above the back bedroom offers extra sleeping or storage space. This versatile layout makes it ideal for families, full-time travelers, or those seeking separate sleeping quarters for guests.
Impressive Amenities
Island Kitchen with Ample Storage
Large Residential Refrigerator
Spacious Countertop
Comfortable Theater Seating
2000-watt Inverter
200-watt Solar System
The Avalanche 390DS is equipped with numerous amenities that enhance comfort and convenience. The island kitchen comes complete with ample storage, a large residential refrigerator, and a spacious countertop for meal preparation. 
The entertainment center, along with comfortable theater seating, provides a perfect space to relax after a day of adventure. Moreover, the 2000-watt inverter and 200-watt solar system ensure the RV stays powered even when off-grid.
Exterior
The high-gloss fiberglass exterior of the Avalanche 390DS not only adds a touch of elegance but also protects the RV from the elements.
The tinted frameless windows give the exterior a modern and sleek look while providing a clear view of the surroundings. These windows are designed for optimal airflow and are complemented by sliding max airflow windows on the slide side for enhanced ventilation.
Spacious Storage Solutions
The RV is designed with ample storage space, including the unique addition of a double waste basket under the kitchen sink. The front bedroom offers generous storage below the bed and along the entire wall across from the bed.
Moreover, the theater seats have hidden boot storage, and the bathroom includes a respectable linen/medicine cabinet space. Thoughtful touches like these provide added convenience during your travels.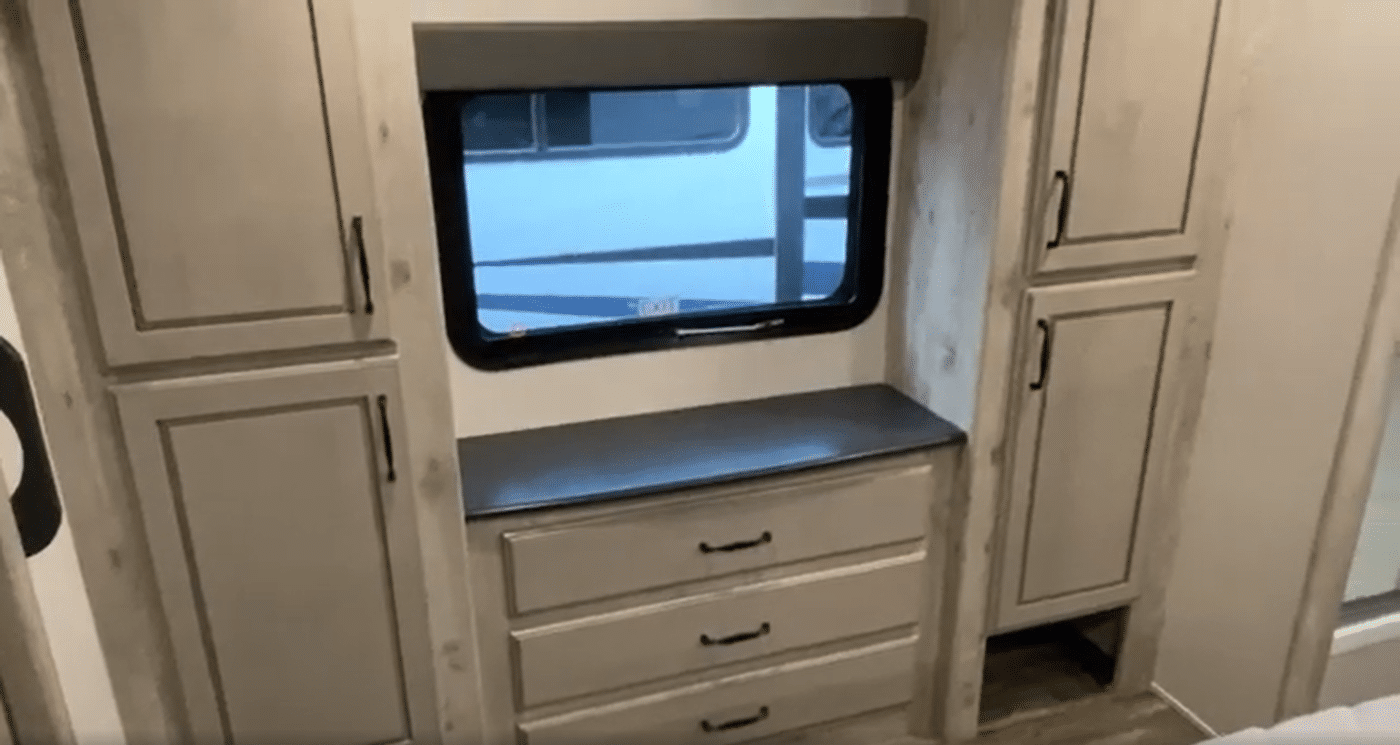 Triple Drop Frame Chassis and Easy-Lift Storage
The Avalanche 390DS features a double-drop frame chassis, making it incredibly spacious and adding to the luxurious interior.
The easy-lift storage under the queen-size bed is a practical feature that allows for easy access to stored items without hassle.
Conclusion
The 2023 Avalanche 390DS Fifth Wheel is a marvel of RV engineering, offering an unmatched triple bedroom, double bath design that feels more like a luxury apartment on wheels. 
Whether you're a full-time traveler, a family seeking space and comfort, or a couple looking for a separate sleeping area, this RV provides a versatile and lavish option. With its impressive amenities, high-gloss exterior, and smart storage solutions, the Avalanche 390DS is a top contender in the world of luxury fifth wheels.
So, if you're ready for the ultimate RV adventure with all the comforts of home, consider the 2023 Avalanche 390DS Fifth Wheel for your next journey. Happy camping!
Get the RV Nerd Preferred Price
We are offering an exclusive price on this floorplan for 30 days after Josh the RV Nerd releases his review on YouTube. Even if we are stocked out – we will guarantee this price on any ordered 202RBLE floor plan for 30 days!
RV Nerd Preferred Sales Price (Valid Until 09/12/2023)
Avalanche 390DS
Starting as low as $79,995
*Why do RV costs vary? Get the facts here now!