Table of Contents – Quick Links
The Forest River Wildwood 22RBS
The Forest River Wildwood 22RBS is a versatile travel trailer that offers comfort, style, and practicality. In this article, we will delve into the key features of this RV and discuss what makes it stand out against its competition.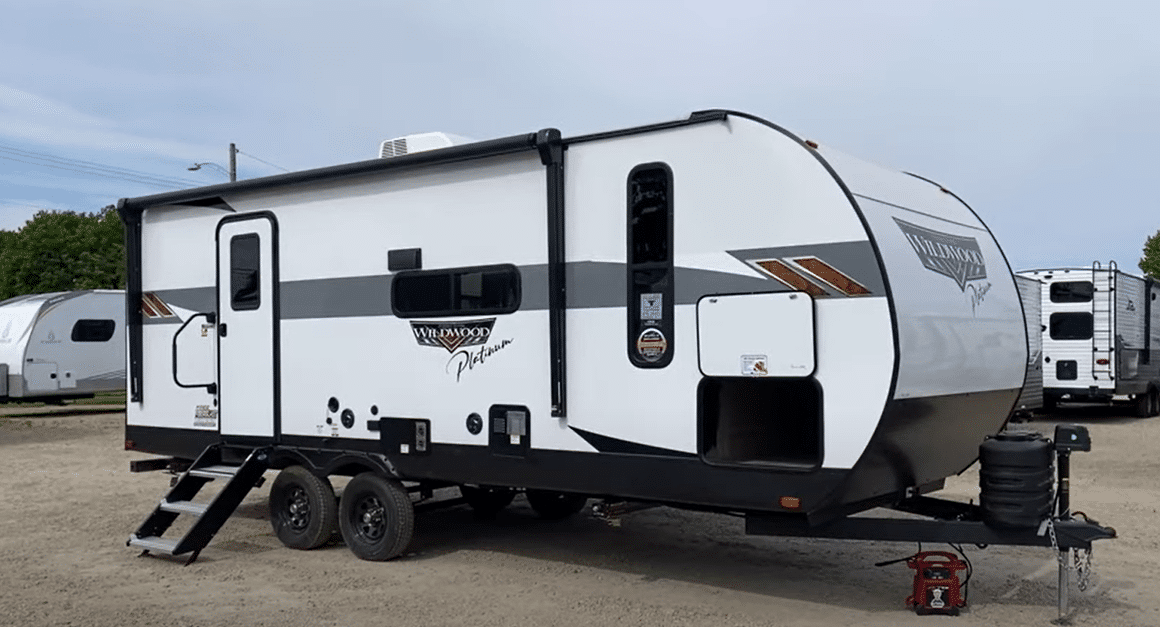 Whether you are a couple looking for a comfortable camper to take on your next adventure or want to accommodate occasional guests, the Wildwood 22RBS has you covered. Let's explore its unique characteristics and find out if it's the right RV for you.
Spacious and Well-Designed Interior
The Forest River Wildwood 22RBS offers a thoughtfully designed interior that maximizes space and functionality. The floor plan has been extended slightly to create a more spacious living area without compromising on towing capacity. With a length of under 30 feet, this RV is still suitable for most late model half-ton tow vehicles.

One standout feature is the attention to detail in the interior design. Forest River has added a stylish radial wall into the bathroom, which is a refreshing departure from the usual bland and boxy RV interiors. The tall ceiling height of 6'9″ gives the trailer an airy feel, making it more comfortable for occupants.
The Wildwood 22RBS offers their Versa Furniture system, which includes a large lounge with built-in storage compartments and a removable table. This versatile setup provides ample seating space which can also be converted into a bed, making it ideal for couples who occasionally have guests.
Comfortable Bedroom and Convenient Storage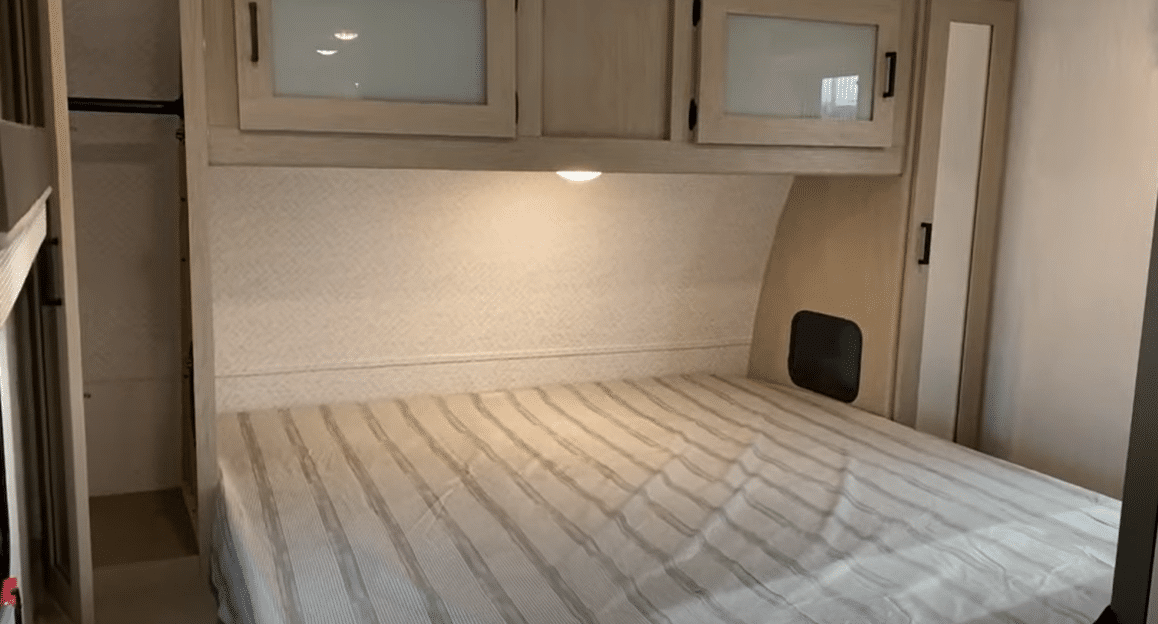 The bedroom in the Wildwood 22RBS is uniquely designed. The "custom king bed", as it is called, is a very uncommon size (66″ x 78″), but the base allows you to swap out that mattress and choose your preferred residential mattress, adding a personalized touch to your sleeping experience.
Forest River has paid attention to storage throughout this RV. The bedroom in the Wildwood 22RBS features ample storage room for your belongings:
The overhead storage is thoughtfully designed to be enclosed so your belongings don't fall out.
The storage cabinets on each side of the bed can work as a CPAP storage cabinet. The cabinets have household outlets in them and openings to the sides of the bed.
The bed also features a convenient lift platform, revealing a large storage space underneath.
Impressive Kitchen Features
The kitchen in the Wildwood 22RBS offers a range of features that enhance its functionality. The almost 11 cubic foot 12-volt DC compressor refrigerator is a standout component, popularized by the Salem and Wildwood group. It cools faster, is travel-safe, and can be powered by your tow vehicle during transit.
The kitchen also boasts a unique design choice with drawers inside a single door, providing full drawer functionality while reducing costs. The sink area offers good prep space, thanks to the toe kicks that allow you to get closer to the sink for comfortable dishwashing. Additionally, the RV features a large walk-in pantry behind the entertainment center near the entrance.
Thoughtful Bathroom Design
The bathroom in the Wildwood 22RBS combines functionality and aesthetics. The spacious shower area benefits from the taller ceiling height, ensuring ample headroom. While open-face storage is not always preferred, the thin storage shelves are suitable for towels and other essentials.
The bathroom also features a mirror with a stylish wall design and a convenient shelf under the sink. The addition of the large closet next to the sink adds a ton of extra storage for all your belongings you take camping with you.
Practical Exterior
The exterior of the Wildwood 22RBS is usually a corrugated aluminum siding, although, you can get a hung fiberglass exterior with Wildwood's Platinum package. Some notable exterior features on this RV include:
The optional 200-watt solar package with a 30 amp charge controller, which allows you to recharge the RV's batteries, to extend the amount of time you can run things like your fridge, lights, and other things powered by your batteries.
The exterior pass-through storage compartments offer ample room to store camping gear, outdoor equipment, and other belongings, ensuring that you have everything you need for your adventures.
The heated and enclosed underbelly provides protection from the elements, allowing for extended camping in various weather conditions. This feature helps prevent freezing and ensures that the RV's plumbing and tanks are well-insulated and functional.
With these exterior features, the Wildwood 22RBS offers practicality, convenience, and peace of mind for outdoor enthusiasts.
Conclusion
The Forest River Wildwood 22RBS is a travel trailer that caters to couples seeking a comfortable and stylish camping experience. With its spacious interior, versatile seating and sleeping options, and well-designed features, this RV really stands out.
The attention to detail in the interior design, ample storage options, and thoughtfully equipped kitchen and bathroom make the Wildwood 22RBS an excellent choice for couples who value comfort, functionality, and style.
Forest River Wildwood 22RBS Price:
New: $25,000 – $50,000
Used: $20,000 – $32,000

*RV Prices vary based on different options, where you purchase your RV, and even when you buy. Learn more about what impacts the price of your RV.