By Greg Long
A Dive into RV Sales Numbers
Numbers tell a story. By looking at RV Sales numbers, we can predict what's going to happen in the RV industry in the up-coming months.
My good friend, Josh the RV Nerd and I have looked at the RV sales numbers for September and what we found is not great − but it's not necessarily terrible.
This RV sales report will give you a very broad overview of what we're seeing happening in the RV industry. Knowing the RV market conditions will help you make better decisions when buying or selling your RV.

Get all the RV Industry Updates for September 2023 with Josh the RV Nerd
The RV Production Landscape
RV Production is down 47%


Wholesale shipments, or new RV production, have seen a pretty hefty decline. This decline isn't unexpected, especially when comparing last year's numbers with the current stats.
The Covid pandemic influenced a surge in RV production in 2020-2021, but we're now observing this trend normalizing. However, even though there's a drop in production, it doesn't signify a decreased interest in the RV lifestyle.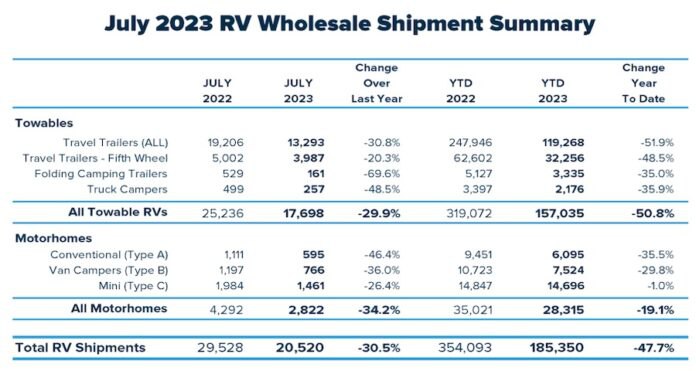 The Pop-up Camper Market
Pop-Up Camper Market down 70%!
One surprising insight was the significant drop in the folding camper or pop-up market. The reasons for this decline are unclear.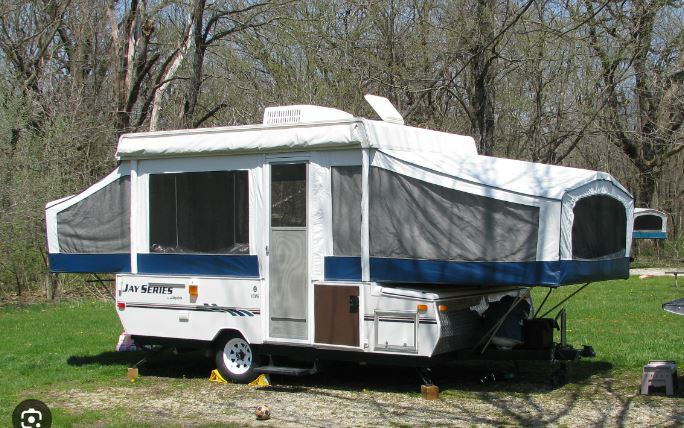 Speculating on the Pop-Up decline, three possible reasons are most likely:
Shift to Larger RVs: Over the last year, many people have turned to RVing as a means of travel during the pandemic. Given that they're spending more time in their vehicles, there might be a preference for larger, more amenity-rich travel trailers or motorhomes rather than the more basic pop-ups.
Work from RV Trend: The rise in remote work has led to an increasing number of individuals and families adopting an "RV lifestyle," where they work and live from their RVs. Pop-ups might not offer the kind of space and amenities that full-time RVing requires.
Dealer Focus: If dealers are working with tighter margins, they might push for the sale of higher-ticket items, which could mean less emphasis on pop-ups.

Considering buying an easy-to-tow Pop-Up Camper?
Check out these Great Deals on Pop-Up Campers!
RV Production vs. RV Sales
There's a difference between what's built and what's sold.
Although production is down by 47% from last year, sales are only off by 24%. This means RV Sales are currently out-pacing RV Production. That's Good News!
This discrepancy between RV Production and RV Sales may be influenced by various factors, such as:
Sales of Older Models: With the uncertainty of new RV arrivals, dealers offered discounts or incentives on older models, driving up sales from existing stock.
Anticipation of High Demand: Given the increased interest in RVs during the early days of the pandemic, lots of dealers preemptively ordered more units in anticipation of continued high demand, allowing them to weather the production decrease better.
Existing Inventory: Most RV Dealerships started the year with a significant inventory from the previous year, allowing them to sustain sales even with reduced new RV production.
Canadian RV Market Pulse
Canada had some interesting differences from our U.S. RV Market trends:
Canada's towable RV production saw a significant decline than the U.S.
There was a notable increase in motorized RVs moving into Canada.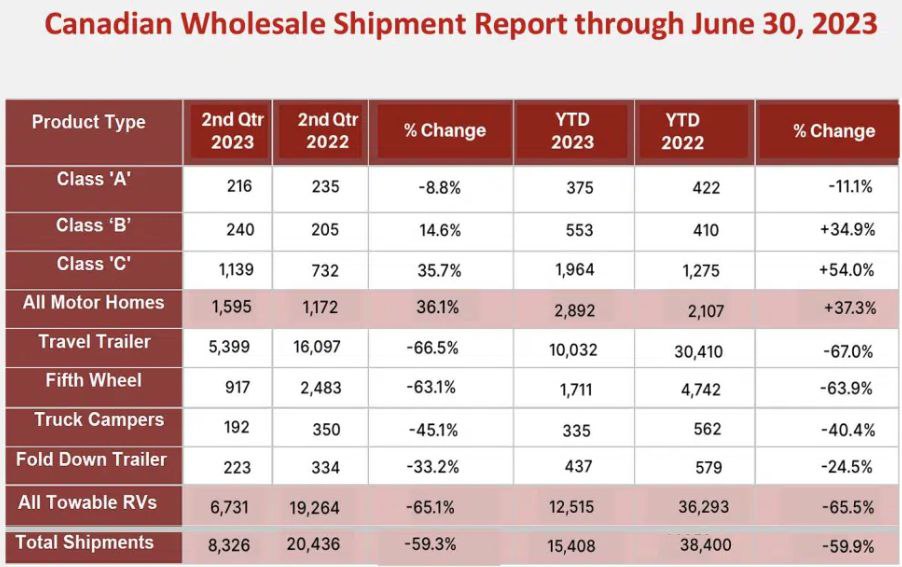 Used RV Market Trends
The used RV market, particularly in towable trailers, has seen an increase in auction volume.
Dealerships are possibly trying to offload older inventory to make way for newer models.
Surprisingly, many of these RVs are quite recent models, from around 2019, making them great deals for potential buyers.
As long as a used RV is 5 years or less than the current model year for the type of RV it is, it "may" qualify for "new RV" loans and financing – which are typically much better rates and payment plans.
We say "may" qualify, as it is up to each individual loan provider to determine the terms for their loans.
Check out our amazing selection of Used RVs.
Used Towable Sales Data:

With an average age of 2019, the average price for a used RV sits at $25,056, marking a 17.3% increase.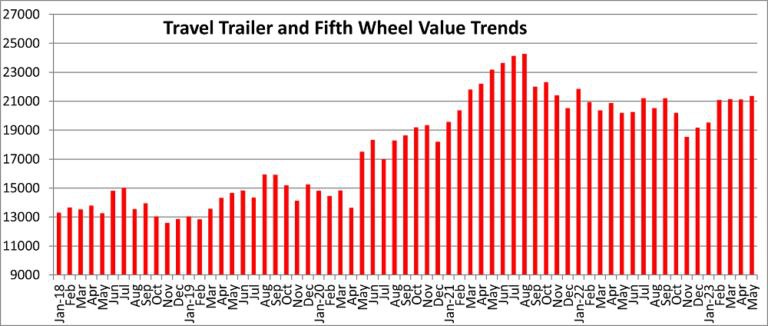 Shop Used RVs and find a great deal!
The Used Motorized RV Market Mystery
The used motorized RV market displays a peculiar trend. There's a consistent up-down trend in values, and the exact reason for this yo-yo effect remains uncertain. It's a phenomenon that even seasoned experts like Josh the RV Nerd find intriguing.
Used Motorized Sales Data:

Despite the price fluctuation trends, the average price is now $68,405, a decline of 6.8%.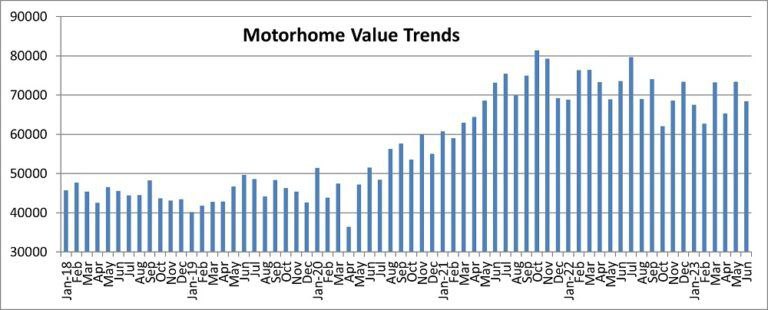 Never Miss an RV Industry Update. Subscribe to our Bish's Blog Email and stay up-to-date on the latest RV News.
Deciphering the RV Market: A Glimpse Beyond the Numbers
The RV market, like many other industries, is ever-evolving. With insights from experts like Josh the RV Nerd, we can better navigate these changes, understand the trends and make informed decisions.
Whether you're an RV enthusiast, a potential buyer, or just curious about the market, staying updated with such information is crucial.
Come back to the Bish's RV Learning Hub in October for more Sales Data updates on What's hot and What's not in the RV industry.


Never Miss an RV Industry Update. Subscribe to our Bish's Blog Email and stay up-to-date on the latest RV News.