July 7th, 2023 | 4 min. read
By Bish's RV
Table of Contents – Quick Links
The Grand Design Transcend 245RL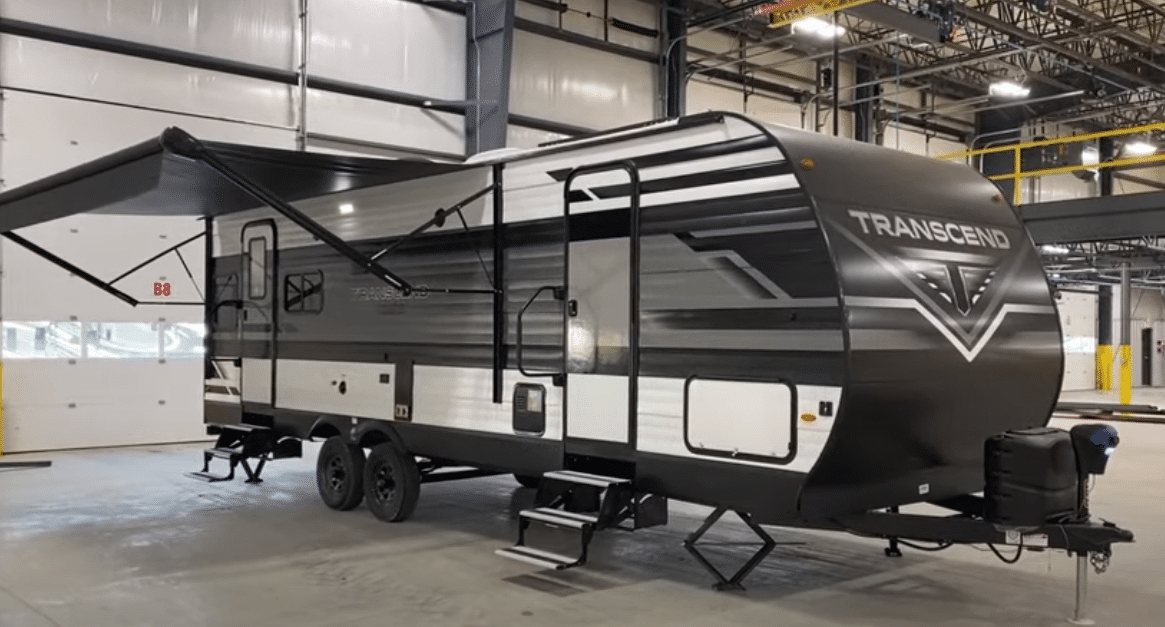 If you're looking for a well-built stick and tin travel trailer, you need to check out the Grand Design Transcend 245RL. In this article, we will take an in-depth look at this popular travel trailer and explore some of its key features and benefits. Whether you're a solo camper or a couple looking to go on adventures, this comfortable and spacious RV has got you covered. Let's dive in!
Thoughtful Design and Functional Features
The floor plan of the Transcend 245RL is nothing new, but Grand Design has executed this popular floor plan very well. The 245RL has several thoughtful design elements that can enhance your camping experience. For example:
The large rear theater couch gives you a very comfortable place to relax and kick back.
The TV, though it faces the dinette, is placed on a swivel arm so you can view your favorite shows or movies from anywhere within the living room.
Grand Design focuses a lot on providing you with maximum storage space, and the 245RL is no exception.
If you want to change things up a bit, the dinette cushions are reversible, so you can switch up the decor.
This RV features household power outlets at countertop level, making it convenient to charge your devices or use small appliances.
The motion-sensing lighting near the entry door can help you see when you get in the camper during a dark night, and it can keep bugs away while you relax outdoors.
With dual entry doors and a wide-open living room, this RV feels surprisingly spacious for being under 30ft. With a GVWR of only 7,600 lbs. it makes an ideal choice for those of you with late model tow package half-ton trucks.
True Queen Bed and Loads of Bedroom Storage
One of the features of the Grand Design Transcend 245RL we really appreciate is the true 70" by 80" queen bed. Relaxing and sleeping at night is much easier when your feet don't dangle off the edge of the bed.
While there is an ample amount of storage in the bedroom, it is a little bit different. While most RVs use the cabinets on each side of the bed for hanging space, the Transcend 245RL includes shelves for folded clothes.
There is, however, a small closet space at the foot of the bed that may allow for a couple of light jackets. This is a point to consider if you're one who brings a lot of hanging clothes when you go camping. If not, then it may not be a big deal.
Kitchen Space
The way the kitchen is designed in the Grand Design Transcend 245RL, it maximizes your countertop and meal prep space. This makes it perfect for those who love cooking. The kitchen has a large stainless-steel farmhouse sink and a 10 cubic foot 12-volt refrigerator.
When it comes to storage in the kitchen, the Transcend 245RL doesn't disappoint. This travel trailer features numerous drawers, cabinets, and storage spaces throughout the kitchen, ensuring that you have plenty of room for all your kitchen supplies.
Spacious Bathroom
The Grand Design Transcend features a walk-through bathroom. The advantage of this type of bathroom is you get a very spacious bathroom, without needing to add extra feet to the RV.
The shower in this bathroom is a little shorter, but the skylight provides you with additional headroom. The storage shelves are open-faced, which may be a concern for some, but if you use them primarily for towels, they will work great. The extra counter space and shelf space makes the bathroom counter feel a lot less crowded.
Durable Construction and Exterior Features
The Grand Design Transcend 245RL is built to withstand your adventures on the road. Its thick exterior skin, heated underbelly, and enclosed docking station provide added protection and insulation.
This RV also comes with a 165-watt factory solar setup, allowing you to harness the power of the sun during your travels. The solar setup will help to keep your batteries charges up if you go boondocking.
These features ensure that you can enjoy your camping adventures in comfort, regardless of the weather conditions.
Considerations and Alternatives
While the Transcend 245RL offers an impressive list of standard features, there are a few areas where it may not meet everyone's preferences. There are also a few trade-offs for you to consider. For example:
The bathroom and kitchen areas come with basic powered exhaust vents, which can easily be upgraded to higher-quality vent fans.
The dinette can be replaced by a couch allowing for more comfortable seating options.
This RV has limited campside windows, which may affect the views from certain seating positions.
It lacks an electric fireplace, but that means you get additional storage space in your kitchen.
This RV uses heating vents installed in the cabinets instead of the floor. While this means it's easier to keep the RV clean, it does mean it doesn't heat as effectively, although the 35,000 BTU furnace compensates for effective heating.
Some users might prefer to have closed face storage in the bedroom and bathroom so as not to require additional organization solutions to keep your belongings in place during travel.
These points of consideration may lead you to want to see what else is out there that's similar. Here is a list of a few comparable models that are linked to reviews by Josh the RV Nerd:
Conclusion
The Grand Design Transcend 245RL offers a compelling option for travelers seeking a spacious travel trailer with impressive features. From its true queen bed and spacious interior to its durable construction and thoughtful design, this RV provides a comfortable and enjoyable camping experience.
While it may have a few areas that can be upgraded or customized based on personal preferences, no RV is perfect. It's left up to you to decide what RV fits your needs the best
Grand Design Transcend 245RL Price:
You can expect to pay within this range, or a little less for a new Grand Design because this manufacturer requires their RVs to be listed online at MSRP (manufacturer suggested retail price). Actual prices will vary dealer to dealer.
Learn more about how MAP pricing works and how you can price shop for your Grand Design camper. 
Used: Up to $35,000
RV Prices vary based on different options you choose, where you purchase your RV, and even when you buy. Learn more here about what impacts the price of your RV.