August 21st, 2023 | 2 min. read
By Jackson Nuttall
Get ready to embark on an extraordinary journey through the world of recreational vehicles with the 2023 Transcend 297QB Travel Trailer by Grand Design RV. If you're a camping enthusiast seeking something beyond the ordinary, this RV will undoubtedly captivate your adventurous spirit.
From its unique and innovative layout to its thoughtful features designed for maximum comfort, the Transcend 297QB stands out as a true gem in the realm of travel trailers.
Join us as we delve into its exceptional features and discover why this RV is a game-changer in the world of family camping.
Table of Contents – Quick Links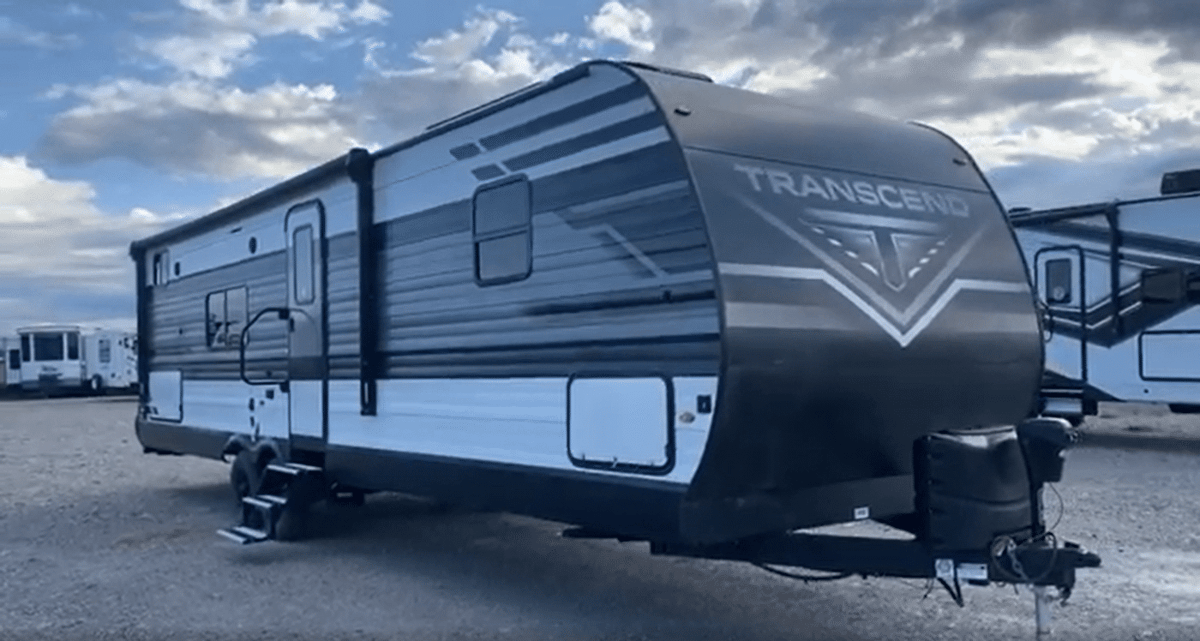 An optional caption for the image that will be added to the gallery. Enter any descriptive text for this image that you would like visitors to be able to read.
Features of the Transcend 297QB
Extended Season Package
"Junk in the Trunk" Storage System
Mini Camp Kitchenette
Spacious Outside Storage
165-Watt Solar Panel
Pet-Friendly Design
Motion-Activated Lighting
The Transcend 297QB isn't your average travel trailer; it's a marvel of engineering and creativity. This RV comes equipped with an extended season package, making it ideal for those who love to explore all year round.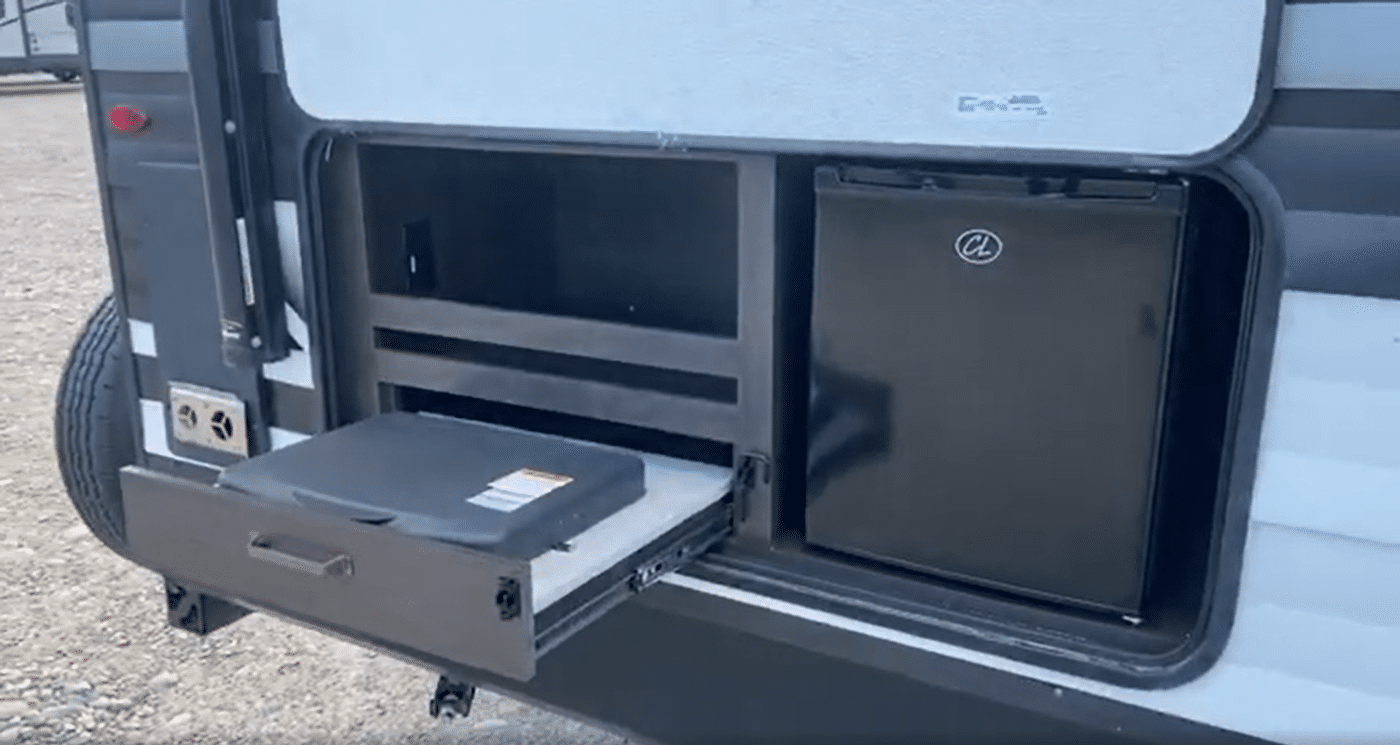 One of its standout features is the "junk in the trunk" storage system, a hidden treasure beneath the bunks that reveals a mini camp kitchenette and spacious outside storage.
Moreover, with the standard 165-watt solar panel on the roof, this RV is a boon for boondocking enthusiasts who relish the thrill of off-grid camping.
Additionally, the pet-friendly design and motion-activated lighting make it a perfect companion for your four-legged family members.
Family-Oriented Design
Large Windows
L-Shaped Bunk
True Queen
Built-in Waste Basket
As you step inside the Transcend 297QB, you'll immediately notice its welcoming and family-oriented design. The interior layout is strategically crafted to foster socialization and create a warm atmosphere for all.
The seating area, located close to large windows, offers breathtaking views of your camping paradise. The L-shaped bunk in the rear room provides versatility in sleeping arrangements, accommodating both kids and adults comfortably.
For parents, the true queen bed offers a serene retreat after a day of outdoor adventures. The well-designed bathroom features smart storage solutions, including a built-in waste basket, adding convenience to your camping experience.
Unveiling the Travel-Stop Access
One of the most surprising features of the Transcend 297QB is its ingenious travel-stop access. Even when the slides are closed during travel, accessing the refrigerator, bunks, bathroom, and kitchen sink is remarkably hassle-free.
With its unconventional layout, thoughtful features, and travel-stop access, this RV promises to elevate your camping experiences to new heights. Whether you're embarking on a weekend getaway or an extended road trip, the Transcend 297QB will undoubtedly leave a lasting impression with its perfect blend of innovation and family-friendly design.
So, are you ready to redefine your camping adventures and embrace the extraordinary in the 2023 Transcend 297QB? Let the journey begin!
Get the RV Nerd Preferred Price
We are offering an exclusive price on this floorplan for 30 days after Josh the RV Nerd releases his review on YouTube.
RV Nerd Preferred Sales Price (Valid Until 09/21/2023)
Transcend 297QB: Starting as low as
(Click "Get Lowest Price" button to lock in discount)