In this article, we will be taking a closer look at the Bullet 2200BH Travel Trailer, part of the Crossfire Series, which boasts being the smallest and lightest in the Bullet lineup.
If you're new to the world of camping or seeking a convenient, no-fuss RV for your family, this might just be the ideal choice.
From its cozy interior featuring a front Murphy bed and double over double bunks to its impressive features like a heated enclosed underbelly and solar panel prep, let's dive in and uncover what makes this travel trailer stand out from the rest.
Table of Contents – Quick Links
Features
Front Murphy Bed
Campsite Window
Ample Storage
Two-Burner Stove
The Bullet 2200BH is packed with thoughtful features, including a unique front Murphy bed with hard fixed armrests for added comfort. The living area boasts a campside window, conveniently located near the dinette and kitchen.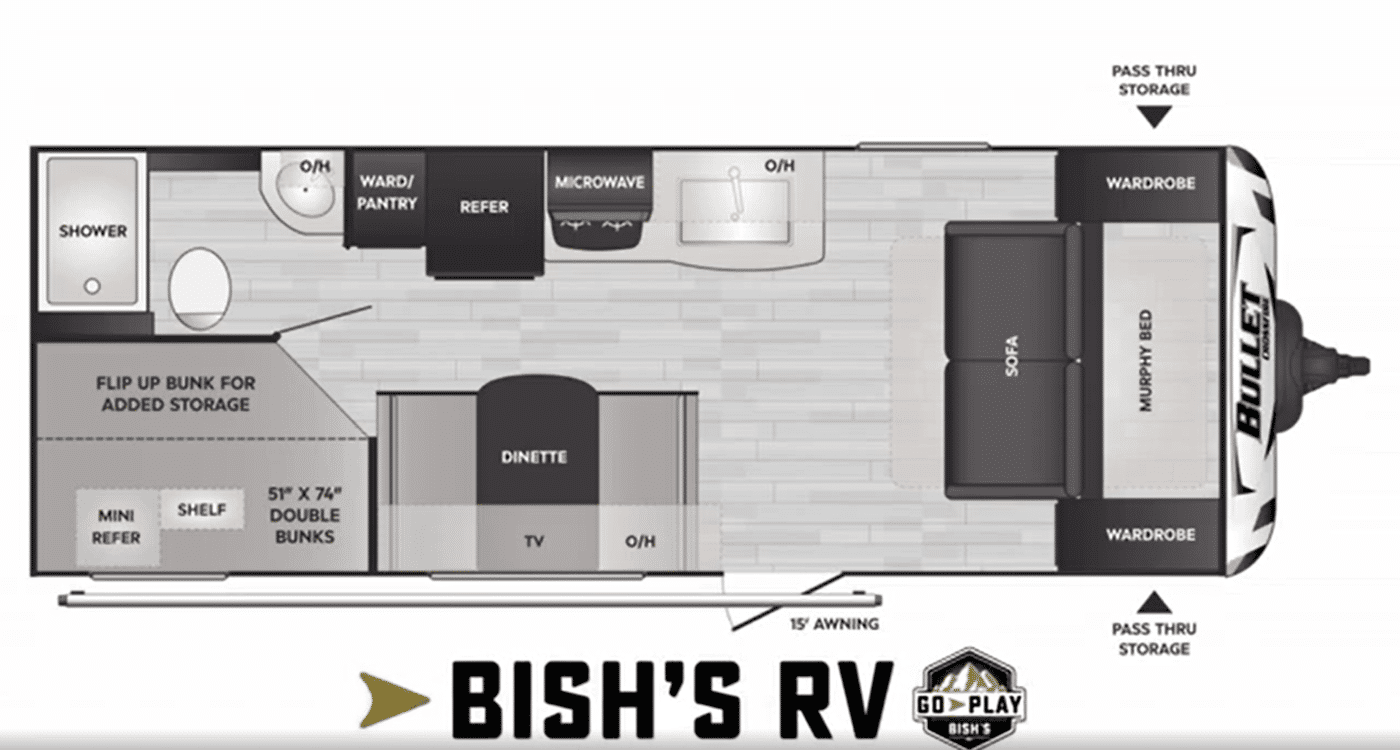 The kitchen offers ample storage and a two-burner stove, though it lacks an oven. The bunk area features double over double bunks with side pockets for easy storage and a drop-down shade for added privacy.
Perfect for Family Travel
The Bullet 2200BH is a compact and lightweight travel trailer, easily towed by half-ton trucks and larger SUVs. 
Its heated enclosed underbelly allows for extended season camping, while the 200 amp hours of lithium batteries and solar panel prep ensure a steady power supply during off-grid adventures.
Exterior and Amenities
The Bullet 2200BH features a sturdy Norco Huck-bolted frame made of high-strength low alloy steel. The four-corner power stabilizer jacks provide stability during setup, and the ladder prep grants easy access to the roof for maintenance. The TPMS prep keeps you informed about tire conditions for safer travels.
Entertainment and Indoor Comfort
Inside the Bullet 2200BH, you'll find a 12-volt TV and a TV space for entertainment, perfect for catching up on your favorite shows after a day of adventure.
The single direct dump AC keeps the interior cool, and the porcelain foot flush toilet in the bathroom adds a touch of luxury. The hanging wardrobe towers provide ample storage space for your clothing and belongings.
Camp Convenience and Outdoor Enjoyment
While not a full camp kitchen, the Bullet 2200BH offers a camp convenience station with a gas grill quick connect, ideal for outdoor cooking and dining. The exterior features speakers for your entertainment, though be mindful of the volume to avoid disturbing neighboring campers.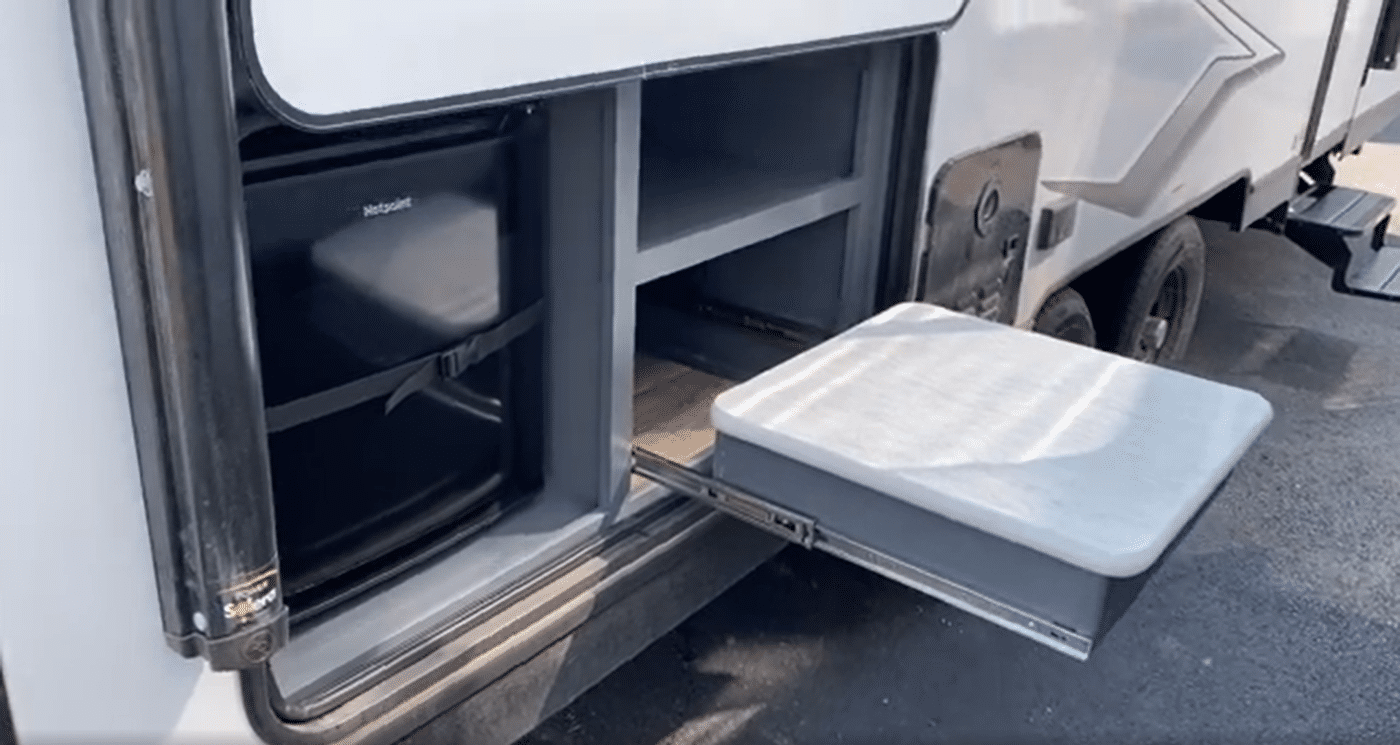 The underbelly storage compartment includes a sewer hose tube holder, keeping your essentials neatly stored and accessible.
Conclusion
If you're seeking an easy-to-maneuver and functional travel trailer for your family's adventures, the 2023 Bullet 2200BH is a fantastic option to consider. From the practical Murphy bed with armrests to the thoughtful storage solutions and reliable exterior amenities, this RV delivers on multiple fronts.
Whether you're new to camping or a seasoned enthusiast, the Bullet 2200BH promises memorable family trips filled with joy and cherished moments. Happy camping!
Get the RV Nerd Preferred Price
We are offering an exclusive price on this floorplan for 30 days after Josh the RV Nerd releases his review on YouTube. Even if we are stocked out – we will guarantee this price on any ordered 202RBLE floor plan for 30 days!
RV Nerd Preferred Sales Price (Valid Until 09/6/2023)
Bullet 2200BH
Starting as low as $27,995
*Why do RV costs vary? Get the facts here now!