By Jackson Nuttall
Step into a world of family camping adventures, where comfort meets excitement in the 2023 Bullet 211BHSWE Travel Trailer by Keystone RV. This Western-built sister to the Bullet Crossfire 2200BH offers a unique camping experience, featuring a fixed True Queen bed and an array of exciting features.
Journey with us as we explore this no-slide RV that promises unforgettable memories on the road.
Table of Contents – Quick Links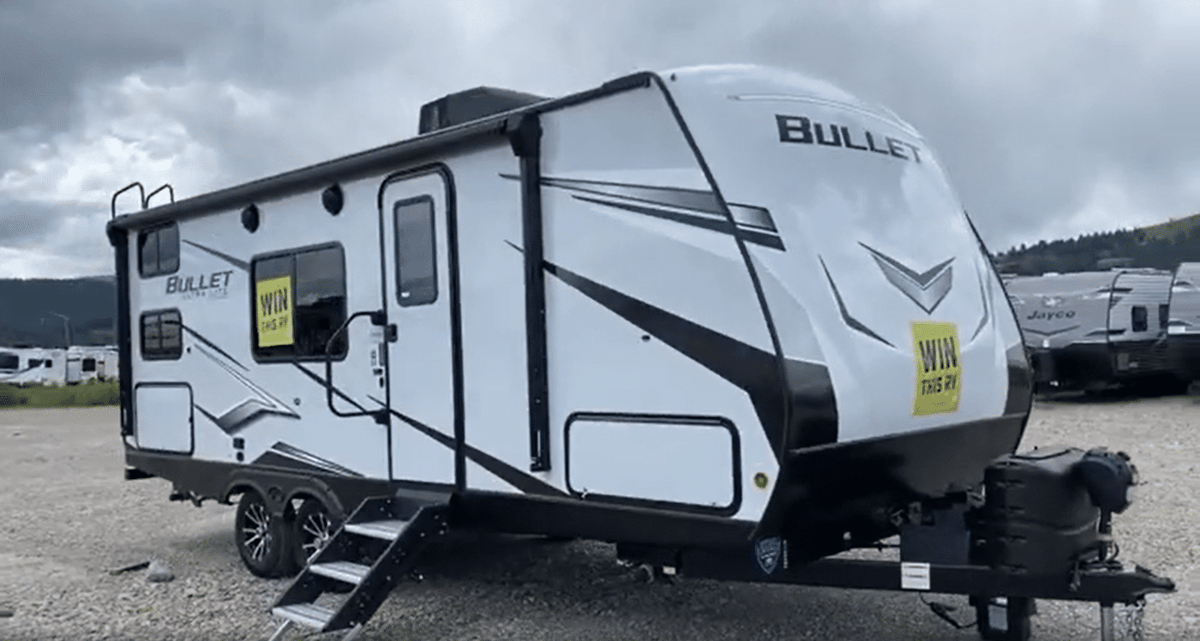 Vaulted Ceiling
True Queen Bed
200 Watts of Factory Solar Power
200 Amp Hours of Lithium Batteries
Carpetless Design
Mini Camp Kitchen
Double-Over-Double Bunk Beds
Bluetooth AM/FM Stereo
Pivotable TV
The 2023 Bullet 211BHSWE Travel Trailer boasts an impressive range of features that make it stand out from the crowd. Keystone RV has meticulously designed this camper to combine practicality with luxury.
The vaulted ceiling inside creates an open and spacious interior, complemented by a fixed True Queen bed, providing unmatched comfort for a restful night's sleep. No more dealing with Murphy beds; this model offers a permanent, cozy sleeping space.
Additionally, the RV comes equipped with 200 watts of factory solar power and 200 amp hours of lithium batteries, allowing you to camp off-grid without sacrificing modern conveniences. Say goodbye to carpets, as the interior features a carpetless design, simplifying maintenance and keeping your space clean and tidy.
The outdoor mini camp kitchen offers the perfect setup for cooking and entertaining under the stars, while the double-over-double bunk beds accommodate family and friends comfortably. The Bluetooth AM/FM stereo and pivotable TV add entertainment options and create a cozy ambiance for relaxation.
The Advantages of a No-Slide RV
The Bullet 211BHSWE's no-slide design provides numerous advantages that cater to various camping preferences and needs:
1. Easy Towing: With tandem axles and no slide-out mechanisms, this RV is a breeze to tow, making it an ideal choice for half-ton vehicles.
2. Minimal Maintenance: Without slide-outs, the RV requires less maintenance, reducing the risk of potential issues and simplifying your upkeep routine.
3. Stealth Camping: The no-slide design enables quick and discreet setups, ensuring a peaceful arrival at a campsite without disturbing neighbors or fellow campers.
4. Encourages Outdoor Activities: Embrace the great outdoors and create lasting memories as the no-slide RV encourages campers to spend more time outside, engaging in various activities and adventures.
Is the West Coast Model Better Than the East Coast Model?
While the Bullet Crossfire 2200BH is a beloved Eastern-built counterpart, the 211BHSWE offers unique features that might appeal to different preferences:
1. Comfortable True Queen Bed: Unlike the trifold bendy bed in the 2200BH, the 211BHSWE features a permanent True Queen bed for superior comfort and convenience.
2. Western-Built Advantages: The Western-built model comes with a candy-coated nose cap, a walkable roof with a ladder, and a compact yet efficient camp convenience center.
3. Privacy and Storage: Enjoy enhanced privacy with an enclosed pantry space, fully framed bathroom mirror, and adjustable storage options in the 211BHSWE.
Conclusion
The 2023 Bullet 211BHSWE Travel Trailer by Keystone RV promises a luxurious, no-slide RV experience with a True Queen bed and a host of enticing features.
Whether you seek easy towing, minimal maintenance, or stealth camping opportunities, this travel trailer has it all.
Embrace the freedom of the road, create cherished memories with your loved ones, and immerse yourself in the full RV lifestyle with the 211BHSWE by your side. Happy camping and may your adventures know no bounds!
Get the RV Nerd Preferred Price
We are offering an exclusive price on this floorplan for 30 days after Josh the RV Nerd releases his review on YouTube.
RV Nerd Preferred Sales Price (Valid Until 09/23/2023)
Bullet 211BHSWE
Starting as low as$33,995
*Why do RV costs vary? Get the facts here now!