Table of Contents – Quick Links
.
.
Are you searching for a family-friendly RV that prioritizes functionality without compromising on comfort? 
Look no further than the Arctic Wolf 321bh. In this blog post, we will explore the key features of this versatile RV that make it an ideal choice for adventurous families. 
From its clever design to its thoughtful amenities, the Arctic Wolf 321bh offers a practical and efficient camping experience.
.

.

.
Floor Plan
The Arctic Wolf 321bh boasts a bath and a half layout, making it perfect for families who appreciate convenience. 
.
.
With a private bunk room at the rear, complete with its own bathroom, this RV ensures that everyone has their own space and easy access to facilities during the night. 
The option to convert the rear room into an office further enhances the versatility of this floor plan.
.
Direct Entry Bathroom Door
One standout feature of the Arctic Wolf 321bh is the direct entry bathroom door. While it may seem unusual at first, this design element plays a crucial role in keeping dirt and foot traffic outside the RV. 
.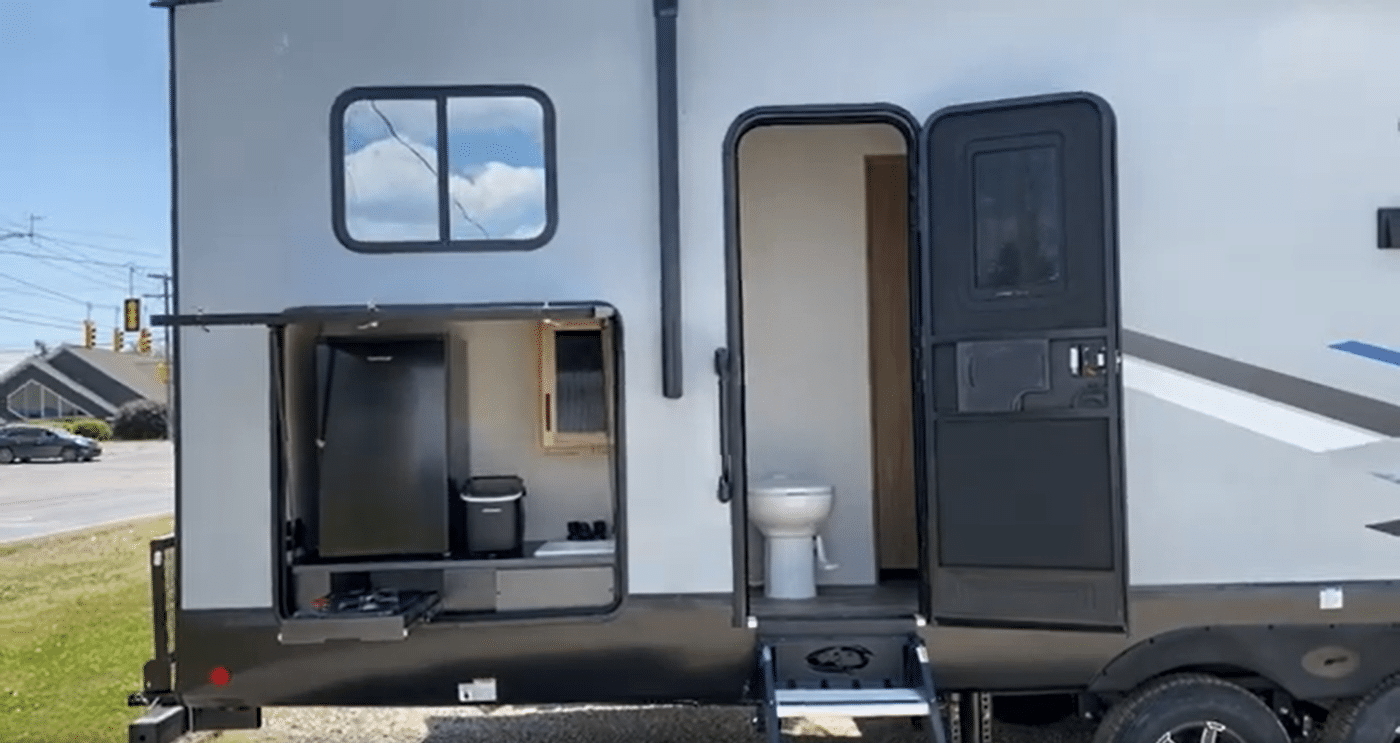 .
It's a practical solution that ensures a cleaner interior and minimizes the hassle of tracking dirt through the living space.
.
Ample Storage and Sleeping Options
Full-Extension Drawers

Elevated Bedroom Dressers

Bunk Beds/Sofa
The Arctic Wolf 321bh offers plenty of storage solutions to keep your belongings organized. From the full-extension drawers under the dinette to the elevated dressers in the bedroom, you'll find ample space for all your essentials. 
.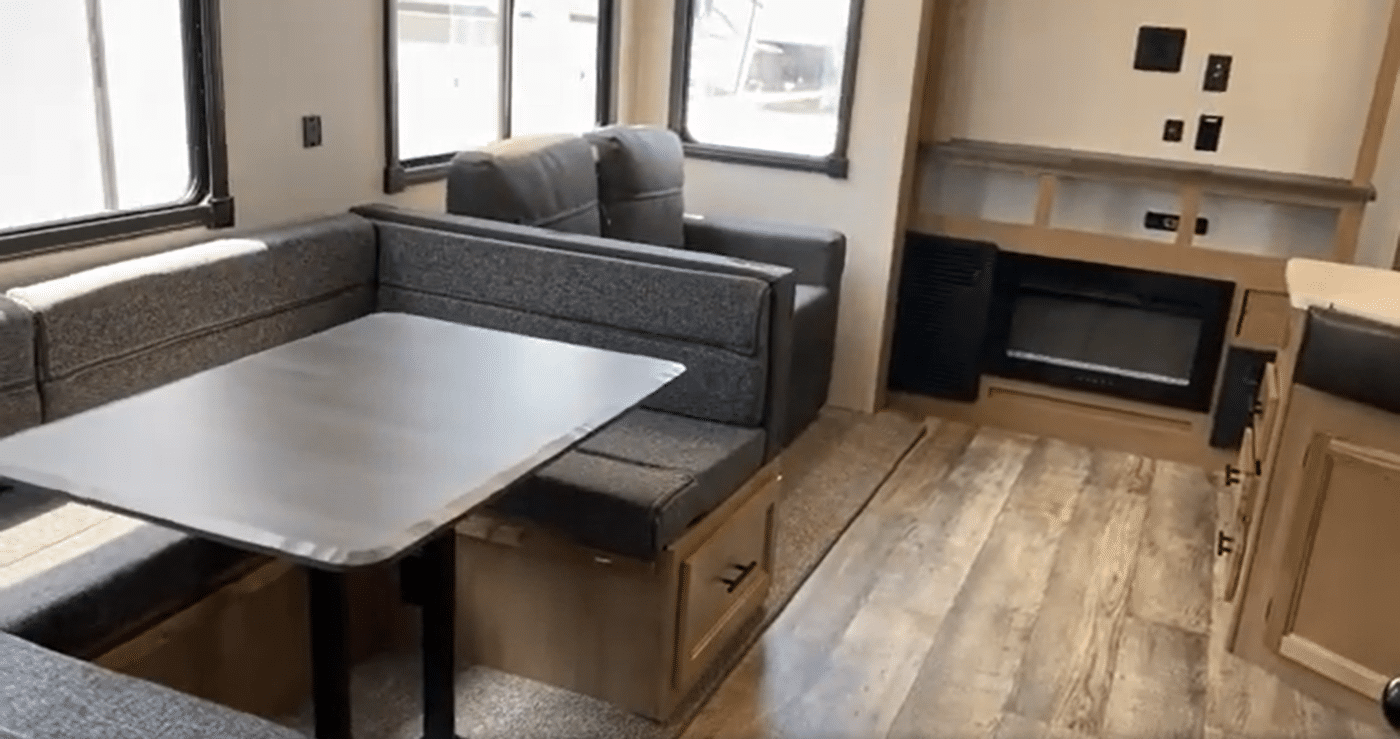 .
The bunk room features a "move bunk, get out of the way" system, allowing for additional storage or a comfortable sleeping area. The bunk beds can easily transform into a spacious sofa, complete with built-in dresser drawers.
.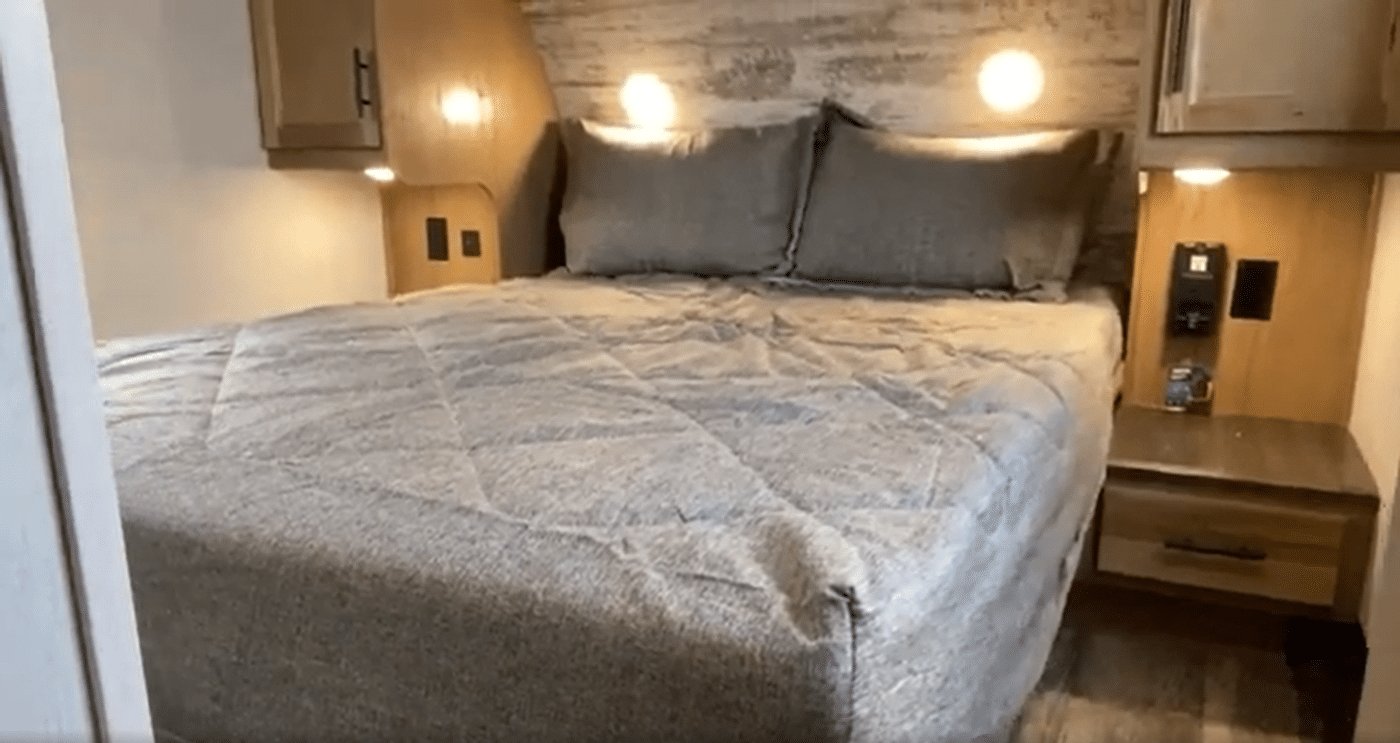 .
Thoughtful Amenities
15,000 BTU Air Conditioners
Zebra Blinds
True Queen Bed
Power Vent Fan
To ensure a comfortable camping experience, the Arctic Wolf 321bh is equipped with several convenient amenities. The 15,000 BTU air conditioners, strategically placed throughout the RV, help keep the interior cool even on hot summer days. 
The large windows in the living room offer excellent natural lighting, and the zebra blinds allow you to control privacy and sunlight. The true queen bed in the bedroom ensures a good night's sleep, while the power vent fan provides ventilation and freshness.
.
Well-Designed Kitchen and Entertainment Area
The kitchen in the Arctic Wolf 321bh is functional and efficient. It features a black stainless farm sink, a high-rise sprayer faucet, and plenty of storage space for all your cooking essentials. 
.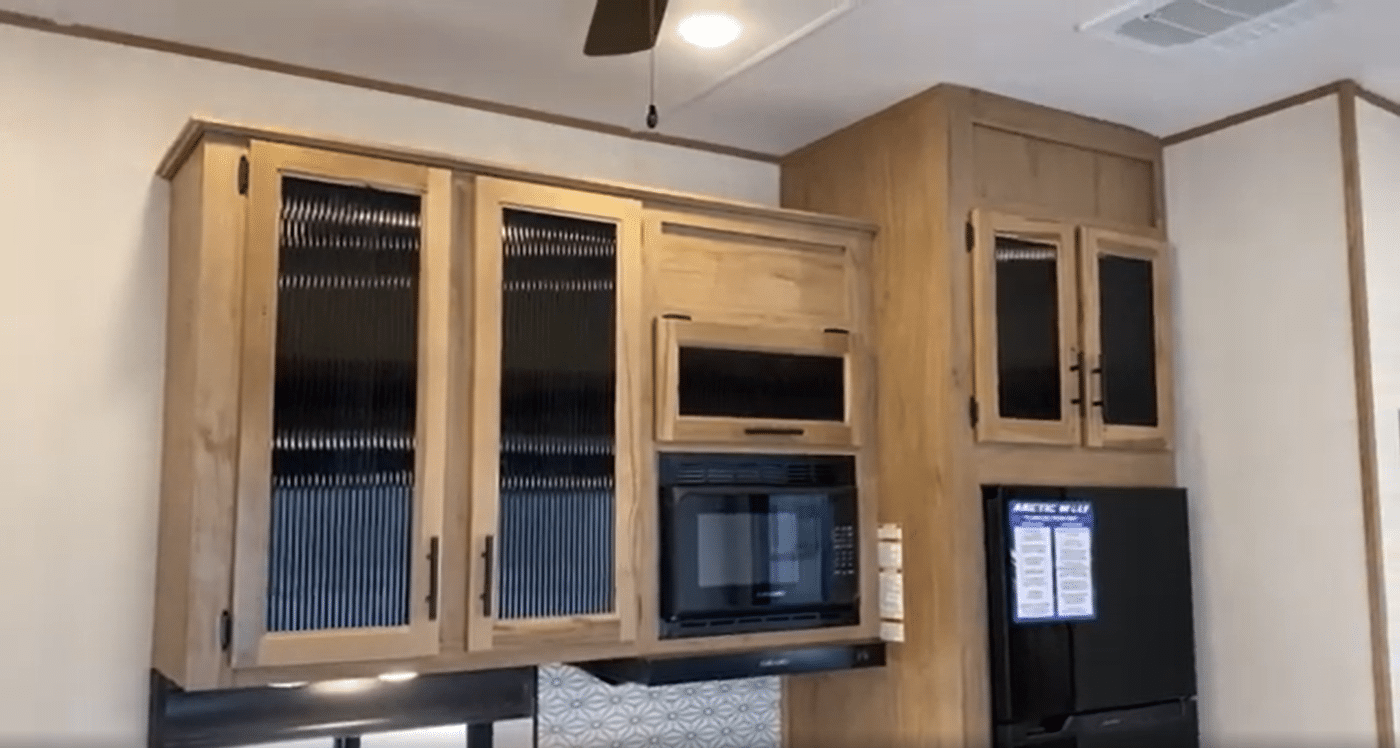 .
The living area includes a tri-fold sleeper sofa and a U-shaped dinette that comfortably accommodates a family. The entertainment center provides the perfect spot for a TV, and the surrounding cabinets offer additional storage and customization opportunities.
.
Conclusion
The Arctic Wolf 321bh is a no-nonsense, family-oriented RV that excels in delivering functionality and comfort. 
With its smart design, direct entry bathroom door, ample storage, and well-thought-out amenities, this RV is well-suited for families seeking an enjoyable and hassle-free camping experience. 
Whether you're embarking on a weekend getaway or a longer adventure, the Arctic Wolf 321bh has you covered. It's time to hit the road and create unforgettable memories with your loved ones!
.
Get the RV Nerd Preferred Price
Bish's RV might not be the "cheapest" dealer in town, but we are proud to offer Arctic Wolf Campers at some of the lowest prices in the country. PLUS you get amazing FREE benefits when you buy from us.
Check out All the Extras you get when you buy from Bish's RV!
.
Arctic Wolf 321BH: Starting as low as

(Click "Get Lowest Price" button to lock in discount)
*Why do RV costs vary? Get the facts here now!