By Koy Blanchard
Easy Towing Family Camping
If you're an adventurous family looking for a compact, lightweight, and versatile travel trailer check out the 2023 Forest River Rockwood GEO Pro 20BHS! In this blog, we'll dive into this popular family camper that strikes the perfect balance between comfort and convenience.
From its unique cargo bunk function to its advanced construction and innovative features, the Rockwood GEO Pro 20BHS is designed to enhance your camping experience like never before.
Table of Contents – Quick Links
The Ingenious Cargo Bunk Function
The Rockwood GEO Pro 20BHS boasts a cargo bunk function that sets it apart from conventional bunkhouse trailers. There is a cargo door that can access the bunk area from outside the RV, and the bottom bunk can fold up out of the way.
This feature allows you to store things while driving such as:
Bikes or electric bikes (room for 2 if you can squeeze them in right)
Other small toys like small kayaks, scooters, etc.
Additional camping gear like chairs, firewood, etc.
This ensures that you can bring your recreational gear along without compromising living space.
The single bunks also include a removable ladder so you don't have to help the kids up and down over and over again.
Thoughtful Floor Plan and Kitchen
The GEO Pro 20BHS offers a popular floor plan that is very well-executed with plenty of amenities. It includes everything you need (and more) to enjoy your time camping with your family.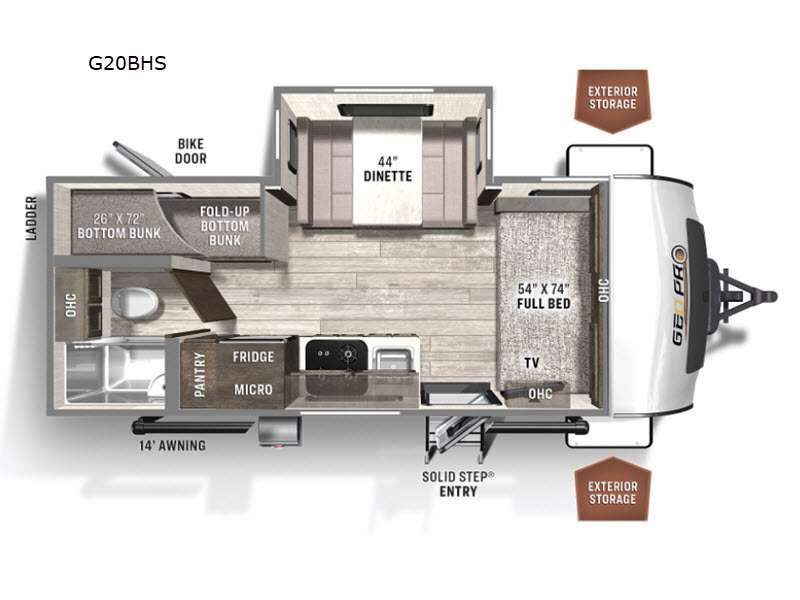 The dinette in the slide is strategically built, allowing easy access and functionality without being a knee-knocker. This is thanks to the support post being at the edge of the table while the other end is fastened to the wall.
The fully equipped kitchen features a 12-volt DC compressor fridge and a large oven. This RV also includes a pantry that could also be used as a closet, which is something you don't often find in smaller single-axle travel trailers.
Comfortable Sleeping Quarters
The GEO Pro 20BHS provides comfortable sleeping arrangements for the entire family.
The camp queen bed may not be for everybody, as it is not a traditional queen, but for those that don't mind camp queen beds, it offers ample space for a restful night's sleep.
The headboard for the main bed includes a unique pop-up power tower with USB ports that works as a wireless charging pad when put away.
The entertainment center with a 12-volt TV sits at the foot of the bed, so you can enjoy your favorite shows or movies even while camping off grid.
The double bunks are equipped with individual curtains for privacy, and both levels feature USB outlets for charging devices.
However you like to camp, you'll find the Rockwood GEO Pro 20BHS to be a very comfortable place to sleep while you're out camping.
Bathroom Features and Shower
Despite its compact size, the GEO Pro 20BHS surprises with a spacious and well-appointed bathroom. The inclusion of a tub with a shower curtain ensures a more generous elbow room in the shower, though the headroom in the shower is not great.
You'll also find a surprising amount of room around the toilet. Additionally, the shower features the handy Aqua View Showermiser system that allows for water conservation while you're heating up the shower water during dry camping.
Sturdy Construction for Peace of Mind
Rockwood has a reputation for building trailers with quality and durability. The Rockwood GEO Pro 20BHS is no exception. Constructed with double Azdel laminated side walls, front and rear walls, and roof, this travel trailer ensures outstanding structural integrity.
Additionally, Rockwood's welded aluminum cage structure offers exceptional support for load-bearing components such as bunks, beds, and dinettes, providing peace of mind during your travels.
Innovative Factory Solar and Inverter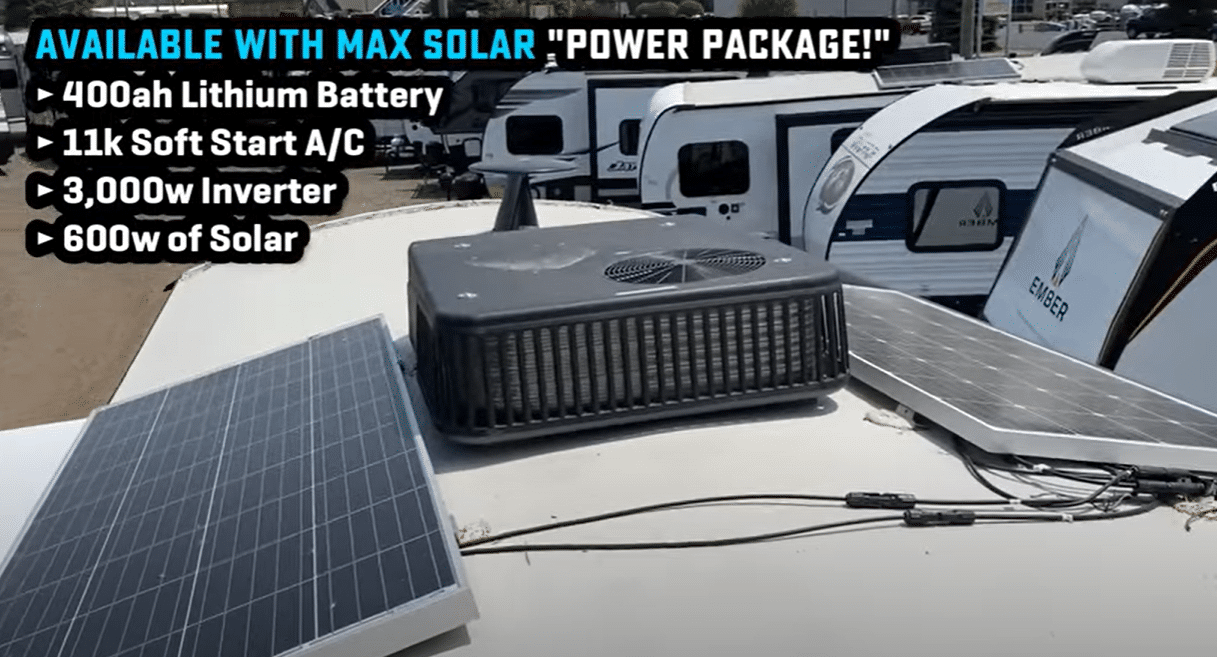 The GEO Pro 20BHS is ahead of the curve with its factory solar and inverter system. They were some of the first to do things like factory solar, and unlike many other brands, Rockwood includes a factory-installed solar panel AND inverter, allowing you to use things like the power outlets to charge your devices even when you're not plugged in at a traditional campground.
The optional additional solar panel on the roof can boost your solar capacity to an impressive 400 watts, enabling you to enjoy off-grid adventures without compromising your comfort.
Conclusion
In conclusion, the Rockwood GEO Pro 20BHS is an exceptional travel trailer that caters to adventurous families seeking a compact and easy-to-tow camper. From its innovative cargo bunk function to its sturdy construction and advanced amenities, the GEO Pro 20BHS is designed so that you can have a fun and adventurous time camping.
Nerd Preferred Price
Bish's RV is proud to offer GEO Pro 20BHS campers at a super great price.
Forest River Rockwood GEO Pro 20BHS: Starting as low as $29,791
*Why do RV costs vary? Get the facts here now!