Exclusive first look at the 2024 Coachmen Towable Camper Lineup
As the leaves start to change color and the cool breeze of autumn rolls in, there's a surge of excitement in the RV industry. It's the time of year when manufacturers unveil their brand-new camper models, setting the stage for the upcoming year.

Bish's RV has seen a lot of new models and features roll out during the past 35 years we've been in business. We understand it's hard to keep up with the flurry of new campers making their debut. We're here to keep you informed of the latest and greatest RVs becoming available so you can make the best choices for your camping adventures.
Our good friend and RV expert-extraordinaire, Josh the RV Nerd, just got back from the Coachmen RV factory. He got an exclusive look at the new 2024 towable camping trailer lineup – and what he saw has him excited for next year's camping season.

Let's jump in and see what 2024 is going to look like!
Table of Contents
How much does a Towable Coachmen Cost?

CATALINA
How to Buy a 2024 Coachman Towable
Thinking of upgrading to a new Coachmen Camper? Find out how much your RV is worth!
---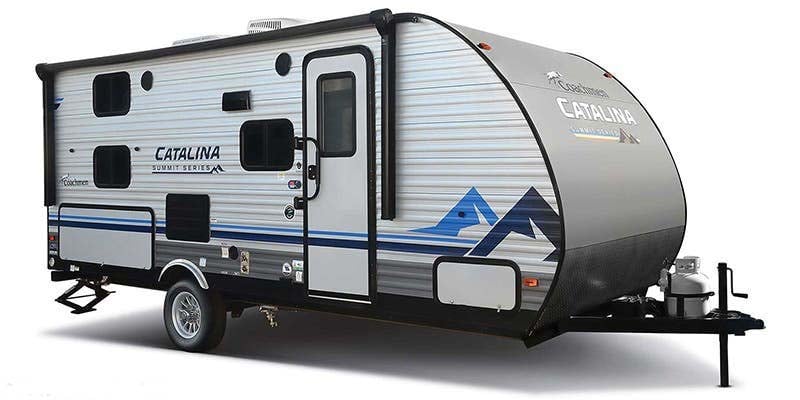 How Much Does a Coachmen Towable Camper Cost?

Coachmen 2024 Towable Camper Price Range:
$13, 900 – $100,000+

2024 Coachmen Travel Trailers $13,900 – $70,000

2024 Travel Trailer prices are still being set by Coachmen, but from what we're seeing here at Bish's RV, you can expect to pay in the range of $13,900 – $70,00 for new 2024 Travel Trailers when you buy from an RV Dealership — depending on the size and model.
Dealer prices are typically lower than the Manufacturer's Suggested Retail Price (MSRP), so be sure to look for discount opportunities when shopping around for a Coachmen
To decide the best place to buy your next RV, check out the advice in this informative article: Where to Buy Your RV – A Comprehensive Guide.

Shop New Coachmen Travel Trailers Now
2024 Coachmen Fifth Wheels
$55,500 – $100,000+

2024 Coachmen 5th Wheels are great for extended living, but a 5th wheel is going to cost more than a travel trailer because Coachmen 5th Wheels have a sturdier construction, are typically bigger than travel trailers and offer more luxury features and options.

You will most likely be able to find Coachmen Fifth wheels on sale below the MSRP price if you shop around and do your homework. We're seeing Coachmen 5th Wheels being priced in the range of $55,000 to over $100,000. Prices vary due to size, construction and available features and add-on options.
When searching for a new fifth wheel, be sure to ask for the "out the door" price as opposed to the sales price. Many RV dealers will have low sales prices, but add on extra fees and costs, so you end up paying more than the listed price.
To learn how to spot hidden fees, check out our article on avoiding being scammed: How to Avoid RV Dealer Hidden Fees and Scams
Ready to See New Coachmen 5th Wheels?
Discover the Charm of Coachmen Catalina Campers


When it comes to choosing a reliable and comfortable camper, Coachmen's Catalina series stands as a testament to quality and innovation.
This year, we had the privilege to witness the unveiling of four exquisite models that reminded us why Catalinas are such a popular brand.
Catalina 164BHX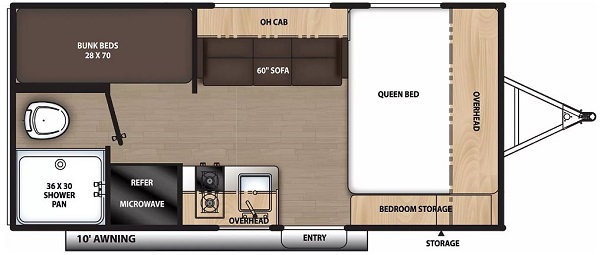 First Family Adventure Friendly: Tailored for new families stepping into the camping world, offering both affordability and necessary amenities.
Cozy Retreat: Comes fitted with a furnace, ensuring that the camper remains a warm and snug haven during the colder nights.
Inspired by Success: Designed with elements that mirror the renowned features of the Coleman Lantern 17B, blending tried-and-tested features with new innovations.
Catalina 192BHS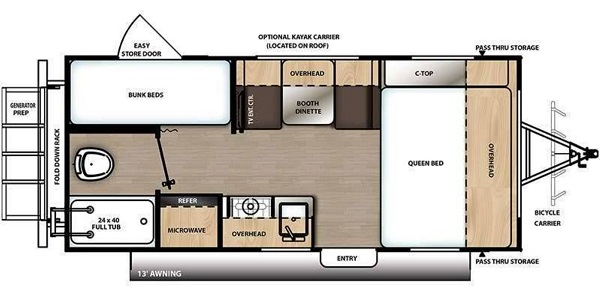 Innovative Exterior: Showcases a durable hung fiberglass exterior over a wooden skeleton, a promising upgrade in construction technology.
Eco-Friendly Adventure: Equipped with a 200-watt standard solar package that can be expanded, facilitating eco-friendly and sustainable camping experiences.
Party-Ready Camping: Boasts a multi-color change awning to add a festive touch to your camping nights, perfect for creating memorable evenings under the stars.
Want to See More Catalinas?


Catalina 271DBS


Versatile SLS Arrangement: Introduces the innovative Sit, Lounge, Sleep arrangement, offering a flexible space for relaxation and entertainment.
Contemporary Interiors: Embraces modernity with a shift to a carpetless design, ensuring easier maintenance and a sleek interior look.
Culinary Comforts: Retains a propane oven, ensuring that baking enthusiasts can continue to enjoy freshly baked treats even while camping.
Catalina 243RBS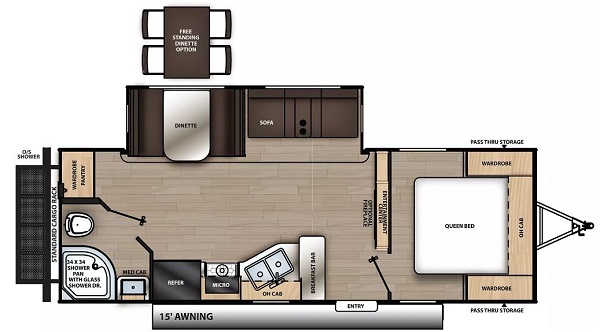 Smart Renovations: Embellished with notable updates like expanded counter space and additional cabinet storage, enhancing both functionality and aesthetic appeal.
Al Fresco Dining Experience: The new external camp kitchen station promises to enhance outdoor culinary adventures, making al fresco dining a joy.
Legacy Charm: Continues to embody the charm and popular features of the Catalina series that has been a favorite among camping enthusiasts over the years.

Get more details about new Coachmen Catalina travel trailers, including pricing!
Unveiling the Marvelous Coachmen Apex Series: Where Comfort Meets Innovation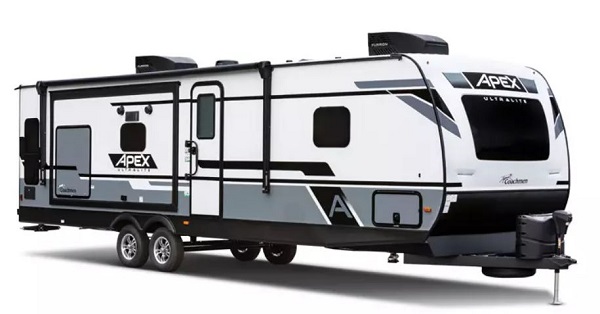 The Coachmen Apex series has really started to gain a group of loyal enthusiasts.. These campers, renowned for their fiberglass construction augmented with Azdel, are stylish and offer great features.
We had the privilege of exploring three marvelous Apex models – the 221RLS, the 251RBK, and the special Remote series 17R.
Want more info on new Coachmen Apex Campers, including pricing?
Apex 221RLS
Solar-Ready: Equipped with 200 watts of factory solar standard, this model is all set to facilitate off-grid adventures, letting you explore nature without a worry.
Spacious Kitchen: Featuring a long kitchen that spans one side of the RV, it promises a generous prep space, enhanced by a north-south two-burner stove that doesn't encroach upon your prep area.
Stargazer Skylight: The highlight of this model is undoubtedly the Stargazer Skylight, an addition that not only enhances the aesthetic appeal but makes the RV feel more spacious and connected to the starry skies above.
Apex 251RBK
Light and Compact: Despite offering an extensive range of features, this model manages to maintain a weight under 6000 pounds dry weight, making it a lightweight choice without compromising on facilities.
Cozy and Functional Interior: Enjoy the comforts of a home theater seat situated directly across from the entertainment unit, alongside a well-equipped kitchen, all incorporated into a single slide-out, preserving space without sacrificing comfort.
Ample Storage and Sleeping Space: With the inclusion of a private true queen bedroom with easy lift bed storage, it promises ample space to relax and store your belongings, even offering additional sleeping space for guests.
Apex 17R (Remote Series)
Revolutionary Design: This model has undergone a transformative journey, now presenting a refreshed color palette and oval-shaped windows, offering a distinct and appealing outlook that sets it apart from its predecessors.
Solar Package Flexibility: Apex is considering offering an enhanced solar package, potentially featuring a 600 watt system with a 3000 watt inverter and large lithium battery, promising a significant upgrade in off-grid capabilities.
Optimized for Comfort and Views: Despite its compact size, this model doesn't compromise on comfort, offering drawers in the kitchen and impressive window coverage, including a windshield upfront, facilitating bright and airy interiors with fantastic views.
See More Great Coachmen Apex Camper Models at Bishs.com


Step into Adventure with Coachmen Freedom Express Campers
Freedom Express campers are getting a new look.
They've ditched the old black-on-black design and now have a more modern and bright appearance. With warm natural wood tones gracing the interior and cleverly designed spaces that cater to every camper's needs, the Freedom Express series promises not only a visual treat but also the comfort and convenience that every traveler desires.
We'll take a closer look at two promising models – the 258BHS and the 298FDS!
Feel "Free" to Get more details on Freedom Express campers!
Freedom Express 258BHS
Spacious and Comfortable Sleeping Arrangements: The 258BHS is equipped with a 60 by 80 true queen bed, accompanied by easy lift vaulted bed storage systems and outward opening dresser drawers for maximum comfort and convenience.
Enhanced Storage and Amenities: This model features a massive hideaway pantry and retainer center, with additional shelf space and optional hanging space, allowing you to easily store your essentials and keep your living space organized.
Innovative Entertainment Setup: Say goodbye to neck-straining viewing angles with the 258BHS. This model has revamped the entertainment area, offering a setup that allows for comfortable viewing from all angles, ensuring you can relax and enjoy your favorite shows in comfort.
Freedom Express 298FDS
Private Rear Bedroom with Generous Storage: The 298FDS introduces a private rear bedroom with a massive storage system, a unique feature that ensures you have ample space to store all your belongings without compromising on your personal space.
Bright and Airy Living Area: Revel in the spacious living room that features a custom full giant U-dinette, surrounded by windows that allow a natural breeze and light to flood the space, creating a bright and welcoming environment for relaxation and entertainment.
Impressive Kitchen Counter Space: Preparing meals is a breeze in this model, thanks to the expansive countertop area which encompasses around 42 square feet, providing you with plenty of space to prepare and serve meals. The kitchen also boasts convenient below-counter drawers and a handy utensil drawer.
Want to see more Freedom Express Campers? Check 'em out!
Camping in Comfort with Coachmen Northern Spirit
The Northern Spirit 2764RE embodies both luxury and convenience in a sleek package. As we journey into a new era of RV travel, the 2764RE stands as a testament to Northern Spirit's commitment to combining contemporary design with home-like comforts.
Northern Spirit 2764RE
Advanced Entertainment System: For those rainy days or cozy nights in, the 2764RE is equipped with an advanced entertainment system. Enjoy a movie night or listen to your favorite tunes with state-of-the-art audio and visual capabilities that promise a top-notch leisure experience right in your RV.
Luxurious Master Suite: Offering a haven of tranquility, the master suite in the 2764RE is nothing short of luxurious. With a queen-size bed featuring premium bedding, ample storage space, and an en-suite bathroom, it provides a restful sanctuary where you can recharge after a day of adventure.
Gourmet Kitchen: Meal preparation becomes a joy in the 2764RE's gourmet kitchen. Furnished with modern appliances like a high-end refrigerator and a microwave oven, along with spacious countertops and ample storage cabinets, it provides everything needed to whip up delicious meals on the road. Plus, the elegant design and stylish fixtures add a touch of class to your dining experience.
Get detailed information on all Coachmen Travel Trailers, including pricing.
Chaparral 5th Wheels: Where Luxury Meets Adventure
Whether you're an experienced RVer or just starting out, the Chaparral 5th wheel brand offers a mix of luxury and functionality that promises to upgrade your road trip adventures.
These campers are built with quality top of mind. Let's explore the notable features of two popular models: the 235RK and the 30RLS.
Chaparral 235RK
Door-Side Dining Bar with Panoramic Window: Enjoy your meals with a view, thanks to the expansive window adjacent to the dining area that lets you soak in the beauty of your surroundings right from the comfort of your RV.
Spacious Countertop Area: The 235RK offers a generous amount of countertop space, allowing for easier meal preparation and serving.
Dual Air Conditioning: This model is equipped with dual air conditioners, ensuring that you remain comfortable even in hot climates.
Chaparral 30RLS
Opposing Living Room Super Slides with an Island: This floor plan, although popular, is executed with a unique touch in the 30RLS, offering vast space and comfort in the living area.
Multipurpose Kitchen Bar: Beyond just dining, the extended kitchen bar can also serve as a desk space or a craft area, making it a versatile addition to the RV.
Thoughtful Light Switch Placement: With easily accessible light switches placed near seating areas, controlling the lighting in your RV has never been more convenient.

Ready to see more Chaparral 5th Wheel Campers?
---
Step into Luxury: Brookstone 5th Wheel
Diving deeper into the realm of luxurious RV living, we have the Brookstone 374RK 5th wheel. This model takes all the standout features from the Chaparral series and elevates them, providing an even more comfortable and opulent camping experience.
Brookstone 374RK
Dual Azdel Construction: The Brookstone employs dual Azdel in the construction of both the inside and outside layers of the sidewall, minimizing the use of wood products and offering superior insulation and durability.
Spacious Living Area with a Mega Slide: The living room and kitchen share a gigantic campsite mega slide, offering unprecedented space and comfort. Coupled with expansive windows, the interior is bright, airy, and welcoming.
Extra-Large Entertainment Space: Despite the already large TV, the generous wall space offers the potential to accommodate an even bigger screen, turning your living area into a personal home theater for enjoying movies or watching the big game with family and friends.
Your Next Adventure Awaits with a 2024 Coachmen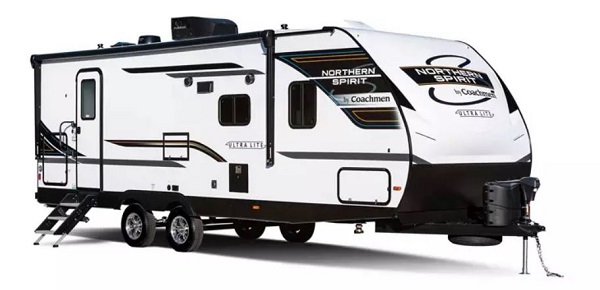 As we stand on the cusp of a brand-new year, the rush of new inventory this fall might seem a bit overwhelming. From innovative features to revamped interiors, the 2024 Coachmen RV models promise an exhilarating blend of comfort and innovation, setting the stage for a series of unforgettable adventures on the road.
At Bish's RV, we are dedicated to helping you navigate through the hundreds of choices, ensuring that you are well-informed and confident in your decisions.
Remember, your dream of owning a travel trailer or 5th wheel is just a few steps away.
Next Steps in Owning a New Coachmen Travel Trailer or 5th Wheel
Here's how you can stride confidently towards making one of these magnificent Coachmen models yours:
---
Explore Our Coachmen Travel Trailer Inventory
Dive deep into our extensive travel trailer selection to find the Coachmen model that aligns with your unique preferences and needs.
Check Out Our Coachmen 5th Wheel Inventory
Our detailed 5th Wheel listings provide all the information you need to pinpoint your next Coachmen home away from home.
---
Consult with a Bish's RV Expert
Have questions? Our team of experienced RV experts is always on hand to provide guidance, helping you to hone in on the model that aligns perfectly with your travel aspirations and lifestyle.
---
Enhance Your Knowledge at Bish's RV Learning Hub
As you edge closer to making a decision, our Learning Hub serves as a reservoir of invaluable insights and tips. From maintenance advice to travel guides, delve into articles that enrich your RV ownership experience.
Is a 5th Wheel or Travel Trailer Better?
The Best Resource When Choosing Between Stick and Tin and Fiberglass RVs
How to get the most for your RV Trade.
RV Loans: How to get the Best Financing Deal