Today we'll be exploring the impressive 2023 Vibe 28BHE Travel Trailer by Forest River.
This RV may appear to be just like any other, but it holds some hidden features that make it a true gem for family camping.
From its versatile rear room to the smartly designed kitchen, let's dive in and discover why this model stands out from the crowd.
Table of Contents – Quick Links
The Multifunctional Rear Room
The Vibe 28BHE's unique flex-function rear room is a game-changer for family travelers. At first glance, it looks like a typical private bunk room, but what sets it apart is the top bunks that can easily move out of the way.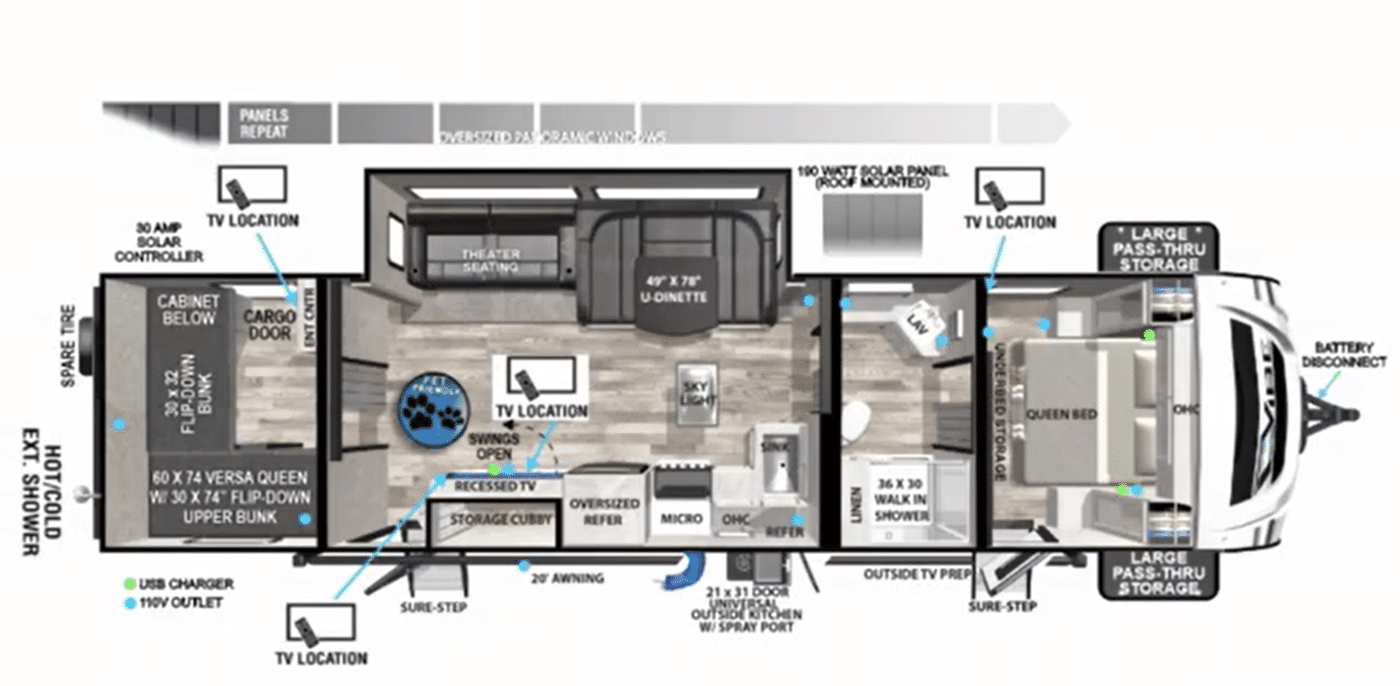 By doing so, you unveil a second queen bed or a comfortable daytime sofa, providing plenty of flexibility for your camping needs. Moreover, this room boasts a dedicated cargo door at the back, making it an excellent space to store bikes, totes, or any other camping essentials securely.
A Bright and Spacious Living Area
Bright Color Palette
12-Volt DC Compressor Refrigerator
Carpet-Less Slide Design
Pet-Friendly Features
The Vibe 28BHE's living area impresses with its light and bright color palette, creating a welcoming and refreshing ambiance.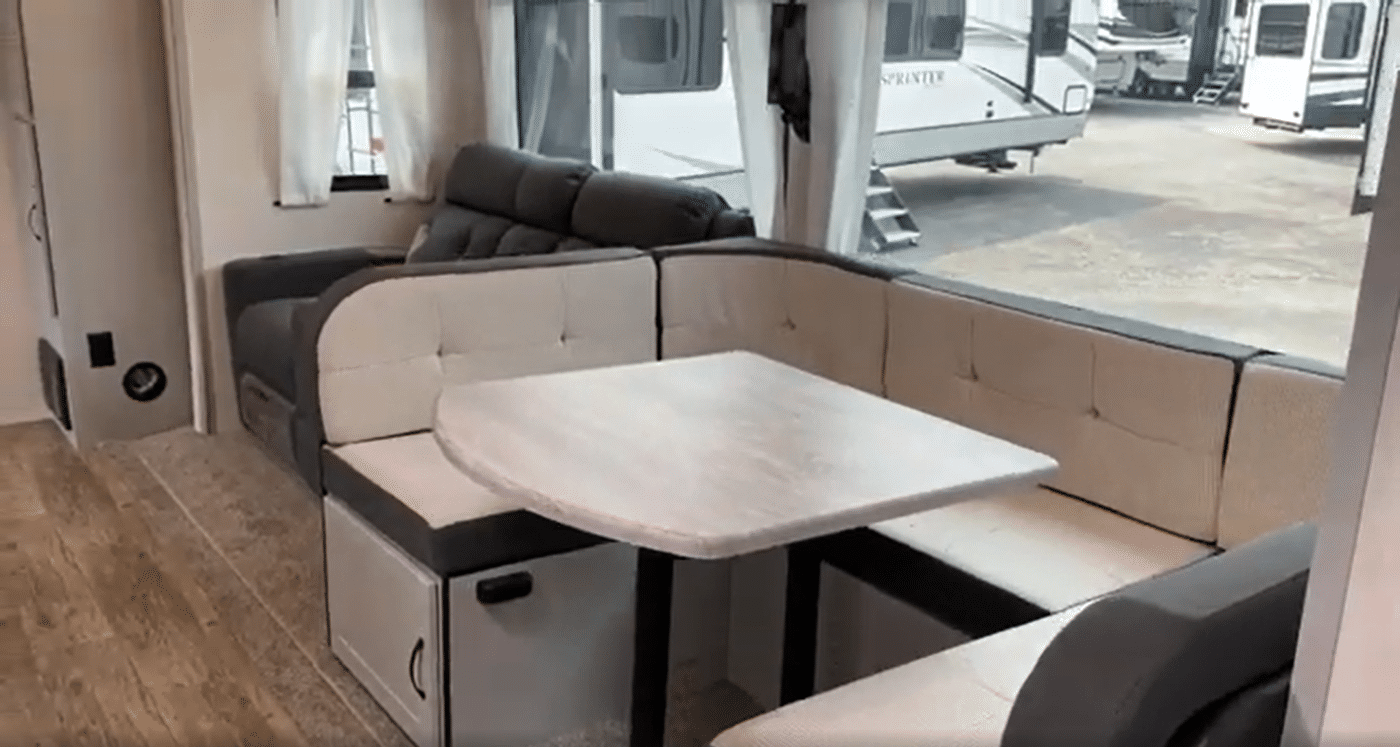 The entertainment center and theater seats offer a cozy spot to unwind after a day of adventure. Although the refrigerator is a 12-volt DC compressor model, it ensures your food stays cool throughout your journeys.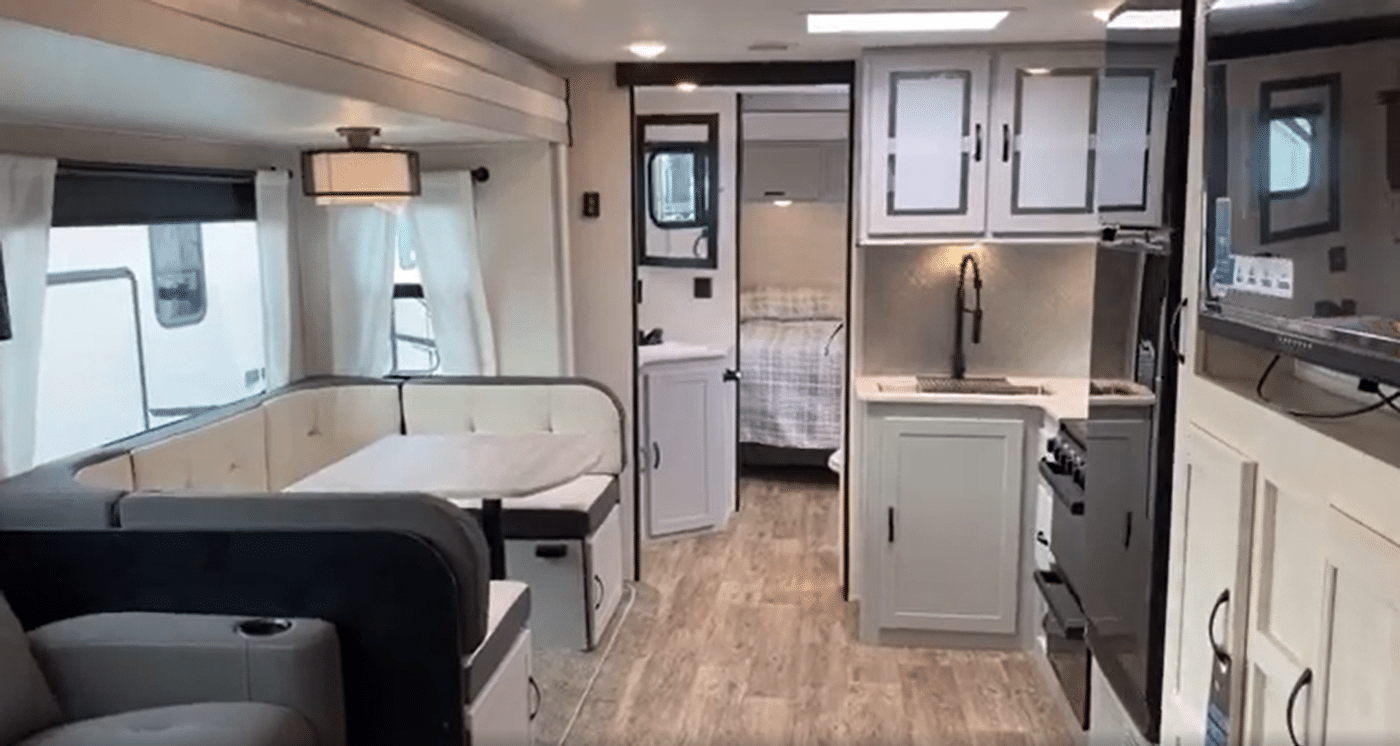 The carpet-less slide design and pet-friendly features make it easier to maintain and keep the interior clean.
Walk-Through Middle Bathroom
While the walk-through middle bathroom might not be everyone's cup of tea, it does come with its advantages. This layout allows for a bigger bathroom area without dedicating unnecessary space to hallways.
However, it's essential to note that when the bathroom is in use, the rest of the RV is temporarily inaccessible. Still, the Vibe 28BHE compensates with a second entry door, providing convenient road-mode access and extra ventilation.
Comfortable and Customizable Sleeping Spaces
The Vibe 28BHE offers a comfortable camp queen bed in the front bedroom, providing ample space to move around and access the wardrobe.
The manufacturer includes a camp queen bed in the package, but there's room to install your preferred residential queen bed. In the bunk room, the Versa bunk system showcases its versatility, as it easily transforms into an office or extra living space if needed.
Conclusion
The 2023 Vibe 28BHE Travel Trailer is a standout option for family campers seeking a versatile and feature-packed RV.
With its multifunctional rear room, spacious living area, and thoughtful design throughout, it caters to various camping preferences. While it may require a three-quarter-ton tow vehicle, the hidden features and clever layout make it a worthwhile investment for memorable family adventures.
Explore this Vibe model, and you might just find your perfect travel companion. Happy camping!
We are offering an exclusive price on this floorplan for 30 days after Josh the RV Nerd releases his review on YouTube.
RV Nerd Preferred Sales Price (Valid Until 09/17/2023)
Vibe 28BHE: Starting as low as
(Click "Get Lowest Price" button to lock in discount)
*Why do RV costs vary? Get the facts here now!