Today, we have a treat for you – the 380 front living Solitude by Grand Design RV. If what you're looking for is a clear separation between living, kitchen, bathroom, and bedroom, this is the perfect RV for you.
With its separate front living room and window coverage everywhere, this RV offers stunning views and the perfect space for spending quality time. Let's dive into the features of the 2023 Solitude 380FL Fifth Wheel!
Table of Contents – Quick Links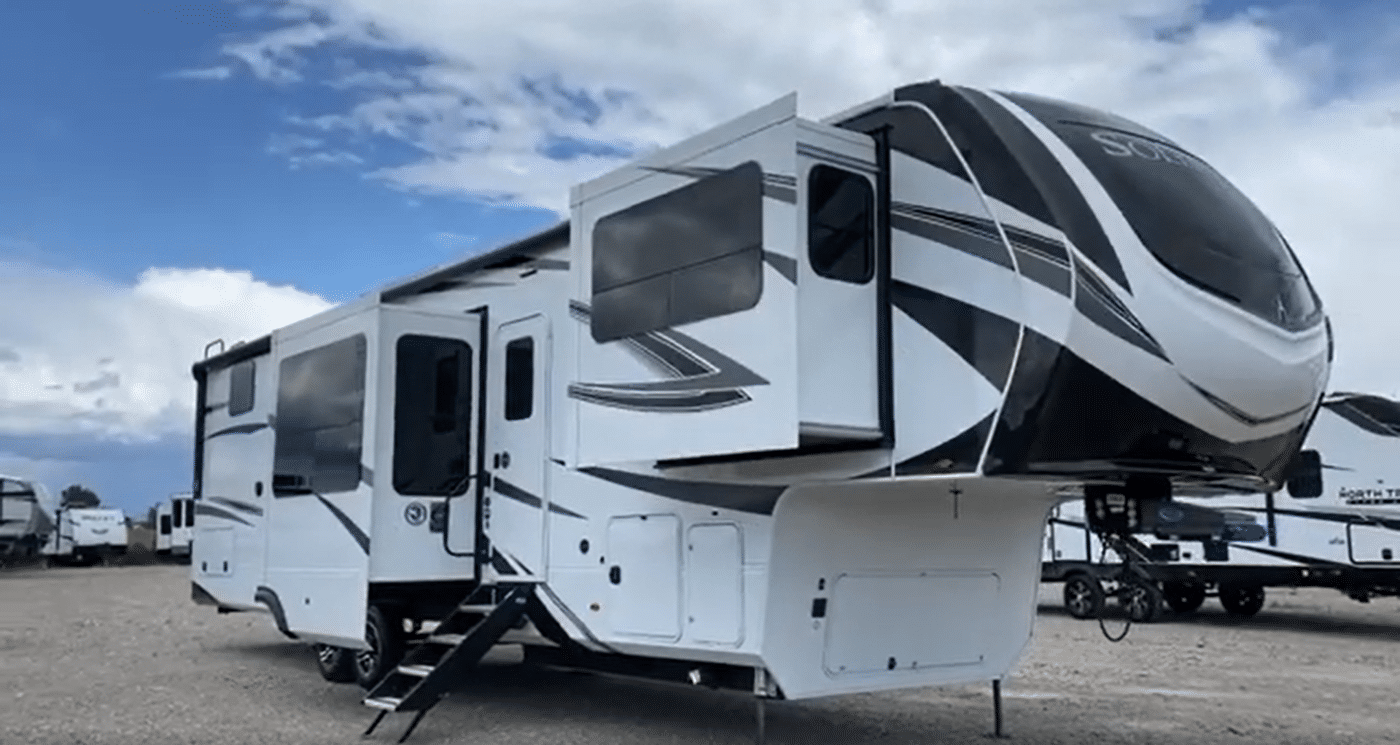 Features
Hydraulic Leveling
Solar Panel
20 Cubic Ft. 12-Volt Compressor Fridge
This fifth wheel is equipped with a range of impressive features that make it a luxurious and comfortable choice for long-term living and travel.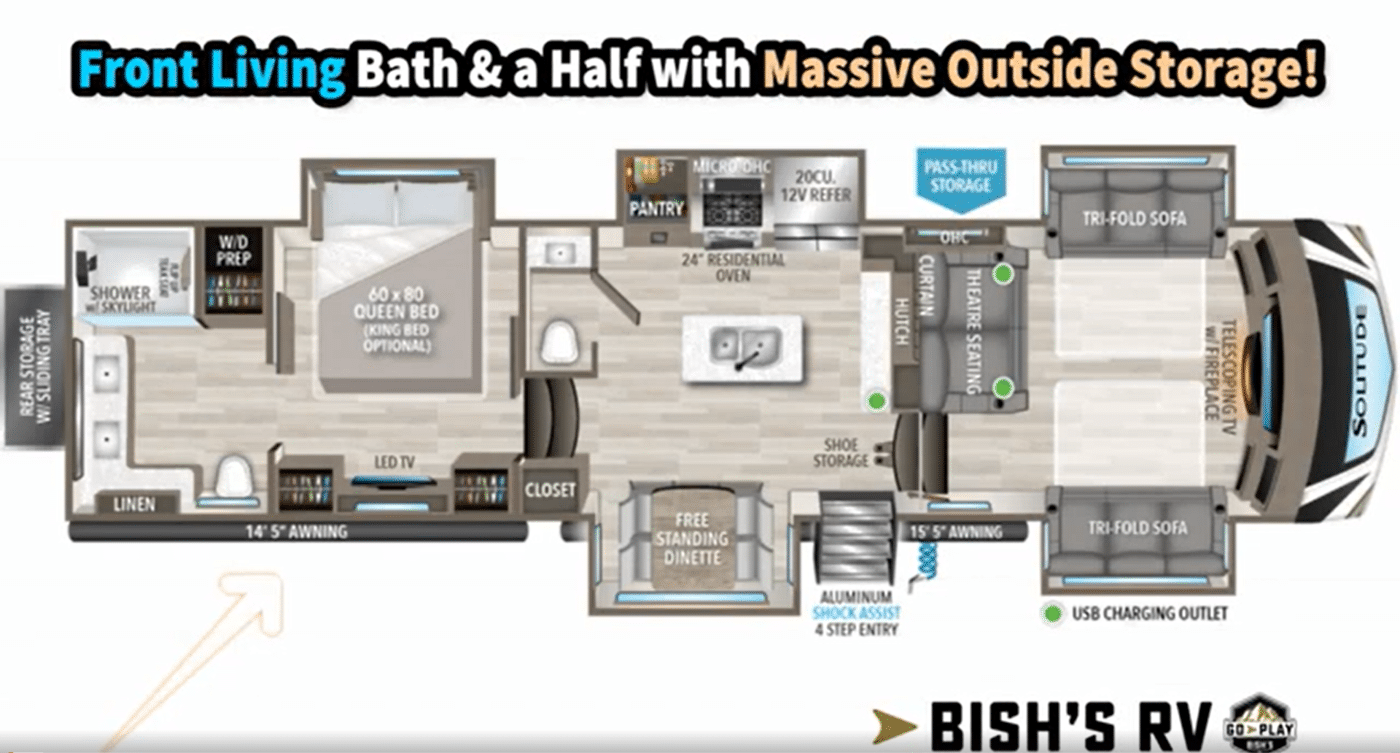 From its full-time RV warranty to the hydraulic leveling and big solar panel on the roof, this RV is built to handle various adventures. The 20 cubic foot 12-volt compressor fridge with an ice maker and 101-inch wide body are just some of the thoughtful details that make this model stand out.
However, it's essential to note that the size of this RV can also be a limitation, especially in dually country, so careful consideration is necessary.
Living Space and Kitchen 
The highlight of the Solitude 380FL is the remarkable window coverage in the living and kitchen area. The front and entire campsite sides of the RV are practically pure windows, providing breathtaking views.
The front living room features theater recliners and hide-a-beds, making it an excellent place to relax and entertain guests. The kitchen, equipped with a residential-style four-burner stove and a massive 20 cubic foot 12-volt compressor fridge, is perfect for preparing delicious meals.
The pantry offers ample storage space, and the solid surface countertops add a touch of elegance.
Bathroom and Bedroom
This fifth wheel boasts a half bath located conveniently near the kitchen area, providing added convenience for guests. The main bathroom, accessible through the master bedroom, offers a spacious shower with a folding teak seat, a lavatory with dual sinks, and plenty of storage space.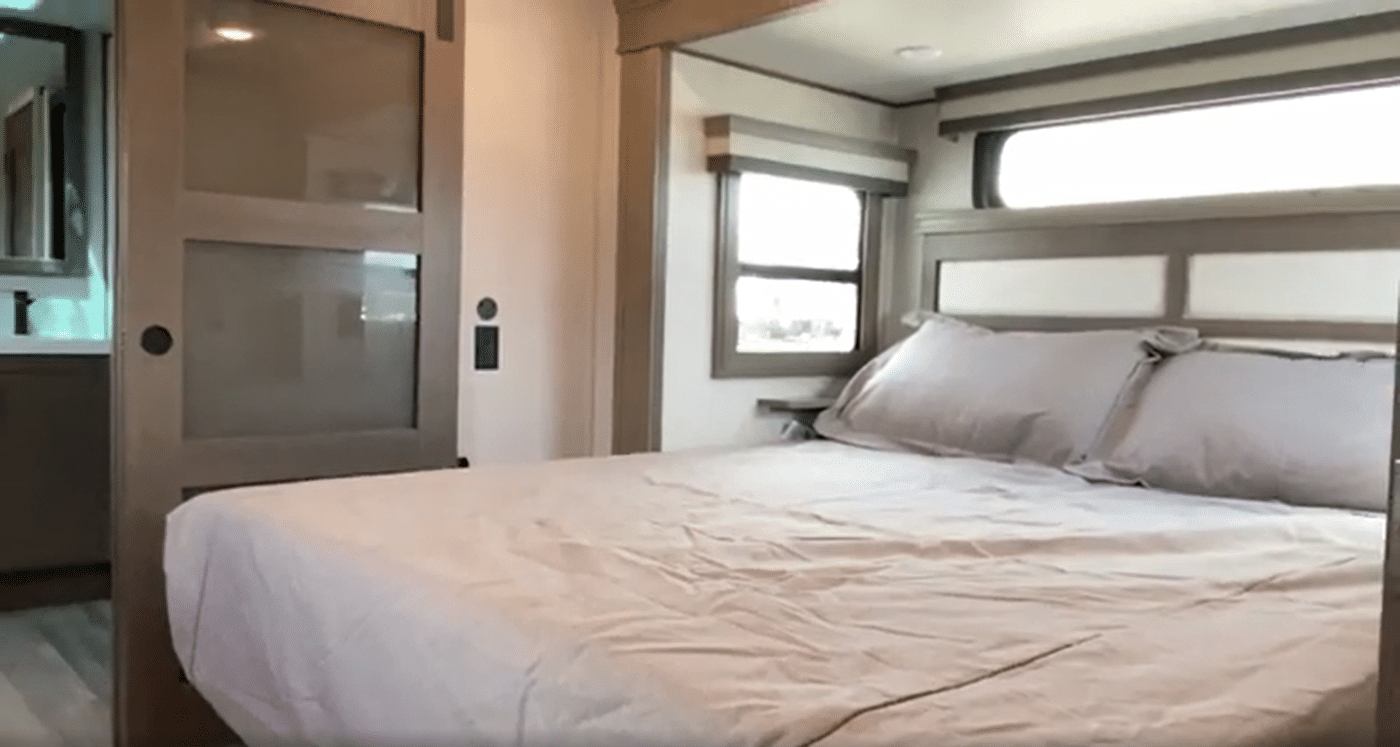 The bedroom features a king-size bed and abundant wardrobe and dresser storage, making it a cozy and well-appointed private retreat. The under-bed storage and additional hidden lid storage area add to the RV's impressive storage capacity.
Destination vs. Travel RV
The Solitude 380FL is an ideal destination RV, designed for travelers looking to spend extended periods in one location.
While it may not have the best travel access due to its size, many people are choosing to use these large fifth wheels for destination use only, hiring transport services between locations.
The RV's size allows for plenty of space and luxury amenities, making it an attractive option for those who value comfort over frequent travel.
Safety and Comfort on the Road
Motorized Shock Dampening
Ride Shaft Dampening Suspension Package
Cooper H Rated Tires
Anti-Lock Brakes
Exterior-Mounted Furnace
Tankless On-Demand Water Heater
Water Filtration
Safety and comfort are essential factors when selecting an RV, and the Solitude 380FL delivers in both aspects.
Equipped with motorized shock dampening pin box, more ride shaft dampening suspension package, Cooper H rated tires, and anti-lock brakes, this fifth wheel ensures a smooth and secure ride on the road.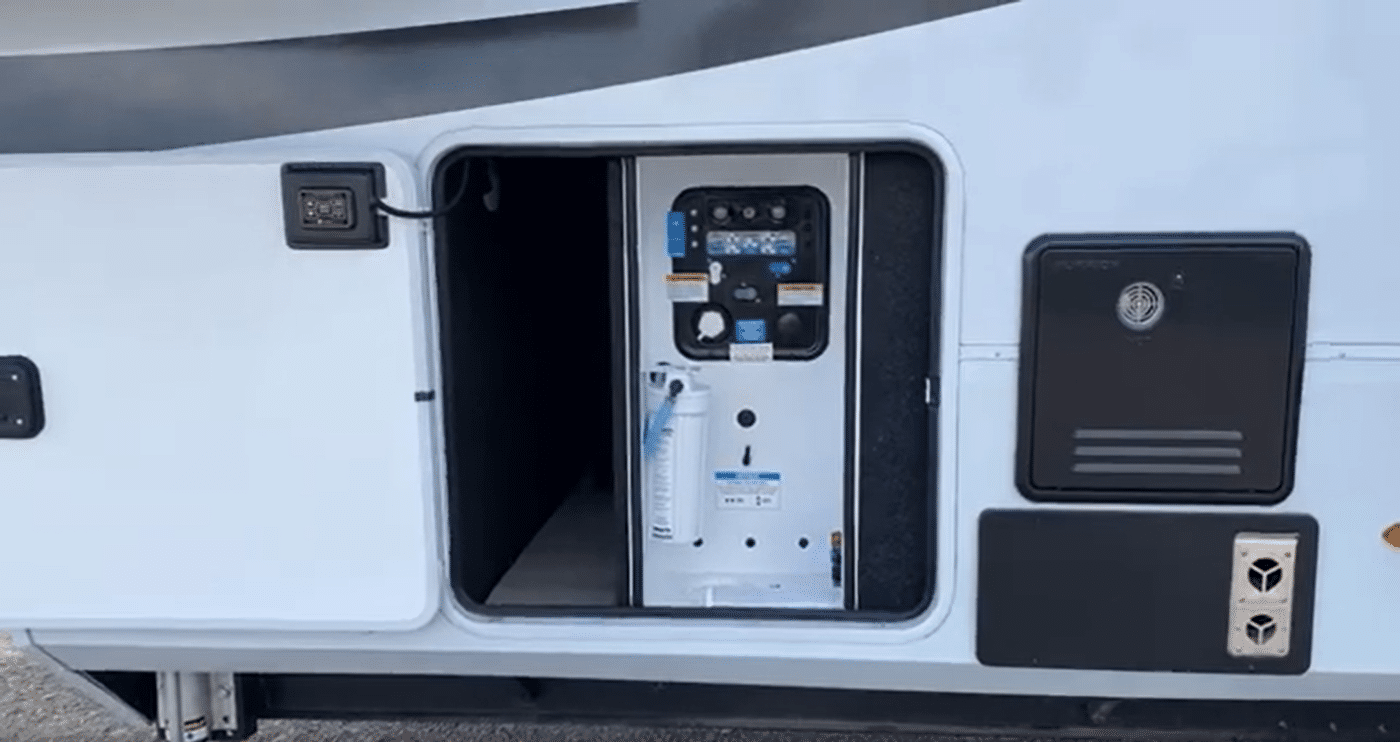 The furnace is exterior mounted for easy service, and the tankless on-demand water heater provides continuous hot water supply, while the whole-house water filtration ensures clean water for all your needs.
Conclusion
The 2023 Solitude 380FL Fifth Wheel by Grand Design RV is a stunning and well-designed RV that provides a clear separation between living spaces, creating a luxurious and comfortable environment for travelers and full-time RVers.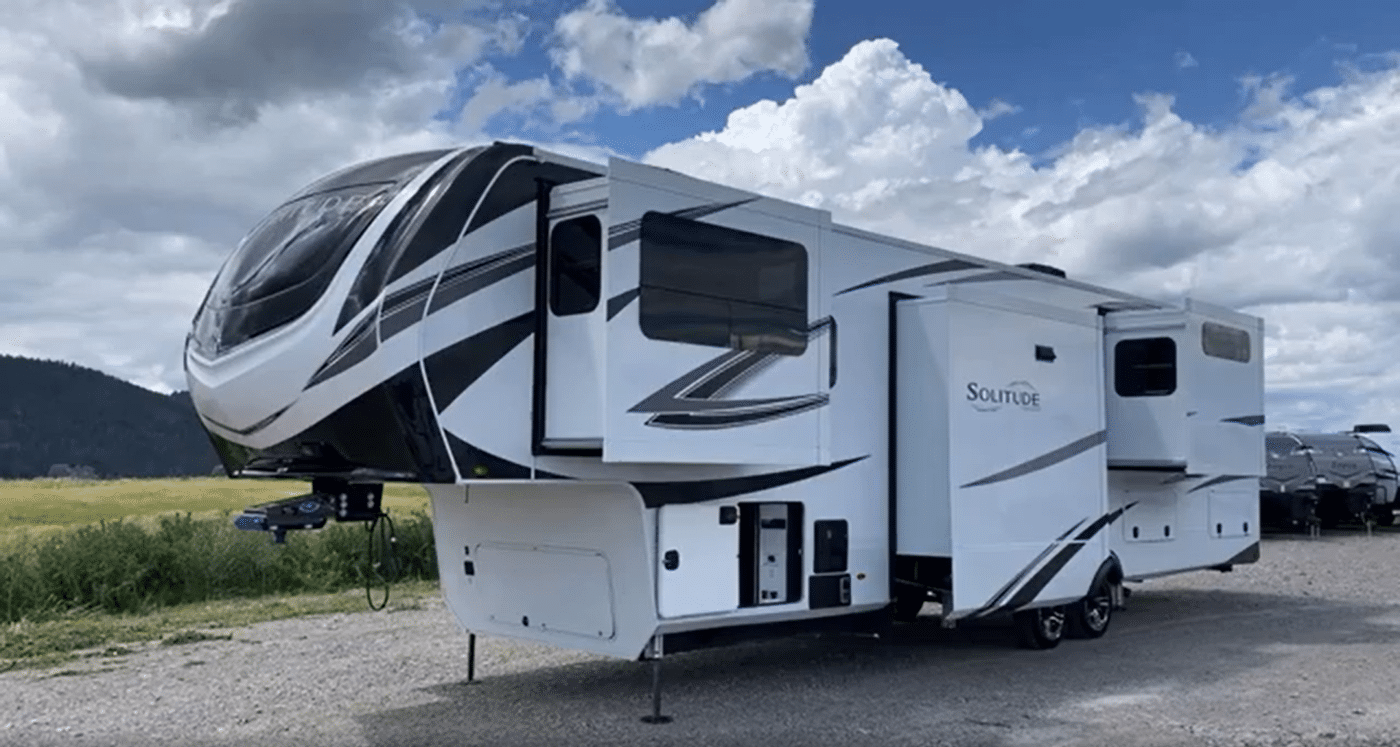 With its spacious front living room, well-appointed kitchen, and comfortable bedroom, this RV is perfect for those seeking a true home away from home experience. While its large size may limit travel to certain destinations, it excels as a destination RV for extended stays.
Whether you're an experienced RV enthusiast or a first-time buyer, the Solitude 380FL offers an excellent option for your next adventure. Happy camping!
Get the RV Nerd Preferred Price
We are offering an exclusive price on this floorplan for 30 days after Josh the RV Nerd releases his review on YouTube. Even if we are stocked out – we will guarantee this price on any ordered 202RBLE floor plan for 30 days!
RV Nerd Preferred Sales Price (Valid Until 09/5/2023)
Solitude 380FL
Starting as low as $109,314
*Why do RV costs vary? Get the facts here now!