By Jackson Nuttall
Today we are reviewing the 2023 Momentum 25G Travel Trailer by Grand Design RV. This remarkable toy hauler packs a serious punch in a shorter length, coming in at just under 31 feet.
Despite its compact size, it offers surprising destination space, complete with a true queen bed slide and a kitchen slide.
The RV also boasts an impressive Solar Pack Plus, enhancing its standard 200W solar package to a total bundle of 660W (Dual 330W panels) with a 2,000W inverter while maintaining its 4,000W Onan generator.
Table of Contents – Quick Links
Features of the RV
The 2023 Momentum 25G Travel Trailer is designed to impress with its unique features:
1. Impressive Layout:
This toy hauler's wide body and full super duper height resemble a big fifth wheel, offering a kitchen living slide and an East-West queen bed slide. The clever design includes a folding bendy bed, allowing for a spacious interior while ensuring convenience when closing the slide.
---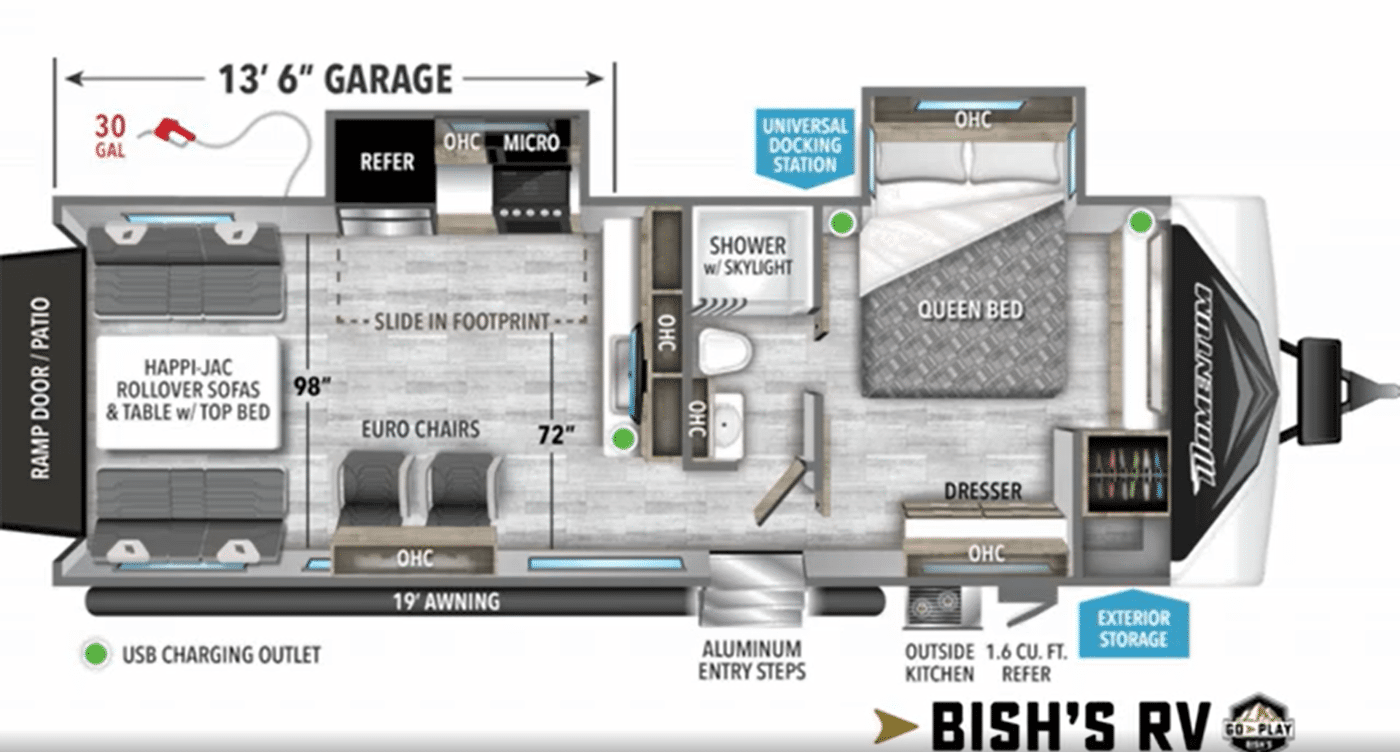 ---
2. Generous Cargo Capacity:
Weighing around 9,000 pounds with over 4,000 pounds of available cargo capacity, this RV provides ample space for your toys, making it perfect for adventure enthusiasts.
---
3. Three-Season Patio Wall:
Unlike most travel trailer toy haulers, the Momentum 25G features a full-on three seasons sliding door glass screen wall combo, providing easy access to your toys without having to close the ramp every night.
---
4. Factory Solar and Generator:
With a factory-standard solar package and an onboard 4,000W generator, you can enjoy the freedom of boondocking and take your RV anywhere you desire.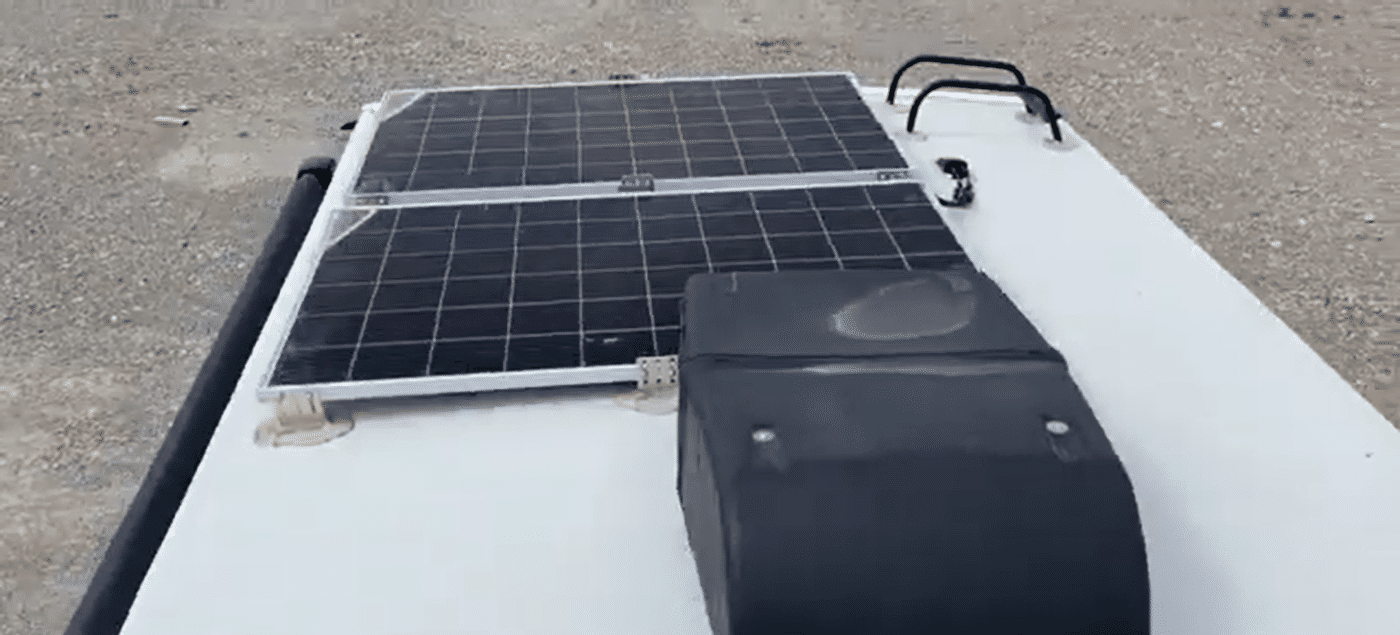 5. Comfort and Convenience:
The RV offers a plethora of amenities, including a pair of swivel rocker recliner Euro-style chairs, a smart TV that can pivot for easy viewing, and a deep bed slide with large breeze across windows.
---
Towing Factors
Due to its GVW and hitch weight, it is advisable not to pair this toy hauler with a half-ton vehicle. Opt for a solid three-quarter-ton truck to ensure safe and smooth towing.
Road Load Mode
When traveling, the kitchen slide must be closed, which affects available space. However, side-by-sides should fit well in the garage area.
The swivel chairs can be moved to maximize loading capacity, offering flexibility for your specific needs.
Kitchen and Bathroom
The Momentum 25G boasts a well-equipped kitchen with a 12-volt DC compressor fridge and ample counter space.
The bathroom features a spacious shower with comfortable headroom and excellent storage.
Sleeping Arrangements
The true queen bed provides a comfortable and spacious sleeping area, while the power drop beds offer flexibility and additional sleeping options.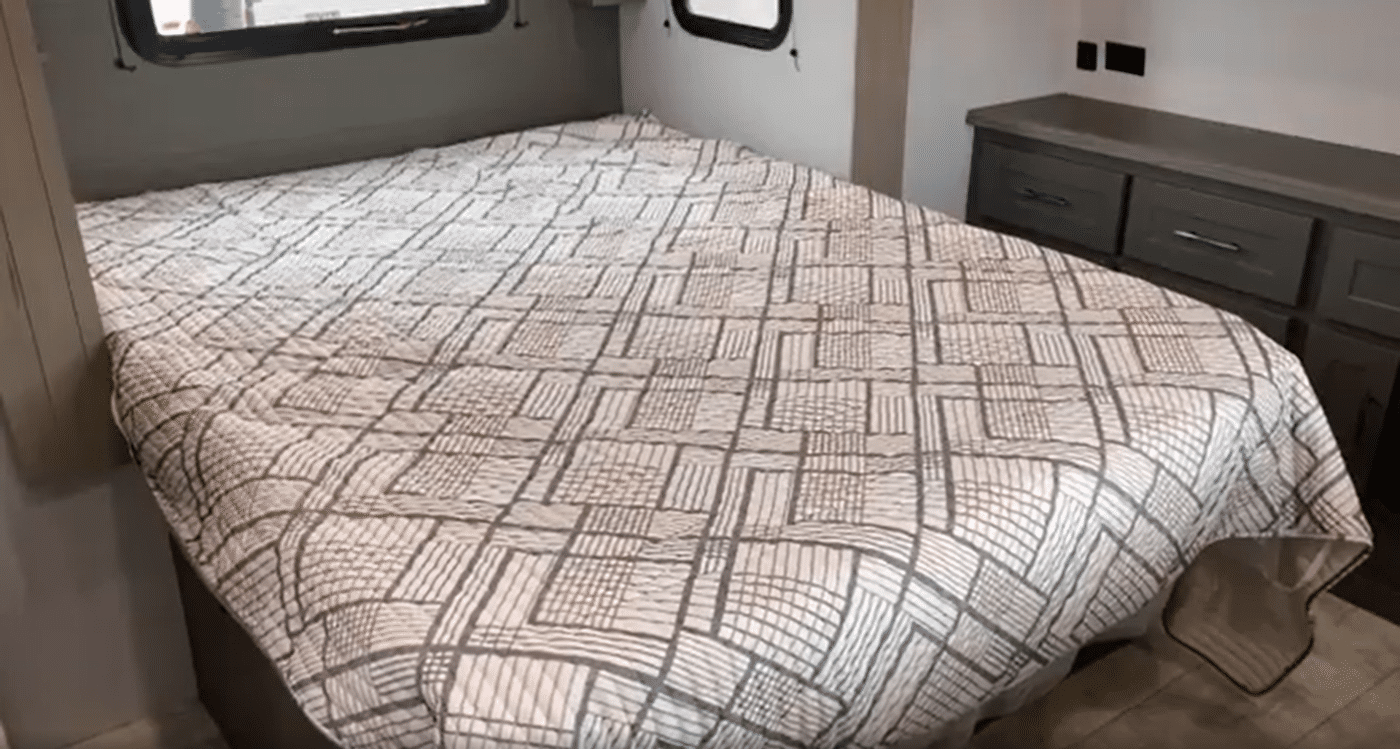 True Queen Bed
Exterior Features
The RV is equipped with Goodyear endurance radials, anti-lock safety brake systems, and tire pressure monitoring.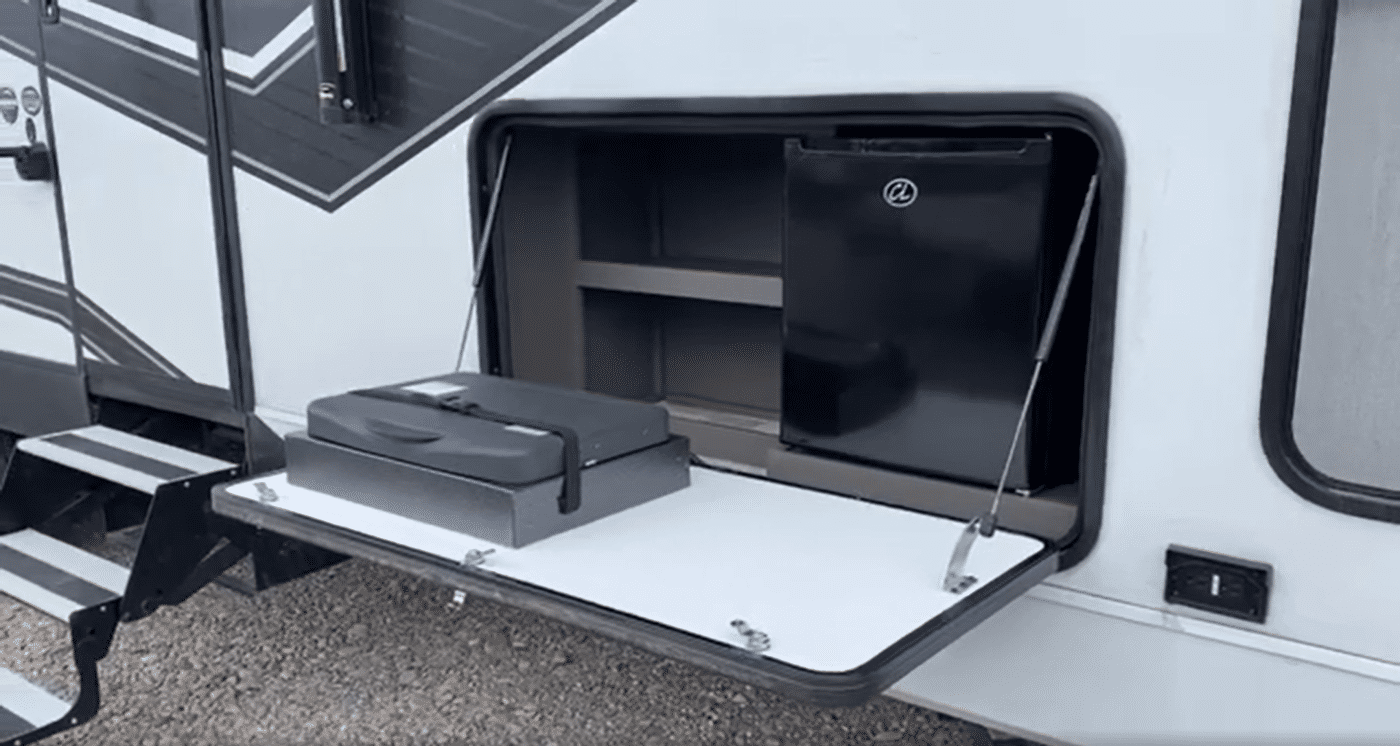 It includes a three-season patio wall, a gas-strutted drop-down mini-camp kitchen, and generous campsite windows.
Conclusion
The 2023 Momentum 25G Travel Trailer by Grand Design RV is a compact powerhouse that will exceed your expectations. 
With impressive features, a comfortable interior, and thoughtful design, it stands out as an ideal option for those seeking adventure on the road.
The RV's versatility, ample cargo capacity, and exceptional towing capabilities make it a true winner in the world of travel trailer toy haulers.
Embrace the freedom to explore and embark on thrilling adventures with the Momentum 25G as your trusted travel companion. Happy camping!
Get the RV Nerd Preferred Price
We are offering an exclusive price on this floorplan for 30 days after Josh the RV Nerd releases his review on YouTube.
RV Nerd Preferred Sales Price (Valid Until 09/24/2023)
Momentum 25G
Starting as low as $64,995
*Why do RV costs vary? Get the facts here now!