Table of Contents – Quick Links
.
.
In this blog article, we will explore the impressive features of the 2023 Cougar 22RBS Couple's Camping Travel Trailer. Despite its compact size, this RV is packed with big camping features that make it stand out from other builders. 
.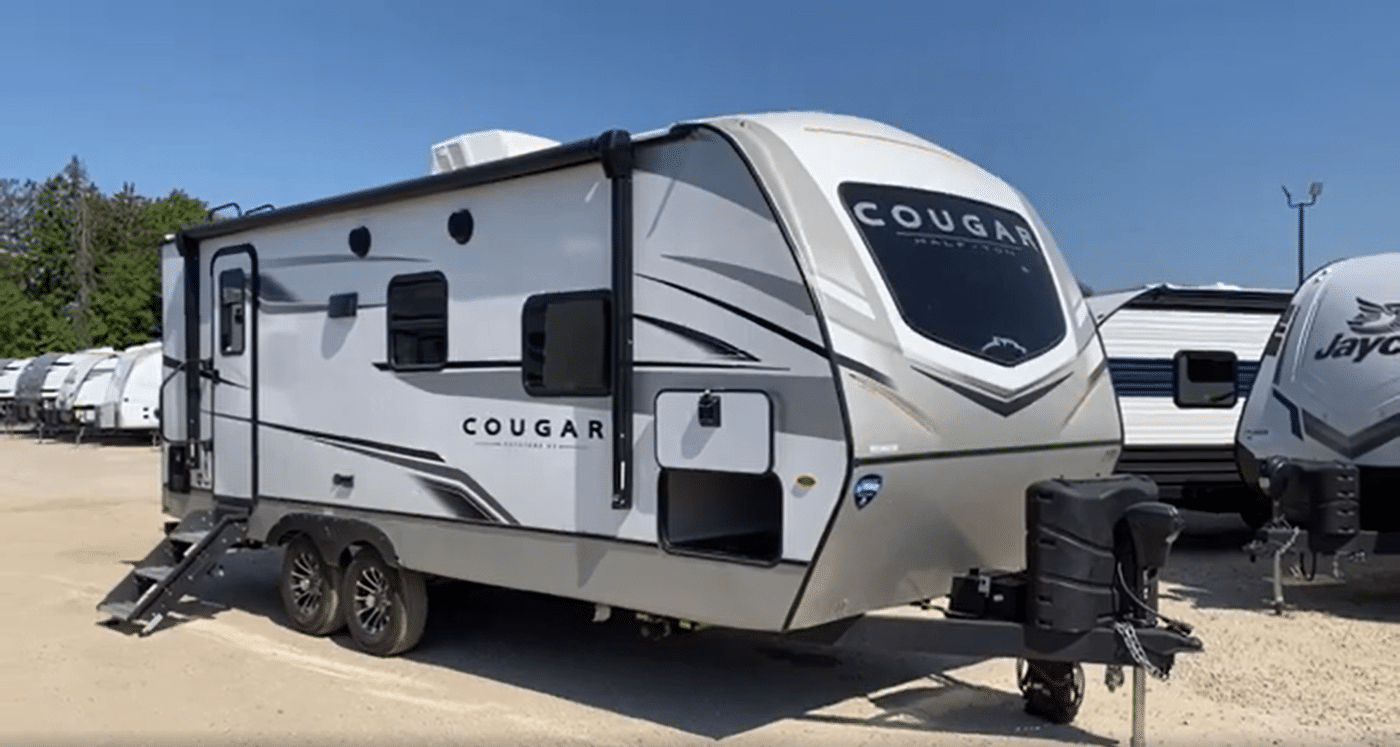 .
From a spacious king bed to advanced technology packages, the Cougar offers a comfortable and stylish camping experience. Let's dive into the details and discover why this RV is dynamite in a small package!
.
..
Big Features in a Small Package
The Cougar 22RBS is designed to maximize space without compromising on important features. Starting with the front, it boasts a fifth-wheel-sized 70 by 80 king bed, providing ample sleeping space for couples. 
.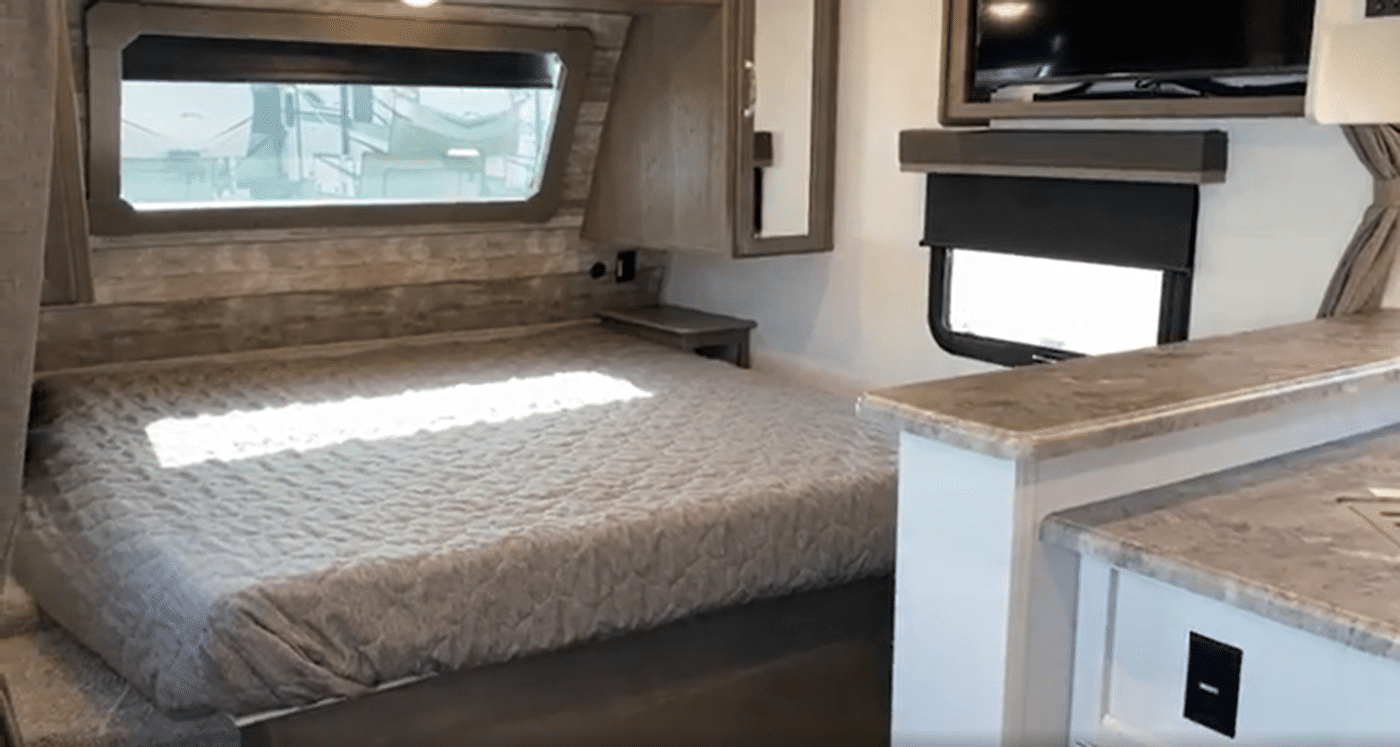 70×80 King Bed
.
The RV also comes standard with power corner stabilizers and a user-friendly push-button system for the tongue jack and awning. Additionally, it features an aggressive hot-cold weather package, making it suitable for all climates. 
With standard tank heaters and other weather-related enhancements, the Cougar ensures your comfort during any camping adventure.
.
Impressive Technology and Storage
The Cougar 22RBS doesn't hold back when it comes to technology and storage capacity. It comes equipped with a Goodyear Endurance radial, ready for TPMS (Tire Pressure Monitoring System). 
The RV also offers a massive countertop and generous cabinet storage, surprising for its small size. If you're a tech enthusiast, you'll appreciate the in-command package, while those seeking off-grid capabilities will love the factory-standard 200 watts of solar and 200 amp hours of lithium batteries. 
.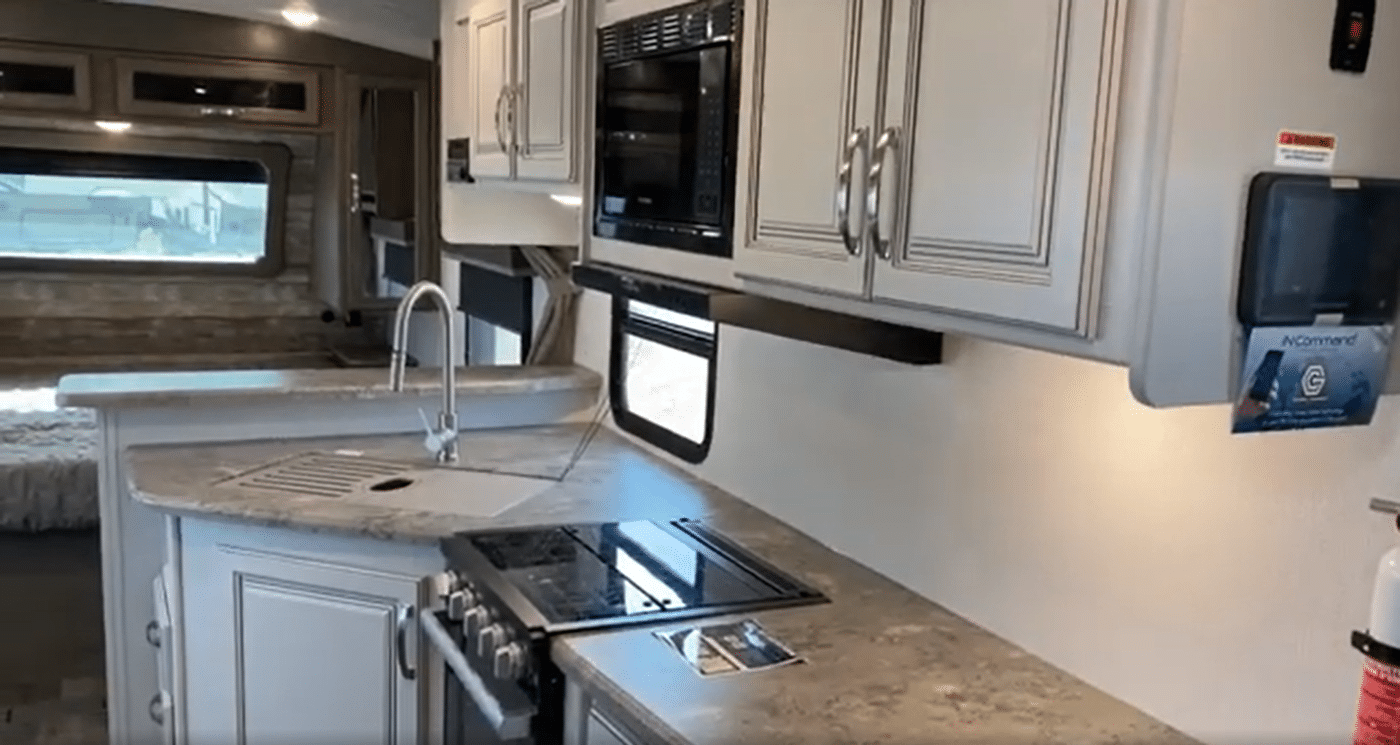 .
These batteries even have a heating element to prevent damage in colder temperatures, showcasing the thoughtful design of the RV.
.
Comfort and Convenience
While the Cougar 22RBS excels in many areas, it may not be the perfect fit for everyone. However, if you appreciate comfort and convenience, this RV is worth considering. It features Marine woven slide flooring, which is both aesthetically pleasing and practical. 
.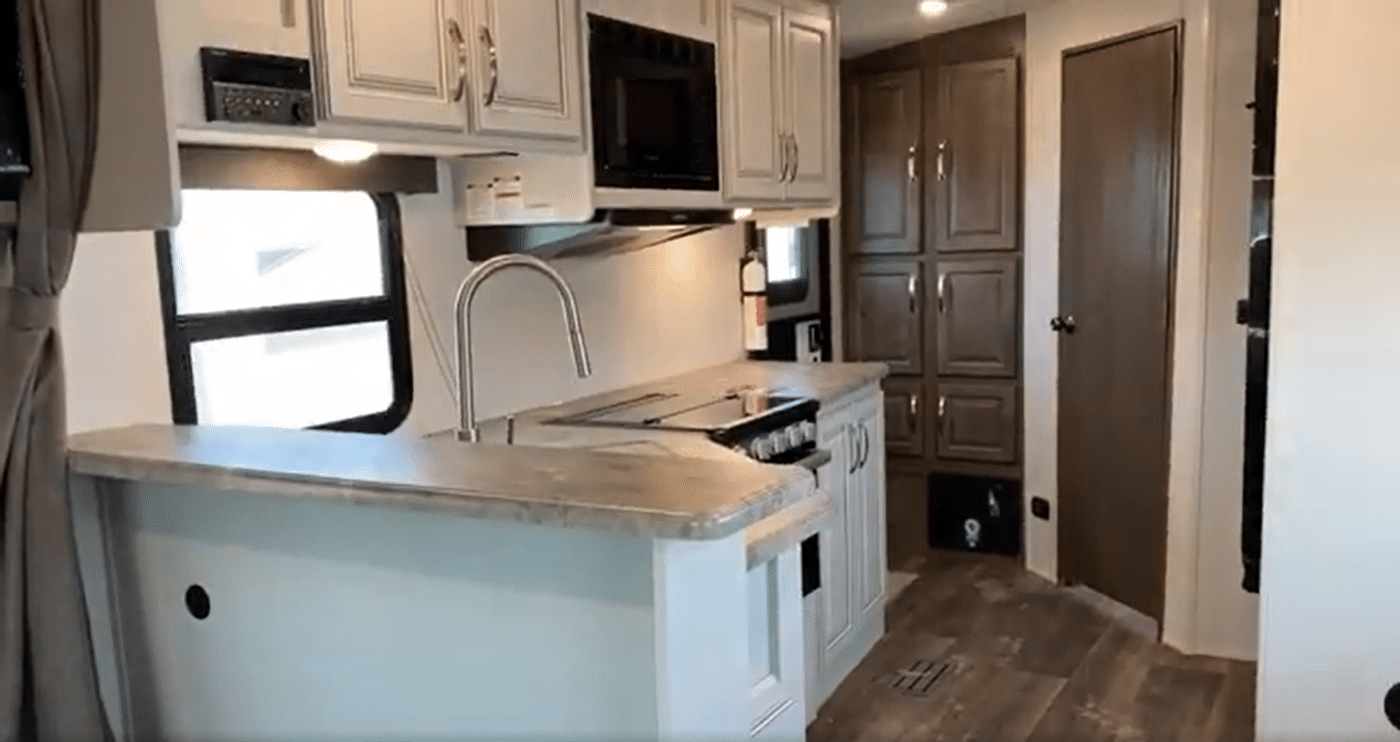 .
The large windows offer excellent natural light and airflow, while the dimmer switches on the lights in the slide add a touch of ambiance. The RV also incorporates the Blade Pier air system, providing cleaner air and improved airflow throughout the cabin. 
With smart design choices like these, the Cougar ensures a comfortable and enjoyable camping experience.
.
Bedroom and Interior Highlights
The bedroom area of the Cougar 22RBS is well-designed and functional. While it comes standard with a king bed, you can easily downsize to a queen if preferred. 
.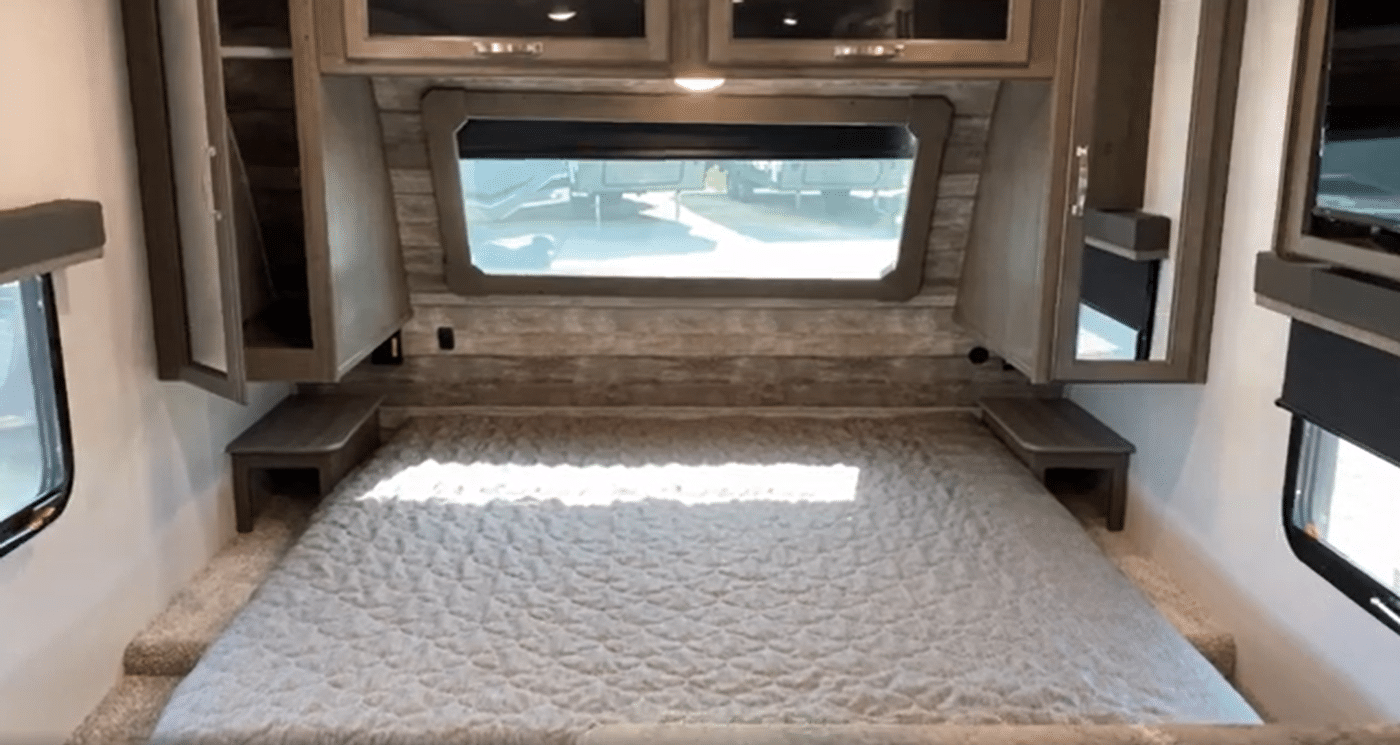 .
The dual hanging wardrobes and additional closet space near the door provide ample storage for clothes and personal belongings. The enclosed overhead cabinets above the bed offer convenience and a neat appearance. 
However, the lack of struts to hold the cabinets open may be a minor drawback. Overall, the bedroom area offers a cozy retreat after a day of outdoor adventures.
.
Conclusion
The 2023 Cougar 22RBS Couple's Camping Travel Trailer packs big features into a compact and stylish package. With its spacious king bed, advanced technology options, and impressive storage capacity, this RV offers a comfortable and convenient camping experience. 
While it may not be the perfect fit for everyone, the Cougar's thoughtful design and attention to detail make it an excellent choice for couples who value comfort, style, and functionality. Whether you're camping in hot or cold climates, this RV has you covered. 
Consider the Cougar 22RBS for your next outdoor adventure and enjoy the big features it has to offer in a small footprint.
.
Get the RV Nerd Preferred Price
Bish's RV might not be the "Cheapest" RV Dealership, but we are proud to offer Cougar campers at some of the lowest prices in the country. 
Cougar 22RBS: Starting as low as $34,995
(Click "Get Lowest Price" button to lock in discount)
*Why do RV costs vary? Get the facts here now!
.